Twitter Inc. (NYSE:TWTR) Wins Large Video Ad Deal
Twitter Inc. (NYSE:TWTR) Wins Large Video Ad Deal
Date Published:
2016-10-04

BREAKING
Twitter Inc. (NYSE:TWTR) just announced that it has won a large video ad deal, and circumstantial evidence points to another win with political ads.

STORY
The CW network together with Ford Motors Inc. (NYSE:F) have signed the first ever Twitter Inc. Amplify upfront video ad deal according to Yahoo! Finance via CNBC.

On the latest Twitter Inc. earnings call, the company noted that video had become its largest advertising revenue driver even though it didn't exist a year ago. This deal with the CW and Ford marks a landmark -- it's an upfront deal and this is how it will work (emphasis added):



"

Starting on Tuesday, CW will create

social media videos

such as weekly recaps, highlights told through fan tweets and sneak peeks for its five most tweeted shows.

Ford advertising will appear on the videos, which will be posted in official

CW Twitter accounts

. Then Twitter will promote the videos in front of targeted Twitter users based on its data.

"


SIZE
Twitter Inc. (NYSE:TWTR) has had several deals through its Amplify video ad product, but according to Mike Park, the director of content partnerships and Amplify, Twitter Inc. has never signed a deal of this size before. That comment is critical because the NFL deal with Twitter Inc. was also through Amplify, and as far as the world has been told, that deal will generate $50 million in video ad revenue.

APPEAL
While news stories fill our feeds with stories proclaiming the death of Twitter Inc. and its slipping relevance, Christina Norman, CEO of media agency Media Storm, said pretty much the opposite. Here's her take:



"

People are on Twitter all the time when they're not watching the show.

This makes sure they are part of a conversation and reminds them. It's mutually beneficial (for CW and Ford). It keeps their consideration high.

"


POLITICS
Before we conclude this dossier we also want to point out that we have collected circumstantial evidence that political ads were purchased on Twitter Inc. and were rather targeted. Check out this poll from @OphirGottlieb (the author):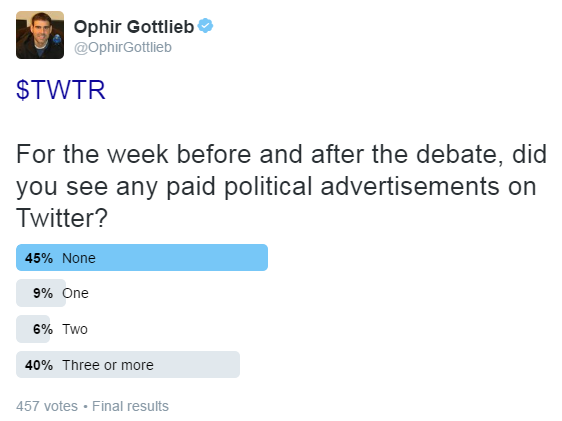 We can see that Twitter users basically either saw no ads, or they saw a ton of ads. That points to very specific ad targeting, which is the crown jewel of the marketing world. Given this circumstantial data for Twitter Inc. (NYSE:TWTR) and the news surrounding the new large video ad deal, it does seem like Twitter Inc. is gaining momentum.

The author is long shares of Twitter Inc. (NYSE:TWTR).
WHY THIS MATTERS
Our research sits side-by-side with Goldman Sachs, Morgan Stanley and the rest on professional terminals. Of our Top Picks, Nvidia is up 106% since we added it. Ambarella is up 103% since we added it. Relypsa was taken over for a 60% gain and we are already up 50% on Twitter. Apple is also a Top Pick.
To become a CML Pro member it's just $25 a month with no contract. It's that easy -- you cancel at any time, instantly.
Each company in our 'Top Picks' portfolio is the single winner in an exploding thematic shift like self-driving cars, health care tech, artificial intelligence, Internet of Things, drones, biotech and more. For a limited time we are offering CML Pro at a 75% discount for $25/mo. with a lifetime guaranteed rate.
Get the most advanced premium research along with access to visual tools and data that until now has only been made available to the top 1%.