Twitter Inc. (NYSE:TWTR) Beats Earnings; Now what?
Twitter Inc. (NYSE:TWTR) Beats Earnings; Now what?
Date Published:
2016-10-27
Written by Ophir Gottlieb

Preface
Twitter Inc. (NYSE:TWTR) reported earnings this morning and the question we have all been waiting to answer -- whether this company has a real future or not -- has been answered, sort of.

RESULTS
First the earnings results:

Revenue
The company reported $616M versus estimates of $605.8M and company guidance of $590M - $605M. Advertising revenue totaled $545 million, an increase of 6% year-over-year. Mobile advertising revenue was 90% of total advertising revenue.

* Data licensing and other revenue totaled $71 million, an increase of 26% year-over-year.

* U.S. revenue totaled $374 million, an increase of 1% year-over-year.

* International revenue totaled $242 million, an increase of 21% year-over-year.

* Total ad engagements were up 91% year-over-year while cost per engagement (CPE) was down 44% year-over-year.

* Video has been the top revenue generating ad format.

And the firm wrote this in the letter to shareholders: "Our early conversations with advertisers and agencies indicate that they're prepared to start shifting more of their online video budgets (OLV) to Twitter."

Earnings:
The company reported $0.13 in adjusted EPS versus estimates of $0.09. Q3 adjusted EBITDA was $181 million, up 28% year-over-year, representing an adjusted EBITDA margin of 29%.

Users:
The company reported 317M monthly active users (MAUs) versus estimates of 316M and up from 313M last month. Mobile MAUs represented 83% of total MAUs. Average daily active usage (DAU) grew 7% year-over-year, an acceleration from 5% in Q2 and 3% in Q1.

It's easy to forget, but just a few quarters ago a signal (which has turned out to be false) of a total and utter collapse lit up: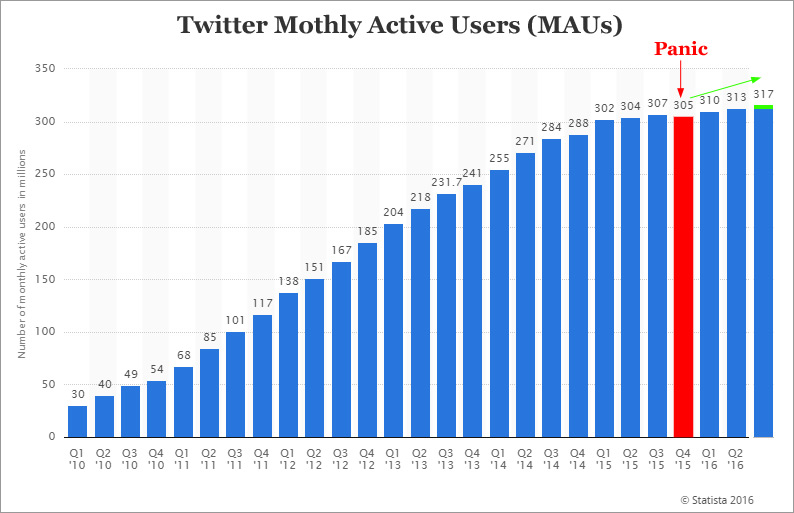 Source: CML data combined with Statista



That dip was a truly disturbing sign and the company has at least returned to consistent, albeit small, growth.

Video
In the shareholder letter the company wrote:

We've signed more than a dozen live streaming video partnerships since June, many of which have already started streaming content on a daily or weekly basis. The feedback has been overwhelmingly positive.

In fact, if you look at our first five NFL Thursday Night Football games, we've consistently seen the total audience grow on a week-over-week basis, with the most recent three #TNF games reaching more than 3 million viewers, up more than 28% from Twitter's inaugural game with 2.35M viewers.

The company went further to say that one of the most encouraging results from video was that "the average time spent watching #TNF among our lightest users exceeds the average time spent among medium and heavy users, suggesting that this new experience is presenting people who are less familiar with Twitter with a compelling new reason to use our service."

With respect to the debates, we got this:

Twitter's live streams of Bloomberg Politics' presidential debates were also very successful. The second and third debates averaged a reach of 3.3 million unique viewers, an increase of more than 30% over the first presidential debate.

Further, we got this: "Twitter's live stream of the presidential debates over delivered on advertiser expectations with mid-roll ads in the pre- and post-debate shows delivering impressions significantly above expectations."

Partnerships
The main story here was Google's DoubleClick: "Our integration with Google's DoubleClick Campaign Manager (DCM) is also starting to take shape. The annual run rate for advertiser campaigns being measured through DCM is currently almost $75 million."

And now on to some actual context.

STORY
Twitter Inc. (NYSE:TWTR) beat revenue, earnings and user estimates, but all three were rather tame given the company's guidance from the quarter prior. The single most important takeaway I took from the call was that CEO Jack Dorsey specifically noted that the growth was driven by the new live streaming initiatives.

"Our strategy is directly driving growth in audience and engagement, with an acceleration in year over-year growth for daily active usage, Tweet impressions, and time spent for the second consecutive quarter"

In short, that means that the new direction the company has started toward is working on some level. How well the strategy is working is in the eye of the beholder, but somethings are not.

I. Twitter Inc. (NYSE:TWTR) Cash
It's an under reported reality, but Twitter's "losses" are mostly due to stock based compensation, which while it is insanely high, is a non cash expense. The company has quietly been building a mountain of cash, which now tops $3.7 billion. GAAP net cash provided by operating activities in the period was $189 million.

Here is a chart of Cash from Operations rolled up into trailing-twelve-month periods (TTM)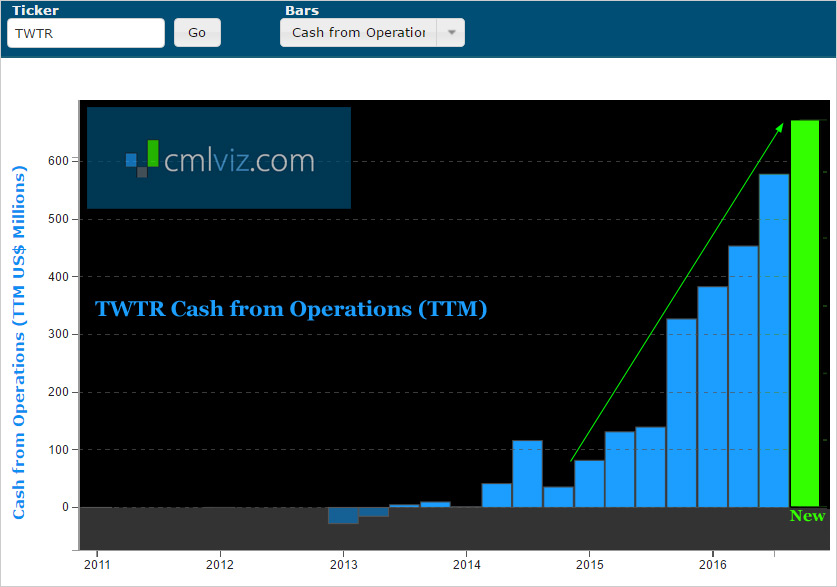 We have calculated the new TTM number based on the $189 million number presented in the company's earnings report. Assuming we did not make a mistake, we can see that Twitter's cash from operations continues to grow skyward. Whether you love or hate the stock (or the company), it's a matter of act that total cash is growing as is cash from operations.

We do note that the company has over a billion dollars in debt, so net cash is closer to $2.5 billion on the balance sheet.

II. Twitter Inc. (NYSE:TWTR) Users
Just a reiteration that user growth is back and that blip to the downside appears to have been a one-time event. Having said that, the growth is rather poor and a reversal is not an impossibility. Had the company reported 5%-10% MAU growth, then we could comfortably say that this is a growing company -- at just over 1% (quarter-over-quarter), I don't think anyone can safely say that growth is surely back for the long haul.

OUTLOOK
The company specifically noted that it is "not providing specific revenue guidance for the fourth quarter and full year 2016." A lack of transparency here is less than welcomed and it certainly has a negative impact on the stock price given the market's general desire for clarity.

MORE LAYOFFS
Twitter Inc (NYSE:TWTR) also announced that it would cut 9% percent of its global workforce, mostly in its sales, partnerships, and marketing efforts.

PRODUCT UPDATES
Twitter Inc (NYSE:TWTR) also noted that it would roll out "meaningful updates" in the next month, specifically noting abusive content.

For our full view of Twitter Inc and a detailed research dossier, you can try CML Pro.

The author is long shares of Twitter Inc. (NYSE:TWTR).

WHY THIS MATTERS
Our research sits side-by-side with Goldman Sachs, Morgan Stanley and the rest on professional terminals. Of our Top Picks, Nvidia is up 110% since we added it. Ambarella is up 90% since we added it. Relypsa was taken over for a 60% gain and we are already up on Twitter when we added it to Top Picks for $15.60.

To become a CML Pro member it's just $25 a month with no contract. It's that easy -- you cancel at any time, instantly.

Each company in our 'Top Picks' portfolio is the single winner in an exploding thematic shift like self-driving cars, health care tech, artificial intelligence, Internet of Things, drones, biotech and more. For a limited time we are offering CML Pro at a 75% discount for $25/mo. with a lifetime guaranteed rate. Get the most advanced premium research along with access to visual tools and data that until now has only been made available to the top 1%.