Reasons to be Bullish Twitter Inc (NYSE:TWTR)
Twitter Inc (NYSE:TWTR) Short Interest Drops
Date Published:
2017-01-30
Written by Ophir Gottlieb

Preface
The short interest in Twitter Inc (NYSE:TWTR) has now declined for five consecutive reporting periods. But there are other, more company specific reasons, to be bullish.

STORY
The headline isn't the real story here, but let's get the data out of the way. Here is a snippet of Twitter Inc and its short interest recently. The data was provided by Guru Focus.





We can see that drop from over 10% short interest, or 67.66 million shares now down to 6.99% or 44.04 million shares. There was a time back in the spring and summer of 2015 where Twitter Inc hovered around the 4% - 5% range. Here is a quick snippet of that, from the same source: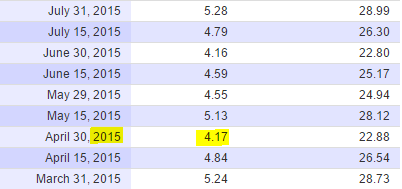 But that's not the real story.

THE REAL STORY
The obvious issues for Twitter are quite simple: relevance and monetization. Another issue, or rather, the elephant in the room, is competency at the top. Let's turn to monthly active users (MAUs) first.




The panic set in when Twitter Inc (NYSE:TWTR) showed an user shrinkage in the final quarter of 2015, which we highlighted in red. But, since that report, we can see a slow but steady climb from 305 million MAUs to now 317 million MAUs, with each of the last three quarters representing all-time highs for the company.

CML Pro has set its own guidance for user growth for the upcoming earnings release in early February. We do have circumstantial evidence that Twitter Inc is becoming more popular. Several screenshots have been posted on social media showing Twitter as high as the #2 most popular app in the Apple (NASDAQ:AAPL) app store, up from the mid twenties.

This is the opportunity so many investors say they welcome – say they search for. The opportunity to find the "Next Apple," or the "next Google," before anyone else recognizes it. Tap here for the famed CML Pro research.

REASON TO BE BULLISH
Twitter is supposed to be the social media that is a little less friendly (to say the least) but a little more heady. That is, journalism, news, finance should be better homes on Twitter than Facebook. If that's true, we should see yet another spike in engagement and MAUs - we are in the heaviest news cycle this country has seen in a long time.

REASON TO BE BEARISH
Every earnings release in the last two-years has given us reason to be bearish on Twitter Inc (NYSE:TWTR) stock. In fact, even the news in between earnings has been awful. The company has lost nearly every single executive other than its current COO, who used to be the CFO, Anthony Noto.

For the pragmatist that believes execs don't jump ship when things are going well -- here's a chart to support your bearish view:




Revenue growth has all but stopped and this next quarter may see a shrinkage, although some estimates call for a small gain.

That's really it. Twitter MAUs must grow. Live must be turning into a 'thing.' Video revenue better be on the upswing without any excuses that it's a 'new technology' and a 'new advertising format.'

Having said all of that, we're bullish Twitter Inc. And while that bullish view is certainly teetering on a change of heart based on the next earnings release, we have good reason to be bullish, even with the obvious and accurate criticisms and risks.

The author is long shares of Twitter Inc (NYSE:TWTR) at the time of this writing and added to his position late last week.

WHY THIS MATTERS
If you enjoyed learning just the tip of generally uncovered information on Twitter Inc (NYSE:TWTR), but actually being ahead of the curve, this may be up your alley: Our research sits side-by-side with Goldman Sachs, Morgan Stanley and the rest on professional terminals. Of our Top Picks, Nvidia is up 250% since we added it. Ambarella is up 45% since we added it. Relypsa was taken over for a 60% gain and we are already up nearly 50% on Skyworks. We added Twitter for $15.60.

Each company in our 'Top Picks' portfolio is the single winner in an exploding thematic shift like self-driving cars, mobile data and connectivity, health care tech, artificial intelligence, Internet of Things, drones, biotech and more. For a limited time we are offering CML Pro for $19/mo. with a lifetime guaranteed rate. Get the most advanced premium research along with access to visual tools and data that until now has only been made available to the top 1%.