The Tech Companies That May Surprise to the Upside


Technology's Highest Margin Companies
Written by Ophir Gottlieb, 12-22-2015
Follow @OphirGottlieb
PREFACE
In an aging bull market with stretched valuations there is one antidote to a market pull back. That antidote is growth and earnings. To that end, we need to focus on companies with the potential to improve margins, as they could squeeze earnings surprises out in their next quarterly reports.
GROSS MARGIN
Let's start with tech firms that have market caps above $25 billion and we will rank them on a scatter plot by gross margin percent.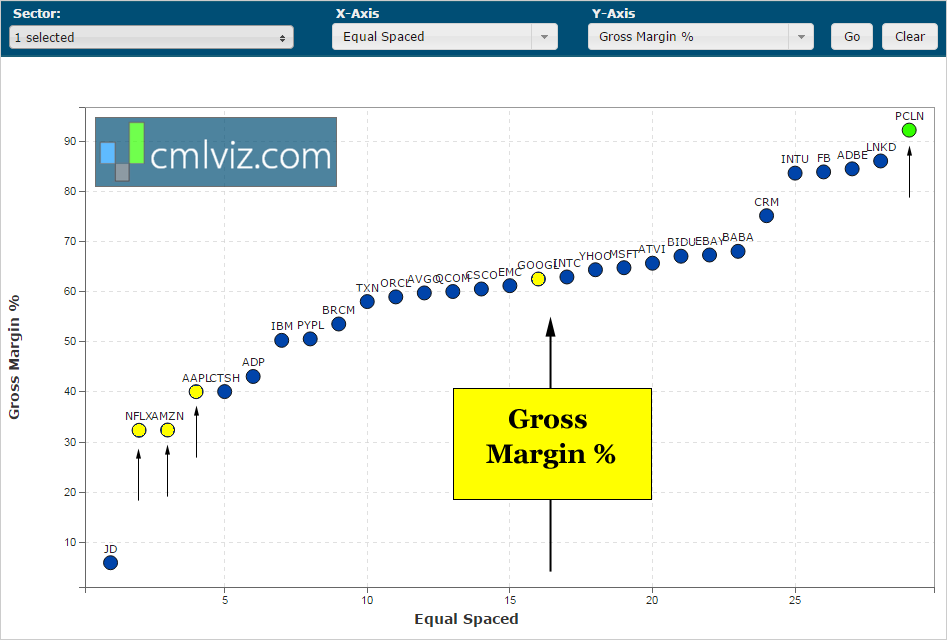 Do you thrive on seeing data that goes way beyond headlines and turns you into an expert?
Try CML Pro. No credit Card. No Payment Info. Just the Power.
At the top we find PCLN, LNKD, ADBE, FB, INTU and finally CRM. I note the absurdly high gross margin % for PCLN, which at those high levels could in fact be seen as a risk. It's certainly not going to get better.
I have also highlighted AAPL, AMZN, GOOGL and NFLX. Amazon has seen gross margins rise rather dramatically as its business mix has moved from retail sales to the cloud and Prime memberships. The full research dossier on Amazon is available in
CML Pro
. For a taste, here's the gross margin % trend in AMZN.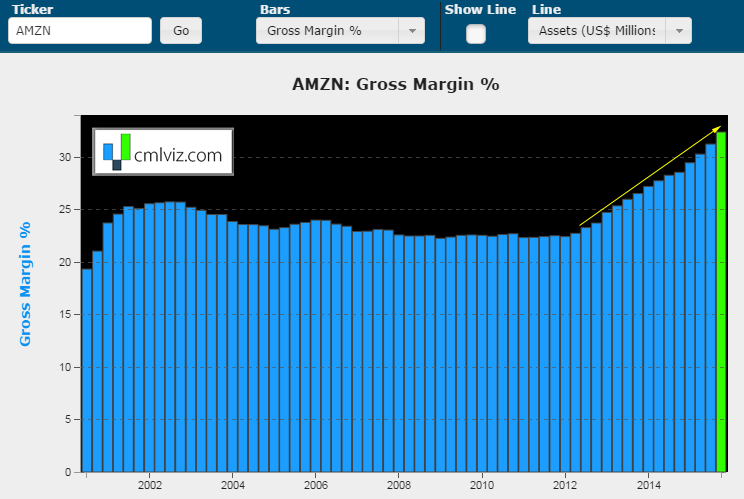 Apple is also an interesting one to watch. The company is moving at a radical pace to turn its business into one that's more driven by subscriptions.
The CML Pro research report
on Apple TV dives deep into the massively positive disruption the product will have on Apple's valuation. Further, the research report on Apple Pay (also available in CML Pro), points to an enormous business with extremely high gross margins.
Do you enjoy understanding what's really going on in a company beyond the headline noise?
Then Join Us: Get Our (Free) News Alerts Once a Day.
SGA MARGIN
Of course gross margin is just one type of margin and is heavily tilted toward software companies. Let's look a lesser known margin which measures how much a company spends on selling costs. This is called the SG&A margin and it's calculated as SGA Expense/Sales. So, in this case, the companies with higher numbers are spending more on selling costs. That is, the higher the company is here, the less it's keeping in the bank (backwards of gross margin).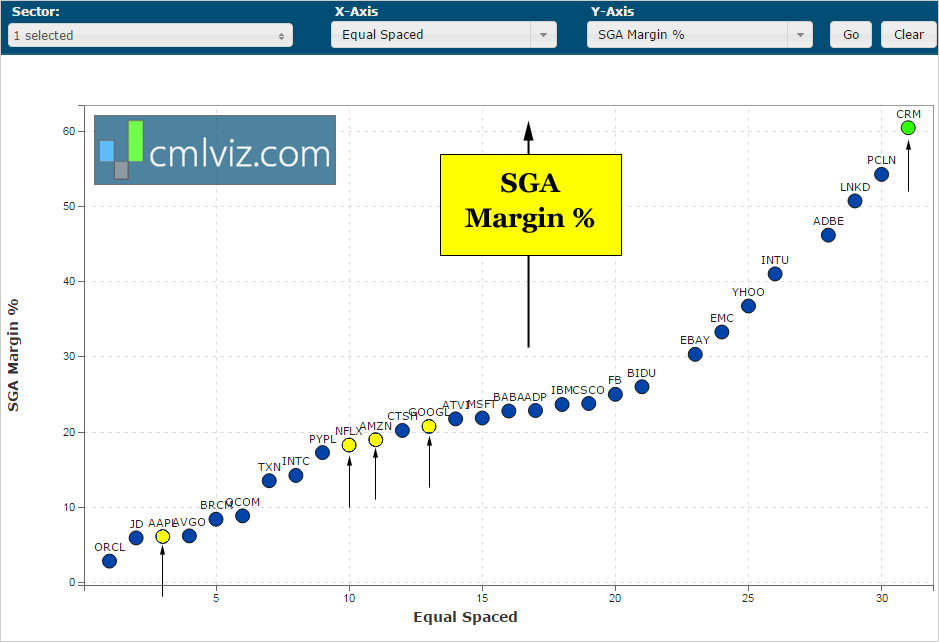 Do you thrive on seeing data that goes way beyond headlines and turns you into an expert?
Try CML Pro. No credit Card. No Payment Info. Just the Power.
It's fascinating to note that Salesforce (CRM), PCLN, LNKD, ADBE and INTU are also at the top of this list. These are the companies spending the most on selling costs (SGA = selling, general & administrative). Of particular interest is CRM, in our
CML Pro research piece
we discuss how this firm is winning the cloud war and it has nearly unlimited upside.
I have also highlighted AAPL, AMZN, NFLX and GOOG again for ease of use.
Do you enjoy using visualizations to understand what's really going on in a company?
Get Our (Free) News Alerts Twice a Week.
EARNINGS MARIN
Finally, we get to the critical margin, which is simply earnings from continuing operations. This is the final, and in many ways, end all be all of margins.
In another CML Pro article we discuss the marvel that is Alibaba (BABA). A genius business model that creates massive margins. I note that AAPL is number four on this list -- which is incredible given its scale. I have highlighted GOOG, AMZN and NFLX again.
In the final analysis of all of these charts I would keep an eye on exactly (
Companies Available in CML Pro
) to possibly surprise to the upside.
WHY THIS MATTERS
The top analysts, asset managers and hedge fund managers are keenly aware of the data that will move markets. They actually create their own price to sales (valuations) models. If we're not using this data, then we're trading against people that simply have more information then we do. That is a wealth losing strategy.
The information asymmetry that exists between pros and non-pros has transferred massive wealth to the top 1% from the rest of us. That information asymmetry is no longer acceptable to us.
This is just one of the fantastic reports CML Pro members get. For a (very) limited time we are offering CML
Pro
at a 90% discount for $10/mo. with a lifetime guaranteed rate.
Join Us: Get the most advanced premium research delivered to your inbox along with access to visual tools and data that until now has only been made available to the top 1%.