Why Ulta Salon, Cosmetics & Fragrance, Inc.(NASDAQ:ULTA) is Rising in One Chart
Ulta Salon, Cosmetics & Fragrance, Inc.(NASDAQ:ULTA) in One Chart
Date Published:
2016-08-18

Preface
Ulta Salon, Cosmetics & Fragrance, Inc stock has been on an historic rise and while there is so much we can say about the company, it may just come down to one chart.

STORY
Ulta Salon, Cosmetics & Fragrance, Inc stock is up 31.6% in the last three-months and fully 75.8% in the last six-months. Here's a quick chart to illustrate the rise.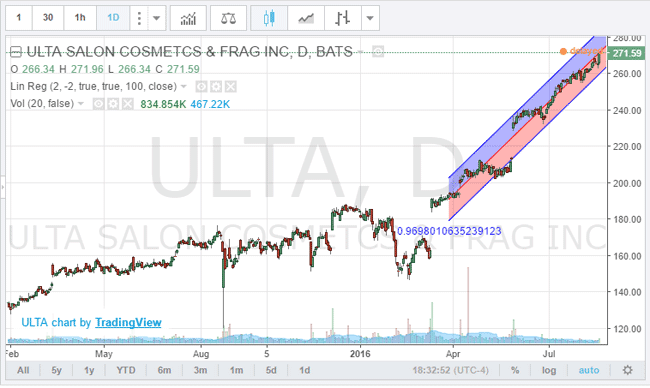 But that chart doesn't tell us the why. While we're at it, here's another look at the stock chart -- this one is built for traders: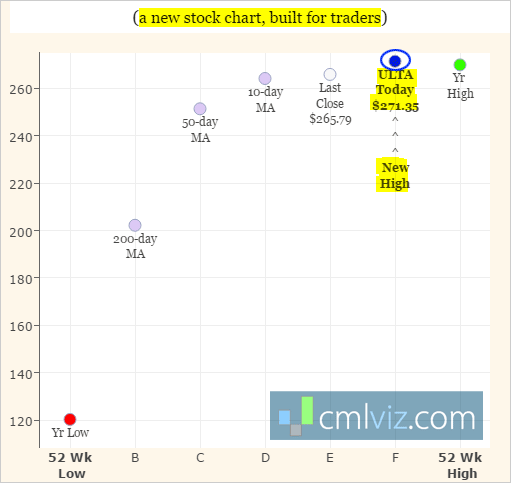 Look how easily we can see that the current price (the blue points) is above all of the purple points, which are the 200-, 50- and 10-day moving averages, respectively, and the green point, which is the 52 week high. This new type of stock chart is available for anyone and everyone on CMLviz.com here --> Pivot Point App.

But, that chart doesn't tell the real story either for Ulta Salon, Cosmetics & Fragrance, Inc. It's this chart we're really after: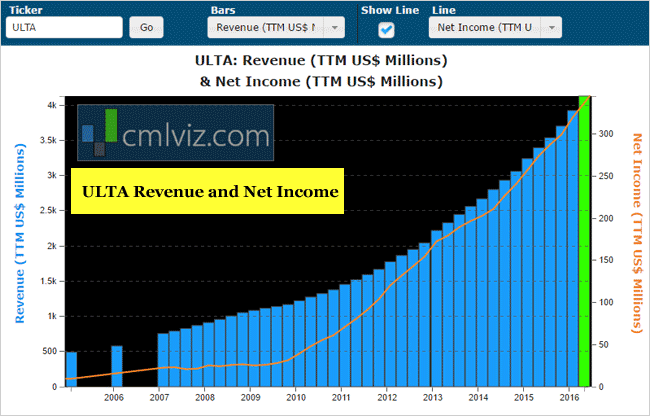 ULTA has seen its revenue (TTM) rise for every quarter it has been public -- that's what we see in the blue bars. Amazingly, ULTA has also seen its after tax income (net income) over a trailing twelve month period rise for every quarter over the last seven years. That's the orange line in the chart above.

You can get any chart you want for any company like this or with other metrics on CMLviz.com as well: Financial Charts.

While there is a lot of why behind those rising revenue and earnings numbers for ULTA, the reality is, that chart, in and of itself, is the validation needed to defend the stock's historic rise.

The author has no position in ULTA Salon, Cosmetics & Fragrance, Inc. (NASDAQ:ULTA).

WHY THIS MATTERS
Ulta is a gem because of its understanding of technology. Yes, a retailer of beauty products is crushing the competition because of technology. There are more of these hidden gems. Those companies that so many investors say the seek out, say they search for -- the lesser known companies that are disrupting the world and leading the charge in the various new technologies that will shape our future. Identifying trends and companies like this this that allows us to find the 'next Apple' or the 'next Google.' This is what CML Pro does. Our research sits side-by-side with Goldman Sachs, Morgan Stanley and the rest on professional terminals, but we are the anti-institution and break the information advantage the top .1% have.

Each company in our 'Top Picks' is the single winner in an exploding thematic shift like artificial intelligence, Internet of Things, drones, biotech and more. For a limited time we are offering CML Pro at a 90% discount for $10/mo. with a lifetime guaranteed rate. Join Us: Get the most advanced premium research delivered to your inbox along with access to visual tools and data that until now has only been made available to the top 1%.