The incredible option trade that has worked for 10 straight years CBOE Volatility Index (INDEXCBOE:VIX)
The incredible option trade that has worked for 10 straight years
Date Published:
2017-01-21
Written by Ophir Gottlieb

Preface
In all my life as a trader and an option market maker on NYSE ARCA and CBOE (remotely), the CBOE Volatility Index (INDEXCBOE:VIX), or really, the VXX is one of the most interesting instruments I have ever encountered. It's a bet on contango (or backwardation depending on your position) in the VIX and it has been just unimaginably consistent. The thing just goes down all the time... sort of.

Here is an all-time chart for VXX:




But here is that chart over the last two-years: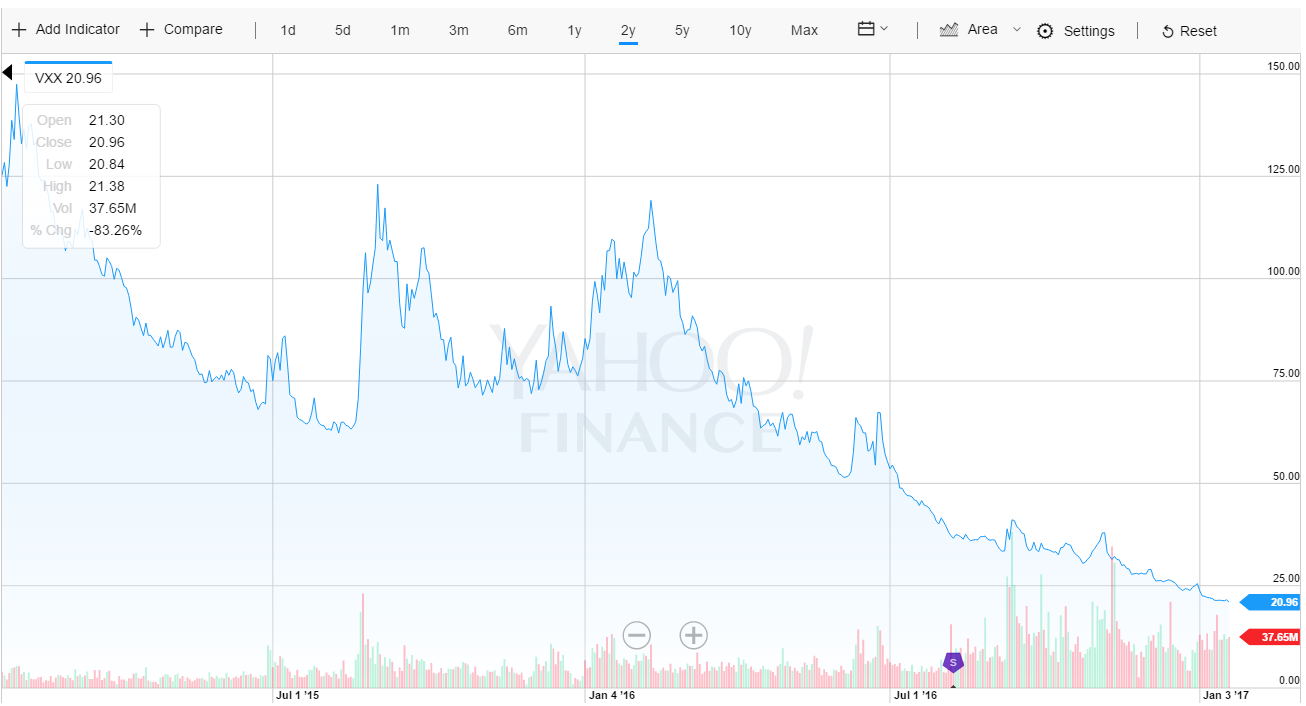 For obvious reasons, it has become one of the most crowded trades in the market -- short and short and short again as long as CBOE Volatility Index (INDEXCBOE:VIX) continues in the same path. But, we can also examine this instrument with options. While buying puts seems like the obvious move, there is a slightly less risky approach -- selling call spreads. With a spread, we hedge one option with another as opposed to a naked long (or short) position.

Here is what selling out of the money call spreads has done over the last 3-years, rolling every 30-days: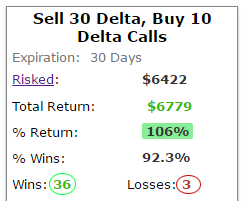 And here's how that has looked relative the VXX itself, which is tradeable, unlike CBOE Volatility Index (INDEXCBOE:VIX).





The highlighted line is the short call spread and the gray line is the VXX itself. Now, remember we have seen that change in the behavior of the instrument recently and in CBOE Volatility Index (INDEXCBOE:VIX), so let's look at this same short call spread strategy over 2-years, 1-year and even the last 6-months, respectively.

Here's how we do it:




And now the results:



2-Years

1-Year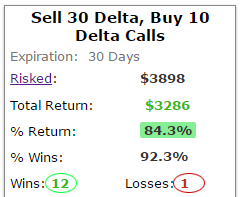 6-Months



Yep -- it keeps working. It's not as monotonic as it used to be, and with a new President of the United States the risk profile of the S&P 500 could change, but for now, VXX short call spreads has been a winner -- crowded or not -- changing dynamics or not.

Here is the chart of the short call spreads (again highlighted in yellow) versus the VXX over the last 6-months:



6-Months



Finding these results across different times periods was as easy as clicking a few buttons




The Real Question and Answer
As powerful as this short call spread has been in VXX, I think the real analysis goes beyond just VXX -- beyond the CBOE Volatility Index (INDEXCBOE:VIX) as well -- and into the SPY, and even individual stocks, like AAPL and NFLX or even through the lower risk industries with companies like SBUX, NKE and BAC. This is why we created the back-tester.

For example, here is what a short put spread in SPY over the last two-years has done: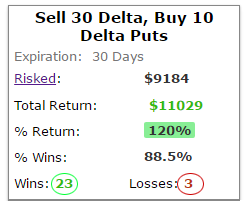 There's actually a lot less 'luck' and a lot more planning in successful option trading than many people know. Here's exactly what we mean:
Tap Here for the CMLviz Trade Machine Option Back-tester.