Finding the Best Stocks in a Down Market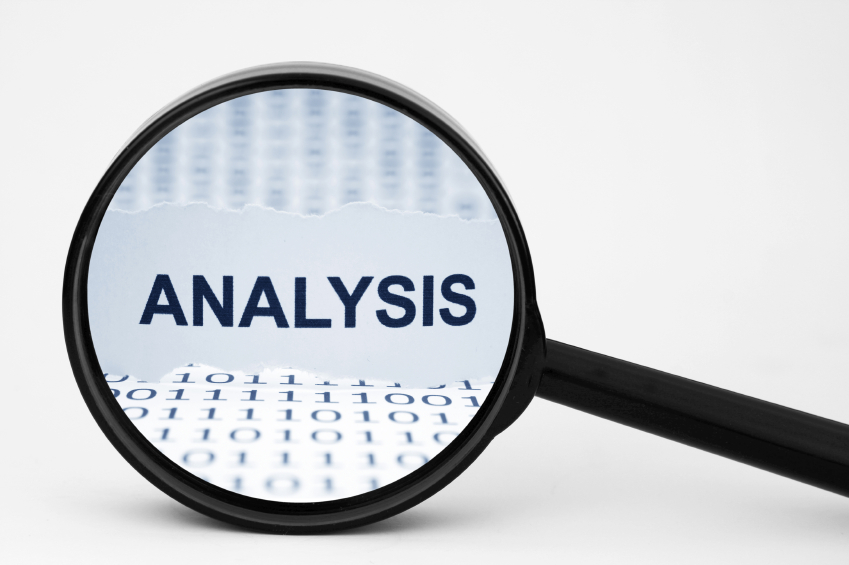 ANALYSIS
PREFACE
The market is tumbling and at this point, even delivering large earnings surprises isn't helping -- think Facebook and Google.
But there is a way to identify the stocks with less risk that have actual earnings, with growing revenue, assets, cash from operations, reasonable debt levels and even pay a dividend. Here's how we go from a cluttered group of nearly 300 companies, down to just 10.
STORY
We start with all companies in all sectors over $10 billion in market cap, we have a list of about 305 companies. Here's that crowded list plotted on one chart, ranked by assets.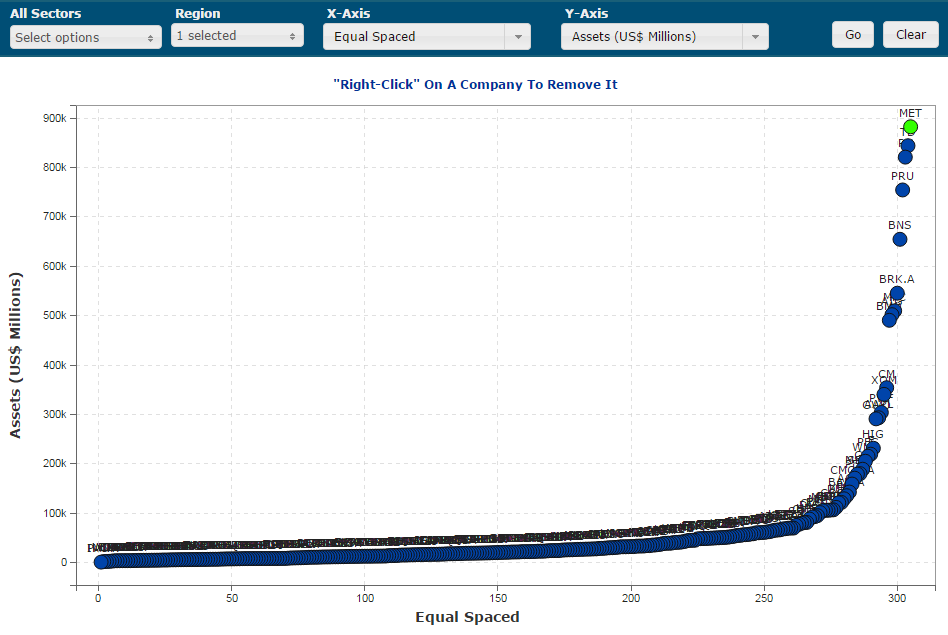 Now let's find our gems.
SCAN #1: REVENUE
Let's eliminate any company on the list with revenues under $3 billion. This is our safety check -- no companies with bloated market caps that don't have a legitimate business. This pruning takes us down to 264 companies.
SCAN #2: EARNINGS MARGIN
Next, we will take that list of 264 companies and remove any firm that doesn't have a net income margin of 5% or larger. This assures we not only get companies that are profitable in the last year and by a fairly healthy margin. This drops us to about 230 companies.
Here's how the list looks now:
SCAN #3: REVENUE GROWTH
Next, we will take that list of 230 companies and remove any firm that isn't growing revenue by at least 5%. This cuts our list down to about 100 companies.
Here's how the chart looks now: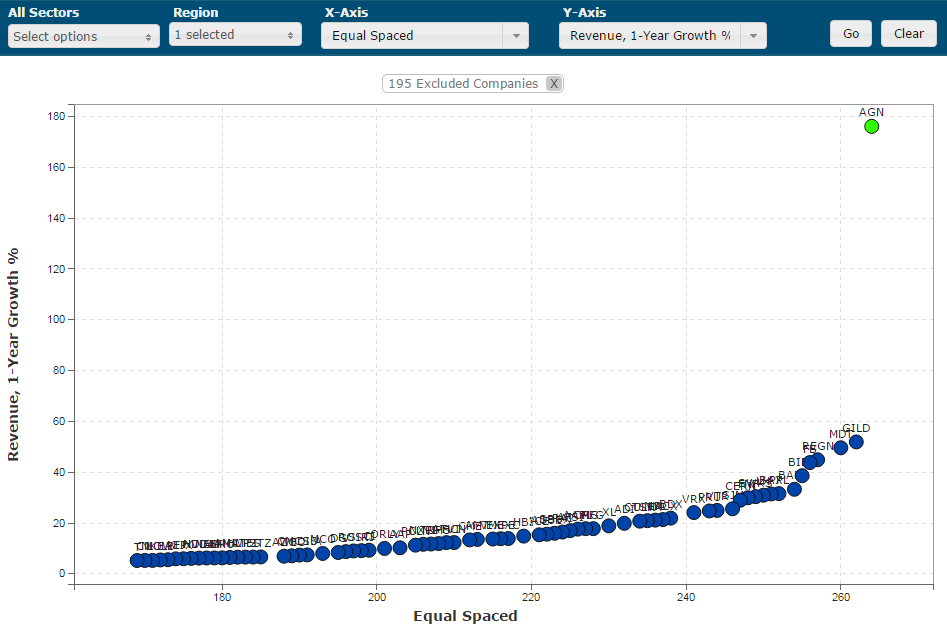 SCAN #4: CASH FROM OPERATIONS GROWTH
Next, we will take that list of 100 companies and remove any firm that isn't growing cash from operations by at least 5%. This cuts our list down to about 80 companies.
Here's how the new chart: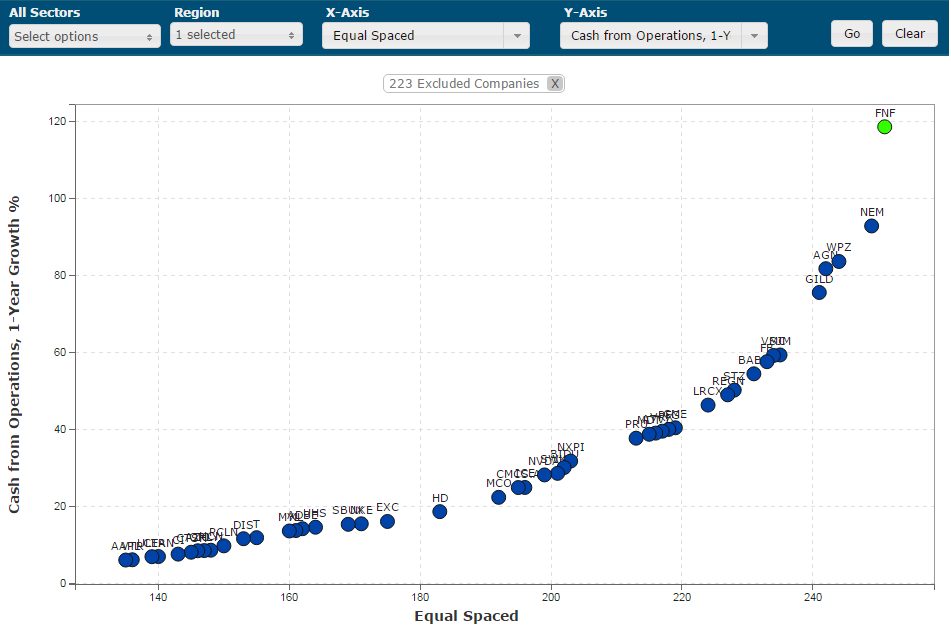 SCAN #4 and #5: DEBT AND DIVIDENDS
For our final pruning, we take the remaining companies and remove any that have a debt to equity ratio greater than 0.5 -- this implies that if they do have debt, they are not overburdened by it. We will add to that scan by removing any companies that don't pay a dividend.
Here is our final cut with dividend yield plotted on the y-axis and debt to equity plotted on the x-axis.
We are left with just ten companies.
WHAT WE HAVE
We have taken an enormous population of companies and pruned it down to a the precious few that at the very least show safety and strength. In fact, if we look at the companies left, we find some remarkable names:
Nike (NKE) is CML Pro's Top Pick for apparel.
Nvidia (NVDA) is CML Pro's Top Pick for artificial intelligence.
Starbucks (SBUX) is CML Pro's Top Pick for consumer services.
Apple (AAPL) is CML Pro's Top Pick for mega technology.
We break news every day. Discover the Undiscovered.
Get Our (Free) News Alerts Once a Day.
WHY THIS MATTERS
All of this charting research was done using the CML Pro
visual scanner
in less than 10 minutes.
But, if any of the information we just covered feels like a surprise, in many ways it is. The mainstream media doesn't have the vocabulary to understand finance and the top analysts that represent the wealthiest 1% of Americans have no interest in sharing the data they are
keenly
aware of.
CML Pro research identifies the top companies in artificial intelligence, the Internet of Things, drones, cyber security, driverless-car technology, apparel and more with in depth company research dossiers. But we are also the only institutional research house that offers the analysis
and the visual tools
to the retail public.
This is just a snippet of the fantastic reports CML Pro members get along with all the visual tools, the precious few
top picks for 2016
that cover all of the rule breaking segments of our future, research dossiers and alerts. For a limited time we are offering CML Pro at a 90% discount for $10/mo. with a lifetime guaranteed rate.
Join Us: Get the most advanced premium research delivered to your inbox along with access to visual tools and data that until now has only been made available to the top 1%.
Thanks for reading, friends.