Zoom CFO sees a much bigger opportunity beyond UCaaS
Lede
Today we add a new 'Company to Watch' to our list. Zoom Video Communications (ZM) is one of the more remarkable companies in the Unified communications as a service (UCaaS) thematic and we had a one-on-with the company's CFO.
Story
UCass refers to a service model where providers deliver different telecom or communications software applications or services, generally over the global IP network.
This segment is pegged to grow from $12.5 billion in 2019 to $22.8 billion by 2024 according to Statista estimates and Grand View Research in the United States, alone.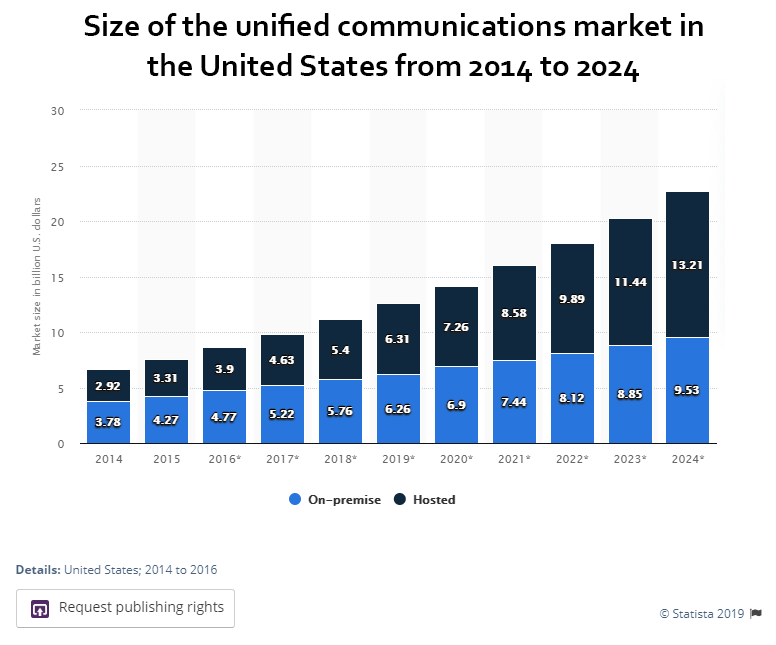 But Zoom is an international company, as we will read below, with already 20% of its revenue coming from outside the United States and a stated goal of hitting 50% within 5-7 years. Here is a chart of the UCaaS market in Europe:
But while the thematics are clear, the truly unique part of Zoom's opportunity is how much larger the opportunity is than this $43 billion total addressable market (TAM). As we will read from the CFO, Zoom is disrupting other segments of communication, and one in particular, tele-medicine, has been desperately seeking a leader.
With this new area available to Zoom, perhaps we will have the opportunity to pick up a massive industry grower in UCaaS and quietly take on the opportunity of tele-medicine as well.
While we're at it, we will be so bold as to include the forecasts for the global telemedicine market size from 2015 to 2021.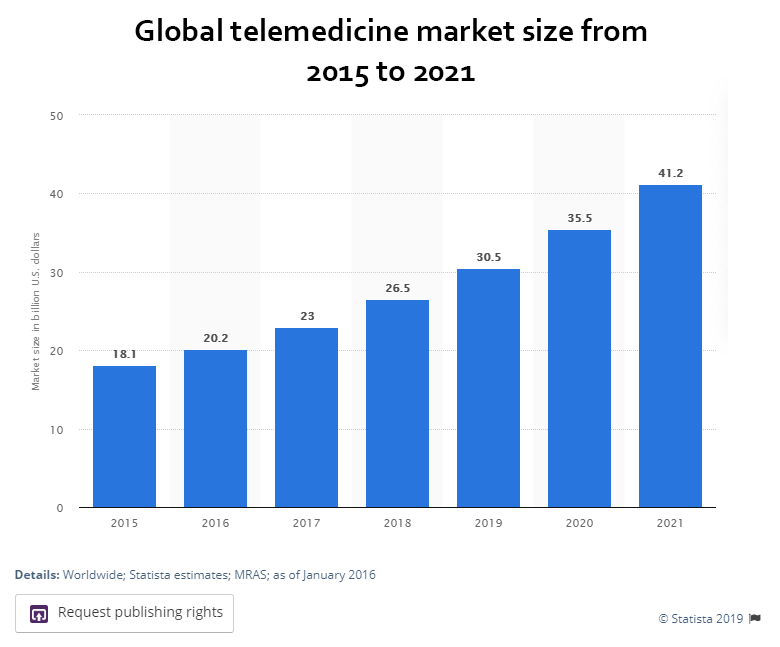 Finally, please find Tiernan's summary of Zoom's latest earnings and his interview with Zoom's CFO below.
Zoom Earnings and CFO Interview
Zoom CFO sees a much bigger opportunity beyond 'UCaaS'
Shares of video-conferencing pioneer Zoom Video Communications are down about 3% since the company's fiscal Q3 conference call on December 5th, despite the company beating expectations for revenue and profit comfortably for the third quarter in a row since going public in April, and issuing an outlook above consensus as well.
Despite a very healthy 85% rate of revenue growth in the October-ending Q3, the principal reason for the slump was concern among some on TheStreet about slowing growth. But, in an interview with Capital Market Labs one week later, chief financial officer Kelly Steckelberg highlighted the ways the market is expanding and internal usage is expanding for the company.
Zoom's product started as a cheaper, hassle-free approach to small-business video conferencing, but it is being adopted now in areas such as healthcare, to expand what's possible in home health care, for example.
"There is a bigger opportunity," said Steckelberg, than the $43 billion or so that market research firm IDC typically sizes as the "UCaaS" hardware and software market.
The organic opportunity is already expanding inside of existing clients as customers move from just using the basic meeting service to using Zoom Phone, a replacement for traditional corporate PBXs.
Growth rates are still high for the foreseeable future, with revenue projected to rise by 42% in the fiscal year ending January of '22, and 32% the year after that.
CML's interview, the first we've done with Steckelberg, was also the first video interview of a CFO that CML has ever done, a sign of the times. Steckelberg acknowledged that video calls for one-on-one meetings may still be a novelty to many, but she said in the Bay Area, "it's not as weird." [Zoom is headquartered in San Jose]. "And then, little by little, it's finding its way into areas, such as financial services," she said, noting that a lot of Zoom's IPO process was conducted via Zoom, including the bake-off, road show and such.
To recap the quarter, Zoom increased revenue 85%, year over year, to $166.6 million, yielding EPS of 9 cents, excluding some costs, topping consensus of $156 million and 3 cents per share. For the current quarter, the company sees revenue in a range of $175 million to $176 million, and a net loss of 7 cents per share, versus consensus of $167 million and 4 cents profit per share.
Capital Market Labs: Kelly, tell us first what you think the most important things are for investors to pay attention to in the results and outlook.
Kelly Steckelberg: We have four key growth initiatives we have been focusing on in fiscal year 2020, and that will carry on into FY21.
One is our continued expansion into the up-market; the second is our growth in international; third, Zoom Phone; and the fourth is Zoom Rooms.
The most important thing for investors is how are we doing in each of those aspects. There are some metrics we discussed on the call to help people understand that progress.
For expansion into up-market, the metric is the number of customers with greater than $100,000 of trailing 12-month revenue, of which we had 546 at the end of Q3, which was 97% up, year over year, with a record number of adds (80) in that period.
Year over year growth of 97%, and in general, we grew 67%. So, we are really making a lot of progress in the up-market.
Enterprises typically have much larger deal sizes, they sign multi-year contracts, so the retention rate is much higher. And they are influential, because one CIO talks to another CIO.
International is the second one. Currently, only 20% of our revenue comes from international, so there's a huge opportunity there. When you look at our results last quarter, EMEA and APAC grew combined 98%, year over year, versus the U.S. growing in the low 80s. This is also one of our growth initiatives that is making huge progress.
And in terms of the business, we hired a new head of international, and he's been focusing on making sure we have the right leadership in place. We have a new leader in the U.K., we are opening up new sales offices in India and Singapore and London and Sydney and Tokyo, and those are great markets. And we have a new office in Amsterdam, we are moving them into a new space, the hub for Europe.
All that is setting the stage for expansion internationally. Our long-term target is 50% of our business, and we see no reason we shouldn't get there in maybe five to seven years, maybe sooner.
Zoom Phone is a brand new product, and went G.A. in January. This is our answer to the cloud PBX solution.
This is an area we are really super-excited about Zoom Phone in the early days of this product. If you look at where Zoom started, it was SMB [small and medium businesses], then enterprise 2.5 years ago.
We all thought it would take a while to win enterprise deals. We are really excited about the traction we have gotten early on in the up-market for Zoom Phone.
One large customer of ours is doing a proof of concept with 2,000 Zoom Phone seats. Quinnipiac University [in Massachusetts] bought 9,500 seats in Q3. And then National Australia Bank, the product became available in July in Australia, and in October they bought 6,500 seats. And we could keep going.
We are really excited to see that progress early on, how much they love their Zoom meeting and how they were using video before, and they see that same opportunity with Zoom Phone. Today it's available in seven countries and in beta in 13 more countries, with international availability a huge opportunity for us.
We are working on getting the product generally available in as many countries as possible.
Zoom Rooms is our solution to bring video into conference rooms. The way people brought video in traditionally was via a lot of money into the conference room, things such as Cisco Telepresence and the Polycom, things costing $20,000, that only worked by having an equally expensive room on the other side.
This is hardware agnostic, you can use an LG screen, we have an iPad in this room as a controller, and then a speaker and some mics. You can have a really slick setup for a couple thousand dollars.
You could be on your phone, I could be in the conference room, it all comes together seamlessly. You have to have a great solution for the conference room in the enterprise.
These days, there are more and more open layouts, conference rooms are becoming a more and more important element in how they interact, and it helps with retention. It is typically branded, people see it.
I heard from the bankers, when they were working on the IPO, they see Zoom Room, they see it in companies. And then it just really adds to retention as well.
The importance was evidenced by our announcements at Zoomtopia, our user conference in October. There were a couple announcements there about hardware partnerships with Polycom and Neat [an Oslo-based hardware maker].
The goal of those partnerships is to make it as easy as possible to buy great hardware to kit-out the conference room. They are doing versions of hardware that are simplified like mics and speakers out of the box. What that does is, it really simplifies it so you can put in a conference room and get it up and running.
In sum, I think we are really focused on building a long-term sustainable business. The scale of this company is now where we are approaching $609 million to $610 million of revenue, and that is 85% year-over-year growth.
People should remember that that is largely unprecedented, to have that rate of growth at that scale of a company, combined with profit and free cash flow as well.
I think there was a lot of discussion around slowing growth this quarter but we are still very, very proud of how we are doing.
CML: Since you joined, this company has gone from rather small to being a rather big software company. How does that change things, what challenges does it produce?
KS: You're right. When I joined, there were 700 employees, and today there are over 2,500. And we are certainly growing at a global scale and reach in terms of where employees are.
Everything we do at Zoom is focused on growing the happiness of customers and employees. So, we are very focused on assuring we don't break our culture, so hiring to grow, but making sure our employees are happy.
You take something like Zoom Phone, that shows the trust people have in us, they have grown to trust us. We want that to continue.
So, in order to help scale, we have to make sure we have the right team in place. We have added a chief people officer, Lynne Oldham, who is a great addition to the team. And a new head of talent acquisition. We keep the culture at the level that we want.
We added a new chief revenue officer, Ryan Azus, who came from Ring Central, we also know him from WebEx. To me, that is a super-important hire.
Ryan has seen the scale in both people and revenue that Zoom hasn't experienced yet. It goes back to the leadership of the sales organization, making sure we have the right leaders in place, the right processes in place, how do we support those customers, as we extend around the globe to make sure everything about that is built for scale.
He focuses on his expertise in phones, coming from Ring Central, and his relationships with the channel. Zoom has been historically direct sales, we still are about 90% [direct], and his experience in helping us scale throughout the channel is really important.
CML: And there is no doubt a substantial expansion in infrastructure needed to support all that…
KS: You're exactly right. The other side is the internal support and infrastructure needed to help scale all of this.
My team is of course assuring we are in the right place. Our legal team, our chief legal officer is a really important partner of mine.
Two years ago, there were two key hires, a chief legal officer [Aparna Bawa] — she reports to the CEO, but I ran the search for her, I cared more than anyone else about the hire — and a head of financial planning and analysis.
When I got here, accounting was in good shape, but planning wasn't in place. We put in a planning system.
The other thing at Zoom that's really important is our internal systems, the business operations team. They have done a great job with systems for us, for reporting.
We are a very lean organization, we try to optimize systems when we can, as opposed to people. In reporting, we have daily bookings reporting.
One way you can do that is have a system that updates a report or a person that updates a report. We really try to think about is there a way to systematize something rather than putting in a process.
We have been very thoughtful about every incremental headcount addition, to ensure the ROI on it makes sense, rather than, is there a way it can be automated. It's more fun for people to work on interesting projects.
CML: How should we think about the size of your market. The number $43 billion was mentioned on the call, for the "unified communications as a service" market…
KS: $43 billion is the right figure, but there is a bigger opportunity.
UCaaS, is what we address today: video voice chat, messaging. The thing about that TAM is that we also think there is an even bigger opportunity.
Every day we see people who find innovative new ways to use Zoom. Take healthcare, a company called Bayada Home Health. They did a testimonial for us in our roadshow. They provide home healthcare.
They use Zoom to reach clients in their home. At first, they started using Zoom to consult with them about a medication they are taking. Then they started extending that further to medical consultation.
Previously, they would have loaded the person into an ambulance to take them to the hospital. Now, using Zoom, they can do that consultation right in their home. They couldn't have done that before, you need to be HIPAA-compliant, secure, and private, and be able to operate over different network bandwidths, and cell phone devices, and laptops.
Zoom is changing the way that healthcare is provided in this country. That's a really powerful statement not yet reflected in the way people think about us.
CML: How should we think about your position relative to all these other companies that are in UCaaS, such as Ring Central and Five9? This has been a very, very hot space the last several years…
KS: All of those you mentioned, Eric [Yuan, Zoom founder and CEO] said these are all great partners.
Ring Central resells and white-labels the Meetings product.
Five9 innovates on contact center for us. There is a huge market opportunity here, there is lots of room for all of us to be successful.
There are different reasons for customers to buy from any of us. We want to make sure the integration is as seamless as possible.
CML: That's a very diplomatic answer! Let's talk about metrics. What are the most important metrics for investors to use to track the progress of your business?
KS: So, it's back to customers greater than $100,000 of trailing twelve-month revenue is important.
Both customers greater than $100,000, and net expansion rate show our progress in the up-market expansion, and our improved retention rate.
Land and expand is a very common way we sell, especially in the up-market. Zoom may already be in the company organically because they love it, and buy it with their corporate credit card.
The go-to-market around Zoom Phone is, we are largely selling into our existing installed base. We really believe the future is Zoom Phone, so the continued selling of Zoom Phone will continue to influence net expansion rate.
CML: There was some discussion on the call about billings as a metric, and a lot of people want to focus on billings, and you suggested that is not the best metric at this time. But it sounds like as you expand into large enterprise accounts, over time billings may become a more important metric?
KS: Eventually, yes, the up-market will influence billings.
The company started as an SMB-focused company. We give them a lot of flexibility in way they buy and they pay. We still have a lot of customers on a month-to-month plan, who pay monthly.
We want them to have the flexibility to buy the way they like. We will always have a large portion of our customer base like that.
The revenue from enterprise will outpace that at some point. Over a period of time, billings, and even RPO, will become more like what you see with SaaS companies. But that's a multi-year process.
CML: Thanks very much, Kelly. Let's do this again next quarter!
THE FUTURE
It's understanding technology that gets us an edge to find the "next Apple," or the "next Amazon."
This is what CML Pro does. We are members of Thomson First Call (Refinitiv) -- our research sits side by side with Goldman Sachs, Morgan Stanley and the rest, but we are the anti-institution and break the information asymmetry. We have a third party audited performance track record.
Thanks for reading, friends. Neither author has a position in Zoom Video Communications (ZM) on the date of publication.
Legal
The information contained on this site is provided for general informational purposes, as a convenience to the readers. The materials are not a substitute for obtaining professional advice from a qualified person, firm or corporation. Consult the appropriate professional advisor for more complete and current information. Capital Market Laboratories ("The Company") does not engage in rendering any legal or professional services by placing these general informational materials on this website.
The Company specifically disclaims any liability, whether based in contract, tort, strict liability or otherwise, for any direct, indirect, incidental, consequential, or special damages arising out of or in any way connected with access to or use of the site, even if we have been advised of the possibility of such damages, including liability in connection with mistakes or omissions in, or delays in transmission of, information to or from the user, interruptions in telecommunications connections to the site or viruses.
The Company makes no representations or warranties about the accuracy or completeness of the information contained on this website. Any links provided to other server sites are offered as a matter of convenience and in no way are meant to imply that The Company endorses, sponsors, promotes or is affiliated with the owners of or participants in those sites, or endorse any information contained on those sites, unless expressly stated.