Apple's Seismic Shift Could Double the Stock


Fundamentals

Written by Ophir Gottlieb, 01-19-2016
PREFACE
Apple's tireless innovation and investment in R&D have put it on a path to a radical change it's business model which could change its valuation by nearly two-fold.
STORY
While we have written tirelessly about Apple's incredible line of innovation driven by a 90% increase in research and development over the last two-years, the shifting tide is not just from one of new products, but from a new way of driving revenue.
Over 60% of Apple's revenue comes from the iPhone. Tack on an additional ~20% from Macs and Apple Watch and we're looking at hardware company. It's certainly the most successful one of all-time, but it is still carrying the anchor of a hardware company's valuation. Here's a chart that lays it all out: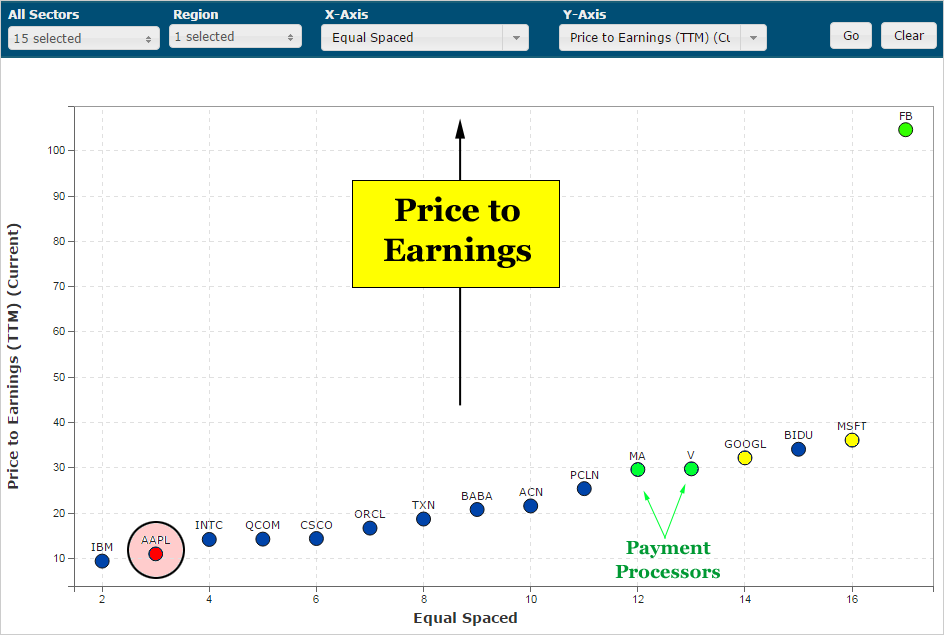 When we compare Apple to all of the other mega cap technology firms, we can see its price to earnings near the bottom. And while a part of a price to earnings measure takes into account future growth, don't tell us that Microsoft, with a price to earnings of nearly 40 compared to Apple's price to earnings of 10, is some sort of bastion of mega tech growth.
It isn't.
Also note where Visa (V) and Mastercard (MA) sit on that chart, we'll get to their relevance in a second. Amazon is so far off the chart we had to exclude it because it ruined the scale. Amazon's rationale for the excessive price to earnings: you guessed it,
recurring revenue
from AWS and Prime memberships.
But Microsoft is aggressively moving away from one-time software sales, to software licensing. It even has a fancy name, software as a service or SaaS. Even as MSFT is seeing earnings drop quarter after quarter (after quarter), its valuation is rising. This is how powerful a
recurring revenue model
is relative to a one-time sales model.
RECURRING IS EVERYTHING
While Microsoft's stock price is up 40% in the last two-years, it's earnings growth has turned negative as it has switched from a one-time sale to recurring revenue model. Here is the net income 1-year growth chart through time.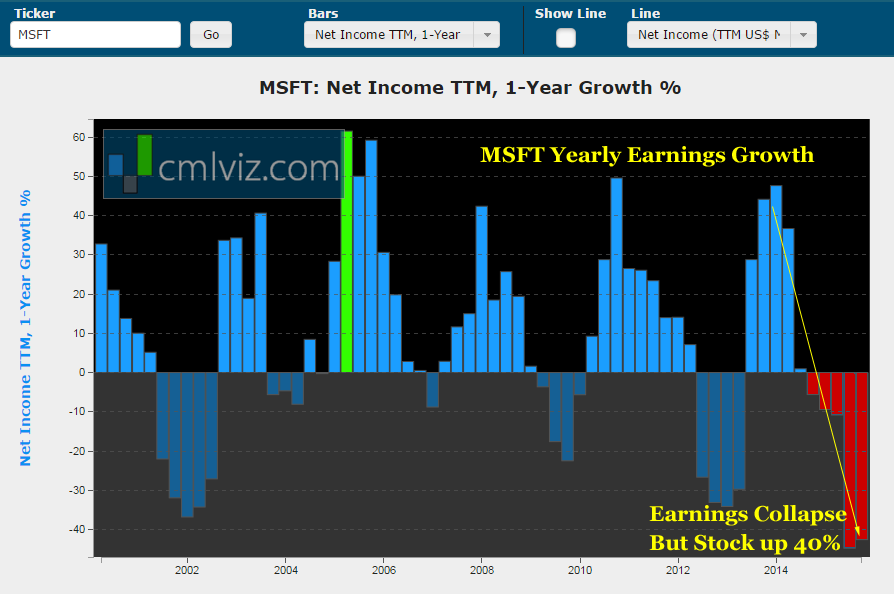 Yes, this is how important the revenue model is. MSFT is in an unabashed earnings recession while the stock is crushing it.
APPLE
Apple is keenly aware of how critical the revenue model is and it has spurred massive innovation. The company has increased spending in R&D by 90% over the last two-years. Yes, the largest company in the world has nearly doubled its investment in innovation. Here's the R&D chart over the last 16-years.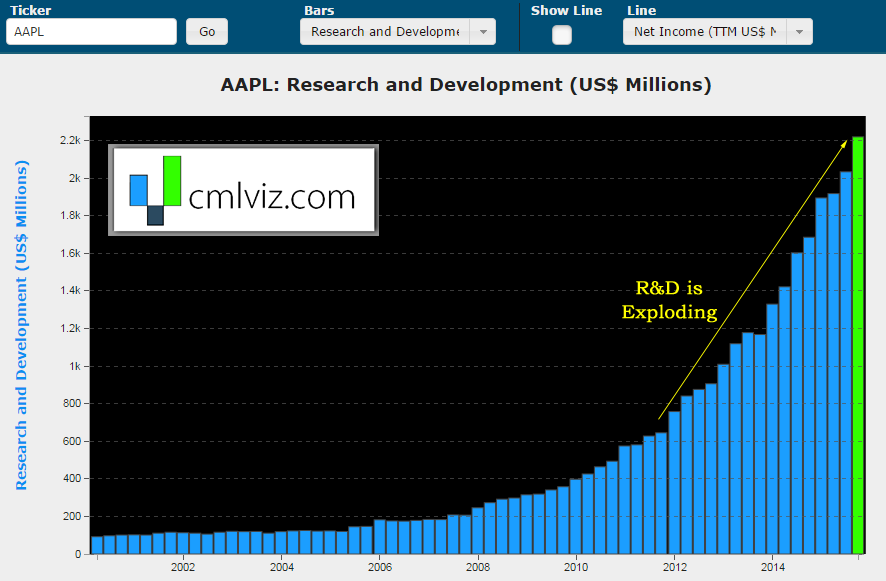 Do you enjoy using visualizations to understand what's really going on in a company?
Get Our (Free) News Alerts Twice a Week.
CHANGING EVERYTHING
We like to point out how Wall Street misses just about all of the true realities in technology, but we have to say, Goldman Sachs has been spot on with Apple. Goldie continues to pound the table that Apple is shifting to a model that will drive recurring revenue rather than strictly hardware, and here's why.
I. iPhone
Apple will begin financing iPhone sales directly to consumers with no carrier-affiliation requirement. All an iPhone user would have to do to switch carriers is get a new SIM card (Source: WSJ). This could mean more frequent upgrades for iPhone customers.
Yes, that means Apple is going to take over control of iPhone sales itself, including financing, and whether that affects this quarter or next is nothing but noise -- this is a huge move, and means the greatest selling hardware of all time will turn into a
recurring revenue model
. Consumers will pay a monthly fee to have their iPhone, and upgrade at various intervals, with payments continuing.
Brilliant.
II. APPLE TV
This one is enormous in terms of potential; a total seismic shift. In fact, what Apple TV brings to the table is so large and so disruptive that we have a stand alone CML Pro research dossier,
Why Apple TV is Brilliant and Seismically Disruptive.
Here's the quick and dirty recap.
The seismic move behind Apple TV lies in the fact that Apple TV will allow customers to group together the apps and channels (like HBO GO or ESPN) they want into little personalized cable bundles. The company will then likely offer a discount on the total bundle and turn it into a sort of personalized cable subscription for $30-40 a month.
This isn't pie in the sky dreamland, this is the goal and Apple is making huge progress. This becomes a gigantic subscription model with potentially tens of millions of people using Apple TV as their
cable service.
This also turns Netflix into just an "app." You've been alerted.
We break news everyday. Discover the Undiscovered.
Get Our (Free) News Alerts Once a Day.
III. APPLE PAY
The mobile payment segment is going to be colossal. In fact, Apple Pay is also so big, that we dedicated an entire CML Pro research dossier to it:
Why Apple Pay is Going to be Enormous
Here's a chart of global mobile payment transaction volume from Statista, forecasting out to 2017. This is in
billions of dollars.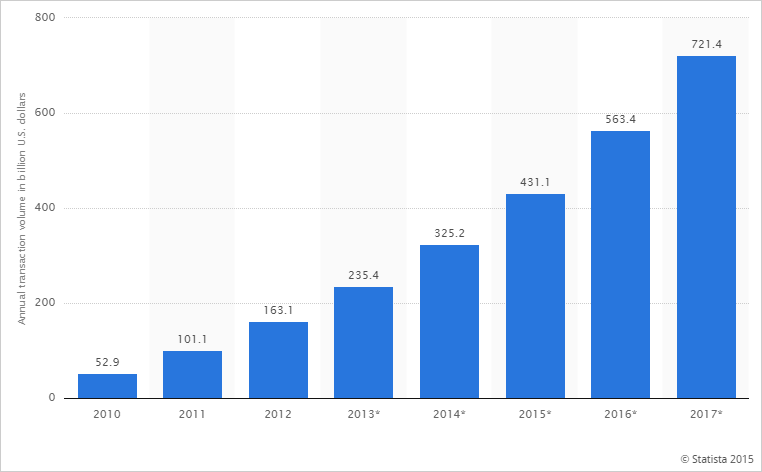 If you recall that first chart we studied with price to earnings, we saw that Visa (V) and Mastercard (MA) have price to earnings 3x larger than Apple. That's the valuation given to a payment processor.
Enter Apple Pay, sitting on the dominant mobile device in the world.
V. APPLE MUSIC
To keep it short and sweet, forecasts for Apple Music call for 15 million to 30 million subscribers by the end of 2016. The service costs $9.99 a month, which would translate into about $2.5 billion in annual revenue -- again, that's the size of all of Facebook's profit in 2015.
This is exactly software as a service. It's entirely recurring revenue.
CONCLUSION
There is so much more going on with Apple it's almost impossible to keep it to one report. We did write a seminal CML Pro research dossier:
How Apple Will Leave a Bumbling Wall Street in the Stone Age
. That report goes extremely deep in to the success of the Apple Watch and the massive success of the Mac as well.
But the key here is the seismic shift Apple is making toward a revenue model that is recurring rather than one-time,and that means a radical shift in its valuation. CML Pro sees it. Goldman Sachs sees it. It's just a matter of time before Wall Street sees it.
WHY THIS MATTERS
Very few people have access to the data and analysis that the top 1% are keenly aware of and that will move markets.
CML research has been given the institutional stamp of approval sitting side by side with research from Goldman Sachs, Morgan Stanley, Merrill Lynch, Barclay's and more on professional terminals. But while other institutional research can cost tens of thousands of dollars, CML Pro is being offered to our retail family for just ten dollars for a limited time.
This is just one of the fantastic reports CML Pro members get along with all the charting tools,
the top picks for 2016
, the single top companies in Artificial Intelligence, the Internet of Things, Cyber Security, Biotech, Banking, Consumer Services, Apparel and more. For a limited time we are offering CML
Pro
at a 90% discount for $10/mo. with a lifetime guaranteed rate.
Join Us: Get the most advanced premium research delivered to your inbox along with access to visual tools and data that until now has only been made available to the top 1%.
Thanks for reading, friends.