Apple Inc
NASDAQ:AAPL 11:19:45 AM EDT
| | |
| --- | --- |
| Market Cap (Intraday) | 2,403.36B |
| Current PE | 41.86 |
| Forward PE | 35.27 |
| 2yr Forward PE | 32.69 |
See more stats
Apple Inc. Stock, NASDAQ:AAPL
ONE APPLE PARK WAY, CUPERTINO, CA 95014
United States of America
Phone: (408) 996-1010
Number of Employees: 132000
Description
Apple Inc. designs, manufactures, and markets mobile communication and media devices, personal computers, and portable digital music players to consumers, small and mid-sized businesses, and education, enterprise, and government customers worldwide. The company also sells related software, services, accessories, networking solutions, and third-party digital content and applications. It offers iPhone, a line of smartphones; iPad, a line of multi-purpose tablets; and Mac, a line of desktop and portable personal computers. The company also provides iLife, a consumer-oriented digital lifestyle software application suite; iWork, an integrated productivity suite that helps users create, present, and publish documents, presentations, and spreadsheets; and other application software, such as Final Cut Pro, Logic Pro X, and FileMaker Pro. In addition, it offers Apple TV that connects to consumers' TV and enables them to access digital content directly for streaming high definition video, playing music and games, and viewing photos; Apple Watch, a personal electronic device; and iPod, a line of portable digital music and media players. Further, the company sells Apple-branded and third-party Mac-compatible, and iOS-compatible accessories, such as headphones, displays, storage devices, Beats products, and other connectivity and computing products and supplies. Additionally, it offers iCloud, a cloud service; AppleCare that offers support options for its customers; and Apple Pay, a mobile payment service. The company sells and delivers digital content and applications through the iTunes Store, App Store, Mac App Store, TV App Store, iBooks Store, and Apple Music. It also sells its products through its retail and online stores, and direct sales force, as well as through third-party cellular network carriers, wholesalers, retailers, and value-added resellers. Apple Inc. was founded in 1977 and is headquartered in Cupertino, California.
While there is some optimism surrounding the roll out of 5G networks worldwide in a few years and the first 5G iPhone coming out in 2020, some might say that's just the same story all over again about a 'new and fresh iPhone reboot.' Similar comments, bullish and bearish, can be made about the idea of foldble phones, or any other type of fairly abrupt new featured version of smartphones.
Apple has an iPhone user base that nears one billion people even though its growth has slowed. It has turned that user base into a revenue stream from Services. As far as the 'what part of services is working' question, it spans items like payments from Google for search, to App Store, Apple Pay, cloud services, and App Store search ad business.
The hardware piece of Apple, though dominated by the iPhone, also includes Mac and the bigger than expected hit that is the Apple Watch.
AND THE FUTURE IS?...
There are two places where Apple has, finally, said out loud the future is headed.
The first is healthcare, and this segment is absolutely big enough to be considered 'the size of Apple.' The global digital health market alone is expected to reach $206 billion by 2020. Here's a great chart from
Statista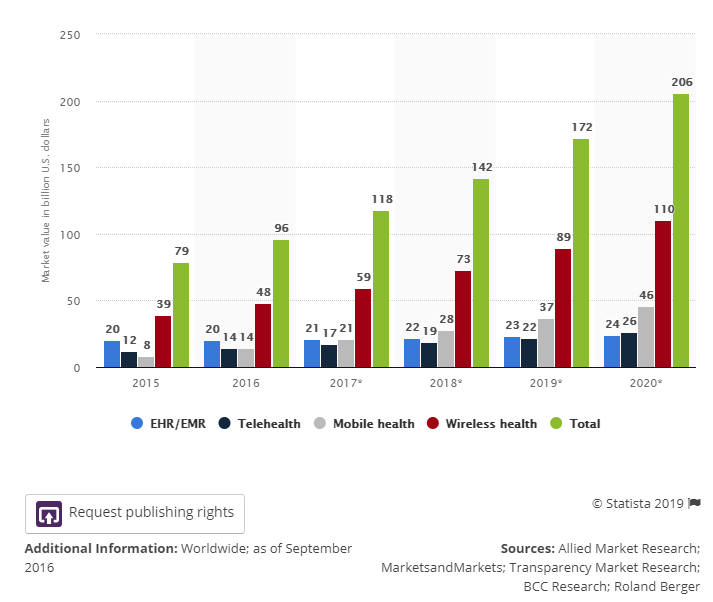 The digital health market is expected to reach $206 billion by 2020, driven particularly by the mobile and wireless health market.
Mobile health is experiencing a growth trend as consumers demand more accessibility to their medical health professionals and transparency in health care becomes more important.
Add on that the newest version of the Apple Watch has been cleared by the FDA as a real-time EKG monitor, and we see a hardware and services opportunity with an existing product, and future products, that could get investors excited. This is where the 900 million iPhone users as a base really starts to matter.
In September of 08 we wrote
Apple's Watch Matters — Of Course it Does
.
But, it's really impossible to capture the total addressable market (TAM), here.
For example, the estimated global healthcare expenditure to treat diabetes in 2017 was $727 billion on its own and there's no doubt that Apple and other firms are still working on the crown jewel of that realm -- a wearable that can measure blood levels without a pin prick.
Suffice it to say, healthcare is a massive market. It is more and more becoming consumer driven, and Apple has 900 million people walking around with iPhones in their pockets. It's a good start.
The second market Apple is going after is streaming video. We have written extensively about this market and our March 2018 dossier
Apple, Finally, Makes a Serious Move into Video
, is a good place to start.
The global video streaming market size was valued at $31.62 billion in 2017 and is
anticipated
to exhibit a CAGR of 19.10% from 2018 to 2025, reaching well over $100 billion by that time.
Here is a chart from Grand View Research that plots just the North American piece of this streaming market: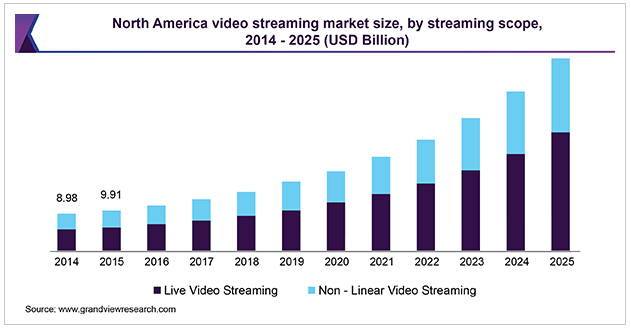 While there is excitement here, there is also incumbent competition. Apple may need to make an acquisition to move the needle here. Keep in mind, for better and for worse, Apple's business is so large that even a business as large as Netflix wouldn't even hit the 10% level of total revenue.
OUTSIDE THE BOX
All of this thinking has been rather 'inside the box.' There is a more creative view of the TAM for Apple Services that could move the needle sooner rather than later.
If Apple were to bundle its video streaming service with it's Apple Music business and an expansion of its payments and advertising businesses, now we see a fairly unique Service bundle that could land in the $15 / month range.
It's easy to do the math here, though it's all made up numbers, but if a third of those 900 million iPhone users end up becoming Apple 'bundlers,' now we could see a $50 billion a year recurring service business on top of the current $40 billion business. That certainly moves the needle.
If healthcare is also a part of that bundle with a premium to it -- we could see a truly distinctive business line. That's the bullish thesis - if you have one. It's wrapped up somewhere in these businesses.