Apple's Secret: The Hidden Handshake with India Is Enormous


Fundamentals

Written by Ophir Gottlieb, 01-21-2016
PREFACE
Apple stock has collapsed of late as every headline has inevitably called of the end of the tech giant's run. Wall Street is wrong. Period. Apple is leaving a bumbling Wall Street in the Stone Age and there's just no other way to say it.
BREAKING: INDIA
In the latest quarter nearly 25% of Apple's revenue came from China and over 40% came from the Americas (Source:
Statista
).
But, if you read that list again you'll notice we're missing the second most populated country in world; India.
Here's a chart of Apple's revenue by region: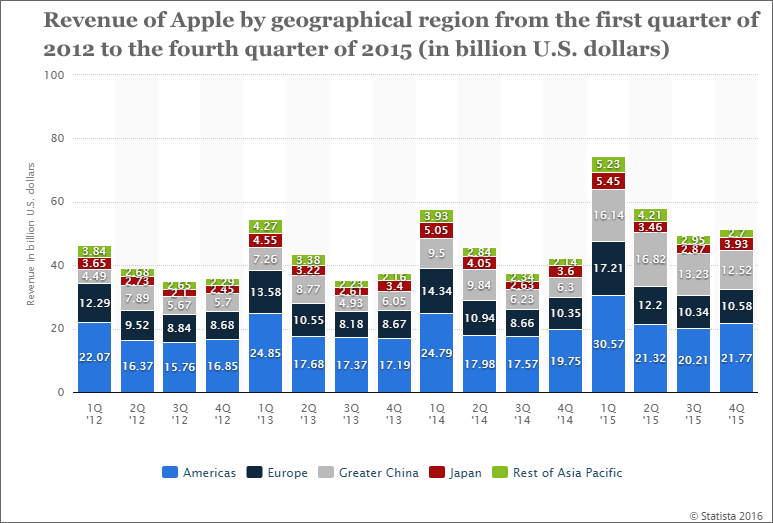 Apple has been locked out of India but Reuters reported that Apple has filed an application with India's Department of Industrial Policy and Promotion to open its own stores with the blessing of a very special person.
Apple Inc has applied to set up its own stores in India, one of the world's fastest growing smartphone markets, as the iPhone-maker looks to tap new opportunities amid worries of slowing growth in its main markets.
Source:
Reuters
.
Apple has generated its unbelievable revenue in China
with just 25 stores
. Reuters tells us that "its plans for India have been held back due to restrictions on foreign investment in the retail industry, which require single brand overseas retailers to buy close to a third of the goods sold at their stores from local producers."
THE SECRET HANDSHAKE
This deal is going to work not because of Apple but because of a much deeper political shift occurring in India, namely: the country seeks outside investment.
Apple's plans come against the backdrop of initiatives unveiled by Indian Prime Minister Narendra Modi, who met with Apple chief Tim Cook during his U.S. visit last year, to boost foreign investments in India.
Source:
Reuters
.
Yes, the Prime Minister of India. India has singled out "cutting-edge technology" as a segment that can side-step the 30% local producer rule; how convenient.
WHY INDIA MATTERS
There's no doubt that India's consumers have weaker buying power than China's immense middle class, but don't be Wall Street -- go beyond the headlines.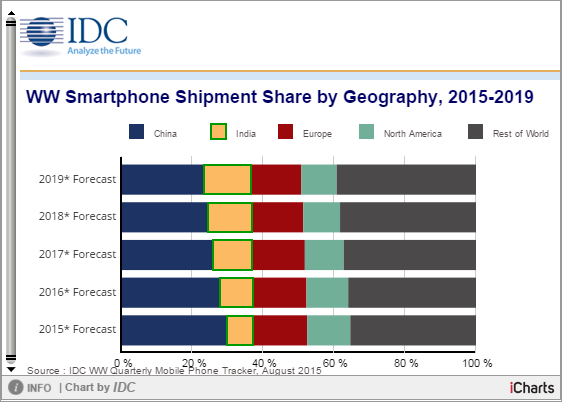 India's share of the smartphone market will increase a staggering 26% next year to to 9.6% of the total global share. Forecasts call for
140 million
smartphones to be sold in India next year, alone.
Here comes Apple and we're talking about an enormous untouched market for the number one technology brand in the world with the best selling technology hardware ever.
PRICE!
Naysayers will stop at the headline that iPhone's are too expensive for the less well-off Indian buyer. Of course, one layer below the headline and we get this:
Rumors have it that Apple will be releasing a 4 inch iPhone with a metal casing. Research suggests there is still substantial demand for a smaller, less expensive iPhone and all the other handset makers have moved away from smaller phones.
What a coincidence, Apple is coming out with smaller less expensive iPhone just as it shakes hands with India's Prime Minister. Estimates for 2016 put this new, massively upgraded small iPhone at 20 million - 30 million units and that
does not include India.
TRUTH
In the CML Pro Apple research dossier we discuss the full line of Apple's remarkable innovation, including a 90% increase in research and development in the last two-years. Yes, although Wall Street claims Apple is a "phone company," the truth is, the largest company in the world may in fact be the most innovative of them all.
Here's the R&D chart over the last 16-years.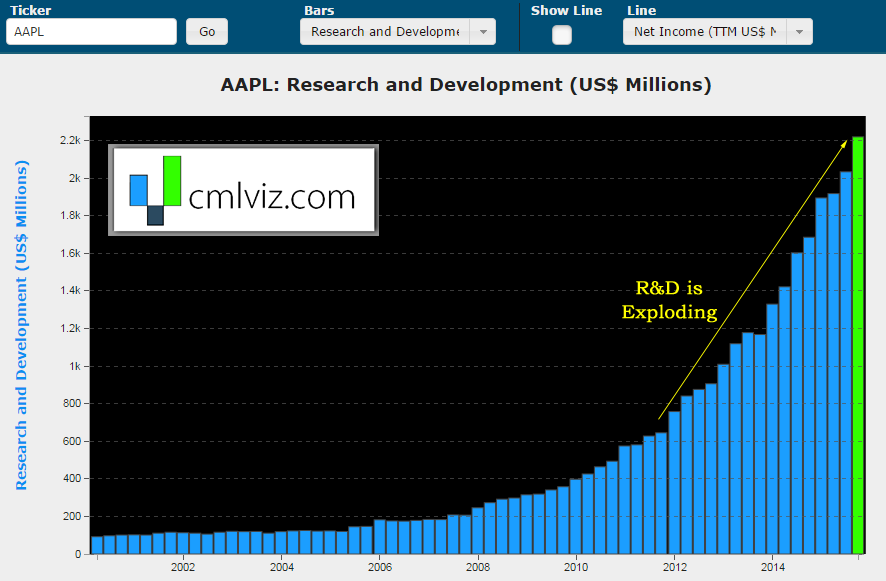 There is so much more going on with Apple it's almost impossible to keep it to one report. We wrote several seminal
CML Pro research dossiers:
CML Pro Research Uncovers:
Apple's Seismic Shift To Recurring Revenue Could Double the Stock
Yes, iPhone
is
Winning in China
Apple Pay Has Enormous Upside
Apple TV is Seismically Disruptive
The Secret is Out: Apple Car is Coming
Apple's Secret: The Hidden Handshake with India Is Enormous
If we aren't in the know about these critical trends, we're behind.
Here's just a taste:
FACT:
The 'failed' Apple Watch will generate revenue in 2016 that is double all of Facebook's profit in 2015.
FACT:
57% of Chinese smartphone buyers, per a Bank of America survey, plan on buying another smartphone
this year
and Apple is the number one choice.
In the CML Pro full research dossier
Apple Turns to Enterprise Changing Valuation
, we discuss the seismic shift Apple is making toward a recurring revenue model and that means a radical shift in its valuation.
CML Pro sees it. Goldman Sachs sees it. It's just a matter of time before Wall Street sees it.
WHY THIS MATTERS
Headlines miss everything and the real top analysts, the ones that serve the top 1%, are keenly aware of the deep data that will move markets and they know exactly when retail traders are selling everything they own.
The information asymmetry that exists between pros and non-pros has transferred massive wealth to the top 1%. That information asymmetry is no longer acceptable to us.
This is just a snippet of the fantastic reports CML Pro members get along with all the charting tools, the precious few top picks for 2016, research dossiers and alerts. For a limited time we are offering CML Pro at a 90% discount for $10/mo. with a lifetime guaranteed rate.
Join Us: Get the most advanced premium research delivered to your inbox along with access to visual tools and data that until now has only been made available to the top 1%.
Thanks for reading, friends.