The Secret's Out: Apple is Creating a Social Network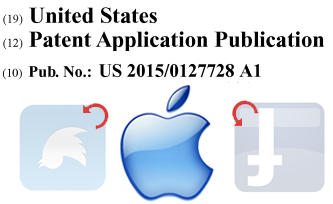 Fundamentals

PREFACE
Recent filings with the United States Patent and Trademark Office (USPTO) reveal that Apple looks to be forming a social network to compete directly with Facebook.
What's more, Apple is firing over the bow of not just Facebook, but of a huge range of other companies including Uber, Lyft, Yelp, and many more. The implications are staggering.
We start at the beginning.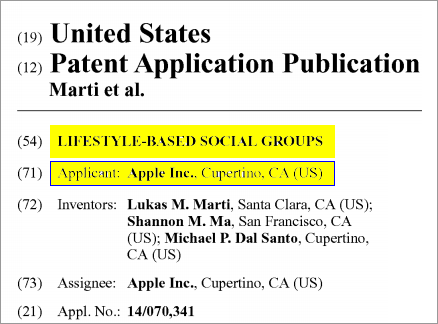 iMESSAGING
In 2014, Tim Cook revealed that Apple handles 40 billion iMessage notifications per day. This February, Eddy Cue, the head of Apple services, revealed that Apple's iMessage peaks at 200,000 messages a second. For reference, if that peak lasted year-round, we're looking at 63 quadrillion messages (Source:
Business Insider
).
Of all the successes Apple can point to, why would they hype their message rates?
WHY NOW?
The news from Cue was amazing, but also out of left field. Cue's Apple services (iCloud, iMessage, Photes, etc) is exploding right now, but iMessaging has hardly been s focal point. Here's the revenue growth from Services alone: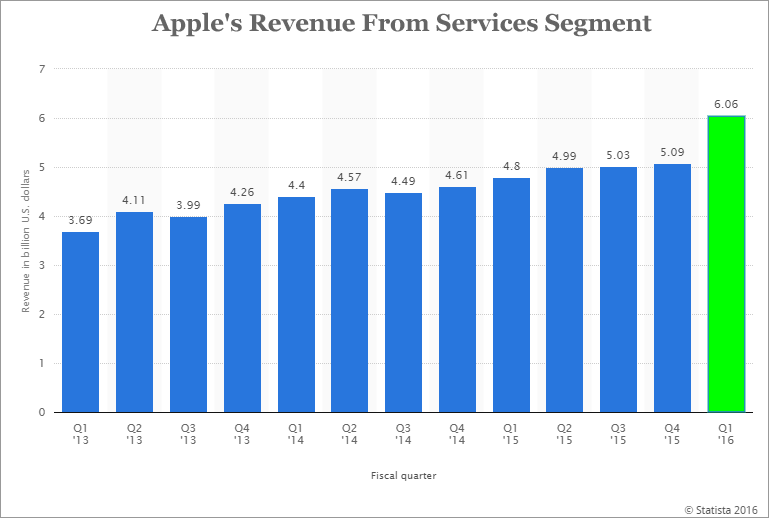 Find more statistics at
Statista
If Eddie Cue gives an address, this overall growth in services is what we would expect the story to focus on, and for good reason. We have an entire CML Pro research dossier '
Apple Turns to Enterprise Changing Valuation
' dedicated to just this phenomenon. But this has very little to do with iMessaging.
That's why the focus on iMessaging, all of a sudden, caught our attention and this is where it starts to get really interesting.
THE FIRST SALVO
In 2014, Apple released iOS8 and a part of the focus was on iMessage. Users were all of a sudden able to capture, send and set a self-destructing timer for audio and video messages without leaving the app (Source:
CIO.com
).
Within hours of release, WhatsApp (now owned by Facebook) co-founder and CEO Jan Koum tweeted:

At the time, Altimeter Group principal analyst Brian Solis stated, "I don't know that it's necessarily Apple's intention to do anything in social"
And so, in large part, the story sort of dropped off the face of the Earth after that.
The story is now back on the planet -- in fact, it's in the US Patent Office.
We break news every day. Discover the Undiscovered.
Get Our (Free) News Alerts Once a Day.
APPLE GOES SOCIAL
We did some digging on recent Apple applications to the
USPTO
, and what we found was shocking.
An abstract from a filing with a publication date of May 7th, 2015, reads (emphasis added):
Techniques for lifestyle-based social groups are described. The system can create a social group based on lifestyle and the meaning of location.

The social group can be an ad hoc social network.
But it's the body of the patent that truly blew us away.
THE SHOCKING DETAILS
Patent applications are intentionally complex and obfuscated. Companies want to be able to sue anyone using their technology, while communicating as little as possible about what they are really doing.
Fortunately, we've done the work to distill it down to the most critical elements directly from the Source:
United States Patent and Trademark Office
:
First, from the patent (emphasis added):
On a social network website, people can post information about themselves. [] However, this information may not be sufficient to determine a person's everyday lifestyle.

The social groups can be based on similar activities and interests of members, even if the members do not post the activities and interests on a social networking website.
And this image:
To start, we already see that Apple's patent demonstrates how "social groups" can be automatically formed by tracking existing users who go to the same restaurants and grocery stores.
With this alone the implications would be staggering, but then this takes it to a whole new level:
Yes. Apple is automatically forming social networks. Apple is not only tracking where people eat and shop, they are targeting ride sharing as well - social networks automatically created around where people tend to travel. This is a direct threat to Uber and its $68 billion valuation.
Incredibly, these first two images are trumped by what else Apple disclosed. To get our full analysis of the implications,
Get the CML Pro Full Research Dosier
WHAT DOES THIS MEAN?
We combine this patent filing with the information just learned about iMessaging rates and it becomes rather apparent that Apple is about to launch a social network for
everyone
that carries an iPhone --
automatically
.
Apple is going directly after not just Facebook's Messenger, and Facebook's WhatsApp, with 1 billion users, but positioning itself to directly compete with the shocking range of companies we discuss in the
Full CML Pro Research Dosier
.
The waves created by this go further, still. Facebook, like most social networks, has struggled with the perception that its users have only superficial interactions, that a "Facebook friend" is simply a vanity-voyerism benchmark.
Apple's "real world" network combined with consumer patterns and behaviors could put Apple in a position of unprecedented influence. Facebook, Google, Uber: watch out.
WHY THIS MATTERS
If any of this information feels like a surprise, in many ways it is. Apple is just one of 14 CML Pro top picks. Here is Apple's incredible R&D growth: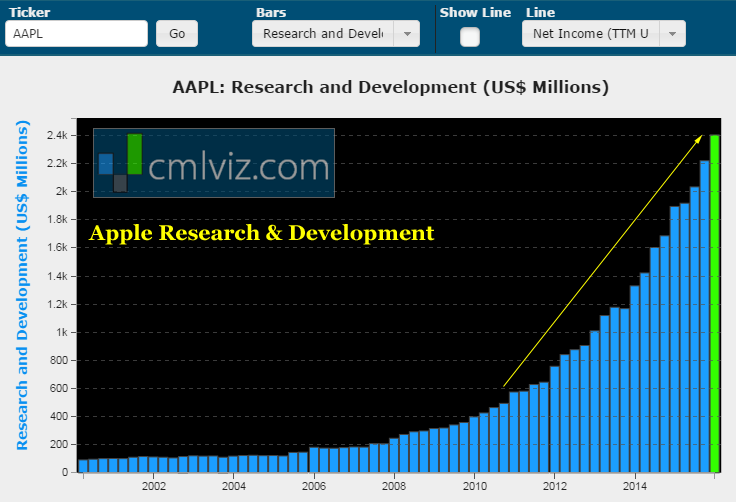 CML Pro research sits side-by-side with research from Goldman Sachs, Morgan Stanley and Merrill Lynch on professional terminals.
But, while institutional research costs tens of thousands of dollars a year, CML Pro was created for the anti-institution. We invite our retail family to all the data, all the visualizations and all the research for just $10 a month.
In fact, here are just two of the trends that will radically affect the future that we are ahead of: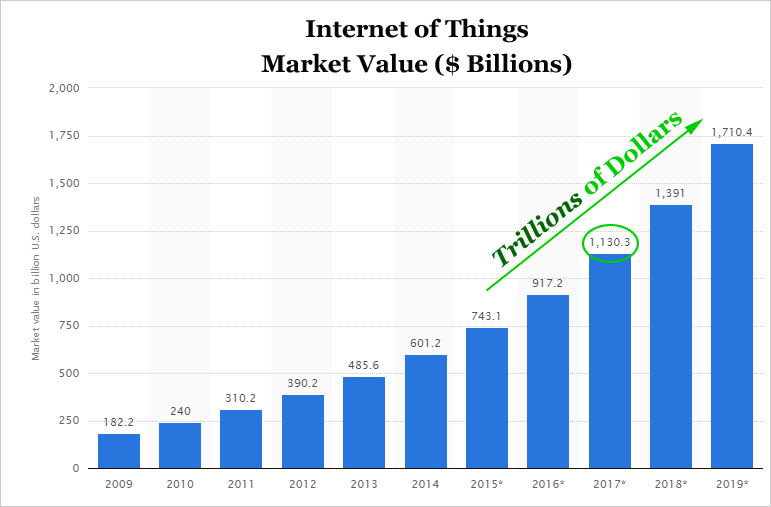 The Internet of Things (IoT) market will be measured in
trillions
of dollars as of next year. CML Pro has named the top two companies that will benefit. Then there's cyber security.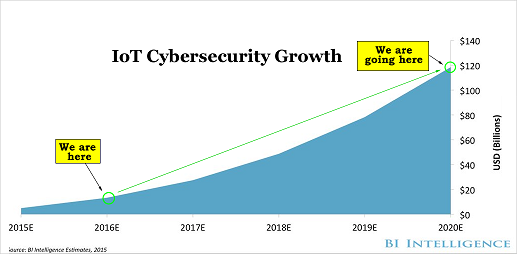 Market correction or not, recession or not, the growth in this area is a near certainty, even if projections come down, this is happening. CML Pro has named the single best cyber security stock to benefit from this theme.
These are just two of the themes we have idenitfied and this is just one of the fantastic reports CML Pro members get along with all the visual tools, the precious few
thematic top picks for 2016
, research dossiers and alerts. For a limited time we are offering CML Pro at a 90% discount for $10/mo. with a lifetime guaranteed rate.
Join Us: Get the most advanced premium research delivered to your inbox along with access to visual tools and data that until now has only been made available to the top 1%.
Thanks for reading, friends.
Thanks for reading, friends.