The Secret's Out: Apple, Facebook, Tesla Fiercest War is Unspeakable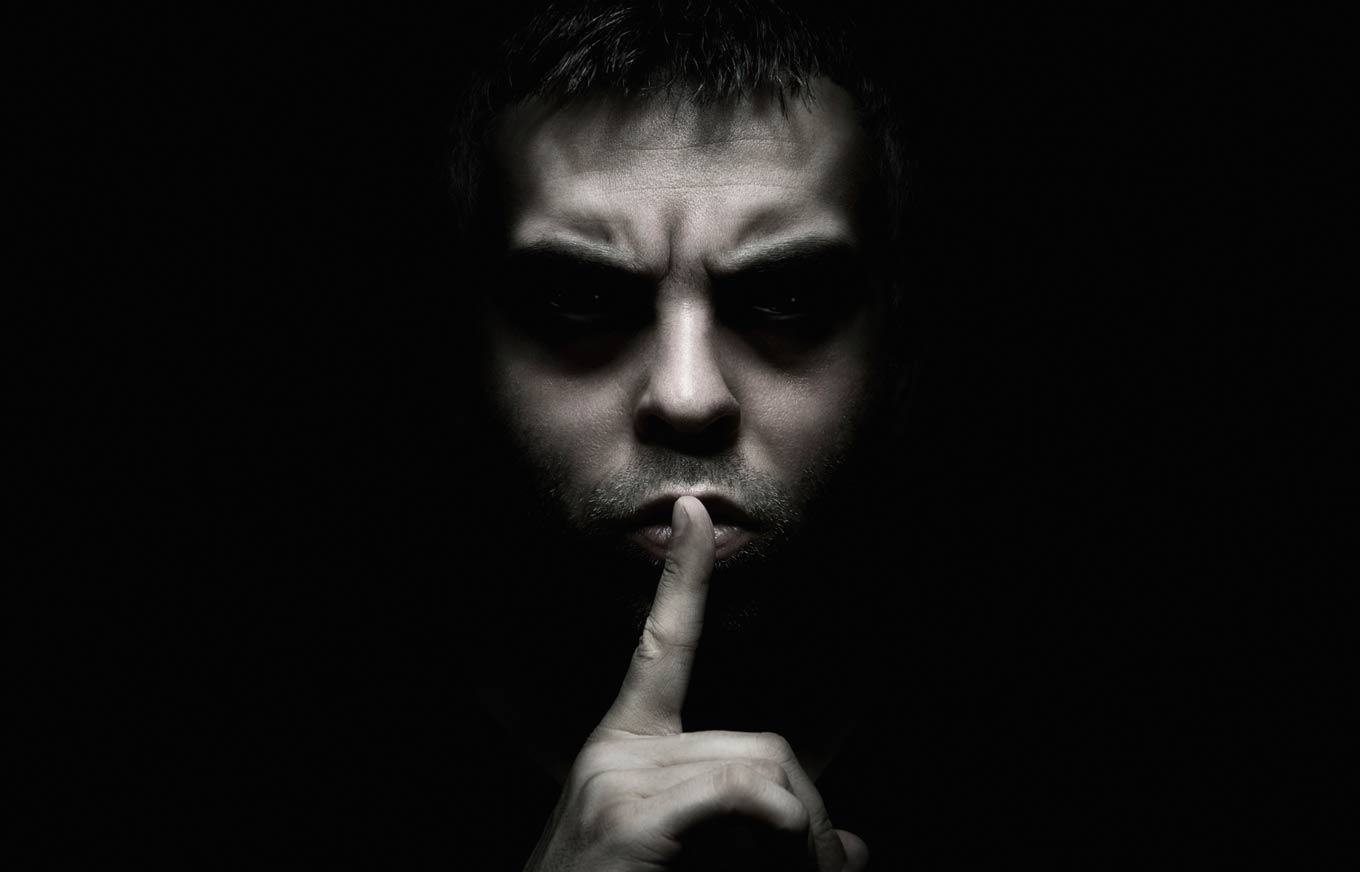 Written by Ophir Gottlieb and Jason Hitchings
A lot of the information we're about to cover might feel like a surprise. In many ways it is. That's because our purpose is to provide institutional research to all investors and break the information monopoly held by the top .1%.
PREFACE
Market dominance is never secure in this era of disruptive innovation, no matter how many bloody battles were fought to win it.
While mega cap names are always looking to acquire smaller firms to get an edge, it turns out that Microsoft was the most active acquirer of firms in 2015 per a report from
Market Realist
. The phrase "Buy or Die," is now a part of the technical vernacular. In fact, just three days ago Facebook bought Masquerade (also known as MSQRD), an app that lets you create live, playful filters for selfies.
But the report leaves one piece out -- and that's talent acquisition -- or in reality,
talent theft
.
As early as 2011, ZDNet wrote that "the technology giants are fighting a talent war."
Over the last two years, Facebook has been stealing employees from Microsoft, Google, Apple, LinkedIn, and Yahoo.
Times have changed, but tactics have not. A report from the Boston Globe published
this year
reads:
Growing companies slug it out every day with long-established companies and recent startups to lure software developers, data scientists, and engineers of all types.
According to CB Insights Microsoft made the most acquisitions in 2015 with 18. Google acquired 16 companies 2015.
"Since 2011, tech players such as Amazon (AMZN), Apple (AAPL), Facebook (FB), Google (GOOG) GOOGL), Microsoft (MSFT), Salesforce (CRM), Twitter (TWTR), and Yahoo! (YHOO) have made 23 acquisitions that were each more than $1 billion."
CB Insights and Market Realist
Now, the questions is, why? And the answer is more exciting and larger than we could have possibly imagined.
VIRTUAL REALITY
Never forget a name. See cars around corners, even in the dark. Sit in a room with your friends and family who are spread out all over the world. Walk alongside your favorite actors in your favorite movies.
These are just a few of the applications promised by the exploding field of virtual and augmented reality. The market for virtual reality (VR) and augmented reality (AR) will be absolutely explosive. Together VR/AR are projected to hit $150 billion in yearly sales by just 2020, according to a study by
digi-capital
: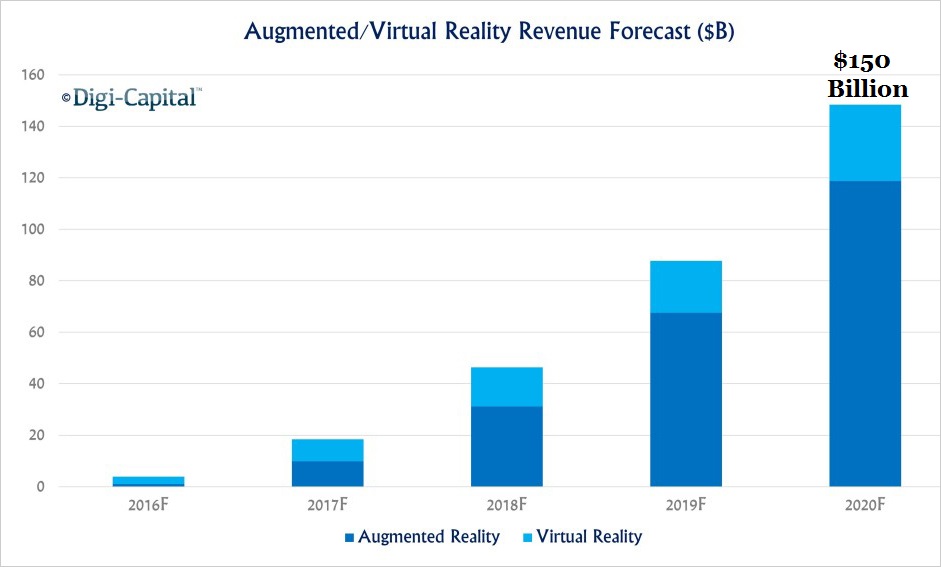 The mega players are Microsoft, Facebook, Google and Apple.
M&A
On May 28th 2015, Apple acquired Metaio, an augmented reality startup. Then, in November Apple acquired Faceshift; the company that created motion capture technology used in the latest Star Wars film.
Talent Theft
We also learned that Apple hired Doug Bowman, Ph.D. who is considered to be one of the world's top virtual reality researchers.
INTERNET OF THINGS (IoT)
Traffic is moving quickly today and you haven't finished your sleep cycle, so your home monitoring adds 15 minutes to your alarm. You're breakfast shifts with your alarm and your first meal is finished moments after you rise from bed - a breakfast with a little extra salt and an extra half banana after your longer gym session yesterday depleted your sodium and potassium levels.
The market for the myriad of devices that have come to be called the "Internet of Things", IoT, is exploding. Sales of connected devices are already 3 quarters of a trillion dollars, but it's the future that's most shocking of all: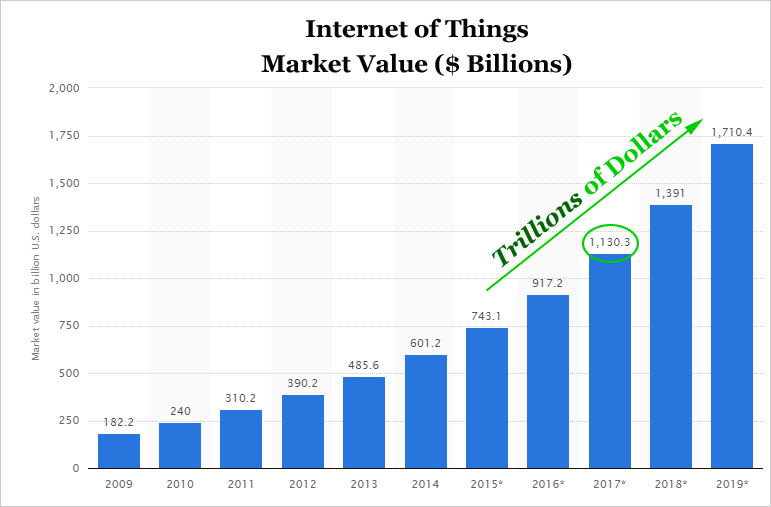 In this are specifically,
TechCrunch
called the scramble for talent and new innovation "Buy Or Die. Big is a scary thing to be right now."
Each of the giant tech companies are making acquisitions in this area to stay ahead of the curve of the proverbial "guys in the garage that will take their company's down."
THE CLOUD
The rate at which data is being collected and stored is reaching staggering proportions:
Experts now predict that 40 trillion gigabytes of data will be in existence by 2020. Three years ago, the entire World Wide Web was estimated to contain approximately 0.5 trillion gigabytes.
International Data Corporation (IDC)
The results will be disruption and innovation on a scale that can only be compared to the most revolutionary technologies of the modern era: the car, the plane, the phone, the computer, modern medicine, the Internet.
All of this data can't live on laptops and smartphones. Companies can't be competitive while using growing IT teams to manage servers, fix broken CAT5 cables, and swap faulty hard drives.
And so the market for Cloud Computing will continue to explode. Projections see the market growing from $80 billion last year, to half a
trillion
within a decade, according to a study by
Wikibon
: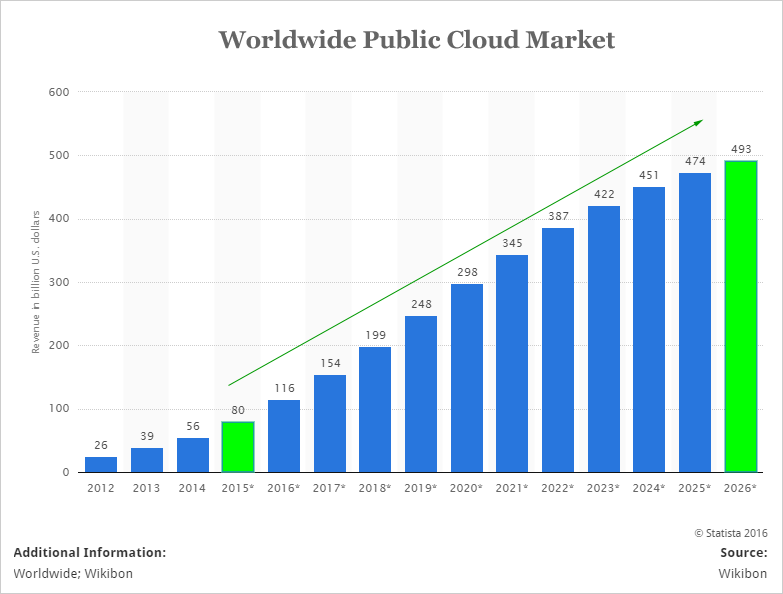 Here we are looking at Amazon, Microsoft, Apple and its iCloud, Salesforce, Facebook's colossus user cloud and Google's mysterious "worst-kept secret" -- the floating data centers off US coasts.
Facebook nearly lost its entire business in 2006 when its just 10 million uses overwhelmed the company's infrastructure. Then it went to the cloud: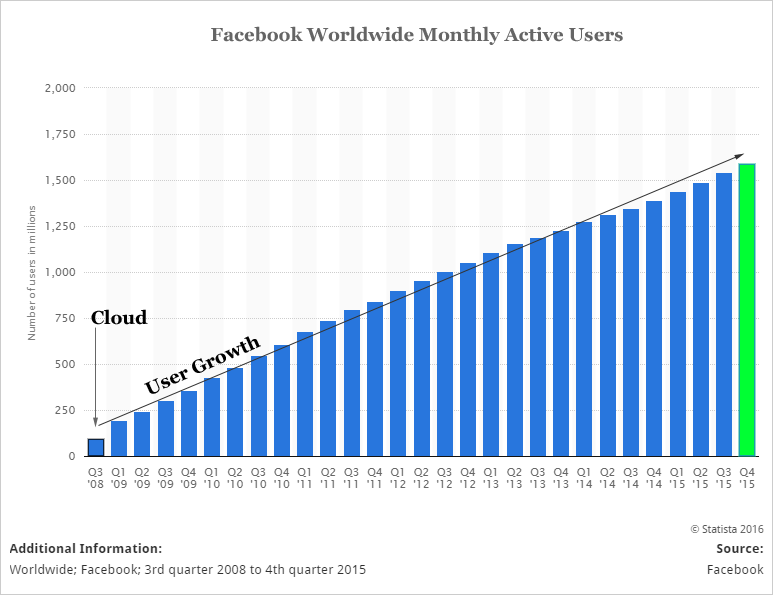 SELF DRIVING CARS
This is the quintessential "talent acquisition example.
The Apple Car effort, known as Project Titan, now employs over a thousand engineers, according to multiple sources.
Talent Theft
Apple has poached so many leading engineers from so many companies, that firms like battery maker A123 are suing Apple. CNN Reports:
The Massachusetts company claimed that Apple has hired away five high-tech PhD and engineering employees, causing "irreparable harm."
And that's just the beginning. Forbes reports that CEO Tim Cook toured BMWs i3 electric vehicle floor, and CNN tells us that a van filled with sensors has been driving around San Francisco suburbs is leased to Apple.
More still, Apple has over 2100 patents granted since 2010 with the word "car" in them, like this one titled:
System for collecting, analyzing, and transmitting information relevant to transportation networks
Patent: US8799461 B2
Elon Musk calls the Apple Car project an "open secret" and the San Francisco Chronicle reports that Musk met with Apple's acquisition chief, Adrian Perica, in 2013, and likely CEO Tim Cook as well.
Fierceness of Battle
After presumably friendly meetings, a few years later Elon Musk went ahead and called Apple the "graveyard" for Tesla employees -- where the engineers that couldn't make it at Tesla went to die. Ouch.
Here's the market that Apple, Tesla, Google, GM and everyone else are after: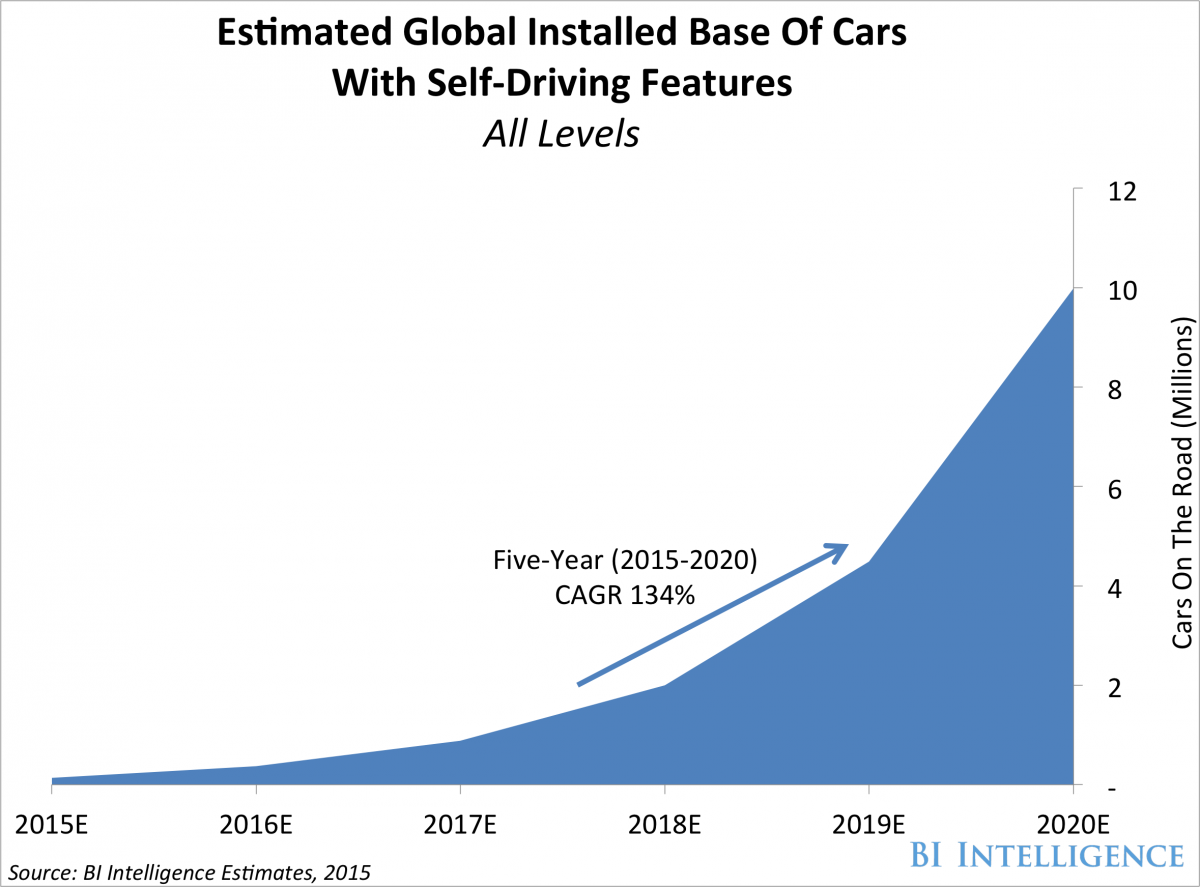 THE REAL WINNERS
The mega techs will win as they battle for position -- but the net outcome could be equal sized gains. The acquisition targets usually win, taking home handsome amounts of capital for often barely fully formed ideas. But it turns out, in fact, that there are bigger winners.
To find the 'next Apple' or 'next Google' we have to get ahead of the curve. This is what CML Pro does. Our research sits side-by-side with Goldman Sachs, Morgan Stanley and the rest on professional terminals, but we are the anti-institution and break the information advantage the top .1% have.
Each company in our 'Top Picks' is
the single winner
in an exploding thematic shift like artificial intelligence, Internet of Things, drones, biotech and more. In fact, here are just two of the trends that will radically affect the future that we are ahead of: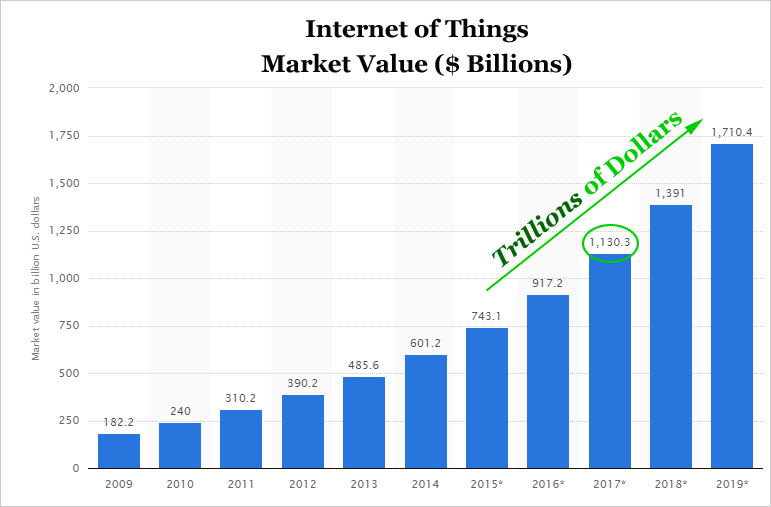 The Internet of Things (IoT) market will be measured in
trillions
of dollars as of next year. CML Pro has named the
top two companies
that will benefit. Then there's cyber security: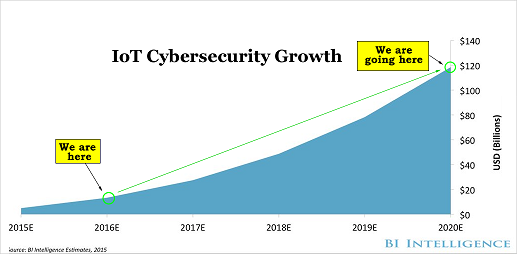 Market correction or not, recession or not, the growth in this area is a near certainty, even if projections come down, this is happening. CML Pro has named
the single best
cyber security stock to benefit from this theme.
These are just two of the themes we have identified and this is just one of the fantastic reports CML Pro members get along with all the visual tools, the precious few
thematic top picks for 2016
, research dossiers and alerts. For a limited time we are offering CML Pro at a 90% discount for $10/mo. with a lifetime guaranteed rate.
Join Us: Get the most advanced premium research delivered to your inbox along with access to visual tools and data that until now has only been made available to the top 1%.
Thanks for reading, friends.