The Secret's Out: Cord Cutting Has One Colossal Winner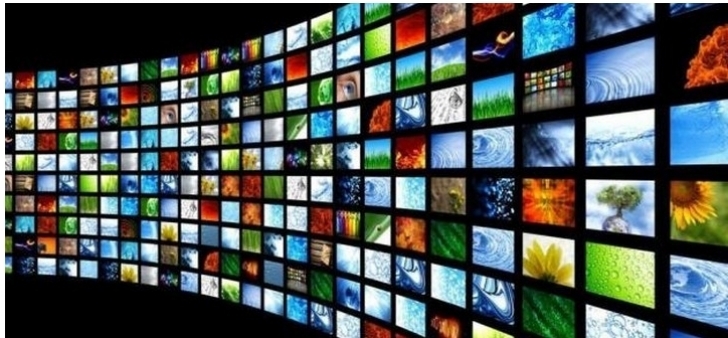 The Future
Our purpose is to provide institutional research to all investors and break the information monopoly held by the top .1%. Thanks for standing with us.
PREFACE
Cord-cutting is a phrase that refers to the slow but steady decline in TV cable subscriptions as people "cut the cord" from their cable networks to go with other alternatives. The theme is enormous, and the winners are positioning for a war unlike any other we have seen in this space.
Let's look at the breaking news, the theme, then the winners. We're going to move fast, let's buckle up.
BREAKING NEWS
A
report
from Business Insider's BI INTELLIGENCE revealed that:
The major U.S. cable companies lost 345,000 video subscribers in 2015, compared to 1.2 million in 2014.
The losses in subscribers have slowed but the thematic shift to streaming video on demand (SVoD) is breathtaking. As the amount of time people spend on cable has drifted downward ever so slightly, online video watching has exploded. Here's the trend: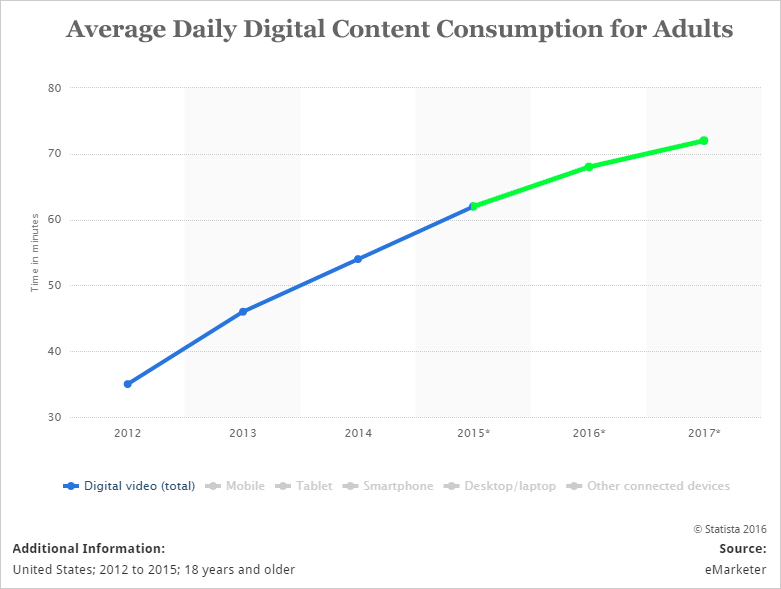 Now, here's the prize:
THE PRIZE
SVoD revenue is climbing at astonishing rates. Here's a forecast from our friends at Statista: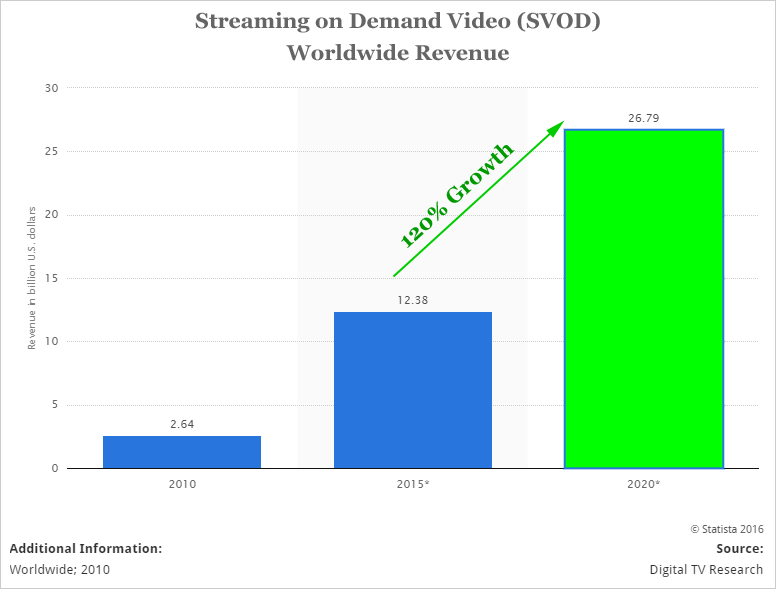 We're looking at a segment that will grow 120% over the next five years to nearly $27 billion. But that's just a part of it. The online video portion is also booming. Here's a snapshot of that market: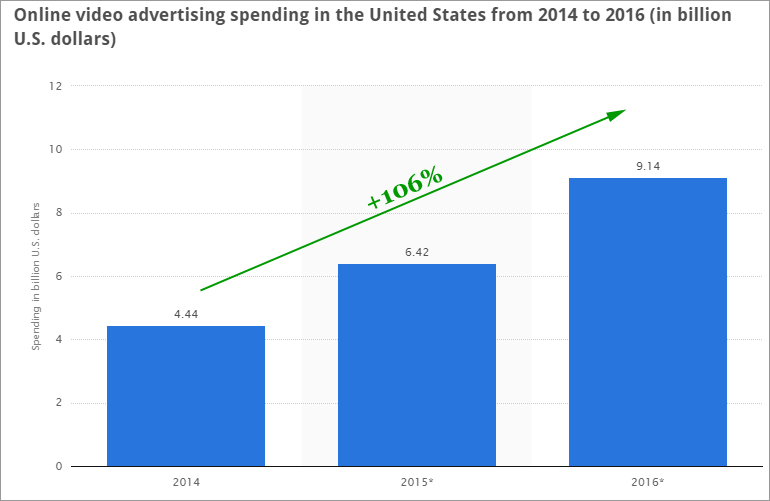 It goes yet further. Both Facebook and Snapchat announced that they now both receive 8
billion
video views
a day
. And let us not forget about Goliath. Here's what we learned from Alphabet / Google's YouTube on the earnings report on 7-16-2015:
Google disclosed that watch time for YouTube rose 60% in the second quarter and the video service had more viewers aged 18-49 on mobile alone than any U.S. cable network.
Now that's the prize -- here are the players, and here's who is really going to win.
I. NETFLIX
Netflix is the dominant force, especially in the United States, and when we actually sit down to look at the numbers, the market share command is like nothing we've ever seen before:
So the chart is bit confusing -- here's the takeaway: 48% of households in the US have access to SVoD and Netflix is in 44% of households. Stated differently, Netflix has a 91% market share. Wow. Even more impressive, its footprint is growing.
Here is the worldwide coverage Netflix is reaching for as of January of this year: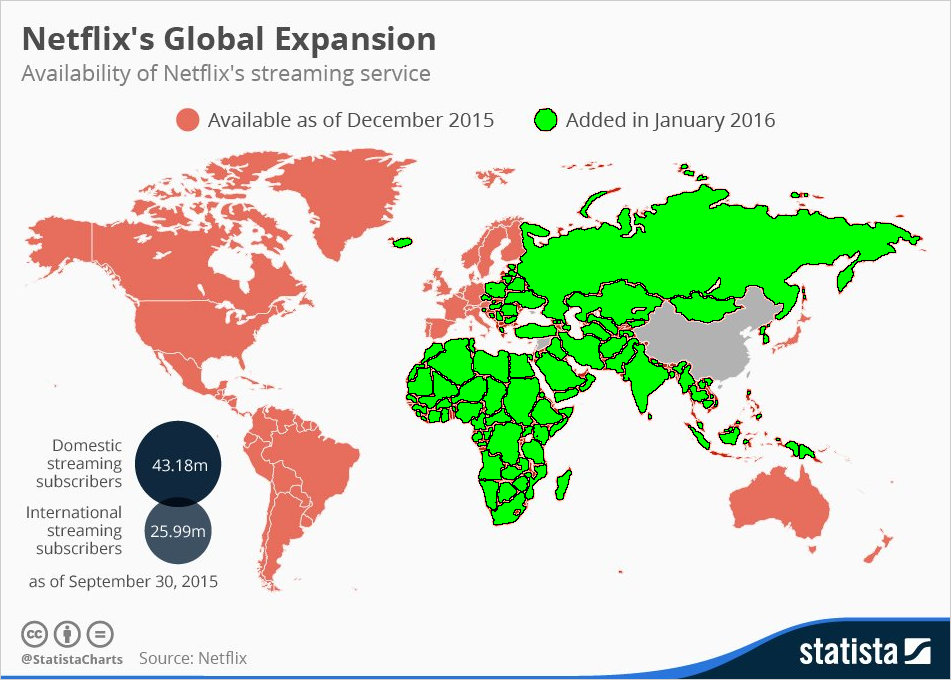 That incredible expansion is driving revenue through the roof, but it's also crushing cash from operations. Check out this wonderfully dichotomous trend in revenue and cash flow: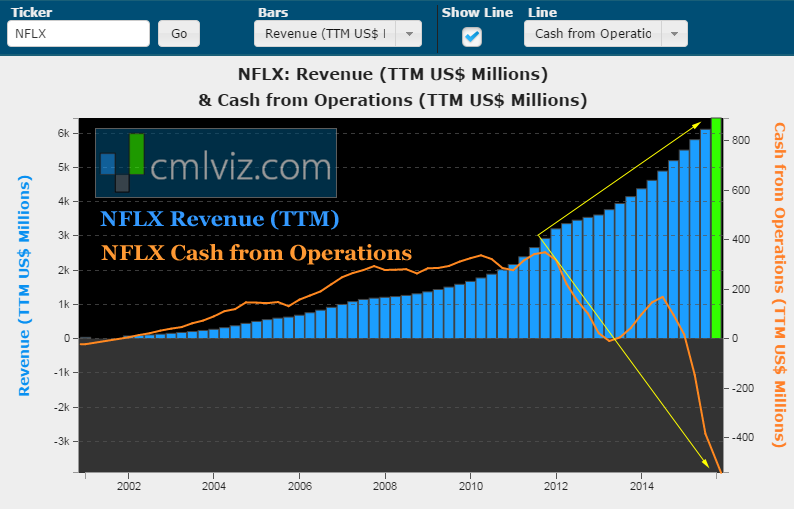 Netflix is a marvel, but they aren't going to be the ultimate colossus in this field. I know that seems counter intuitive, but stick with us, we're going to show you unbelievable.
II. AMAZON
Amazon has also entered the SVoD world, and if we peek back at that SVoD market image in the US, we do see that Amazon's Prime service does come in at a steady second place with 40% market penetration. Further yet, Amazon's Prime Service grew 50% year-over-year.
Here is Amazon's wall of revenue, which of course is only partially due to Prime: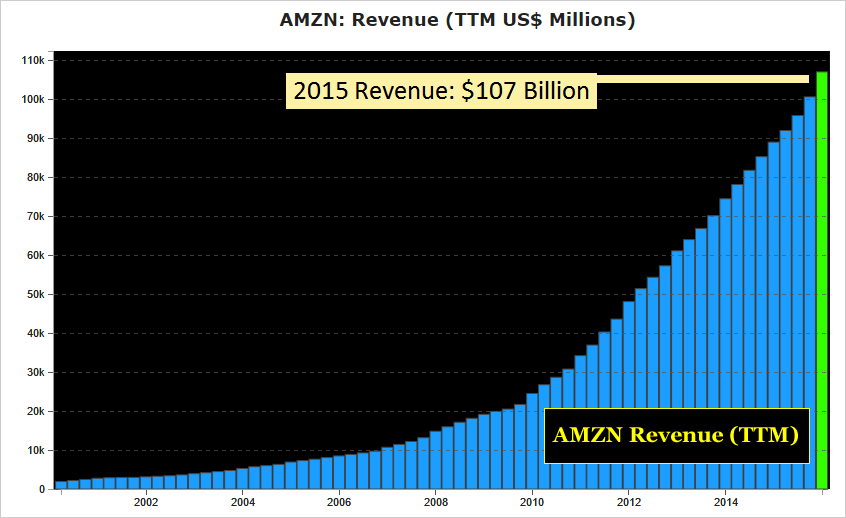 Amazon, like Netflix is pouring money into original content and it is in a solid second place, and with the incredible value its Prime service offers beyond SVoD, it's a legitimate threat to Netflix. But Amazon isn't going to be the ultimate winner either.
III. FACEBOOK
At 8 billion video views per day and a dominant position in mobile ads on the application, Facebook is a serious threat to any SVoD. In fact, other than the single winner we believe in, Facebook may be the most able to radically and effectively innovate, compared to any other firm. Here's is the breathtaking Facebook all-time revenue chart: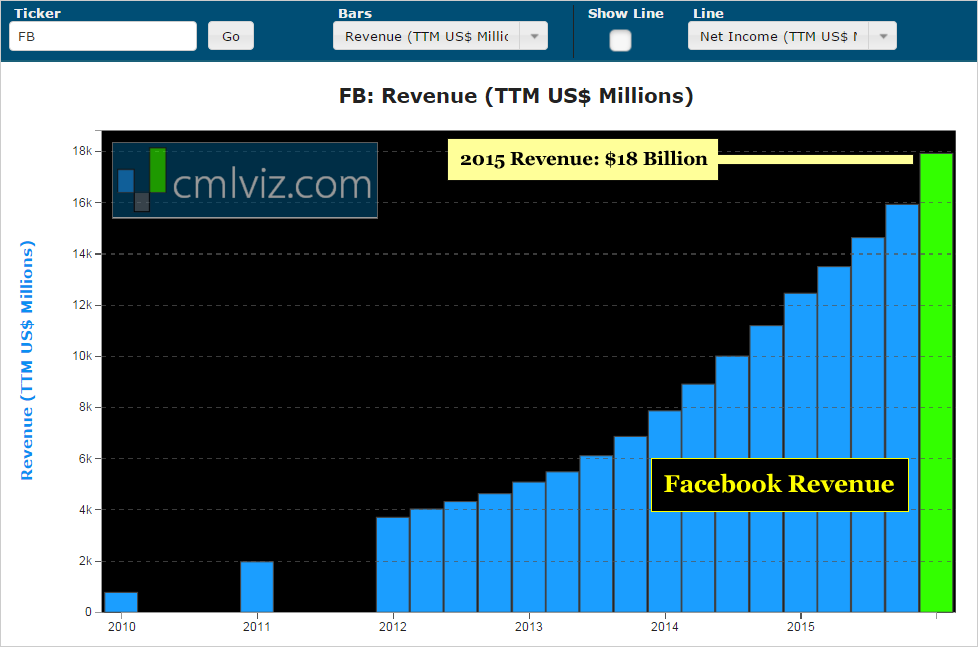 But Facebook has a blind spot, as do all of these companies, except for one.
IV. GOOGLE
It bears repeating: "YouTube had more viewers aged 18-49 on mobile alone than any U.S. cable network." In fact, if we look at estimated unique monthly visitors assembled from Alexa and other web ranking services by ebizmba we see this: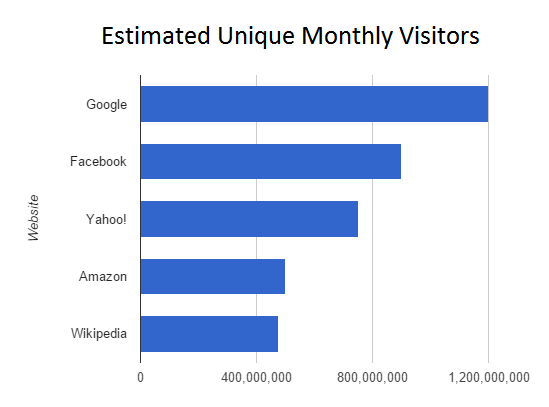 Google is Goliath. Youtube now has a premium service called YouTube Red -- it's building original content and is competing head to head with Netflix and Amazon's Prime while taking eyeballs away from Facebook.
But Google is only Goliath until you see the real winner. A boulder slinging colossus that is about to own the whole thing.
V. APPLE
Netflix, Amazon Prime, Facebook and Google all rely one technology that is very easy to miss -- someone else's hardware. Enter Apple.
In an article we penned on CML Pro "Apple's Genius: Kill Cable and Then Take the Entire Business" we follow the thread of the real technology disruption, and friends, this is no joke:
APPLE TV
Estimates come in as high as 25 million Apple TVs to be sold in 2016 in a market that shows strong growth moving forward. Here's how the smart TV realm will grow through time: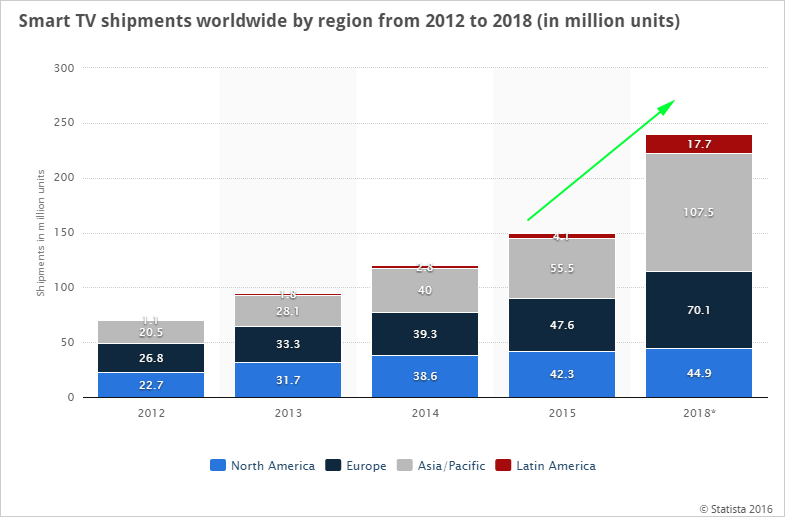 On the latest earnings call, Tim Cook said:
"We had our best quarter by far for Apple TV sales, and the number of apps developed for Apple TV is growing rapidly."
Now here's the seismic shift and the real gem:
EVERYBODY BETTER DUCK
When I finished my research and spoke with our Chairman, he asked what exactly I thought was so "seismically disruptive." And all I could say was, "everybody better duck, because Apple is trying to own cable." Here's how:
The Apple TV will come with its own software development kit and its own app store, i.e. its own Apple TV ecosystem. Now, here is where Apple is looking at a $27 billion SVoD business, and then looking to double it.
There are 133 million households in the United States alone with a cable TV subscription and 75% of those people watch TV everyday (Source: AYTM). ZenithOptimedia tells us that in 2015, daily time spent watching TV per capita in North America was nearly 300 minutes — or five hours per person per day. Here's the chart: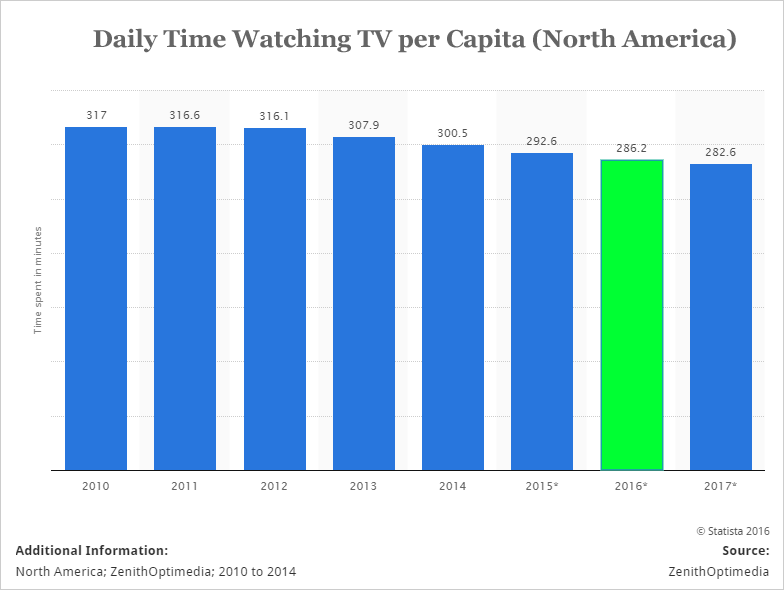 We can play the game that tries to guess which content provider will win: Netflix (NFLX), Google's YouTube (GOOGL), Amazon's (AMZN) Prime, Hulu, whatever. Or, we can find the company that is going to pull it all together in one place.
Now, enter Apple TV:
The Motley Fool reports that Apple is rumored to be working on a subscription TV service, one that would serve as a replacement for traditional pay-TV providers.
Apple is going to bundle ESPN, HBO Go, Showtime, USA or whatever other cable networks we love — and it will
also combine
access to Netflix and YouTube. It will become the largest cable bundler in the world, and that means Netflix, Youtube, Facebook and Twitter (TWTR) are no longer destinations, they are just apps, just like everything else.
Imagine that as cable dies (and we all know cable is dying), that the millions of Apple customers will find in the Apple TV a beautifully integrated all-in-one place available on their iPhones, iPads, iPods, Apple Watches, Macs and especially through their Apple TV.
Apple is going to take the entire SVoD industry, put it in its pocket, and then take cable along with it. Note to Time Warner Cable (TWC) -- here comes the real giant.
WHY THIS MATTERS
True innovation, the kind that turns companies from small caps into mega caps, the kind that sees stocks double, triple or even quadruple only occurs when two critical phenomena collide.
To identify Apple and then go beyond, to find the 'next Apple' or 'next Netflix' we have to get ahead of the curve. This is what CML Pro does. Our research sits side-by-side with Goldman Sachs, Morgan Stanley and the rest on professional terminals, but we are the anti-institution and break the information advantage the top .1% have.
Apple is one of just a precious few 'Top Picks' for CML Pro. Each company identified as
the single winner
in an exploding thematic shift like artificial intelligence, Internet of Things, drones, biotech and more. In fact, here are just two of the trends that will radically affect the future that we are ahead of: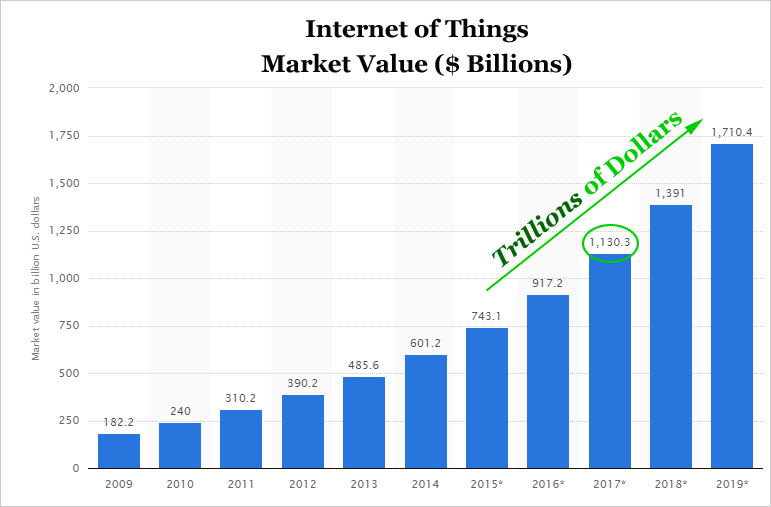 The Internet of Things (IoT) market will be measured in
trillions
of dollars as of next year. CML Pro has named the
top two companies
that will benefit.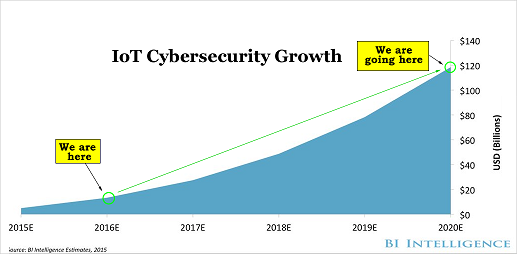 Market correction or not, recession or not, the growth in this area is a near certainty, even if projections come down, this is happening. CML Pro has named
the single best
cyber security stock to benefit from this theme.
These are just two of the themes we have identified and this is just one of the fantastic reports CML Pro members get along with all the visual tools, the precious few
thematic top picks for 2016
, research dossiers and alerts. For a limited time we are offering CML Pro at a 90% discount for $10/mo. with a lifetime guaranteed rate.
Join Us: Get the most advanced premium research delivered to your inbox along with access to visual tools and data that until now has only been made available to the top 1%.
Thanks for reading, friends.