Apple's Growth is Starting to Explode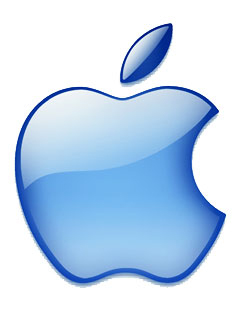 Fundamentals

iPHONE SE
First, the smartphone market in and of itself is growing:
We're looking at 44% growth, hardly a dead market, yet hardly ever reported. Next: Apple introduced its smaller iPhone SE: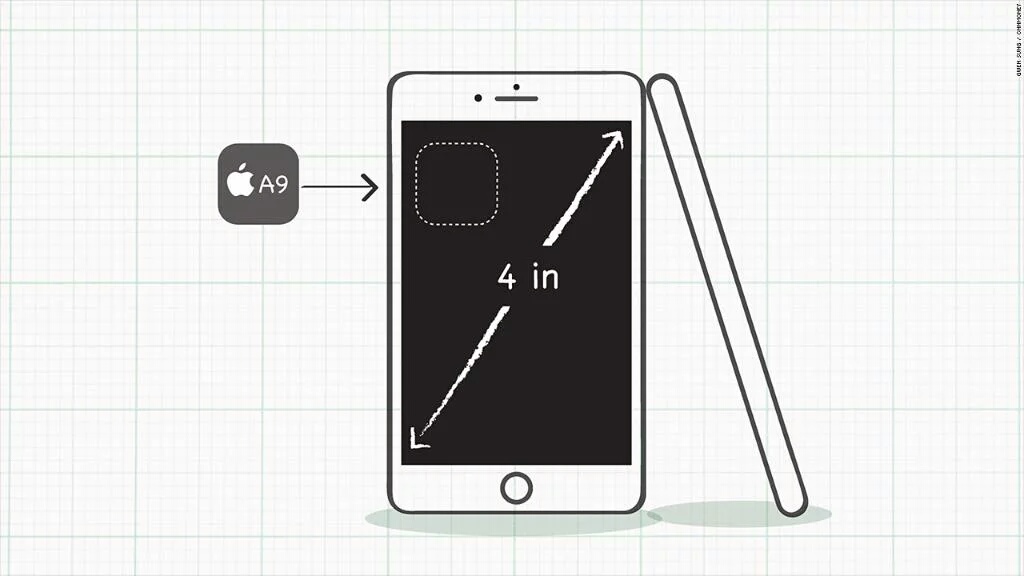 The starting price has been set at $399, the lowest price ever for a new iPhone.
Analysts have dismissed it as a lower priced iPhone that may in fact compete with the other, more expensive iPhones. That's wrong and here's what really happened:
INDIA
What you won't hear: India's smartphone market is tremendously large. Here's the growth via
Statista
:
By 2017, India will be larger than the United States. So why do we care about India, or better yet, why don't we
ever
hear about India and iPhones?
The iPhone SE was not built on a wing and a prayer. It was calculated, almost frighteningly so. Here was Apple's share of the Indian smartphone market as of January: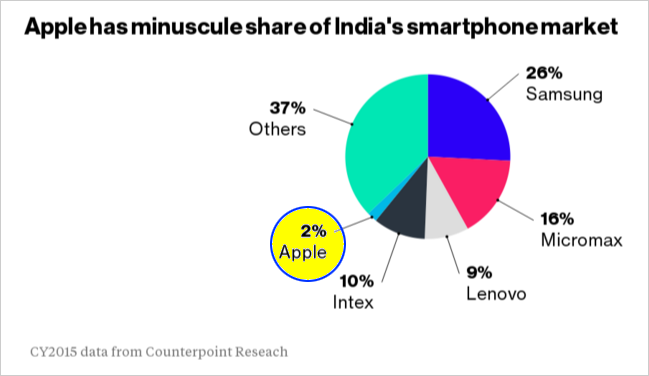 Apple had essentially no footprint in India because the country prevents outside companies from selling products without a tremendous penalty based on a national law that protects home grown manufacturers.
CHESS NOT CHECKERS
The tectonic shift began last year with a visit by Apple's CEO Tim Cook and a private meeting with India's Prime Minister. Shortly after the meeting we got this news: India has singled out "cutting-edge technology" as a segment that can side-step the 30% local producer rule and Apple has been singled out as "cutting-edge technology."
What a coincidence. A meeting. A law change. Preferential treatment. Now, welcome to 200 million new potential Apple iPhone customers. Apple is playing chess, not checkers. Remember that 2% market share we looked at in India. Here's news that broke four weeks ago:
Apple's 2% market share in India just rose 130% in a matter of months to 4.6%.
We already have a 130% rise in smartphone share in a matter of months on a handshake, and the real weapon is the iPhone SE, soon to be released. iPhone 6 holds nearly 20% of the market share in China. Apple is going to dominate India – and this prototype iPhone SE is the world changing conduit.
At 20% market share, Apple is looking at 40-50 million units in India alone, in time.
OK, that's just a taste of the iPhone market. Next step: Virtual Reality:
I. VIRTUAL REALITY CHECK
On May 28th 2015, Apple acquired Metaio, an augmented reality startup. Then, in November Apple acquired Faceshift; the company that created motion capture technology used in the latest Star Wars film. We also learned that Apple hired Doug Bowman, Ph.D. who is considered to be one of the world's top virtual reality researchers.
Together VR/AR are projected to hit $150 billion in yearly sales by just 2020, according to a study by
digi-capital
: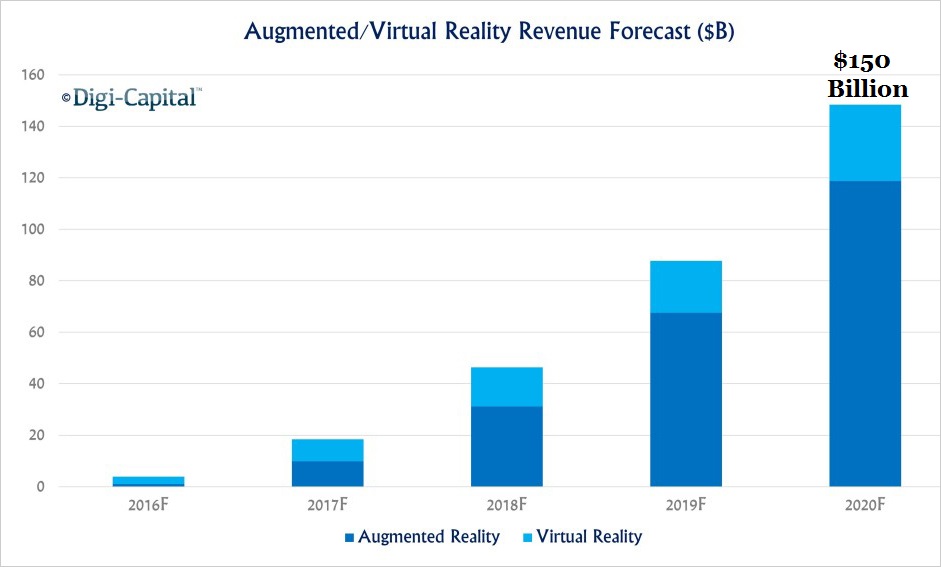 VR/AR is crowned as a market whose "customer base looks increasingly like all of humanity" by Dave Thiel at Forbes. Apple is entering it and will take a massive market share simply by virtue of its enormous iPhone install base. Details are on in CML Pro.
Next stop: Apple Pay:
II. APPLE PAY
Apple's announcement yesterday is nothing short of a total disruption. But one step back first:
Here's what Tim Cook said on the latest earnings call (emphasis added):
In the second half of 2015, we saw significant acceleration in [Apple Pay] usage, with a growth rate ten times higher than in the first half of the year.
Yes, he said
ten times higher
growth in six-months. Now -- here's how Apple will break everything:
TOTAL DISRUPTION
In an aggressive and shrewd move, we have learned from
Re/code
that Apple will be bringing its Apple Pay to mobile e-commerce sites, and then an even larger disruption. First step one, then step two:
Apple's payment service [will allow] shoppers to complete a purchase on mobile apps with their fingerprint rather than by entering credit card details.

The move would pit Apple more directly against PayPal.
Source:
Re/code
Never again will we need to enter our PayPal password, or our credit card numbers. We will use our finger print, and that's it. No identify theft, no passwords, no problems.
But this is the real disruption. We are likely to see Apple Pay on all desktop and laptop products for Apple soon and that means we will be able to go to broader e-commerce websites and pay by touching our monitors.
Just a month ago, Apple revealed to the world that it had an active install base of over 1 billion devices. That's 'b' for
billion
.
THE PRIZE
Just 'mobile pay' transaction volumes are projected to hit $700 billion in yearly sales by just 2020, according to a study by
Statista
: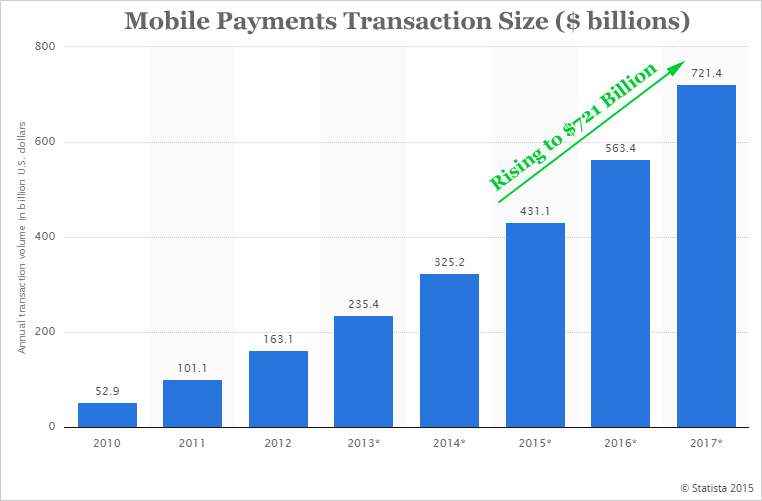 But that's the infancy. Here is Bank of America's take:
By the year 2022, the mobile payments growth will reach a combined total of around
$3 trillion
. That measures fully
200 fold
in just seven years.
Bank of America
Apple's iPhone and iPad combined to account for 65% of the mobile pay market. Now, disrupt.
DISRUPTION
We saw the mobile pay market -- measured in trillions of dollars, soon. Now, add
in addition to that
Visa, MasterCard and PayPal. The three companies have combined market caps of about $330 billion, or more than half of Apple.
Apple is certainly not going to take the entire credit card business (right?) or the entire mobile commerce business, but if we add the enormity of Apple Pay through e-commerce and then the added functionality of "touch your monitor and now you've paid" promise of Apple Pay on desktops and laptops, we could be looking at a business line that, as of Apple's price today, could be worth an additional 30% of Apple's value.
III. APPLE TV
Apple dropped a bomb on Netflix, Google, Facebook and Amazon. Here we go -- short and sweet -- more details are in CML Pro:
Apple just released tvOS 9.2 and introduced support for folders for apps: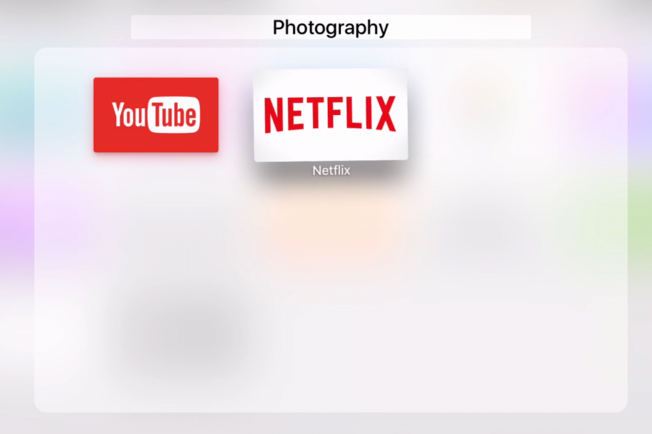 It looks simple enough doesn't it? Here's why just that little bit was an all out assault.
APPLE TV: INTRODUCTION
A review of Apple TV from
WSJ
was succinctly perfect:
"Think of Apple's fourth-generation box as a way to turn your TV into a giant iPhone."
Estimates come in as high as 25 million Apple TVs to be sold in 2016 in a market that shows strong growth moving forward. On the latest earnings call, Tim Cook said:
"We had our
best quarter by far for Apple TV sales
, and the number of apps developed for Apple TV is growing rapidly."
Apple
Now here's the first part of seismic shift and after that, the combative attack on everyone.
APPLE TV: THE EPIC CHANGE
Start with 133 million households in the United States alone with a cable TV subscription (Source: AYTM). Add to that, on the earnings report on 7-16-2015, Google disclosed that YouTube
had more viewers aged 18-49 on mobile alone than any U.S. cable network.
We don't have to guess which content provider will win: Netflix (NFLX), Google's YouTube (GOOGL), Amazon's (AMZN) Prime, Facebook, Hulu, whatever. We simply look to the company that is going to pull it all together in one place.
Enter Apple TV: The Motley Fool reports that Apple is rumored to be working on a subscription TV service, one that would serve as a replacement for traditional pay-TV providers. Now, remember our first image -- let's expand it: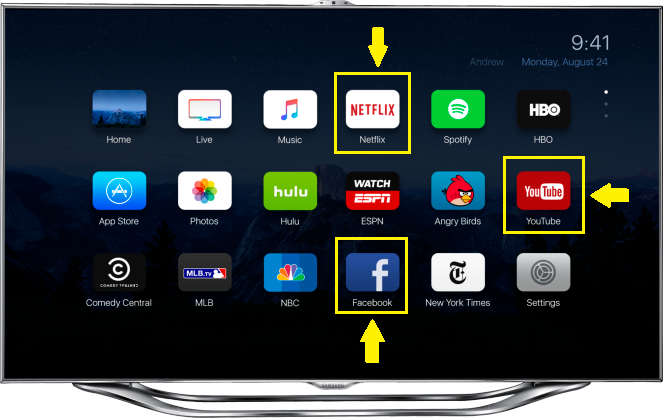 Apple is going to bundle ESPN, HBO Go, Showtime, NBC, MLB,
and even Facebook
and the NY Times along with whatever other cable networks we love – and it will also combine Netflix and allow access to YouTube. As Apple executes with its TV, Netflix is just an app. YouTube is an app. Cable is an app. The news is just an app. Music is an app. Facebook is just an app.
And the provider, the hardware, the interactor, the bundler, the ecosystem -- that's the Apple TV. That's tens or even hundreds of millions of subscribers paying our $30-$40 a month for cable and apps and the checks go to 'Apple, Inc.'
IV. APPLE WATCH
It's fun to call the Apple Watch a failure. Everyone else is. There are articles right now from major news sources that will be deleted in a matter of years, just like Bloomberg did with its monumental failure in covering the iPhone.
You see, the facts have been released, and the Apple Watch is selling better than the first iPhone.
THE PRIZE
The smart wearables segment is growing rapidly. Here is the forecast from our friends at Statista: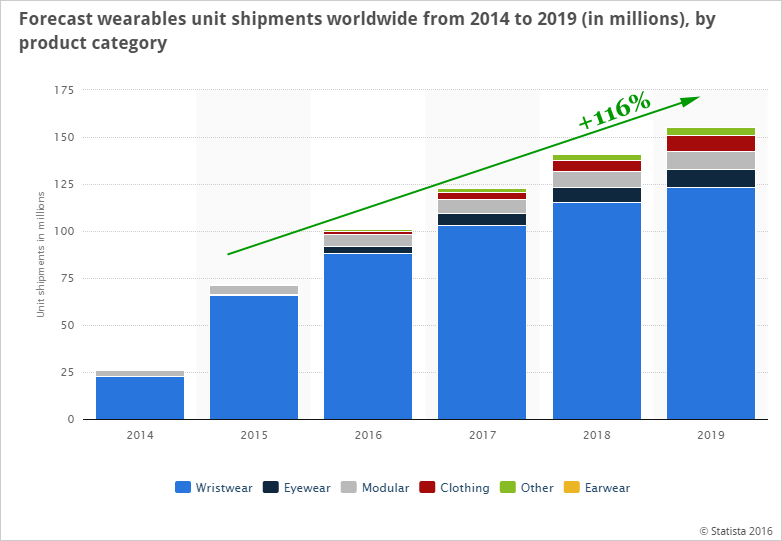 The bright blue color dominating the bar chart - those are smartwatches. Apple is estimated to own more than 50% of the market, while Google's Android watches come in at less than half -- 21%.
Intel (INTC), Amazon (AMZN), Fitbit (FIT), Garmin (GRMN) and others will enter the fray -- and they too will face the real problem: there's only one Apple.
Here is the real news -- facts only, please.
APPLE WATCH NUMBERS ARE HUGE
IDC estimates that Apple will sell 14 million watches in 2016, up from 11.6 million units (estimated) in 2015. None of those numbers mean anything until we look at context, and I warn you, this is going to sound unreasonably good.
COMPARISONS
Apple's iPhone sold a total of 2.3 million units in its first holiday season. According to a report from JP Morgan, Apple Watch sold 5 million units in its first holiday season -- that's 217% as many iPhones sold in its first holiday season. Apple watch sold an estimated 11.6 million units in all of 2015 -- which was
not a full year
. The first iPhone sold just 5.3 million units in its first year. Conveniently, again, Apple Watch's comparison is 217% as high.
iPhone sold 15 million units in its second year, and Apple Watch is estimated to hit 14 million. But, now we will see the real news.
IT'S NOT DEFENSE; IT'S OFFENSE
The soon to be released Apple Watch 2 will have Wi-Fi capabilities so that users will have connectivity when they're not near their smartphone. But there's more:
It appears the either Watch 2 or Watch 3 will also have a FaceTime camera. That means, eventually, Facetiming, Skyping, video meeting, video calls, everything. Read this carefully:
The Apple Watch will become a stand-alone product
-- untethered from the iPhone.
We won't even cover all of the massive health apps and hardware built on top of the iPhone which were so obvious and so big, even the mainstream got it right. Just one example we see is FDA applications from other firms in order to create new wrist bands to work with the Apple Watch.
Source: ifans
"Press on the band with your thumb to take a reading." That's it. AliveCor, a medical technology company, says that it's expecting to receive FDA approval for the band later this spring.
Although sales have already blown through initial iPhone numbers, its potential is larger still. The Apple Watch won't turn into the single best selling technology device ever (the iPhone), but it's not an adjunct "defense of the iPhone." The facts show that demand is high and the segment growth in general is equally substantial.
V. APPLE CAR
Apple has been aggressively hiring to build out its "Project Titan", which Tesla's Elon Musk calls Apple's "open secret" to build an electric car.
The luxury car market is currently at $360 billion annually, and with recent advances made by researchers that we've discovered, there's reason to think electric cars will quickly begin to cannibalize the internal combustion market. We have an entire research piece "Apple's Car Will Change Automotive History," just to cover it.
The electric car market is set to be an explosive one, and no company is better positioned to own it than Apple with its brand strength, engineering talent pool, and huge cash reserves.
Now, this final endeavor we will cover is going to shake us a bit.
VI. SOCIAL MEDIA
CML Pro uncovered filings that Apple made with the United States Patent and Trademark office (USPTO). Here's a sneak peak:

The Stage
: 97% of Facebook's revenue and 80% of Google's revenue comes from online advertising. There is $164 billion up for grabs this year and it will be nearly $200 billion by 2018. Hundreds of millions of people have one thing in common when they access Facebook, Google mobile and Twitter: They're doing it on an iPhone.
Here comes United States Patent Application
#US2015/0127728 A1
THE BIG SECRET: ALL OUT WAR
United States Patent and Trademark Office (USPTO) reveal that Apple looks to be forming a social network to compete directly with Facebook.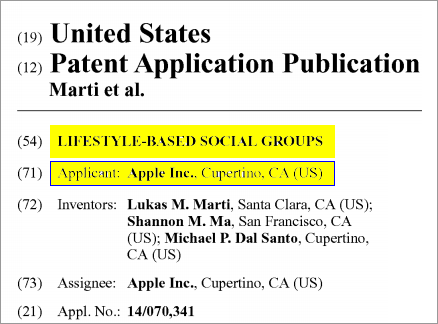 Here's what Apple is doing: An abstract from a filing with a publication date of May 7th, 2015, reads (emphasis added):
The system can create a social group based on lifestyle and the meaning of location.

The social group can be an ad hoc social network.
But it's the body of the patent that truly blew us away,
explicitly
referring to the weaknesses of current social networks and how Apple's patented social groups will be
better
. CML Pro has the full report but here's a quick overview:
WHAT DOES THIS MEAN?
Apple is doing what it always does -- it sees a market grow, it enters with an improved product, and then it dominates everybody else.
Now, patent applications are intentionally complex and obfuscated. Fortunately, we've done the work to distill it down to the most critical elements directly from the Source:
United States Patent and Trademark Office
:
First, from the patent (emphasis added):
On a social network website, people can post information about themselves. [] However, this information may not be sufficient to determine a person's everyday lifestyle.

The social groups can be [used] even if the members do not post the activities and interests on a social networking website.
And this image:
Apple's patent demonstrates how "social groups" can be
automatically
formed by tracking existing users who go to the same restaurants and grocery stores. Then the patent goes to a whole new level:
Apple is not only tracking where people eat and shop, they are targeting ride sharing as well - social networks automatically created around where people tend to travel. This is a direct threat to Uber and its $68 billion valuation.
Incredibly, these first two images are trumped by what else Apple disclosed. CML Pro has the full details and patent renderings.
WHAT DOES THIS MEAN?
Apple is going directly after not just Facebook's Messenger, and Facebook's WhatsApp and Twitter, but positioning itself to directly compete with a wide range of companies. The waves created by this go further, still. Facebook, like most social networks, has struggled with the perception that its users have only superficial interactions, that a "Facebook friend" is simply a vanity-voyeurism benchmark.
Apple's "real world" network combined with consumer patterns and behaviors could put Apple in a position with its social network of unprecedented influence.
SEEING THE FUTURE
There's so much going on with Apple we can't cover it all in one report - it spans eight different thematic shifts in technology and it will battle Amazon, Facebook, Netflix and Google for decades. But, to find the 'next Apple' or 'next Amazon,' we have to get ahead of the curve. This is what CML Pro does. Our research sits side-by-side with Goldman Sachs, Morgan Stanley and the rest on professional terminals, but we are the anti-institution and break the information advantage the top .1% have.
Each company in our 'Top Picks' is
the single winner
in an exploding thematic shift like artificial intelligence, Internet of Things, drones, biotech and more. In fact, here are just two of the trends that will radically affect the future that we are ahead of: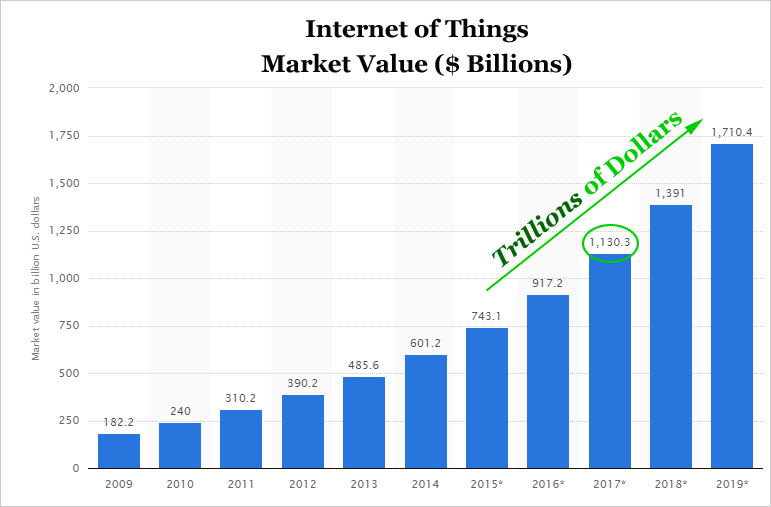 The Internet of Things (IoT) market will be measured in
trillions
of dollars as of next year. CML Pro has named the
top two companies
that will benefit. Then there's cyber security: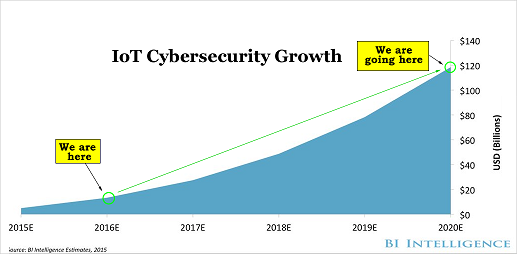 Market correction or not, recession or not, the growth in this area is a near certainty, even if projections come down, this is happening. CML Pro has named
the single best
cyber security stock to benefit from this theme.
These are just two of the themes we have identified and this is just one of the fantastic reports CML Pro members get along with all the visual tools, the precious few
thematic top picks for 2016
, research dossiers and alerts. For a limited time we are offering CML Pro at a 90% discount for $10/mo. with a lifetime guaranteed rate.
Join Us: Get the most advanced premium research delivered to your inbox along with access to visual tools and data that until now has only been made available to the top 1%.
The author is long Apple shares both in his personal account and family owned accounts.
Thanks for reading, friends.
Please read the legal disclaimers below and as always, remember, we are not making a recommendation or soliciting a sale or purchase of any security ever. We are not licensed to do so, and we wouldn't do it even if we were. We're sharing my opinions, and provide you the power to be knowledgeable to make your own decisions.
Legal
The information contained on this site is provided for general informational purposes, as a convenience to the readers. The materials are not a substitute for obtaining professional advice from a qualified person, firm or corporation. Consult the appropriate professional advisor for more complete and current information. Capital Market Laboratories ("The Company") does not engage in rendering any legal or professional services by placing these general informational materials on this website.
The Company specifically disclaims any liability, whether based in contract, tort, strict liability or otherwise, for any direct, indirect, incidental, consequential, or special damages arising out of or in any way connected with access to or use of the site, even if we have been advised of the possibility of such damages, including liability in connection with mistakes or omissions in, or delays in transmission of, information to or from the user, interruptions in telecommunications connections to the site or viruses.
The Company makes no representations or warranties about the accuracy or completeness of the information contained on this website. Any links provided to other server sites are offered as a matter of convenience and in no way are meant to imply that The Company endorses, sponsors, promotes or is affiliated with the owners of or participants in those sites, or endorse any information contained on those sites, unless expressly stated.