The Secret's Out: Apple's Massive Disruption Looks to Control $3 Trillion Market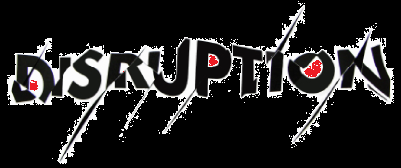 Fastest Growing Technology Companies
Written by Ophir Gottlieb and Jason Hitchings
A lot of the information we're about to cover might feel like a surprise. In many ways it is. That's because our purpose is to provide institutional research to all investors and break the information monopoly held by the top .1%.
AN EPIC TRANSFORMATION
Never use cash or a credit card again. Never use your wallet again. Better yet, never have your identity stolen again. These are just a few of the applications promised by the exploding field of Mobile Payments. And now, Apple has done the unthinkable, taking payment processing a step further -- touch your computer monitor and pay; touch your mouse and pay. Here comes a true disruption.
BREAKING NEWS: DISRUPTION
In an aggressive and shrewd move, we have learned from
Re/code
that Apple will be bringing its Apple Pay to mobile e-commerce sites, and then an even larger disruption. First step one, then step two:
Apple's payment service [will allow] shoppers to complete a purchase on mobile apps with their fingerprint rather than by entering credit card details.

The move would pit Apple more directly against PayPal.
Source:
Re/code
But taking it one step further creates a massive disruption. We are likely to see Apple Pay on all desktop and laptop products for Apple within a couple of years and that means owners will soon be able to go to broader e-commerce websites to use Apple Pay.
What does disruption mean? In both use cases, Apple has "killed the password." At first blush it may not sound sexy, but friends, upon further review, we will see that this is $200 billion worth of sexy.
Just a month ago, Apple revealed to the world that it had an active install base of over 1 billion devices. That's 'b' for
billion
.
THE PRIZE
The sheer size of the just the 'mobile pay' market will be absolutely explosive. Transaction volumes are projected to hit $700 billion in yearly sales by just 2020, according to a study by
Statista
: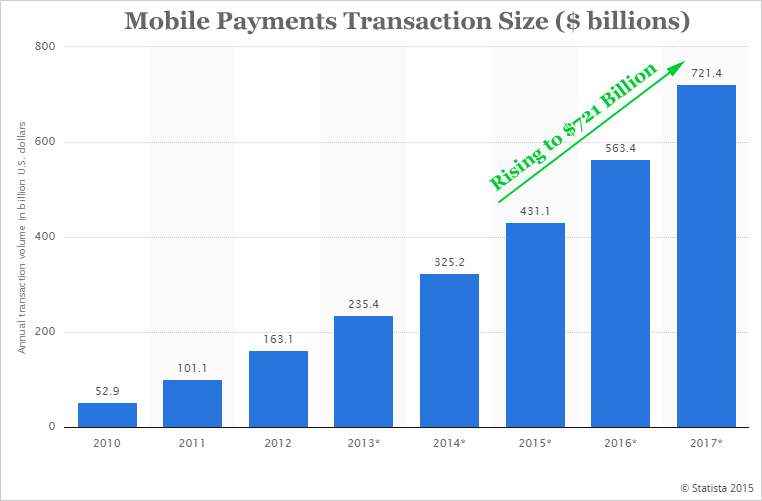 But that's the infancy. Here is Bank of America's take:
By the year 2022, the mobile payments growth will reach a combined total of around
$3 trillion
. That measures fully
200 fold
in just seven years.
Bank of America
But now Apple is turning to the desktop with Apple Pay, and that means we now are looking at Visa (V) and MasterCard (MA). That's trillions of dollars in transactions turned on like a light switch for Apple, and quite possibly turned off for the credit card processors. More than half of online retail purchases still happen on desktop and laptop computers (
Re/code
).
APPLE'S THRONE
Apple is sitting atop the technology throne, making more money than any company in the history of financial markets. Apple is leveraging those cash flows to innovate in the biggest technological trends of the future. Not only are they investing billions, but the rate at which Apple is investing is accelerating.
CML Pro
will show us just how big their technological bet has become: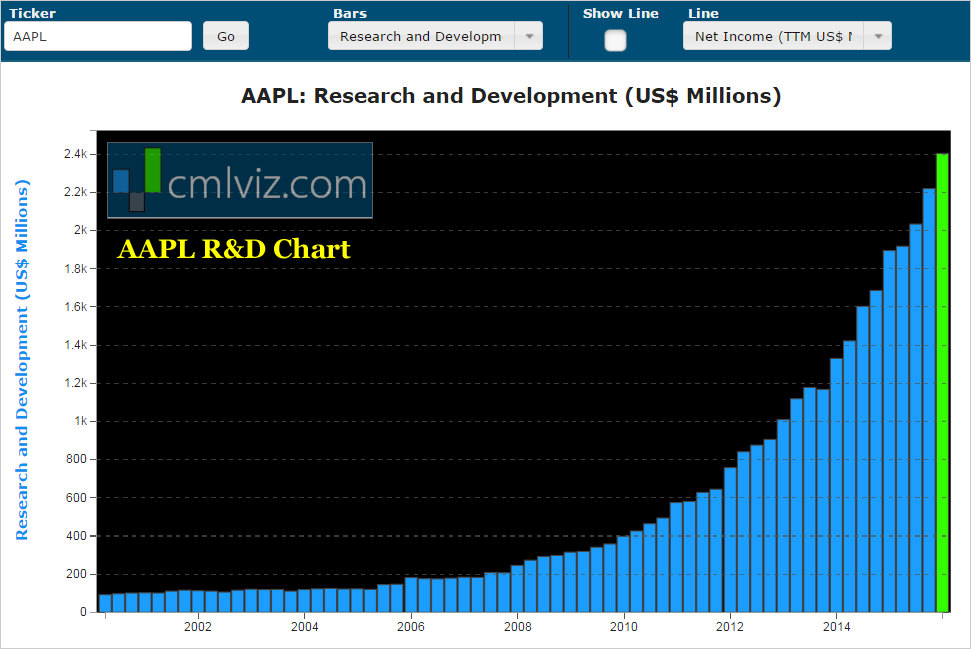 $2.4 billion dollars per quarter
. Annualized, Apple will be investing more into R&D then the entire economic output of 60 different countries.
Apple sees the changing technological landscape as well as any company, and they've responded in decisive fashion. Here's the mobile pay market share data we have for 2014 and 2015 just looking at phones: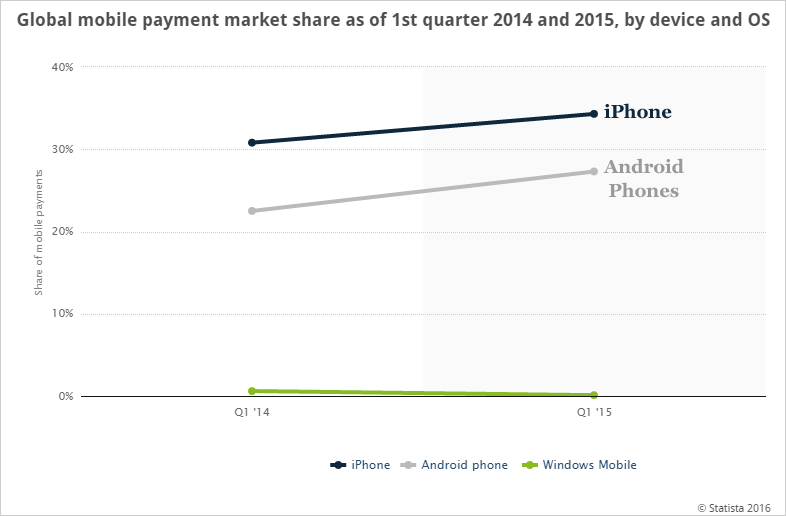 We can see that Apple's iPhone accounted for 34% of the mobile pay market. In fact, all told, Apple's iPad and iPhone control a staggering 65% of market share.
But the real power house is the Apple Watch -- swipe your wrist and pay -- that's the future. Best estimates put Apple at a staggering 63% of the smartwatch market. Then there's disruption:
Add the payment capability to mobile e-commerce and then the desktop and laptop world and we're looking at a business line that in and of itself could be worth more than $200 billion in market cap. With the stakes raised we must address the competitors and the full potential impact on Apple's stock price.
FACEBOOK GOES AFTER MOBILE PAY
On the latest earnings call, Facebook explicitly pointed out its goal to turn Facebook Messenger and its 800 million monthly active users (MAUs) into a mobile pay giant.
If this seems like a strange move for a social company, look at Facebook's stated goal from their website:
"Facebook's mission is to give people the power to share and make the world more open and connected."
facebook.com
"More open and connected" is the critical application for Mobile Pay technology and Facebook brings 800 million people to the front seat.
But even with these advances, Facebook saw mobile payments actually decline in the last quarter -- perhaps the one part of the business that isn't growing. And remember, Facebook has no hardware -- that's no watches, no phones, no desktops and no laptops.
GOOGLE's ANDROID PAY GETS IN
Google recently created Android Pay (emphasis added):
"
Forget your wallet
and
handing over a card
next time you're in a store. With Android Pay you can simply unlock your phone, place it near a contactless terminal, and you're good to go. You don't even need to open an app.
Tap and pay is that fast, that easy
."
android.com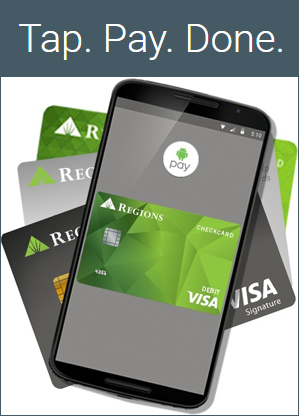 That's it: With Android Pay, you can start leaving your wallet behind as anyone with a compatible device can pay for things with a simple tap. That phrase, "
compatible devices
," is everything.
While Google certainly has Android out there for phones and tablets, we can hardly call its Chromecast a hardware to be reckoned with. This move by Apple is combative and attacks Google and its mobile pay hopes at its infancy.
AMAZON IS BACK
In the broader scope of things, perhaps the single greatest threat to Apple and its ecosystem is Amazon (AMZN). Amazon's Wallet was a failure and nobody thought much of it. But that was before the enormity of Mobile Pay became known. Now, everybody knows and everybody cares.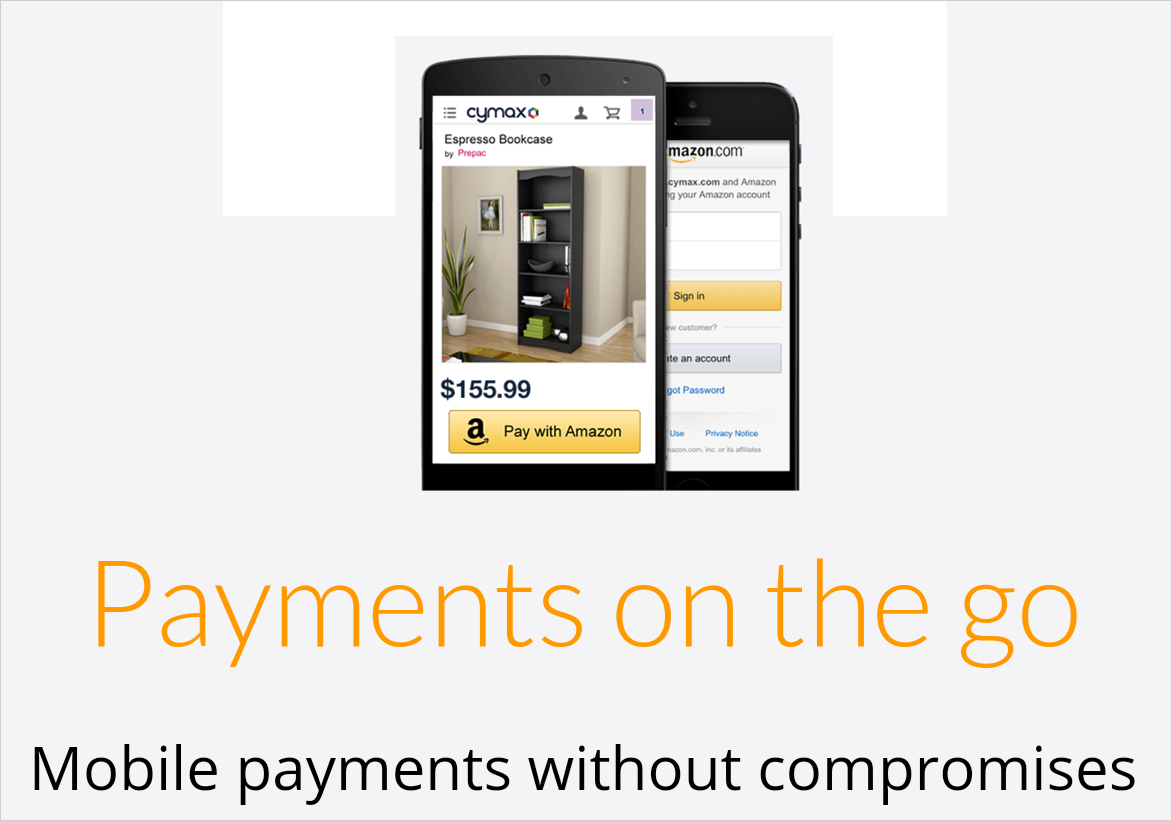 Amazon is back -- behind or not, with over $70 billion in retail sales, the company will likely stop at nothing to win.
But even the mighty Amazon has recognized the power of Apple's one billion device install base. Amazon invented the 1-Click purchasing method and actually patented it. That intellectual property was licensed to Apple. But oh how the tables have turned.
Amazon already supports Touch ID for purchases on its mobile app, but most people are likely not going to mobile e-commerce sites for purchases -- this is still an element of commerce that is done the old fashioned way -- on a computer or laptop -- not a phone.
HOW BIG OF A DEAL IS THIS?
This will take a while to roll out, if it ever does, but the size is enormous. We saw the mobile pay markets -- measured in trillions of dollars soon. But let's look at Visa, MasterCard and Paypal. The three companies have combined market caps of about $330 billion, or more than half of Apple.
Apple is certainly not going to take the entire credit card business (right?) or the entire mobile commerce business, but if we add the enormity of Apple Pay through mobile with the functionality of "touch your monitor and now you've paid" promise of Apple Pay on desktops and laptops, we could be looking at a business line that, as of Apple's price today, could be worth an additional 30% of Apple's value.
MORE: A 'SECRET' WINNER
If we take step back and look for another winner -- something less obvious we will find it. Look to the mobile side of payments -- that $3 trillion market by 2022, we can see the singular technology that will back all of it. Apple, Google, Samsung, Facebook, Amazon, Visa, MasterCard -- it doesn't matter, every firm, every mobile device, every mobile transaction will depend on one thing.
That 'thing' is a chip that enables communication between devices that are next to each other and it turns out there is a mid-sized technology company based in the US and trading on the NASDAQ that literally invented this technology. This tech gem owns over 3,000 patents to defend its position and its chips already sit in over
1.5 billion devices
as of this year.
The Apple investment thesis surrounding Apple Pay is tremendous -- especially with this forward looking bold move to use desktops and laptops. But, the rest of the fray is a jumbled mess -- Does Android win? Does Google win? Does Amazon come back? Does Facebook finally turn it around? Do Visa and MasterCard jump in?
None of that matters. If we want to participate in the mobile part of payments, it's the chip inside each of those companies' products that we want.
WHY THIS MATTERS
Mobile pay is a huge trend that will change much of how we live and Apple's move to make Apple Pay available
everywhere
is total disruption. The mid-cap company that owns the singluar chip technology is equally disruptive. While our research pieces provide in-depth coverage of that firm and Apple, this is only one of CML Pro's precious 'Top Picks.' To find the 'next Apple' or 'next Google' we have to get ahead of the curve. This is what CML Pro does. Our research sits side-by-side with Goldman Sachs, Morgan Stanley and the rest on professional terminals, but we are the anti-institution and break the information advantage the top .1% have.
Each company in our 'Top Picks' is
the single winner
in an exploding thematic shift like artificial intelligence, Internet of Things, drones, biotech and more. In fact, here are just two of the trends that will radically affect the future that we are ahead of: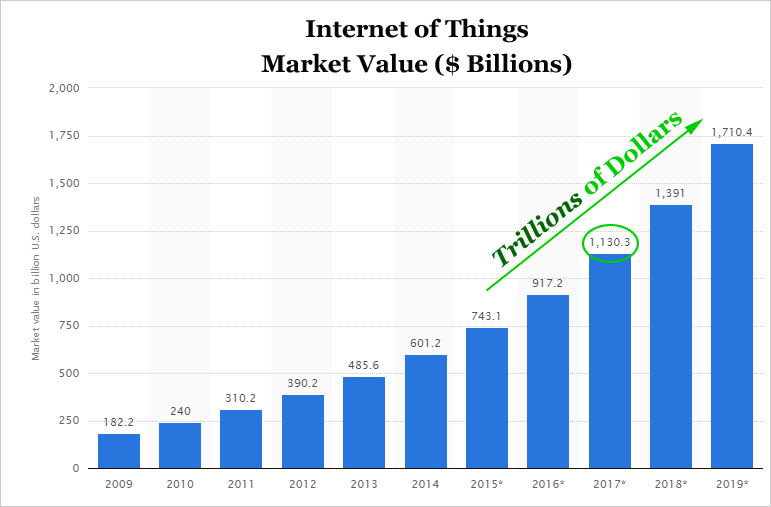 The Internet of Things (IoT) market will be measured in
trillions
of dollars as of next year. CML Pro has named the
top two companies
that will benefit. Then there's cyber security: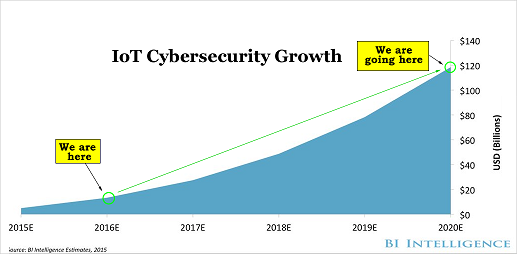 Market correction or not, recession or not, the growth in this area is a near certainty, even if projections come down, this is happening. CML Pro has named
the single best
cyber security stock to benefit from this theme.
These are just two of the themes we have identified and this is just one of the fantastic reports CML Pro members get along with all the visual tools, the precious few
thematic top picks for 2016
, research dossiers and alerts. For a limited time we are offering CML Pro at a 90% discount for $10/mo. with a lifetime guaranteed rate.
Join Us: Get the most advanced premium research delivered to your inbox along with access to visual tools and data that until now has only been made available to the top 1%.
Thanks for reading, friends.
Please read the legal disclaimers below and as always, remember, we are not making a recommendation or soliciting a sale or purchase of any security ever. We are not licensed to do so, and we wouldn't do it even if we were. We're sharing my opinions, and provide you the power to be knowledgeable to make your own decisions.
Legal
The information contained on this site is provided for general informational purposes, as a convenience to the readers. The materials are not a substitute for obtaining professional advice from a qualified person, firm or corporation. Consult the appropriate professional advisor for more complete and current information. Capital Market Laboratories ("The Company") does not engage in rendering any legal or professional services by placing these general informational materials on this website.
The Company specifically disclaims any liability, whether based in contract, tort, strict liability or otherwise, for any direct, indirect, incidental, consequential, or special damages arising out of or in any way connected with access to or use of the site, even if we have been advised of the possibility of such damages, including liability in connection with mistakes or omissions in, or delays in transmission of, information to or from the user, interruptions in telecommunications connections to the site or viruses.
The Company makes no representations or warranties about the accuracy or completeness of the information contained on this website. Any links provided to other server sites are offered as a matter of convenience and in no way are meant to imply that The Company endorses, sponsors, promotes or is affiliated with the owners of or participants in those sites, or endorse any information contained on those sites, unless expressly stated.