Apple versus Amazon: The Two Most Disruptive Companies in the World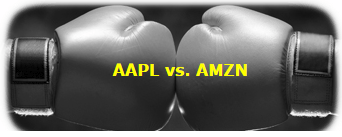 Apple versus Amazon
Our purpose is to provide institutional research to all investors and break the information monopoly held by the top .1%.
PREFACE
As the mega caps of technology war, one thing has become apparent. The real threat to Apple's throne is Amazon's newly found ecosystem. For now, Google and Facebook still rely on the iPhone for substantial portions of their revenue and that's an enormous risk. Amazon, however, is disrupting so many areas of technology, that it stands as the single threat to Apple's all encompassing, warm, fuzzy, beautifully styled, techno-blanket of an ecosystem.
These companies generate more revenue than any other technology firms in the world -- they are number one and number two. Here is a chart of all technology companies above $50 billion in market cap, ranked by their total revenue in the last year: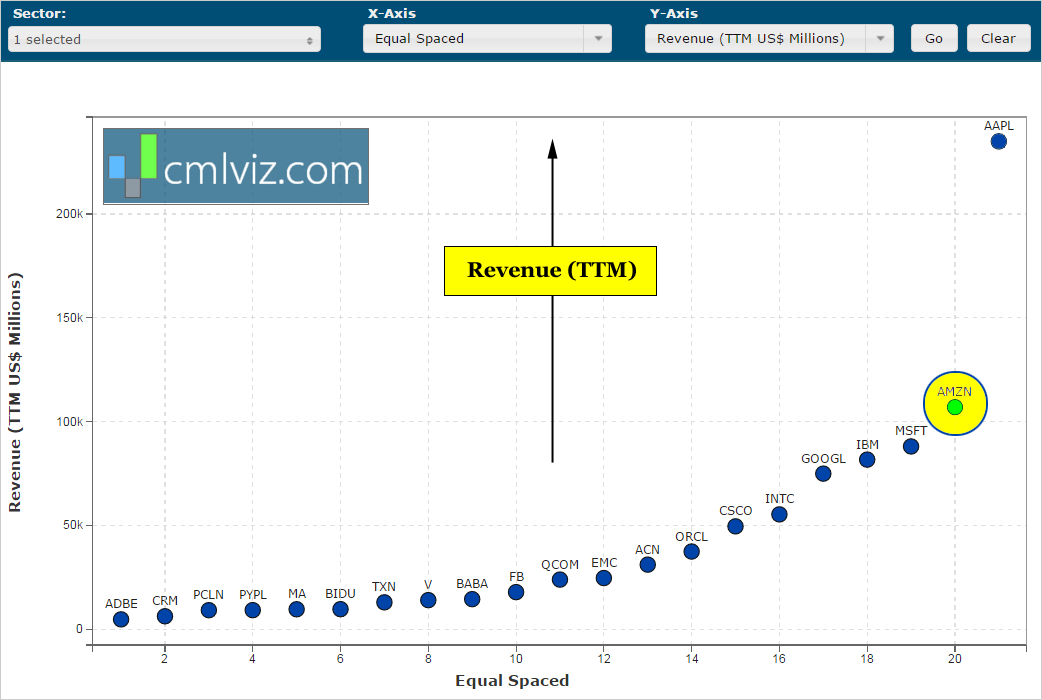 So which stock has more upside potential?
Discover the undiscovered:
Get Our (Free) News Alerts Once a Day.
THE BATTLEFIELD
When it comes down to it, Apple and Amazon sell both services and products to the consumer in several thematic areas. While there is some overlap, most of their businesses don't -- yet. Here's just a taste of each company's markets.
First Apple
SMART PHONES
We're looking at 44% growth in the smart phone market and Apple's iPhone SE is the conduit to India, which represents a market larger than the United States as of this year. We refer you to the CML Pro dossier surrounding Tim Cook's secret handshake with the Prime Minister of India that has changed everything.
Next, the Apple TV is the technology that will make Apple the largest cable company in the world.
APPLE TV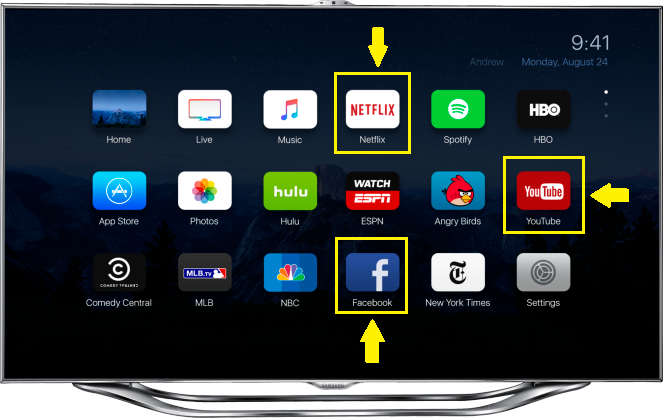 Apple TV just had its best quarter ever. In our research dossier, "Apple's Genius: Kill Cable Then Take All of It," we learned that as the provider, the hardware, the interactor, the bundler, the ecosystem to TV, Apple will find hundreds of millions of subscribers paying our $30-$40 a month for cable and apps and the checks go to 'Apple, Inc.' This is an attempt to crush YouTube and Netflix by relegating them to 'apps' rather than destinations. All signs point to an early, and frightening success.
Then there's Mobile Pay:
MOBILE PAY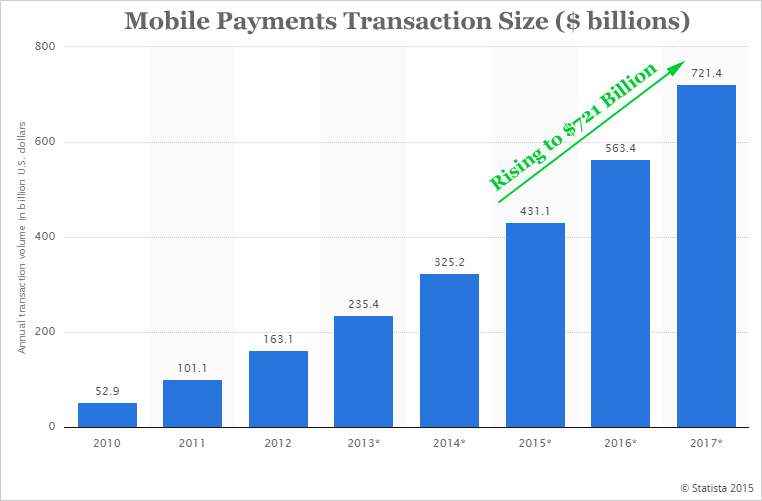 Apple's iPhone and iPad combined to account for 65% of the mobile pay market and last quarter Tim Cook revealed that Apple Pay saw a 10-fold increase. Yes, 1,000% growth. By 2022 bank of America predicts Mobile Pay will realize $3 trillion in transactions.
But Apple's move last week was one of the largest disruptions in a breaking technology we have ever seen. To keep it short and sweet, Apple Pay will soon be available on e-commerce sites, as well as desktops and laptops by simply touching our finger to the monitor. We're looking at a potential $200 billion business in terms of market cap addition to Apple from this area, alone.
There's actually so much going on at Apple we can't cover it in one report and certainly not one in which we need to compare it to Amazon. CML Pro has named Apple as one of its precious few "Top Picks," and the staggering details are available in Pro.
Next, Amazon
Not to be out done, Amazon exists in equally enormous thematic trends. We can start with the bread and butter of the business: e-ecommerce.
E-COMMERCE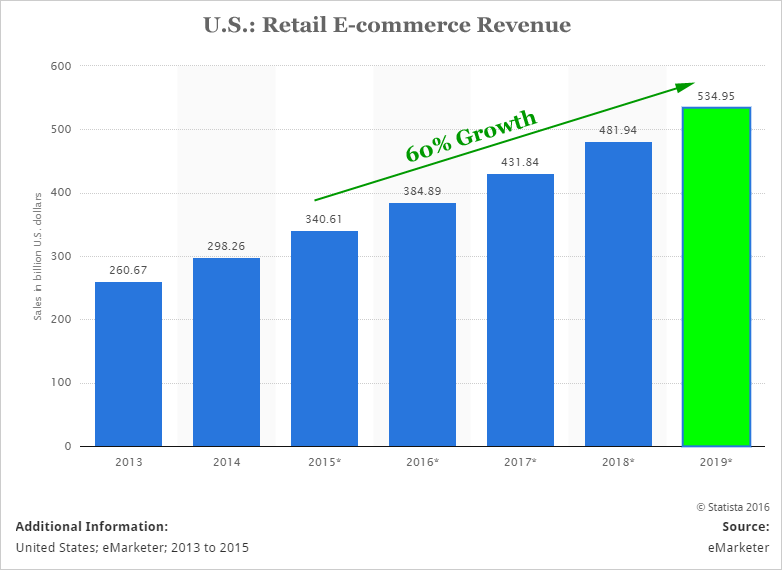 Retail e-commerce in the United States will rise to $534 billion in 2019. That's 60% growth from last year. But, unbelievably, Amazon is
still gaining market share
nearly twenty years after entering the market. Macquarie Research revealed that "of every additional $1 Americans spent for items online this year, Amazon captured 51 cents." Just a ridiculous number.
Next, Amazon's cloud computing service (AWS) is the market leader. Here's' the booming trend:
CLOUD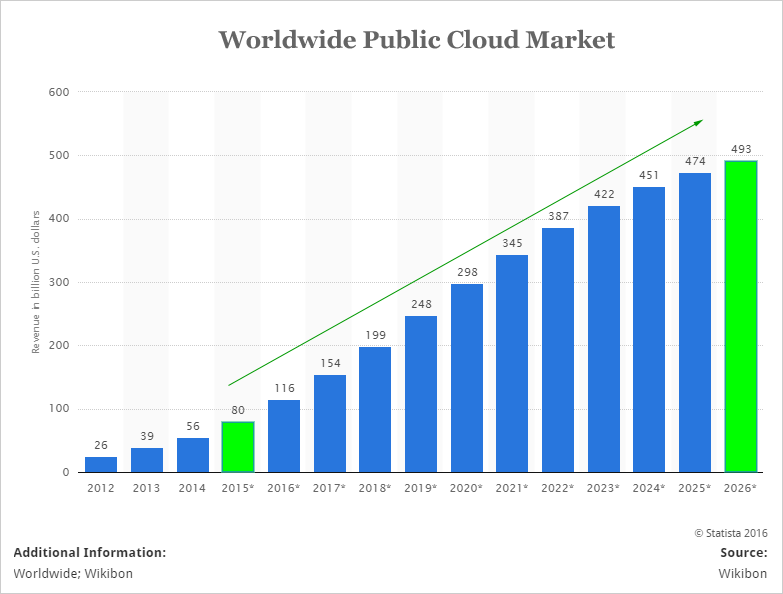 Friends, we're looking at the trend in this theme that is going to grow from $80 billion in 2015 to nearly half a trillion dollars in 2026. It will nearly triple from last year to 2020. If we slice that down to what Goldman Sachs calls cloud "platform" market share, we get this: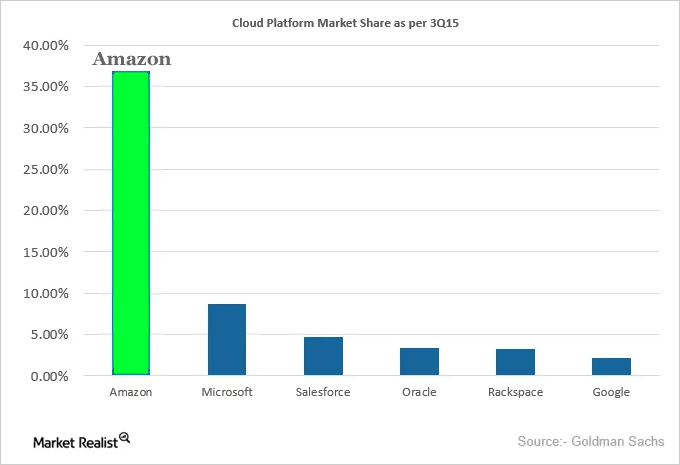 Just like with Apple, there's actually
so much more going on
at Amazon we just can't cover it in one report. Let's move forward and try to compare these marvels.
HEAD-TO-HEAD
➤ Income Statement
* Earnings: Apple's earnings last quarter were the largest earnings ever reported in the history of financial markets. Amazon is still in growth mode -- a side-by-side comparison does us little good.
* Revenue per Employee: AAPL generates massively larger revenue per employee ($2.1 million) than AMZN ($464,000). The businesses are
totally
different, but this is a part of measuring a head-to-head comparison.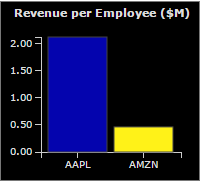 ➤ Margins
* Operating Margin: AAPL generates $1.47 in revenue for every $1 of expense, substantially higher than AMZN's $1.03. Here's the side-by-side chart: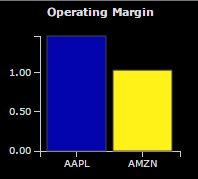 Again, two totally different businesses, but a comparison of margins is at least
a part
of a head-to-head examination.
* Free Cash Flow: AAPL generates $0.24 in levered free cash flow for every $1 of revenue, massively higher than AMZN's $0.06.
If you're feeling like this is biased to operating model and product mix, fear not, here comes the equalizing factor:
➤ Growth
* Revenue Growth: Apple's revenue growth is actually forecasted to shrink this year while AMZN is forecasted to grow 21% year-over-year, yet again. Apple's wonderful opportunities are taking shape -- but 2016 will not be a great year for comps -- wait until 2017, we'll see the revenue spigot turned back on.
* Net Income Growth: Both companies are also growing net income (after tax earnings), but again, Apple is seen to come to a screeching halt this year, whereas Amazon is seen growing its relatively small base of after earnings into true mega cap status in the coming years.
➤ Innovation
This is a knock-down drag-out battle for the ages. Apple has increased R&D by 80% over the last two-years. Here is the chart: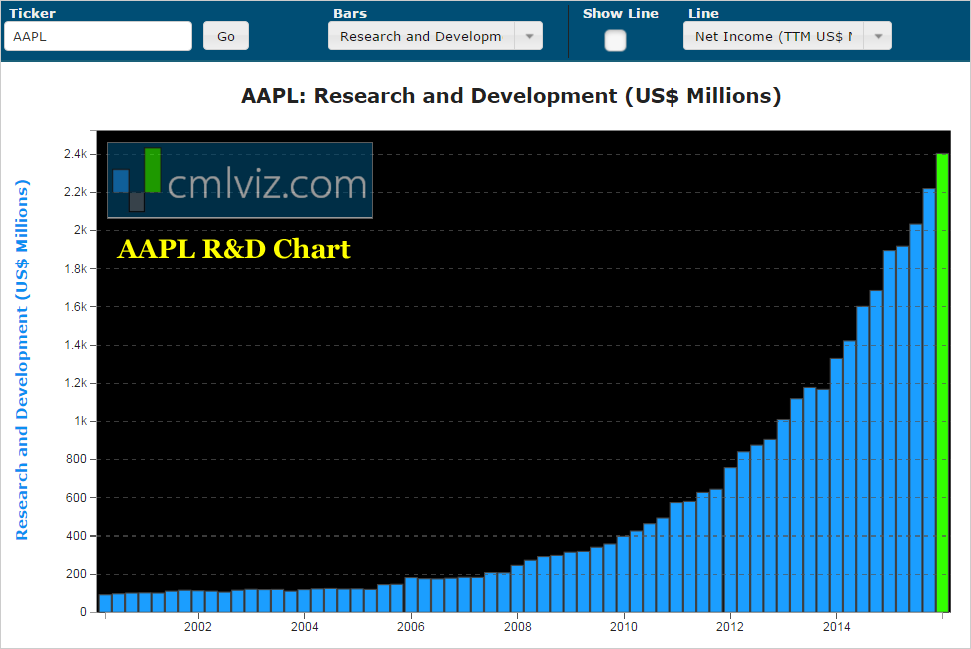 Not to be out done, Amazon's chart is even larger:
In fact, if we chart the R&D of every large cap company in the world and then rank them, we get this:
There is no company on North American exchanges in any sector that spent more on R&D than Amazon did last quarter. R&D spending is up 35% year-over-year and 91% over the last two-years.
THE WINNER
No way. Picking a winner between Apple and Amazon is a practice in futility. If we would illustrate every thematic trend, every innovation and every market they are disrupting, as we do in CML Pro, it would take a research dossier five times this size, and we'd still be left with a feeling of total awe for both firms.
The two best mega cap technology companies in the world are right here. Facebook is a marvel. Google is a marvel. But neither of those firms come anywhere near the innovation that we have found when digging through patent filings that Apple and Amazon are bringing. Instead of asking which firm will be the first to a one trillion dollar market cap, let us rest rather assured that they both will do it.
WHY ANY OF THIS MATTERS
As we said, together we have just started the analysis. But, to find the 'next Apple' or 'next Amazon,' we have to get ahead of the curve. This is what CML Pro does. Our research sits side-by-side with Goldman Sachs, Morgan Stanley and the rest on professional terminals, but we are the anti-institution and break the information advantage the top .1% have.
Each company in our 'Top Picks' is
the single winner
in an exploding thematic shift like artificial intelligence, Internet of Things, drones, biotech and more. In fact, here are just two of the trends that will radically affect the future that we are ahead of: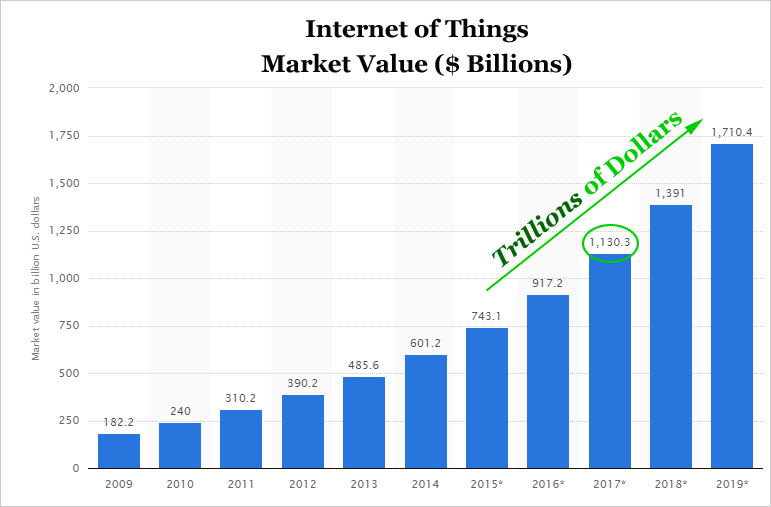 The Internet of Things (IoT) market will be measured in
trillions
of dollars as of next year. CML Pro has named the
top two companies
that will benefit. Then there's cyber security: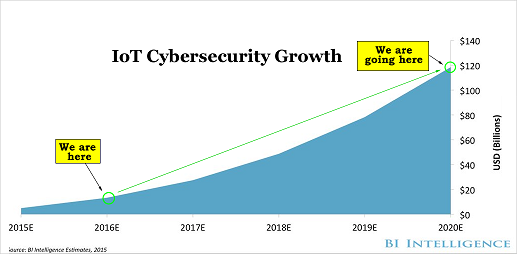 Market correction or not, recession or not, the growth in this area is a near certainty, even if projections come down, this is happening. CML Pro has named
the single best
cyber security stock to benefit from this theme.
These are just two of the themes we have identified and this is just one of the fantastic reports CML Pro members get along with all the visual tools, the precious few
thematic top picks for 2016
, research dossiers and alerts. For a limited time we are offering CML Pro at a 90% discount for $10/mo. with a lifetime guaranteed rate.
Join Us: Get the most advanced premium research delivered to your inbox along with access to visual tools and data that until now has only been made available to the top 1%.
Thanks for reading, friends.