Apple and Amazon Ignite a War for a Trillion Dollar Market


Apple and Amazon Collide
Written by Ophir Gottlieb and Jason Hitchings
Our purpose is to provide institutional research to all investors and break the information monopoly held by the top .1%.
PREFACE
There is a time for most new disruptive technologies that looks quite dark. It feels out of reach. Too "techy." To the casual observer it appears unnecessary; nobody wants it. It even happened with the iPhone, when Bloomberg columnist Matthew Lynn wrote: "The iPhone is nothing more than a luxury bauble that will appeal to a few gadget freaks."
Then there's a shift. The technology proliferates, the demand becomes apparent, and then necessity drives the trend. It's happening right now, in that same mold, and this time the bastion of innovation lies with the largest companies in the world ready to go to war for a market that will exceed $3 trillion.
The only question left to answer now is which company will hold the throne to the most casual encounter we have every day: how we spend money.
AN EPIC TRANSFORMATION
Never use cash or a credit card again. Never use your wallet again. Better yet, never have your identity stolen again. These are just a few of the applications promised by the exploding field of Mobile Payments.
We learned just weeks ago that Apple has done the unthinkable. The word "disruption" is over used. It's like a catch-phrase now. But friends, what Apple announced two weeks ago was so disruptive, so world changing, that Amazon has immediately started a counter attack.
Here's the story and the two companies that will win what can only be described as one of the largest opportunities in the public market ever. First, the prize:
THE PRIZE
Every part of payments will change. Cash, credit card, PayPal, mobile pay, desktop pay, laptop pay. It's so big, that just one slice of it, the "mobile pay" market will hit transaction volumes of $700 billion just 2020, according to a study by
Statista
: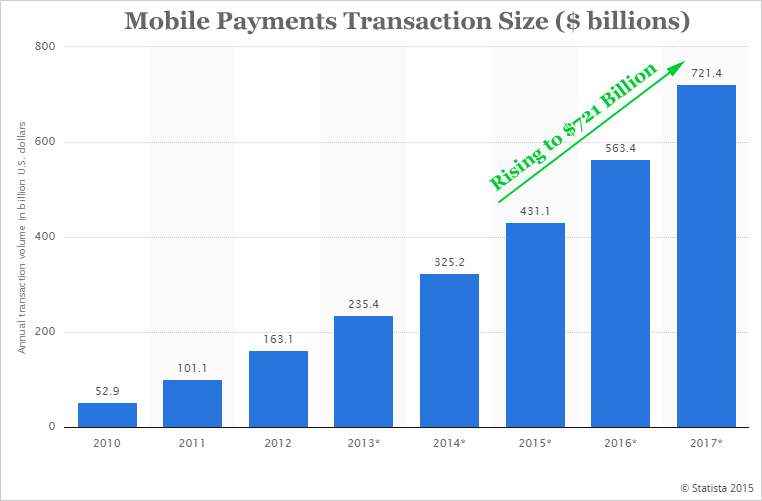 But that's the infancy. This is one of two technologies that will be measured in trillions of dollars. Here is Bank of America's take:
By the year 2022, the mobile payments growth will reach a combined total of around
$3 trillion
. That measures fully
200 fold
in just seven years.
Bank of America
But there's more -- mobile pay is a slice, and it might be the smaller piece. Here comes Apple turning the payment world totally upside down, and how Amazon has now thrust itself in the middle. If you want to see where the top tech firms really see profit growth, this is it.
Discover the undiscovered:
Get Our (Free) News Alerts Once a Day.
APPLE
Apple sees the changing technological landscape as well as any company, and they've responded in decisive fashion. Here's the mobile pay market share data we have for 2014 and 2015 just looking at phones: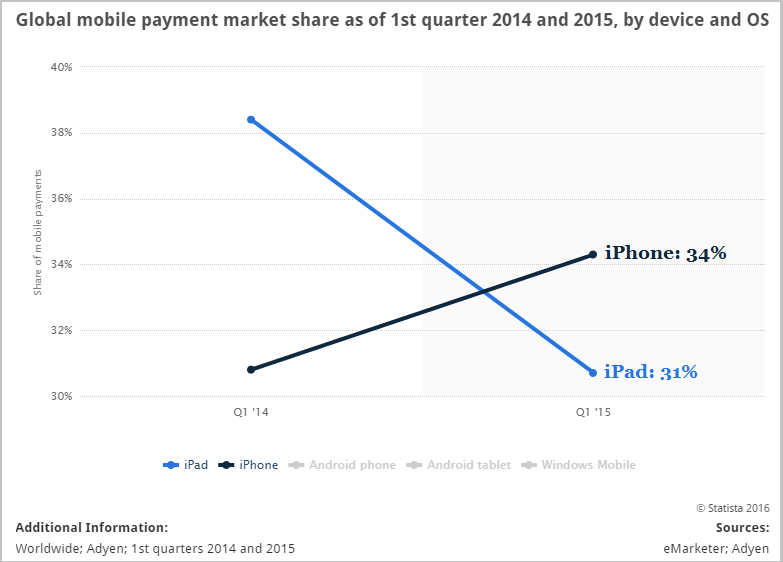 We can see that Apple's iPhone accounted for 34% of the global mobile pay market and iPad accounted for 31% for a staggering 65% market share. That's the $3 trillion market in payment volume by 2022 -- but there's an even bigger piece and Apple ripped it out of the hands of everyone.
BREAKING NEWS: DISRUPTION
We have learned this from
Re/code
:
Apple's payment service [will allow] shoppers to complete a purchase on mobile apps with their fingerprint rather than by entering credit card details.

The move would pit Apple more directly against PayPal.
Source:
Re/code
But taking it one step further creates a massive disruption. We are likely to see Apple Pay on all desktop and laptop products within a couple of years. And how will we do this? My goodness, this is bold:
We are simply going to touch our monitors or cell phone screens. That's it. Apple has killed the password. It has killed identity theft. It has added a new layer of convenience that is so powerful and so intuitive, that the adoption rate will be exponential.
HOW BIG IS THIS?
We'll keep it simple: more than half of online retail purchases still happen on desktop and laptop computers (
Re/code
). And how big is that? Here's the e-commerce theme trend over time: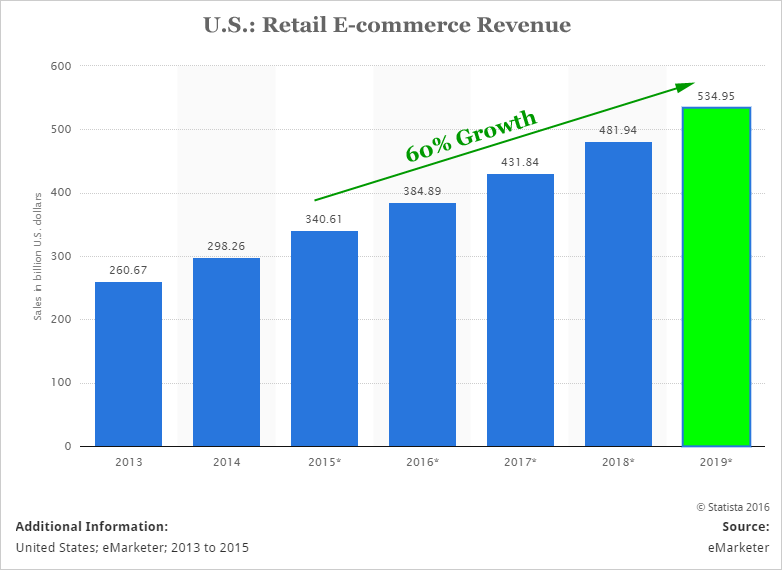 Retail e-commerce in the United States will rise to $534 billion in 2019. That's 60% growth from last year. Every dollar of that spend will soon be turned into a "touch your screen" and you're done transaction. Phone, laptop, desktop, tablet -- it doesn't matter. Leave your passwords, credit cards and PayPal account at the door please -- just bring your finger print.
Just a month ago, Apple revealed to the world that it had an active install base of over 1 billion devices. That's the active use case as of this moment for Apple. Not to be out done, Amazon just fired back.
AMAZON
It's easy to overlook, but it turns out that the technology company with the largest revenue base in the world not called Apple, is in fact Amazon. Here's the chart: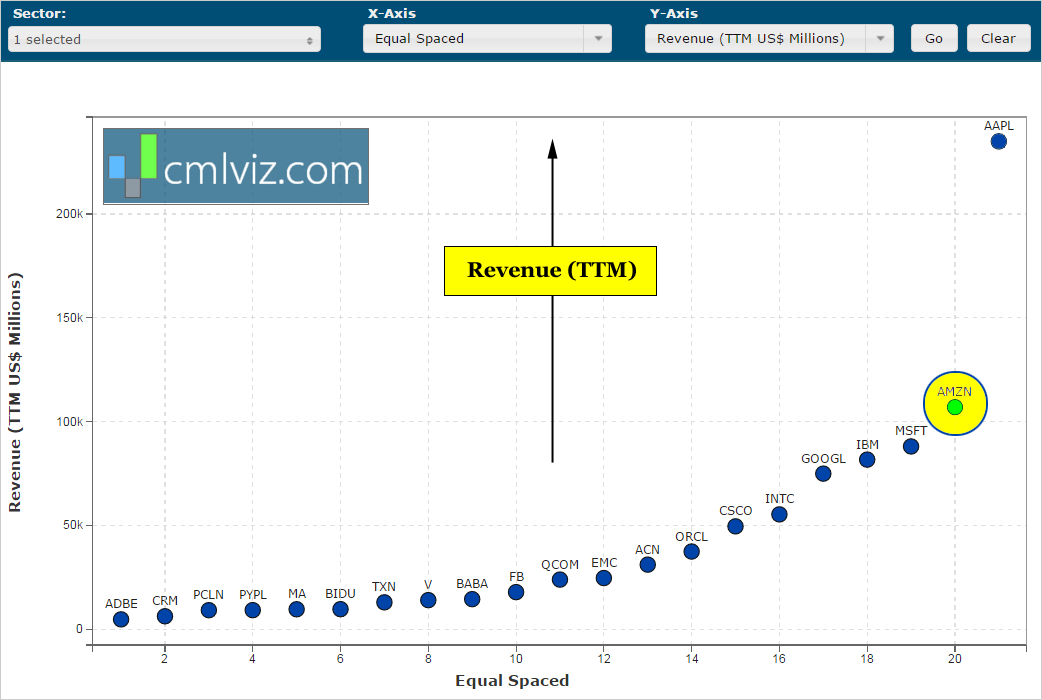 Source:
CML Pro
And for all the bears out there, Amazon's cash from operations is exploding: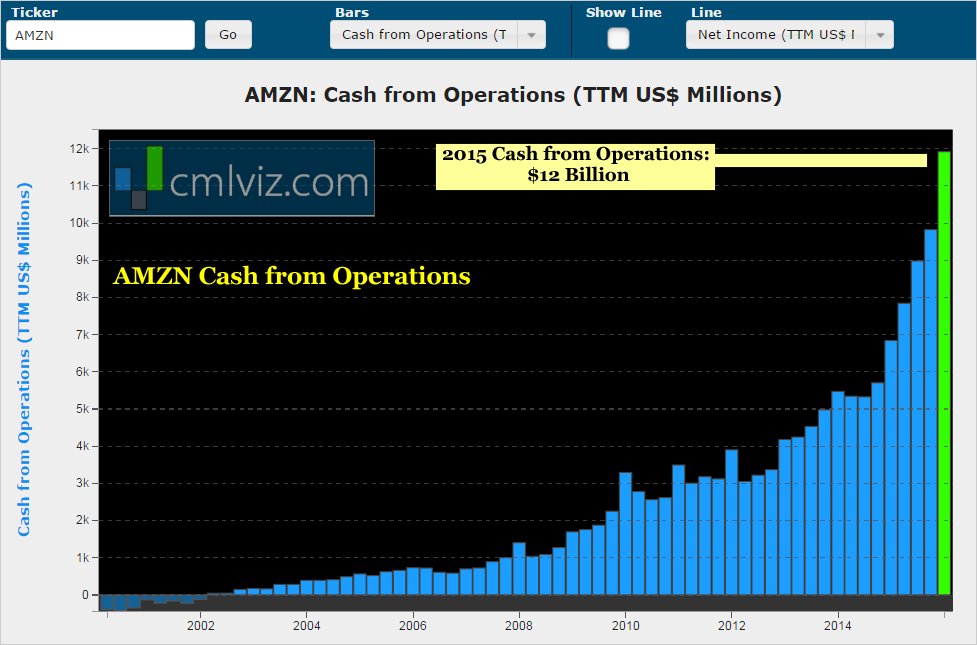 Source:
CML Pro
Now, here's what Amazon just announced:
Amazon announced a new platform to drive adoption of its payments solution. The Amazon Payments Global Partner Program is meant to help retailers integrate Pay with Amazon on their websites so that Amazon customers can pay easily across the Internet.
Source:
TheStreet
The note goes on to read that "over the past few years Amazon has been trying to build up Pay with Amazon, its PayPal (PYPL) competitor, and this platform is the newest step in that game plan." But Amazon has a problem:
AMAZON HAS A PROBLEM
451 Research analyst Jordan McKee noted that "most tier 1 and 2 merchants have deep- rooted skepticism of Amazon's ambitions in the payments space." He insists that the major retailers will not enable the Amazon Pay program for a simple and intelligent reason: "Larger merchants won't want to enable their arch rival with profits."
Apple' throne does not depend on any competition from retailers -- in fact, Apple Pay's adoption has been so rapid because retailers and banks alike see the enormous potential for more transactions. That's retail speak for, "people will spend more." For these retailers, Apple is a friend. Amazon is a foe.
Apple is sitting atop the technology throne, making more money than any company in the history of financial markets. Apple is leveraging those cash flows to innovate in the biggest technological trends of the future. Not only are they investing billions, but the rate at which Apple is investing is accelerating.
CML Pro
will show us just how big their technological bet has become: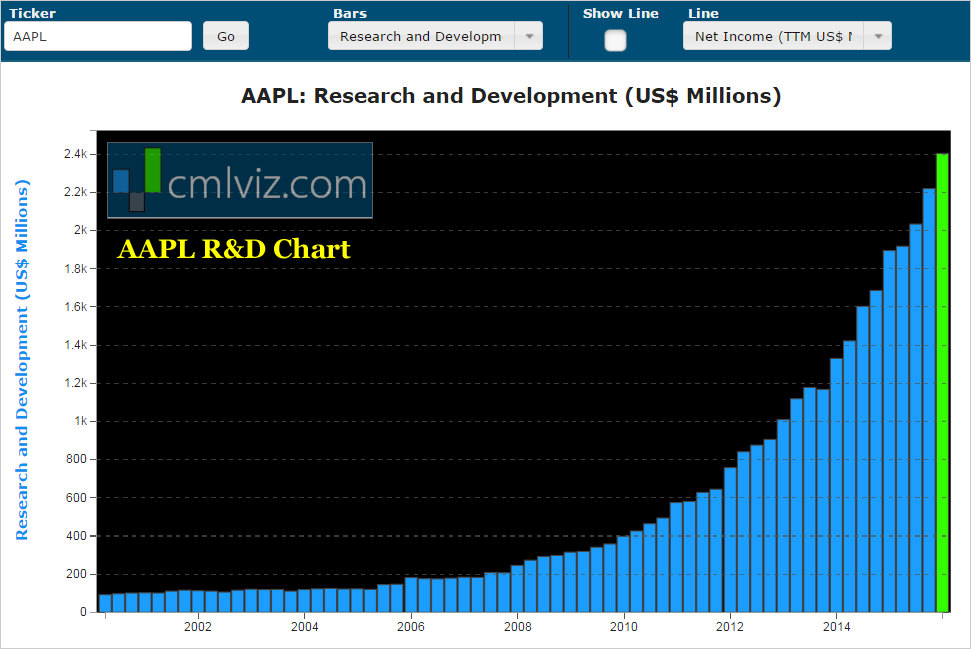 $2.4 billion dollars per quarter
. Annualized, Apple will be investing more into R&D then the entire economic output of 60 different countries.
HOW DOES THIS IMPACT APPLE'S STOCK PRICE
When we add mobile payments, together with Apple Pay on e-commerce sites via smartphone, tablet, laptop and desktop, we are now looking squarely down the cannon of Visa (V), MasterCard (MA) and PayPal. As great as PayPal is -- you still need a password and that technology is dead. A credit or debit card with an entry form for name, address and number -- dead.
Those three companies alone have market caps combined of over $320 billion. And none of those companies are participating in the mobile pay segment where Apple controls 65% already and transaction volumes will rise to $3 trillion.
So what's the answer? This line of business could add an additional 30% to Apple's entire market cap. But of course, nobody is going to give Apple that throne without a fight.
FACEBOOK GOES AFTER MOBILE PAY
On the latest earnings call, Facebook explicitly pointed out its goal to turn Facebook Messenger and its 800 million monthly active users (MAUs) into a mobile pay giant. But even with these advances, Facebook saw mobile payments actually decline in the last quarter -- perhaps the one part of the business that isn't growing. And remember, Facebook has no hardware -- that's no watches, no phones, no tablets, no desktops and no laptops.
GOOGLE's ANDROID PAY GETS IN
Google recently created Android Pay (emphasis added):
"
Forget your wallet
and
handing over a card
next time you're in a store. With Android Pay you can simply unlock your phone, place it near a contactless terminal, and you're good to go. You don't even need to open an app.
Tap and pay is that fast, that easy
."
android.com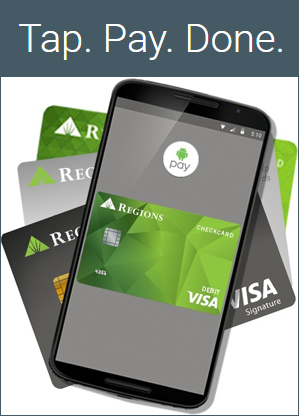 While Google certainly has Android out there for phones and tablets, we can hardly call its Chromecast a hardware to be reckoned with. This move by Apple is combative and attacks Google and its mobile pay hopes at its infancy.
THE WINNER
Picking a winner between Apple and Amazon is a practice in futility. If we would illustrate every thematic trend, every innovation and every market they are disrupting, as we do in CML Pro, it would take a research dossier five times this size, and we'd still be left with a feeling of total awe for both firms.
The two best mega cap technology companies in the world are right here. Facebook is a marvel. Google is a marvel. But neither of those firms come anywhere near the innovation that we have found when digging through patent filings that Apple and Amazon are bringing. Instead of asking which firm will be the first to a one trillion dollar market cap, let us rest rather assured that they both will do it.
WHY ANY OF THIS MATTERS
As we said, together we have just started the analysis. But, to find the 'next Apple' or 'next Amazon,' we have to get ahead of the curve. This is what CML Pro does. Our research sits side-by-side with Goldman Sachs, Morgan Stanley and the rest on professional terminals, but we are the anti-institution and break the information advantage the top .1% have.
Each company in our 'Top Picks' is
the single winner
in an exploding thematic shift like artificial intelligence, Internet of Things, drones, biotech and more. In fact, here are just two of the trends that will radically affect the future that we are ahead of: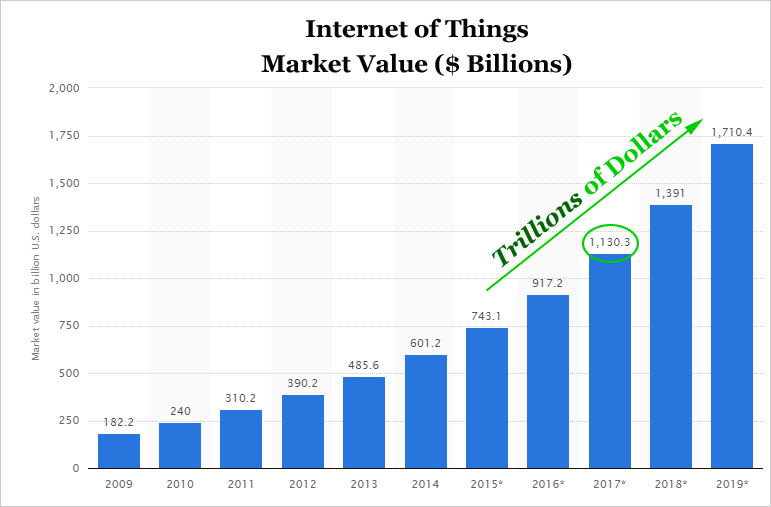 The Internet of Things (IoT) market will be measured in
trillions
of dollars as of next year. CML Pro has named the
top two companies
that will benefit. Then there's cyber security: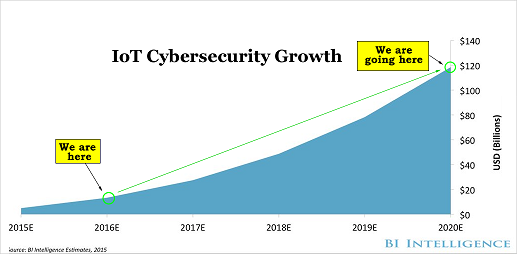 Market correction or not, recession or not, the growth in this area is a near certainty, even if projections come down, this is happening. CML Pro has named
the single best
cyber security stock to benefit from this theme.
These are just two of the themes we have identified and this is just one of the fantastic reports CML Pro members get along with all the visual tools, the precious few
thematic top picks for 2016
, research dossiers and alerts. For a limited time we are offering CML Pro at a 90% discount for $10/mo. with a lifetime guaranteed rate.
Join Us: Get the most advanced premium research delivered to your inbox along with access to visual tools and data that until now has only been made available to the top 1%.
Thanks for reading, friends.
The author and the author's household hold shares in Apple as of this writing.
Legal
The information contained on this site is provided for general informational purposes, as a convenience to the readers. The materials are not a substitute for obtaining professional advice from a qualified person, firm or corporation. Consult the appropriate professional advisor for more complete and current information. Capital Market Laboratories ("The Company") does not engage in rendering any legal or professional services by placing these general informational materials on this website.
The Company specifically disclaims any liability, whether based in contract, tort, strict liability or otherwise, for any direct, indirect, incidental, consequential, or special damages arising out of or in any way connected with access to or use of the site, even if we have been advised of the possibility of such damages, including liability in connection with mistakes or omissions in, or delays in transmission of, information to or from the user, interruptions in telecommunications connections to the site or viruses.
The Company makes no representations or warranties about the accuracy or completeness of the information contained on this website. Any links provided to other server sites are offered as a matter of convenience and in no way are meant to imply that The Company endorses, sponsors, promotes or is affiliated with the owners of or participants in those sites, or endorse any information contained on those sites, unless expressly stated.