The Secret is Out: Apple Will Beat Earnings Estimates


Fundamentals

Written by Ophir Gottlieb, 4-12-2016. This was originally published on
news.cmlviz.com
PREFACE
The headlines will have you believe Apple is dead and other than a handful of institutions like Goldman Sachs, RBC and Capital Market Laboratories (CML), Wall Street is yet again underestimating the demand for Apple's brand.
WHAT'S HAPPENING
Apple has laid the groundwork for product growth spanning eight different transformative thematic shifts in technology. It is the only large cap other than Amazon.com (NASDAQ:AMZN) that reaches even close to this many themes.
We'll touch on a few of these disruptions that will turn this mega cap back into a Wall Street darling within a short-time, but keep it tight and focus on the near-term earnings release as well.
THEMES
We start with the iPhone.
SMART PHONE PROFITS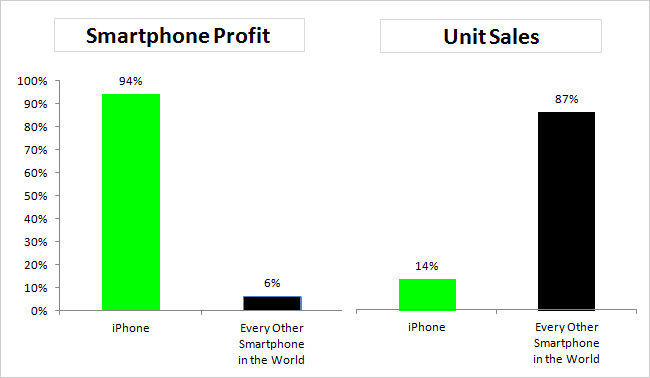 Apple takes home 94% of smart phone profits on just 14% of sales. A nearly identical dominance is occurring in smart watches. And if we were worried about growth, we shouldn't be:
By 2020
, 6 billion people will own a smartphone. Today, there are just 2.6 billion.
There's simply enormous upside to just the iPhone.
Then there's Mobile Pay:
MOBILE PAY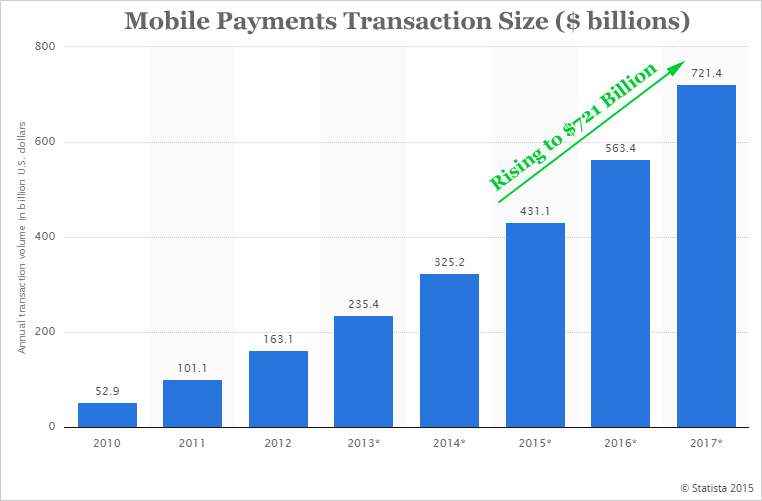 Apple's iPhone and iPad combined to account for 65% of the mobile pay market and last quarter Tim Cook revealed that Apple Pay saw a 10-fold increase. Yes, 1,000% growth. By 2022 bank of America predicts Mobile Pay will realize $3 trillion in transactions.
Next, the Apple TV is the technology that will make Apple the largest cable company in the world.
APPLE TV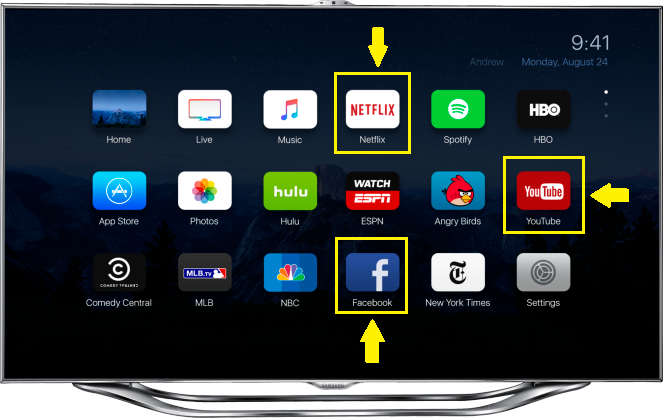 Apple TV just had its best quarter ever. In our research dossier, "Apple's Genius: Kill Cable Then Take All of It," we learned that as the provider, the hardware, the interactor, the bundler, the ecosystem to TV, Apple will find hundreds of millions of subscribers paying our $30-$40 a month for cable and apps and the checks go to 'Apple, Inc.' This is an attempt to crush Alphabet's (NASDAQ:GOOGL) YouTube and Netflix (NASDAQ:NFLX) by relegating them to 'apps' rather than destinations.
CARS WITH SELF DRIVING FEATURES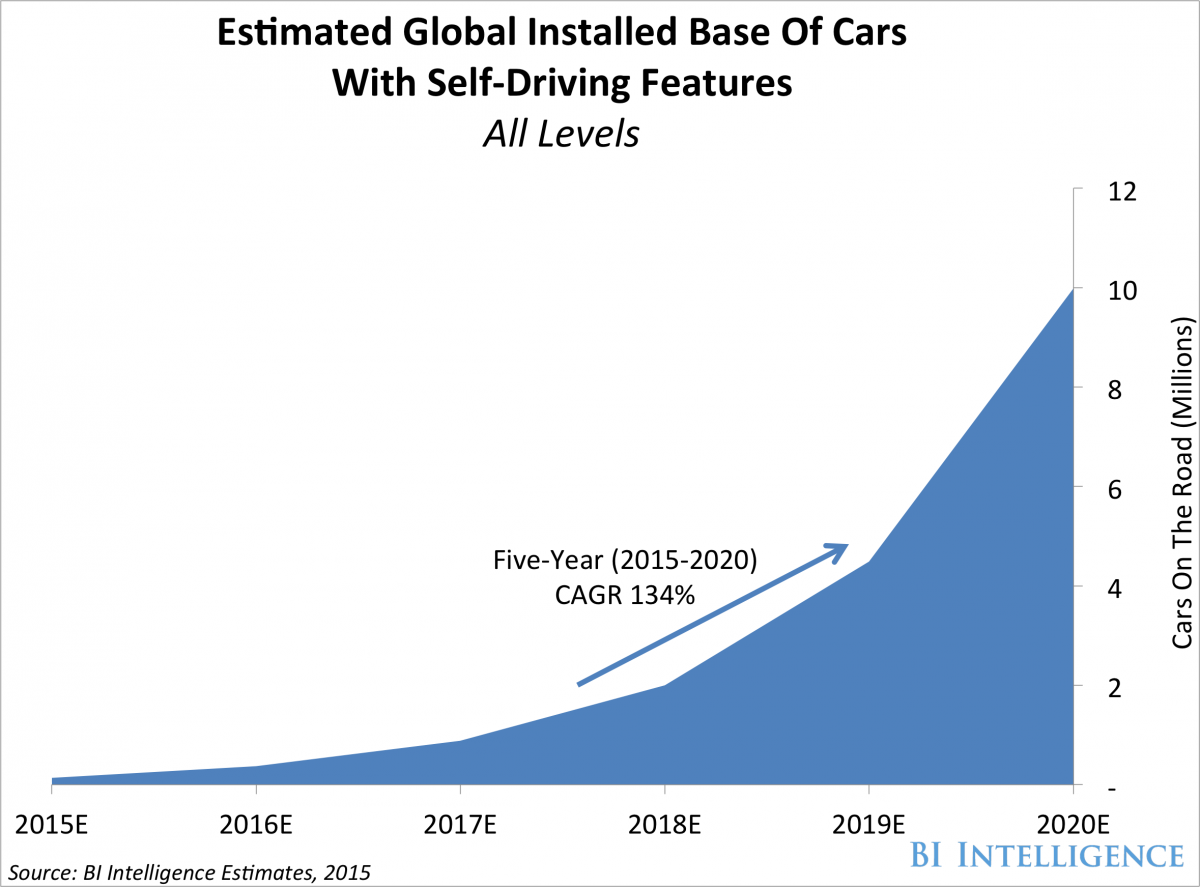 We're looking at 134% compounded-annual-growth rate for the next five years ending at 10 million cars by 2020. While Tesla (NASDAQ:TSLA) is the current undisputed champion, even Elon Musk calls Apple's entry into the auto market "an open secret."
RIGHT NOW
There's more going on with Apple, but we'll stop here and move forward to the near-term. Here's what RBC, Goldman Sachs and CML see right now that points to a possible earnings beat. Apple reports earnings on April 25th after the market closes. The Wall Street consensus has trimmed estimates down to 50 million iPhone sales.
iPHONE SE
Apple announced its new iPhone SE, a smaller phone and a starting price of $399. This product launch was calculated, almost frighteningly so, to gain market share in the second largest smartphone market on the planet.
Here's the growth in INdia's smartphone market via
Statista
By 2017, India will be larger than the United States. But, here's Apple's share of the Indian smartphone market as of January: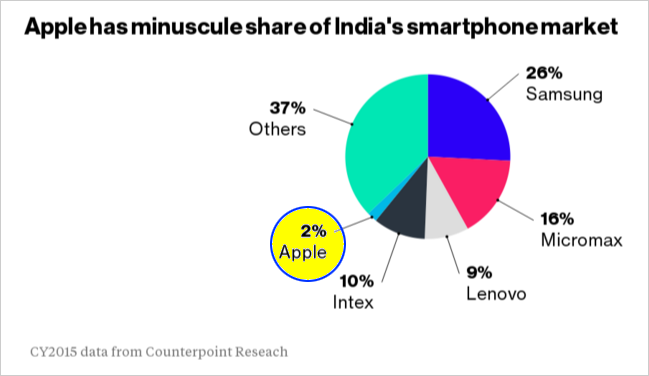 Up until recently, the country prevented outside companies from selling products without a tremendous penalty. But then Apple's CEO Tim Cook had a private meeting with India's Prime Minister and suddenly we got this news: India has singled out "cutting-edge technology" as a segment that can side-step the 30% local producer rule and Apple has been singled out as "cutting-edge technology." What a coincidence.
Since that little handshake, Apple's market share in India has more than doubled from 2% to 4.6% in a matter of months, and remember, the new iPhone SE had not been released yet. We see this is an immediate bump up to the consensus estimates for iPhone sales.
iPHONE GENERALLY
Goldman Sachs just announced its own estimates based on the firms channel checks and surveys. This is what they found:
"[Goldman Sachs] sees calendar first-quarter iPhone sales hitting 53.6 million, compared to consensus of 50 million, per data compiled by FactSet.
Further, the story reads about a survey Goldman just completed:
"Our survey points to extremely strong pent-up demand for the iPhone 7."
Then there's gaining market share. I think Goldman Sachs and CML are both surprised that the rest of Wall Street just didn't listen or believe Tim Cook when he said, and we quote (emphasis added):
"We recorded the highest rate on record for Android switchers last quarter at 30 percent."
It just doesn't get any more explicit from a CEO. Goldman's survey bears that out as well. There's even yet more evidence from one of Apple's most famous supply chain monitors in Asia that pointed to outsized demand in general for Apple, while RBC pointed to wait times of up to 3 weeks for the iPhone SE.
We'll cut the conversation short here, but here are the final thoughts:
SEEING THE FUTURE
There's so much going on with Apple -- it actually spans eight different thematic transformations. But to find the 'next Apple' or 'next Amazon,' we have to get ahead of the curve. This is what CML Pro does. Our research sits side-by-side with Goldman Sachs, Morgan Stanley and the rest on professional terminals, but we are the anti-institution and break the information advantage the top .1% have.
Each company in our 'Top Picks' is
the single winner
in an exploding thematic shift like artificial intelligence, Internet of Things, drones, biotech and more. In fact, here are just two of the trends that will radically affect the future that we are ahead of: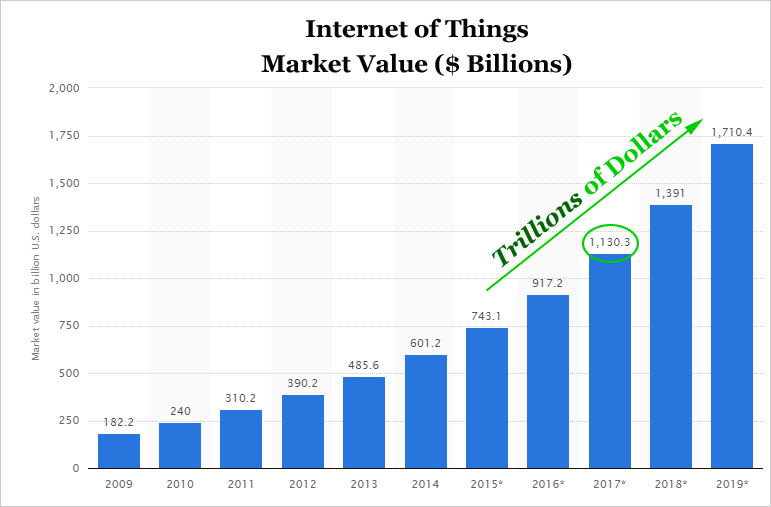 The Internet of Things (IoT) market will be measured in
trillions
of dollars as of next year. CML Pro has named the
top two companies
that will benefit. Then there's cyber security: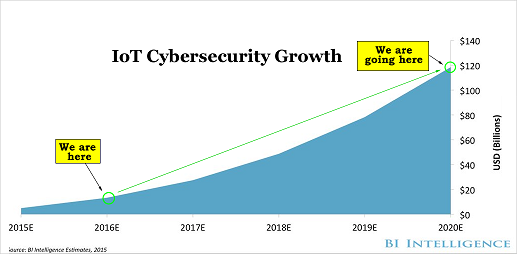 Market correction or not, recession or not, the growth in this area is a near certainty, even if projections come down, this is happening. CML Pro has named
the single best
cyber security stock to benefit from this theme.
These are just two of the themes we have identified and this is just one of the fantastic reports CML Pro members get along with all the visual tools, the precious few
thematic top picks for 2016
, research dossiers and alerts. For a limited time we are offering CML Pro at a 90% discount for $10/mo. with a lifetime guaranteed rate.
Join Us: Get the most advanced premium research delivered to your inbox along with access to visual tools and data that until now has only been made available to the top 1%.
Thanks for reading, friends.