India Is Turning into a Ridiculous Success for Apple


Fundamentals

Our purpose is to provide institutional research to all investors and break the information monopoly held by the top .1%. Thanks for standing with us.
INDIA
India will represent the second largest smartphone market to China as of this year, overtaking the United States. Here's the growth via
Statista
SMARTPHONE USERS IN INDIA
That's 204 million smartphone users in India in 2016.
By 2017, India will be larger than the United States
.
Until recently Apple had no footprint in the country because of a national law that protects home grown manufacturers. In fact, here's Apple's miniscule market share as of mid 2015:
SMARTPHONE MARKET SHARE IN INDIA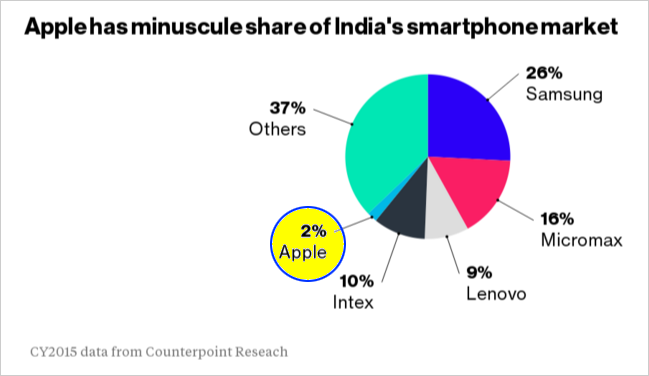 Many people reported those numbers closer to 1%. Even more, Morgan Stanley reported that nearly half of the Indian population hasn't even heard of the Apple brand. So why get bullish now?
EVERYTHING IS CHANGING
A tectonic shift began last year with a visit by Apple's CEO Tim Cook and a private meeting with India's Prime Minister. Suddenly, the earth shook:
Shortly after the meeting we got this news: India has singled out "cutting-edge technology" as a segment that can side-step the 30% local producer rule and Apple has been singled out as "cutting-edge technology." What a coincidence.
Then, yesterday, the
Times of India
wrote an article: "Apple may get to open stores without 30% sourcing norm."
"The government is set to waive the requirement of mandatory domestic sourcing for Apple, paving the way for the global technology giant to open its own retail outlets in the country."
IT'S ALREADY WORKING
If you recall that that 1%-2% market share we looked at in India as of mid 2015, news from
Quartz
broke in March that the tide is shifting, and it's building into a tsunami:
"iPhone sales made up 4.6% of the overall smartphones sold in India's top 30 cities between October and December 2015."
That number has spiked to 5.8% in tier-I Indian cities. Here's the chart:
SMARTPHONE MARKET SHARE TIER-1 INDIA
IT'S GOING TO GET BIGGER
This massive increase is not even the tip of the iceberg. Apple is yet to open its stores in India. Recall that only 50% of the populace has even heard of the brand. That's good news for Apple -- that's room to grow. But that's not the real change.
Apple created the iPhone SE, a smaller version of its trademark product, but it also reduced the price to $399 -- the least expensive new iPhone ever.
iPHONE SE RENDERING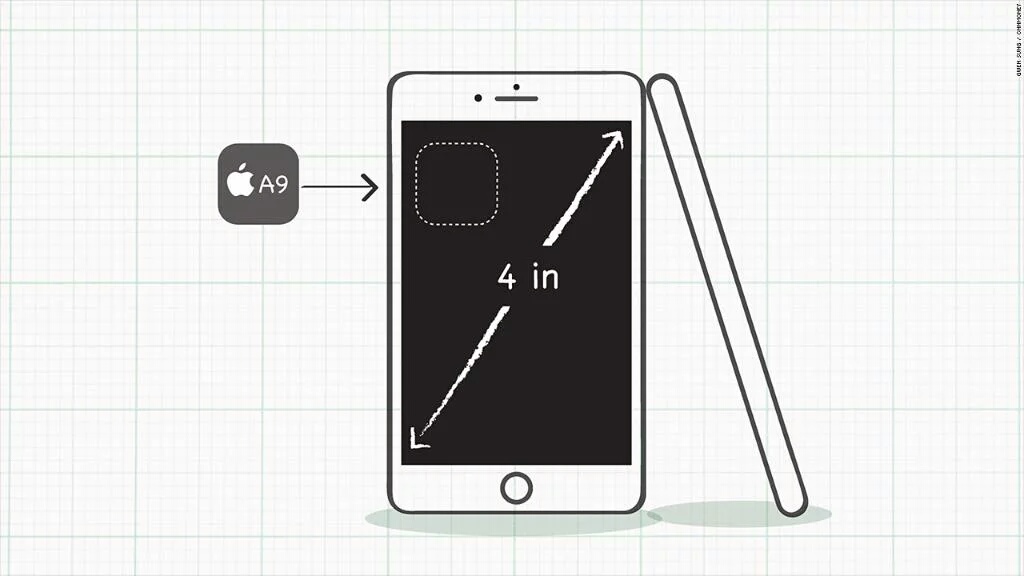 India's median income is well below that of the U.S. and China and price has been a major issue in India. And, while Wall Street laughed heartily at the iPhone SE as a desperate attempt to save iPhone sales that was destined to fail, those headlines have gone away because of facts, like these:
"Since it launched just over a week ago, the iPhone SE has seen demand outstrip supply"
(Source: RBC).

"Virtually all models with all carriers [are] out of stock at Apple's retail stores"
(Source: Apple Insider).

"Demand is also exceeding supply internationally"
(Source: Apple Insider).
It's going to take a couple of quarters for the numbers in India to impact revenue and EPS in a meaningful way, but they will.
FACEBOOK AND GOOGLE FACE TROUBLE
India is Facebook's (NASDAQ:FB) second largest market and if the iPhone becomes the smartphone of choice, as it has everywhere else in the world, Facebook will face a stringent challenge as Apple soon unveils its own new social media network as well as blocking to outside apps.
PROLIFERATION OF AD BLOCKING APPS
And Alphabet's Google (NASDAQ:GOOG) faces a challenge that very few saw coming. In the latest earnings release from Apple, CEO Tim Cook noted rather enthusiastically (emphasis added):
"We recorded the highest rate on record for Android switchers last quarter at 30 percent."
And, if India feels like the obvious new market for success for all tech giants, Amazon (NASDAQ:AMZN) would have agreed, until this news came out: "Amazon and Flipkart are speechless after India announces new foreign investment rules" via
quartz
.
The Indian government clarified its policy for foreign direct investment (FDI) in the fast-growing e-commerce sector. FDI
will not be allowed
in inventory-based models.
"[T]he new policy seems to have left some of the large incumbents dumbstruck."
That's another story, for another time, but Apple's special treatment in India is
really special.
As in, elite.
WHY THIS MATTERS
There's so much going on with Apple it's impossible to cover in one report. It spans almost all of technology's transformative themes. But, to find the 'next Apple,' 'next Google,' or 'next FANG stock,' we have to get ahead of the curve. This is what CML Pro does. Our research sits side-by-side with Goldman Sachs, Morgan Stanley and the rest on professional terminals, but we are the anti-institution and break the information advantage the top .1% have.
Each company in our 'Top Picks' is the single winner in an exploding thematic shift like artificial intelligence, Internet of Things, drones, biotech and more. In fact, here are just two of the trends that will radically affect the future that we are ahead of:
Each company in our 'Top Picks' is
the single winner
in an exploding thematic shift like artificial intelligence, Internet of Things, the cloud, drones, biotech and more. In fact, here are just two of the trends that will radically affect the future that we are ahead of: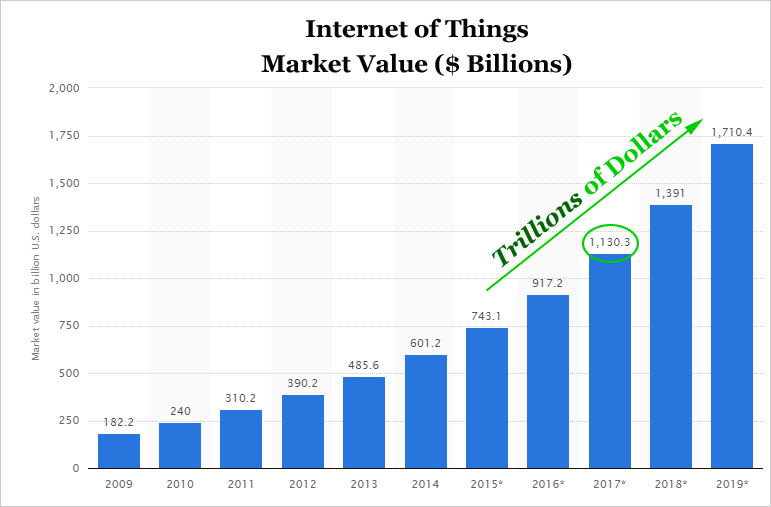 The Internet of Things (IoT) market will be measured in
trillions
of dollars as of next year. CML Pro has named the
top two companies
that will benefit. Then there's cyber security: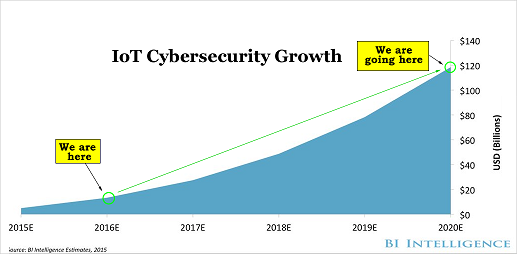 Market correction or not, recession or not, the growth in this area is a near certainty, even if projections come down, this is happening. CML Pro has named
the single best
cyber security stock to benefit from this theme.
These are just two of the themes we have identified and this is just one of the fantastic reports CML Pro members get along with all the visual tools, the precious few
thematic top picks for 2016
, research dossiers and alerts. For a limited time we are offering CML Pro at a 90% discount for $10/mo. with a lifetime guaranteed rate.
Join Us: Get the most advanced premium research delivered to your inbox along with access to visual tools and data that until now has only been made available to the top 1%.
The author is long Apple shares.
Thanks for reading, friends.
Legal
The information contained on this site is provided for general informational purposes, as a convenience to the readers. The materials are not a substitute for obtaining professional advice from a qualified person, firm or corporation. Consult the appropriate professional advisor for more complete and current information. Capital Market Laboratories ("The Company") does not engage in rendering any legal or professional services by placing these general informational materials on this website.
The Company specifically disclaims any liability, whether based in contract, tort, strict liability or otherwise, for any direct, indirect, incidental, consequential, or special damages arising out of or in any way connected with access to or use of the site, even if we have been advised of the possibility of such damages, including liability in connection with mistakes or omissions in, or delays in transmission of, information to or from the user, interruptions in telecommunications connections to the site or viruses.
The Company makes no representations or warranties about the accuracy or completeness of the information contained on this website. Any links provided to other server sites are offered as a matter of convenience and in no way are meant to imply that The Company endorses, sponsors, promotes or is affiliated with the owners of or participants in those sites, or endorse any information contained on those sites, unless expressly stated.