Apple: It's the Not the End, It's the Beginning


Fundamentals

iPHONE
Apple delivered 51.2 million units sales which beat consensus Wall Street estimates of 50 million. Tim Cook said the smartphone market is not growing due to macroeconomic environment, but that it will pass and return to growth.
If we look at any other data provider we see that Tim Cook is likely right. By 2020, 6 billion people will own a smartphone. Today, there are just 2.6 billion. This is happening -- it's not a "maybe." In fact, Tim Cook told CNBC on Tuesday that the company is in "the early innings of the iPhone." He's right.
Tim Cook noted that the installed base of iPhone today versus two years ago has increased by 80%. He also continues to hammer away at Android switchers (people moving from an Android phone to an iPhone). Here are his comments surrounding iPhone:
We added more switchers from Android and other platforms in the first half of this year
than any other six-month period ever
.
A recent Kantar survey of U.S. smartphone purchasers indicated a 95% iPhone loyalty rate,
the highest ever measured for any smartphone
.
iPhone is still attracting millions of first-time smartphone buyers each quarter. In India our iPhone
sales were up 56%
from a year ago.
Source:
NASDAQ Earnings Transcript
Tim Cook also noted that the iPhone SE (the smaller iPhone) is selling very well but none of those sales went into the quarter being reported because it was launched on March 31st. Apple's CFO addressed the iPhone business market and noted:
A recent survey by 451 Research [] found that among U.S. corporate buyers planning to purchase smartphones in the June quarter, 78% plan to purchase iPhones.
That's
the highest June quarter iPhone purchase intent ever measured by the survey
and five points higher than a year ago.
Source:
Seeking Alpha Earnings Transcript
But, while the company beat expectations of 50 million iPhones sold in the quarter, iPhone revenue showed that the average cost per unit was less than expected. Here's the rest:
R
EVENUE AND EPS
Apple reported EPS of $1.90 vs. Wall Street estimates of $2.00.
Apple reported revenue of $50.5 billion vs. Wall Street estimates of $52 billion (the company guided $50B - $53B in January). Revenue was down 13% year-over-year, lower than the anticipated 11% drop.
Tim Cook said this is a "pause in our growth."
C
HINA
Apple's CFO Luca Maestri addressed China head on and said:
In Mainland China, revenue was down 11%, and the decline was 7% in constant currency terms. Keep in mind that we were up against an extremely difficult year-ago compare when our Mainland China revenue grew 81%.

We remain very optimistic about the China market over the long term, and we are committed to investing there for the long run.
S
ERVICES
Apple's services business actually grew 20% year-over-year and has ballooned to the second largest segment for revenue, powered by 13 million paying Apple Music subscribers. Apple also set a record for App Store revenue. The company's CFO noted that the average amount spent per customer reached an all-time new high during the quarter and he drew a comparison to Google Play and how better Apple is monetizing this space.
iPhone
: $32.9 billion
Services
: $6 billion
Mac
: $5.1B
iPad
: $4.41B
"Other products" which includes the Apple Watch and Apple TV grew 30% year-over-year. Here were Tim Cook's comments on Services:
"Services revenue was our highest ever. App Store revenue was up 35% to beat last quarter's all-time record. And Apple Music continues to grow in popularity. We feel really great about the early success of Apple's first subscription business.
Apple's CFO went on further to say that "according to App Annie, the App Store generated
90% more global revenue than Google Play
in the March quarter, up from a 75% lead in 2015. The average amount spent per customer reached a new all-time record in the March quarter."
More importantly, Tim Cook noted that:
The Services business is powered by our huge installed base of active devices, which crossed 1 billion units earlier this year.

Those 1 billion-plus active devices are a source of recurring revenue that is growing independent of the unit shipments we report every three months.
Cook's point here is that Apple has a business line the grows regardless of iPhone sale changes. This is critical for Apple to convey and is the argument most large banks have that Apple's 9:1 price to earnings ratio (PE) should look more like Google's 30:1 PE ratio for the services business. In fact, if it was, just the Apple Services business would be worth more than Amazon (NASDAQ:AMZN) in entirety.
A
PPLE PAY
We cannot stress how large of an opportuity Apple Pay represents, with just mobile pay transaction volumes forecast to hit
$3 trillion
by 2022 per bank of America. This quarter was yet again remarkable. Here's what Tim Cook said:
Apple Pay is growing at a tremendous rate, with more than five times the transaction volume of a year ago and 1 million new users per week.

The reach of Apple Pay also continues to expand following a very successful launch in China in the March quarter and last week's rollout in Singapore.
In our CML Pro dossier we discuss why Apple Pay could itself add more than $100 billion to Apple's market cap by itself.
A
PPLE WATCH
As we wrote in prior CML Pro dossiers, the Apple Watch's first year outsold the iPhone in its first year by 2-fold and Tim Cook sees more growth:
Apple Watch [] has quickly become the best-selling and most loved smartwatch in the world. In fact, unit sales of Apple Watch during its first year exceeded sales of iPhone in its first year.
Apple's CFO added:
We have expanded [Apple Watch] distribution to 60 countries. Our customers are very happy with Apple Watch, with 451 Research measuring 94% customer satisfaction.
S
TOCK BUYBACK AND DIVIDEND
Apple added another $50 billion to its stock buyback program leaving it now at a staggering $250 billion. The company also raised its dividend by about 10% from $0.52 per share to $0.57 a share effective immediately.
F
INAL THOUGHTS
Apple is going to have some pain as it still depends heavily on the iPhone, but the long-term bullish thesis here lies in the vast array of other themes the company is participating in that we specifically pointed out in CML Pro.
Apple's Services and Apple Pay are rapidly growing businesses -- regardless of a slowing iPhone, iPad and Mac business. The immediate term issue with these businesses is that the firm's iPhone revenue is so large that it will take time for these other segments to make dramatic impacts on revenue and earnings.
But, Apple is getting there -- and the strongest evidence is that Services have finally risen to the second largest business line for the firm. That's a really big deal and partially why Tim Cook was gushing about it on the conference call.
We also note that the firm ended the year with $233 billion in cash plus marketable securities, a sequential increase of $17.2 billion. The company holds $72 billion in term debt. That represents a net cash position of $150 billion.
W
HAT NOW
The Apple story is exactly what we thought it would be. Comparisons to the iPhone success last year will be hard, and of course, next year they will be easier. It's just a circle, on and on, that short-term investors get hammered on and long-term investors build wealth.
But, by next year, not only will iPhone sales comps be better, Services will continue to boom, Apple Pay will actually start to impact margins and Apple Watch and Apple TV will hit numbers that are relevant.
India is a huge opportunity for Apple, which we have covered ad nauseum in CML Pro. It has the second largest smartphone market in the world, behind China, and Apple's market share has already risen three-fold in a matter of months.
WHY THIS MATTERS
Apple spans almost all of technology's transformative themes and looking one to two quarters in the future is not how to find a proper investment. If we really do our due diligence we can find the 'next Apple,' or 'next Google' by seeing where these monoliths are investing their money. We can get ahead of the curve. This is what CML Pro does. Our research sits side-by-side with Goldman Sachs, Morgan Stanley and the rest on professional terminals, but we are the anti-institution and break the information advantage the top .1% have.
Each company in our 'Top Picks' is
the single winner
in an exploding thematic shift like artificial intelligence, Internet of Things, drones, biotech and more. In fact, here are just two of the trends that will radically affect the future that we are ahead of: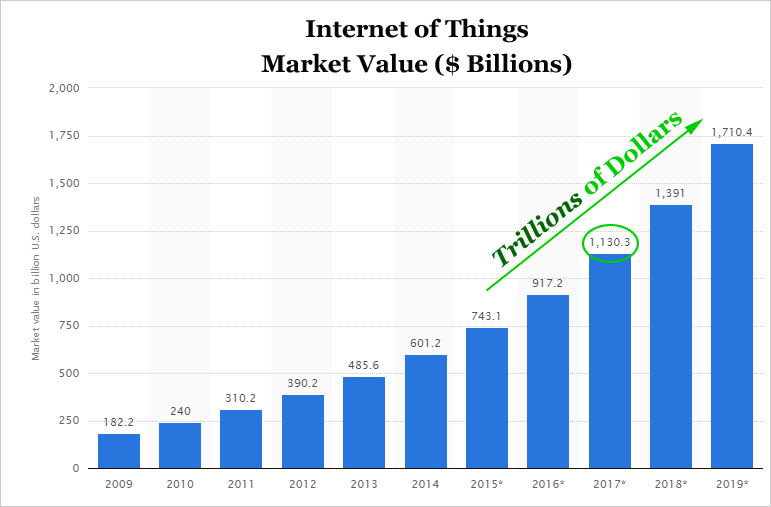 The Internet of Things (IoT) market will be measured in
trillions
of dollars as of next year. CML Pro has named the
top two companies
that will benefit. Then there's cyber security: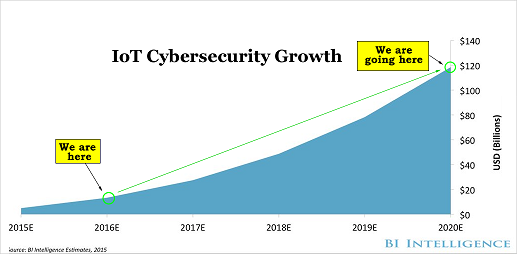 Market correction or not, recession or not, the growth in this area is a near certainty, even if projections come down, this is happening. CML Pro has named
the single best
cyber security stock to benefit from this theme.
These are just two of the themes we have identified and this is just one of the fantastic reports CML Pro members get along with all the visual tools, the precious few
thematic top picks for 2016
, research dossiers and alerts. For a limited time we are offering CML Pro at a 90% discount for $10/mo. with a lifetime guaranteed rate.
Join Us: Get the most advanced premium research delivered to your inbox along with access to visual tools and data that until now has only been made available to the top 1%.
Thanks for reading, friends.
The author and the author's household hold shares in Twitter as of this writing.
Legal
The information contained on this site is provided for general informational purposes, as a convenience to the readers. The materials are not a substitute for obtaining professional advice from a qualified person, firm or corporation. Consult the appropriate professional advisor for more complete and current information. Capital Market Laboratories ("The Company") does not engage in rendering any legal or professional services by placing these general informational materials on this website.
The Company specifically disclaims any liability, whether based in contract, tort, strict liability or otherwise, for any direct, indirect, incidental, consequential, or special damages arising out of or in any way connected with access to or use of the site, even if we have been advised of the possibility of such damages, including liability in connection with mistakes or omissions in, or delays in transmission of, information to or from the user, interruptions in telecommunications connections to the site or viruses.
The Company makes no representations or warranties about the accuracy or completeness of the information contained on this website. Any links provided to other server sites are offered as a matter of convenience and in no way are meant to imply that The Company endorses, sponsors, promotes or is affiliated with the owners of or participants in those sites, or endorse any information contained on those sites, unless expressly stated.