Apple, Amazon, Google and Facebook Bring Catastrophic Risk to the Market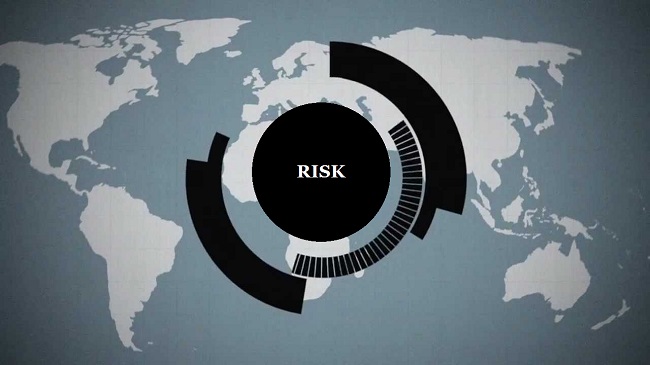 MEGA CAP RISK
This was originally published on
news.cmlviz.com
PREFACE
This isn't a note about a toppy market or GDP growth, or unemployment, or interest rates, or anything as intangible as macro economic trends. This is about a tangible, real risk to the market that we have never seen before.
There are four mega cap technology companies that will shape the future: Apple (NASDAQ:AAPL), Alphabet (NASDAQ:GOOGL), Amazon.com (NASDAQ:AMZN) and Facebook (NASDAQ:FB). And while we're used to thinking of them as having their own niches to operate in, that thought process is now flawed and the reality that these four mega caps are now stepping on and competing with each other brings a new reality:
"
Nothing is safe.
While none of these mega caps have a real cap to how big they can get, the risks are turning into those we would normally only see in small caps.
Technology has put the stock market on a different trajectory -- higher and faster than ever. But it has also introduced risk at levels we have never seen before.
"
Source: CML Pro
You see, there is supposed to be safety in size. While Apple may not grow a lot, it's safe, it pays a dividend, it has a huge cash hoard. The same goes for Google. Facebook sees massive growth, but the risk that suddenly half of its revenue disappears didn't used to be a reality we would consider.
But everything has changed and the risk to our large cap world has brought catastrophic risk to the rest of the investing world.
STORY
We used to think of Amazon as an e-commerce first company. But Amazon has introduced a video platform to compete with Google's YouTube and Facebook's online video dominance.
It drives more than half of its operating income from the cloud, a business Google has plunged head first into and one where Apple is inches away from launching. In a prior note we show explicitly how AWS growth is coming to a frightening halt and that's before Google really takes hold.
To further diversify, Amazon is propelling itself forward into the advanced driver-assistance systems (ADAS) realm -- that's self-driving cars.
We also learned that Amazon is jumping in head first to online advertising at the point of purchase for its Amazon Prime Now service. The actual point of sale advertising real estate is dangerously valuable and immediately puts Facebook and Google on notice.

Of course, let's not forget Amazon's failed attempt at smart phones which it is soon to try again.
We used to think of Google as an advertising company surrounded by the search ecosystem and YouTube. But Google's Android powers the vast majority of smartphones in the world. And, recent news broke that the firm is making incredible headway in e-commerce. In fact, On April 13th, PR Newswire revealed this:
"
Retail sales from Google Shopping grew by 52% year-over-year in the first quarter.
"
Further, Google too is pioneering self-driving cars and one of the leaders in virtual reality and the mobile pay revolution. To top it off, we just broke news yesterday that Google has created a new social network to compete directly with Facebook.
"
We wanted to build a better group sharing experience, so we made a new app called Spaces.
With Spaces, it's simple to find and share articles, videos and images without leaving the app, since Google Search, YouTube, and Chrome come built in.
"
Then there's Facebook. At one time this was an easy to understand social media play. Now it's an online video powerhouse, and just like Amazon, has launched its own direct competitor to YouTube. Further, Facebook is knee deep in Virtual Reality with its Oculus product and it is scraping away at mobile pay inside Facebook Messenger.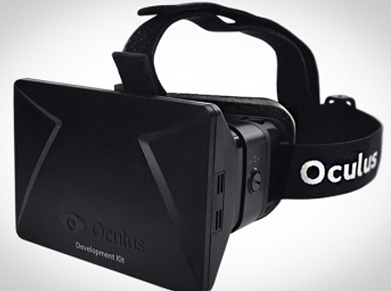 Not to be out done in the e-commerce space, we learned in March of 2015 that Facebook was going all in on e-commerce when it brought businesses onto Facebook Messenger.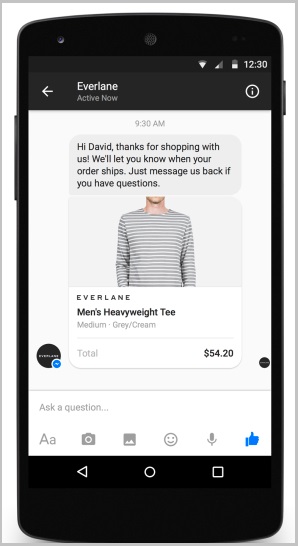 Finally Apple covers smartphones, virtual reality, the cloud, self-driving cars. CML Pro also broke news that Apple has submitted a patent application to the United States Patent and Trademark Office (USPTO) for something it calls "Social Groups."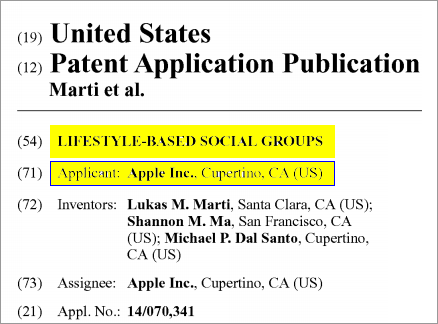 To go yet deeper down the rabbit hole, Apple just announced a $1 billion investment in "China's Uber," called Didi Chuxing. The move was strategic in nature and one that reminded the entire world that the Apple Car is coming, it will have self-driving features, and it will be the next radical innovation that Apple introduces.
Further, if we read the specs for iOS9, the latest mobile operating system from Apple, we see that Apple is very likely to get into the advertising business, especially focused on news.
PUTTING IT TOGETHER
The fact that each of these mega caps are pouncing on each other's businesses means we're in a totally different realm of risk than we have ever seen before. What appears to be safe, is not. Ad blocking could cut Facebook and Google's revenue in half. A successful Amazon smartphone could crush Apple's iPhone profit center. The Amazon video service combined with Amazon Prime video could destroy YouTube.
Google's explosive growthin e-commerce could cut Amazon's world dominating aspirations out at the knees.
We can continue, on and on. But it turns out there is a way to side step this mess, while investing in the future.
THE FUTURE
Every business line we just mentioned is actually one of the thematic transformations occurring in technology. For example, here is how self-driving car growth looks: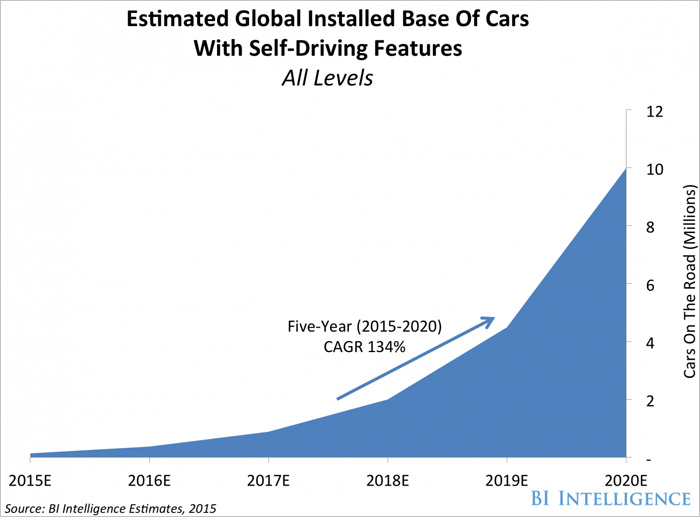 Or, here is how fast the cloud is growing: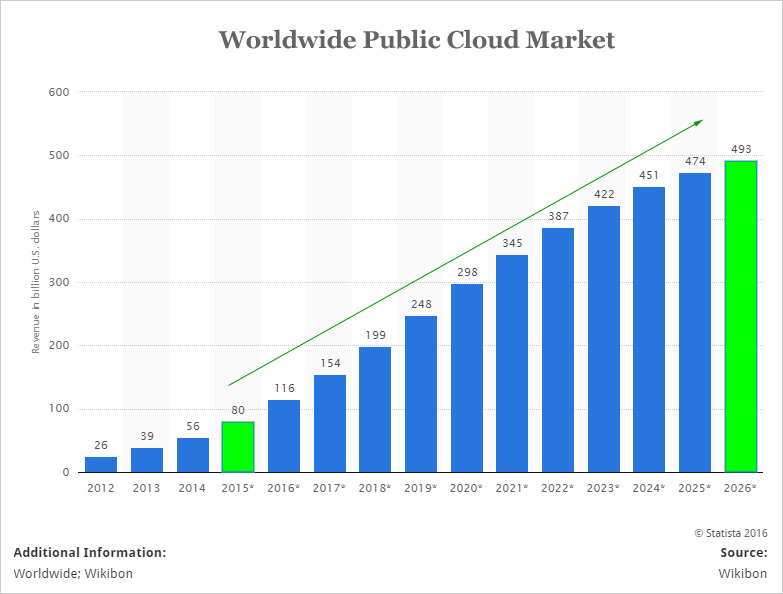 We could show you a chart like this for every theme these mega caps are pursuing. But there's a philosophy we follow, and it reads like this:
"
You can mine for gold hoping to be one of the lucky few to win the gold rush lottery, or you can sell pickaxes and shovels to the gold miners and guarantee you've won the lottery several times over.
"
It turns out there are two technology gems that will power the self-driving revolution, and they will win regardless of the success of Tesla (NASDAQ:TSLA) versus Apple versus Google. There is a tech gem that will power the cloud computing revolution and it won't matter which cloud service wins -- each cloud will be powered by these chips.
We can go on and on. There is a marvel technology company that will power the online video advertising wars -- and it won't matter if Facebook, YouTube or Amazon wins.
WHY THIS MATTERS
This is just the surface analysis. There's so much going on with technology it's impossible to cover in one report. But, to take it a step further and to actually find the 'next Apple' or 'next FANG stock' we have to get ahead of the curve. This is what CML Pro does. Our research sits side-by-side with Goldman Sachs, Morgan Stanley and the rest on professional terminals, but we are the anti-institution and break the information monopoly that the top .1% have.
Each company in our 'Top Picks' is
the single winner
in an exploding thematic shift like self-driving cars, artificial intelligence, Internet of Things, drones, biotech and more. In fact, here are just two of the trends that will radically affect the future that we are ahead of: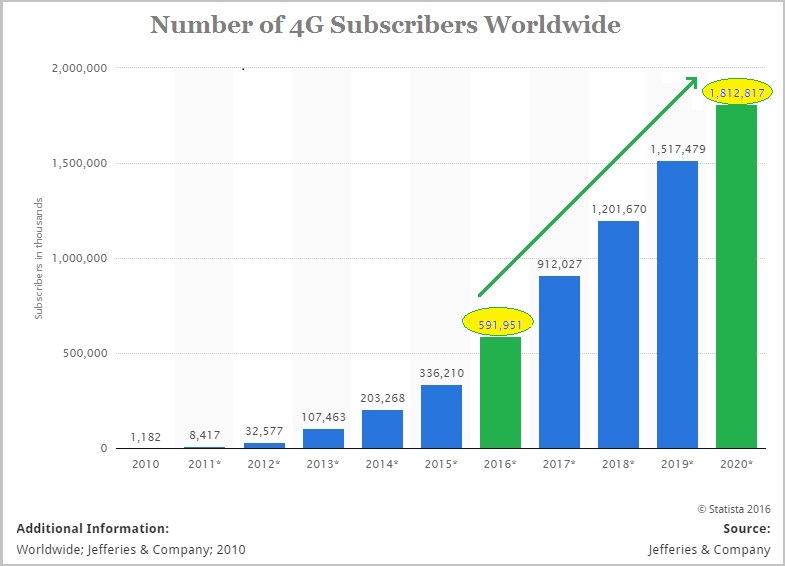 That chart plots the growth in 4G usage worldwide and how it will grow from 330 million people today to nearly 2 billion in five years. This is the lifeblood fueling every IoT and mobile device on the planet and CML Pro has named the single winner that will power this transformation. Then there's cyber security: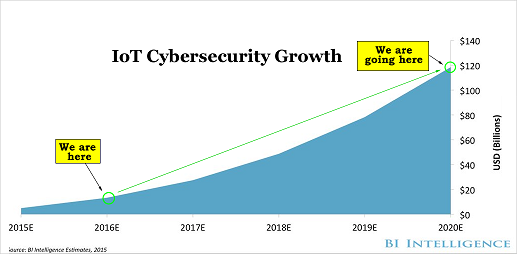 Market correction or not, recession or not, the growth in this area is a near certainty, even if projections come down, this is happening. CML Pro has named
the single best
cyber security stock to benefit from this theme.
These are just two of the themes we have identified and this is just one of the fantastic reports CML Pro members get along with all the visual tools, the precious few
thematic top picks for 2016
, research dossiers and alerts. For a limited time we are offering CML Pro at a 90% discount for $10/mo. with a lifetime guaranteed rate.
Join Us: Get the most advanced premium research delivered to your inbox along with access to visual tools and data that until now has only been made available to the top 1%.
Thanks for reading, friends.