Apple is Going to Smash Sales Forecasts


Fundamentals

This was originally published on
news.cmlviz.com
Our purpose is to provide institutional research to all investors and break the information monopoly held by the top .1%. Here we go:
PREFACE
For the last several weeks we have started each dossier on
Apple (NASDAQ:AAPL)
with exactly this preface:
The headlines will have you believe Apple is dead and other than a handful of institutions like Goldman Sachs, RBC and Capital Market Laboratories (CML), Wall Street is yet again underestimating the demand for Apple's brand.
Today, yet more evidence has surfaced that Apple is not only doing better than Wall Street expects, but Apple's iPhone 7 sales may smash current forecasts.
BREAKING
Apple stock is up 1.5% on large trading volume based on a report from Taiwan that iPhone 7 suppliers are seeing substantially higher demand production required from the firm, well above forecasts.
Taiwan's Economic Daily came out with a report that claimed this:
"
iPhone 7 suppliers to produce 72 million to 78 million units this year, many more than the 65 million units Wall Street has projected. That production target is also the highest in about two years.
"
Source: Investors Business Daily
You can read that again: "That production target is also the highest in about two years." Now the iPhone 7 isn't due for release until September, following Apple's scheduled releases over the last decade, so we will not see these numbers in earnings until the calendar year-end earnings report.
This is not short-term news, but rather intermediate-term. The stock market however is always forward looking and that's why Apple stock has risen 7% off of its lows and appears to be headed higher.
Earlier this morning on CNBC's "Squawk on the Street," Jim Cramer said:
"
This is dramatically above what people are looking for[.]
"
Source: CNBC
Forecasts had called for 65 million iPhone 7s to be produced by the end of 2016, so this 72 million to 78 million range is in fact a smashing of forecasts. Of course, the iPhone 7 hasn't been released yet, so this is an estimate on Apple's part, not a hard fill of orders in hand.
However, given Apple's caution in its latest earnings release and its rapid production slow down for the iPhone 6S that had a ripple effect across not only its suppliers, but the technology world in general, this new production ramp up from the iPhone 7 should be taken seriously.
We break news everyday.

Get Our (Free) News Alerts.
After Apple's earnings release, CML Pro noted that Alphabet (NASDAQ:GOOGL) Google's Android switchers were at their highest level in years and that iPhone 7 pent up demand was in fact stronger than most analysts were forecasting. Goldman Sachs echoed that mood, explicitly stating:
"
Most importantly, our survey points to
extremely strong pent-up demand for the iPhone 7
with 44% of respondents indicating that that they plan to buy the iPhone 7 in the fall.
"
Source: Goldman Sachs
Last week CML Pro reported that "Apple's New iPhone SE Sales are Outpacing Demand." In that report we noted a 2-3 week waiting period for an online or in store order for the new iPhone SE, Apple's smaller sized iPhone. Here is the screen capture we shared:
OUT OF STOCK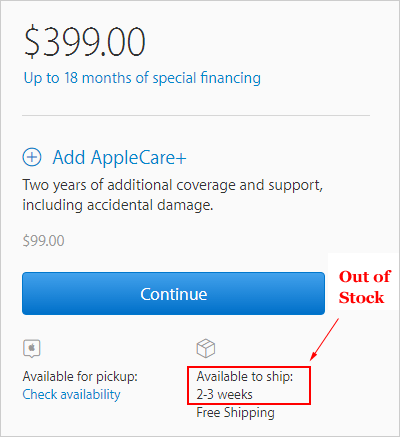 Image Source: CML Pro
And then there's main stream media -- Apple Insider also reported on the iPhone SE:
"
Virtually all models with all carriers [are] out of stock
at Apple's retail stores.
Demand is also exceeding supply internationally.
"
That report was released back in the late March period.
And while we're at it, the Chinese company that was supposed to kill Apple in China just reported zero growth in 2015. Here's the headline from CNBC: "Xiaomi sales near flat in 2015, says report."
It's the flavor of the month to doubt Apple. We would caution that doubt with at least a bit of perspective.
WHY THIS MATTERS
There's so much going on with Apple it's impossible to cover in one report and reading headlines can be misleading. But, to find the 'next Apple,' 'next Google,' or 'next FANG stock,' we have to get ahead of the curve. This is what CML Pro does. Our research sits side-by-side with Goldman Sachs, Morgan Stanley and the rest on professional terminals, but we are the anti-institution and break the information advantage the top .1% have.
Each company in our 'Top Picks' is
the single winner
in an exploding thematic shift like artificial intelligence, Internet of Things, drones, biotech and more. In fact, here are just two of the trends that will radically affect the future that we are ahead of: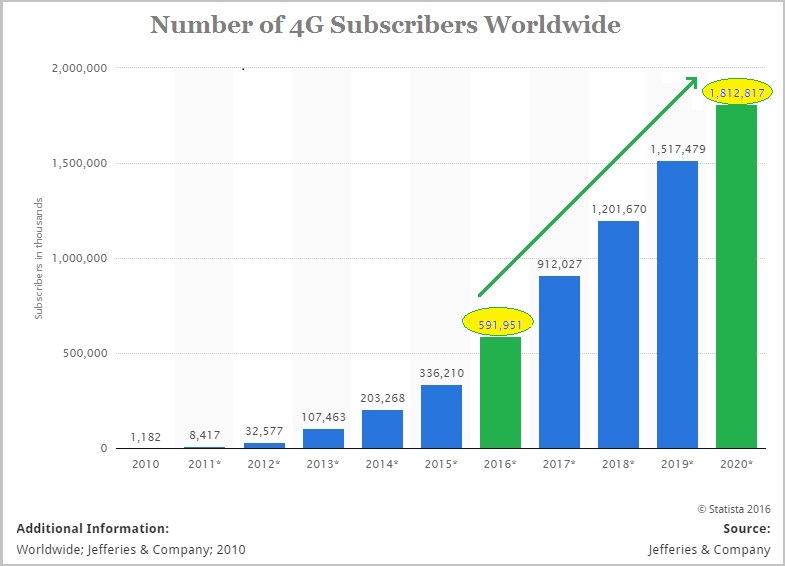 That chart plots the growth in 4G usage worldwide and how it will grow from 330 million people today to nearly 2 billion in five years. This is the lifeblood fueling every IoT and mobile device on the planet and CML Pro has named the single winner that will power this transformation. Then there's cyber security: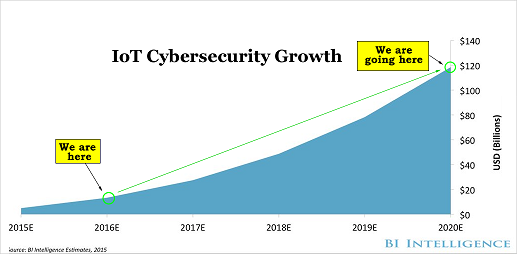 Market correction or not, recession or not, the growth in this area is a near certainty, even if projections come down, this is happening. CML Pro has named
the single best
cyber security stock to benefit from this theme.
These are just two of the themes we have identified and this is just one of the fantastic reports CML Pro members get along with all the visual tools, the precious few
thematic top picks for 2016
, research dossiers and alerts. For a limited time we are offering CML Pro at a 90% discount for $10/mo. with a lifetime guaranteed rate.
Join Us: Get the most advanced premium research delivered to your inbox along with access to visual tools and data that until now has only been made available to the top 1%.
Thanks for reading, friends. The author is long Apple shares in his personal account.