Apple Leaves a Bumbling Wall Street in the Stone Age. Again.


Fundamentals

PREFACE
Not too long ago headlines called for the end of
Apple (NASDAQ:AAPL)
. The stock crossed below $90, was on the verge of breaking critical technical support levels and the headlines would have had you believe it was headed much lower.
Source: TheStreet.com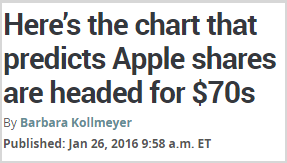 Source: Marketwatch
Facebook (FB), Amazon (AMZN) and Google (GOOG) were all touted as "the Next Apple." But it's the "current Apple" that has the goodies.
Of course, this is what CMl Pro wrote, over, and over again:

Source: CMLviz.com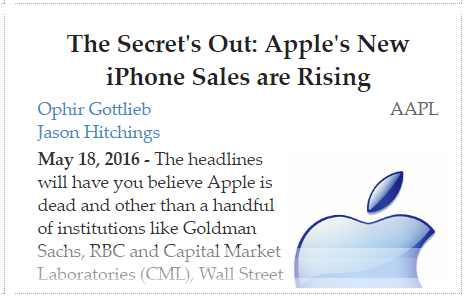 Source: CMLviz.com

Source: CMLviz.com
Source: CMLviz.com
Here is the stunning news that has added back $50 billion in market cap in less than a month since earnings were released and has every possibility of moving the stock even higher.
WHAT HAPPENED
Even though Apple missed on revenue, EPS and guidance for the next quarter on the latest earnings call the calmer view was simply to listen Tim Cook when he said rather explicitly that the smartphone market is not growing due to macroeconomic environment, but that it will pass and return to growth.
In fact, Tim Cook told CNBC on Tuesday that the company is in "the early innings of the iPhone."
Tim Cook noted that the installed base of iPhone today versus two years ago has increased by 80%. He also continues to hammer away at Android switchers (people moving from an Android phone to an iPhone). Here are his comments surrounding iPhone:
We added more switchers from Android and other platforms in the first half of this year
than any other six-month period ever
.
A recent Kantar survey of U.S. smartphone purchasers indicated a 95% iPhone loyalty rate,
the highest ever measured for any smartphone
.
iPhone is still attracting millions of first-time smartphone buyers each quarter. In India our iPhone
sales were up 56%
from a year ago.
Source: NASDAQ Earnings Transcript
SURPRISE
It turns out Apple is not only doing better than expected, it's doing better than almost everyone else.
In what has been a whirlwind of a month we have learned this:
I.
iPhone 7 suppliers reported
substantially
higher demand production required from Apple which were substantially above forecasts.
"
iPhone 7 suppliers to produce 72 million to 78 million units this year, many more than the 65 million units Wall Street has projected. That production target is also the highest in about two years.
"
Source: Investors Business Daily
Then on CNBC's "Squawk on the Street," Jim Cramer said:
"
This is dramatically above what people are looking for[.]
"
Source: CNBC
Forecasts had called for 65 million iPhone 7s to be produced by the end of 2016, so this 72 million to 78 million range is in fact a smashing of forecasts.
After Apple's earnings release, CML Pro noted that Alphabet (NASDAQ:GOOGL) Google's Android switchers were at their highest level in years and that iPhone 7 pent up demand was in fact stronger than most analysts were forecasting.
"
Most importantly, our survey points to
extremely strong pent-up demand for the iPhone 7
with 44% of respondents indicating that that they plan to buy the iPhone 7 in the fall.
"
Source: Goldman Sachs
Last week CML Pro reported that "Apple's New iPhone SE Sales are Outpacing Demand." In that report we noted a 2-3 week waiting period for an online or in store order for the new iPhone SE, Apple's smaller sized iPhone. Here is the screen capture we shared:
OUT OF STOCK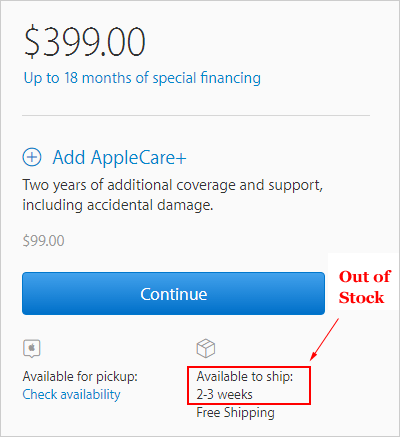 Image Source: CML Pro
But that wasn't even half of the news.
II.
Even before that announcement, Apple made a strategic investment in "China's Uber" (Didi Chuxing) of $1 billion. The company already dominates the market, and claims to have fulfilled one billion rides last year and holds 87% of the country's private ride-hailing market (Tech Crunch). At the same time, Uber announced in February that it was losing over $1 billion a year in China.
Apple CEO Tim Cook said,
"
We are making the investment for a number of strategic reasons, including a chance to learn more about certain segments of the China market.
Of course, we believe it will deliver a strong return for our invested capital as well.
"
Source: Reuters
This move for Apple was more strategic than monetary. $1 billion is literally rounding error but what is not rounding error is the size and importance of China to Apple and the lead it has in the country as Google, Facebook and Amazon are totally locked out.
We cover the much broader bullish thesis for Apple in a different CML Pro dossier, but for now, Apple has caught everyone off guard again, and does have some of the tech world tongue tied... again.
III.
As all of this is happening, rumors have revealed that the iPhone due out in 2017, which will mark the ten-year anniversary is going to be a total overhaul -- an all glass phone made with OLED technology with so many goodies we won't even bother filling up the space in this dossier.
But the biggest news was this:
IV.
The bullish argument for Apple during times of slowing iPhone sales has always been forward looking to a strong services business, now aptly named Apple as a Service, or AaaS. The bear response was that it would ake too long for that segment to grow large enough to be meaningful.
It turns out that AaaS is now the segment largest driver of revenue for the company, leap frogging the iPad and growing at 20% a year. With what appears to be a very strong iPhone 7 release and then a highly anticipated ten-year anniversary phone next year, Apple Services is going to be fully a $35 billion business
on its own
by the time the "Apple is Dead" talk stirs again on slowing iPhone sales. It's already a $25 billion business.
For context, Facebook's (NASDAQ:FB)
total revenue across all product lines in the last year
was $20 billion.
Remember a month ago when "Apple was dead?" That was fun.
WHY THIS MATTERS
Apple spans almost all of technology's transformative themes and looking one to two quarters in the future is not how to find a proper investment. Proper due diligence identifies the time when Apple is a compelling investment and further, we can even find the 'next Apple,' or 'next Google' by seeing where these monoliths are investing their money. We can get ahead of the curve. This is what CML Pro does. Our research sits side-by-side with Goldman Sachs, Morgan Stanley and the rest on professional terminals, but we are the anti-institution and break the information advantage the top .1% have.
Apple is a 'Top Pick' for CML Pro. Each company in our 'Top Picks' is
the single winner
in an exploding thematic shift like artificial intelligence, Internet of Things, drones, biotech and more. In fact, here are just two of the trends that will radically affect the future that we are ahead of: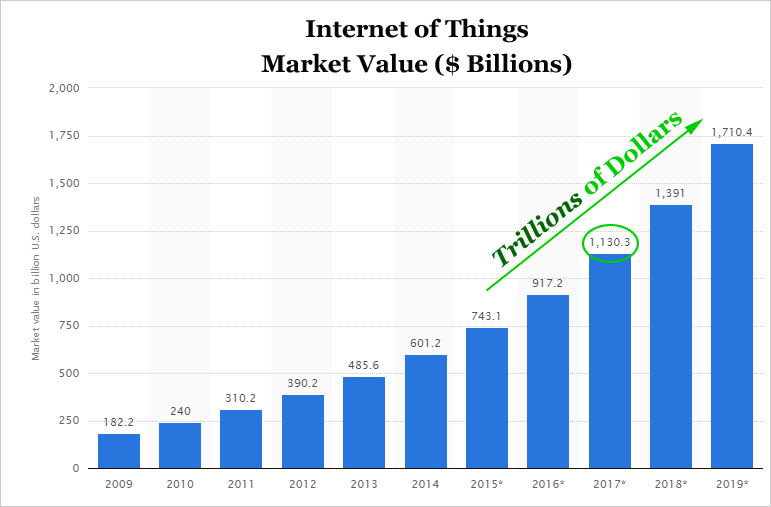 The Internet of Things (IoT) market will be measured in
trillions
of dollars as of next year. CML Pro has named the
top two companies
that will benefit. Then there's cyber security: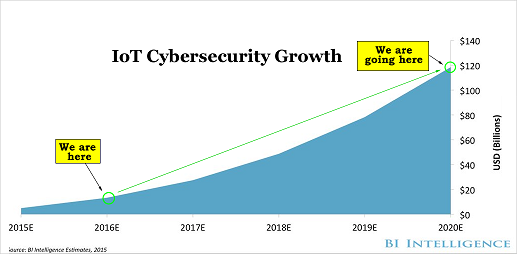 Market correction or not, recession or not, the growth in this area is a near certainty, even if projections come down, this is happening. CML Pro has named
the single best
cyber security stock to benefit from this theme.
These are just two of the themes we have identified and this is just one of the fantastic reports CML Pro members get along with all the visual tools, the precious few
thematic top picks for 2016
, research dossiers and alerts. For a limited time we are offering CML Pro at a 90% discount for $10/mo. with a lifetime guaranteed rate.
Join Us: Get the most advanced premium research delivered to your inbox along with access to visual tools and data that until now has only been made available to the top 1%.
Thanks for reading, friends.
The author and the author's household hold shares in Apple as of this writing.
Legal
The information contained on this site is provided for general informational purposes, as a convenience to the readers. The materials are not a substitute for obtaining professional advice from a qualified person, firm or corporation. Consult the appropriate professional advisor for more complete and current information. Capital Market Laboratories ("The Company") does not engage in rendering any legal or professional services by placing these general informational materials on this website.
The Company specifically disclaims any liability, whether based in contract, tort, strict liability or otherwise, for any direct, indirect, incidental, consequential, or special damages arising out of or in any way connected with access to or use of the site, even if we have been advised of the possibility of such damages, including liability in connection with mistakes or omissions in, or delays in transmission of, information to or from the user, interruptions in telecommunications connections to the site or viruses.
The Company makes no representations or warranties about the accuracy or completeness of the information contained on this website. Any links provided to other server sites are offered as a matter of convenience and in no way are meant to imply that The Company endorses, sponsors, promotes or is affiliated with the owners of or participants in those sites, or endorse any information contained on those sites, unless expressly stated.