Apple Pay is Turning into a Massive Win


Apple Pay
Written by Ophir Gottlieb and Jason Hitchings
PREFACE
Not too long ago headlines called for the end of
Apple (NASDAQ:AAPL)
. The stock crossed below $90, was on the verge of breaking critical technical support levels and the headlines would have had you believe it was headed much lower.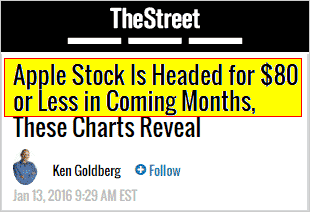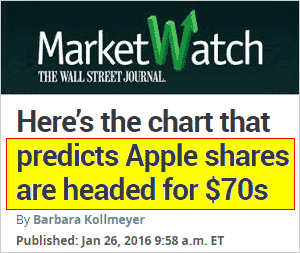 Facebook (FB), Amazon (AMZN) and Google (GOOG) were all touted as "the Next Apple." But it's the "current Apple" that has the goodies.
While we could focus on the stunning news that Apple broke surrounding iPhone demand, we want to focus on a lesser known segment that in the future could in and of itself be a business line as large as the any bank in the world.
BREAKING
News broke from
Tech Crunch
that while Apple Pay is available in six countries right now, Apple has its eyes set on the rest of the world. Jennifer Bailey, VP of Apple Pay, told Tech Crunch:
We're working rapidly in Asia and also in Europe, our goal is to have Apple Pay in every significant market Apple is in.

Source: Tech Crunch
Bailey went on to say that Apple Pay is "seeing incredible user and developer reception." Apple Pay now covers 2,500 bank locations in the U.S., up from an initial six. But that isn't the story -- this is:
BREAKING NEWS: DISRUPTION
In an aggressive and shrewd move, we have learned from
Re/code
that Apple will be bringing its Apple Pay to mobile e-commerce sites, and then an even larger disruption. First step one, then step two:
Apple's payment service [will allow] shoppers to complete a purchase on mobile apps with their fingerprint rather than by entering credit card details.
The move would pit Apple more directly against PayPal.
Source:
Re/code
What does disruption mean? In both use cases, Apple has "killed the password." At first blush it may not sound sexy, but friends, upon further review, we will see that this is $300 billion worth of sexy.
Just a month ago, Apple revealed to the world that it had an active install base of over 1 billion devices. That's 'b' for
billion
.
THE PRIZE
The sheer size of the just 'mobile pay' market will be absolutely explosive. Transaction volumes are projected to hit $700 billion in yearly sales by just 2020, according to a study by
Statista
:
But that's the infancy. Here is Bank of America's take:
By the year 2022, the mobile payments growth will reach a combined total of around $3 trillion. That measures fully 200 fold in just seven years.
But now Apple is also turning to the desktop with Apple Pay, and that means we now are looking at Visa (V), MasterCard (MA) and PayPal. More than half of online retail purchases still happen on desktop and laptop computers (
Re/code
).
APPLE'S THRONE
Here's the mobile pay market share data we have for 2014 and 2015 just looking at phones: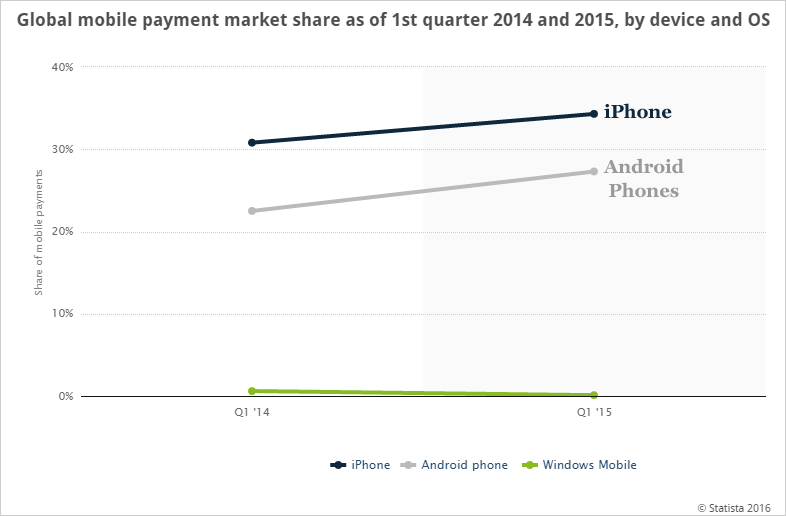 All told, Apple's iPad and iPhone control a staggering 65% of market share.
Add the payment capability to mobile e-commerce as well as the desktop and laptop e-commerce world and we're looking at a business line that in and of itself could be worth more than $300 billion in market cap.
OTHER MEGA CAPS
Facebook, Alphabet's Google and Amazon are all chasing the mobile pay trend. But Facebook saw mobile payments actually decline in the quarter ending Decmeber 2015, and remember, Facebook has no hardware -- that's no watches, no phones, no desktops and no laptops.
Google recently created Android Pay:
Forget your wallet[.] With Android Pay you can simply unlock your phone, place it near a contactless terminal, and you're good to go. Tap and pay is that fast, that easy.
While Google certainly has Android out there for phones and tablets, we can hardly call its Chromecast a hardware to be reckoned with. This move by Apple is combative and attacks Google and its mobile pay hopes at its infancy.
Amazon's Wallet was a failure and nobody thought much of it. But Amazon is back -- behind or not, with over $70 billion in retail sales, the company will likely stop at nothing to win. But even the mighty Amazon has recognized the power of Apple's one billion device install base.
HOW BIG OF A DEAL IS THIS?
We saw the mobile pay markets -- measured in trillions of dollars soon. But let's look at Visa, MasterCard and Paypal. The three companies have combined market caps of about $330 billion, or more than half of Apple.
Apple Pay is already exploding. Here are few recent snippets from Apple. The first is from CEO Tim Cook on the earnings call for calendar Q4 of 2015:
In the second half of 2015, we saw [] a growth rate
ten times higher
than in the first half of the year.
Source:
Re/code
Yes, he said
ten times higher
growth in six-months.
Further, in January we learned that Apple Pay is coming to ATMs from Bank Of America and Wells Fargo (
Tech Crunch
).
And then there's China. Check this out:
Apple Pay hit
three million provisions inside its first three days in China
, while, more generally, it is adding
one million new users per week worldwide
.
Source:
Tech Crunch
Together the enormity of Apple Pay through mobile with the functionality of "touch your monitor and now you've paid" promise of Apple Pay on desktops and laptops, we could be looking at a business line that, as of Apple's price today, could be worth an additional 30% of Apple's value.
SEEING THE FUTURE
There's so much going on with Apple we can't cover it all in one report. But, there is one company that powers Mobile Pay, for every company across the world. In order to find these gems, the 'next Apple' or 'next Amazon,' we have to get ahead of the curve. This is what CML Pro does. Our research sits side-by-side with Goldman Sachs, Morgan Stanley and the rest on professional terminals, but we are the anti-institution and break the information advantage the top .1% have.
Each company in our 'Top Picks' is
the single winner
in an exploding thematic shift like artificial intelligence, Internet of Things, drones, biotech and more. In fact, here are just two of the trends that will radically affect the future that we are ahead of: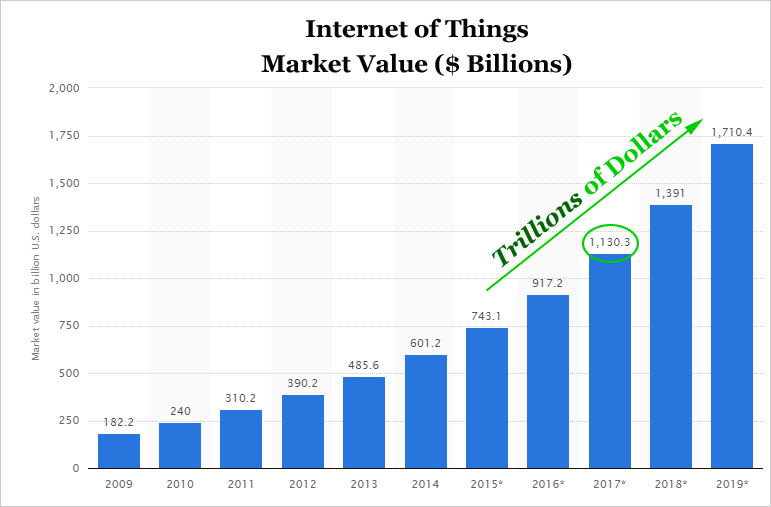 The Internet of Things (IoT) market will be measured in
trillions
of dollars as of next year. CML Pro has named the
top two companies
that will benefit. Then there's cyber security: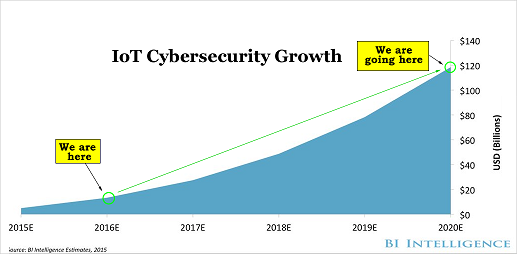 Market correction or not, recession or not, the growth in this area is a near certainty, even if projections come down, this is happening. CML Pro has named
the single best
cyber security stock to benefit from this theme.
These are just two of the themes we have identified and this is just one of the fantastic reports CML Pro members get along with all the visual tools, the precious few
thematic top picks for 2016
, research dossiers and alerts. For a limited time we are offering CML Pro at a 90% discount for $10/mo. with a lifetime guaranteed rate.
Join Us: Get the most advanced premium research delivered to your inbox along with access to visual tools and data that until now has only been made available to the top 1%.
The author is long Apple shares. Thanks for reading, friends.
Please read the legal disclaimers below and as always, remember, we are not making a recommendation or soliciting a sale or purchase of any security ever. We are not licensed to do so, and we wouldn't do it even if we were. We're sharing my opinions, and provide you the power to be knowledgeable to make your own decisions.
Legal
The information contained on this site is provided for general informational purposes, as a convenience to the readers. The materials are not a substitute for obtaining professional advice from a qualified person, firm or corporation. Consult the appropriate professional advisor for more complete and current information. Capital Market Laboratories ("The Company") does not engage in rendering any legal or professional services by placing these general informational materials on this website.
The Company specifically disclaims any liability, whether based in contract, tort, strict liability or otherwise, for any direct, indirect, incidental, consequential, or special damages arising out of or in any way connected with access to or use of the site, even if we have been advised of the possibility of such damages, including liability in connection with mistakes or omissions in, or delays in transmission of, information to or from the user, interruptions in telecommunications connections to the site or viruses.
The Company makes no representations or warranties about the accuracy or completeness of the information contained on this website. Any links provided to other server sites are offered as a matter of convenience and in no way are meant to imply that The Company endorses, sponsors, promotes or is affiliated with the owners of or participants in those sites, or endorse any information contained on those sites, unless expressly stated.