Apple Gets Dead Serious About Artificial Intelligence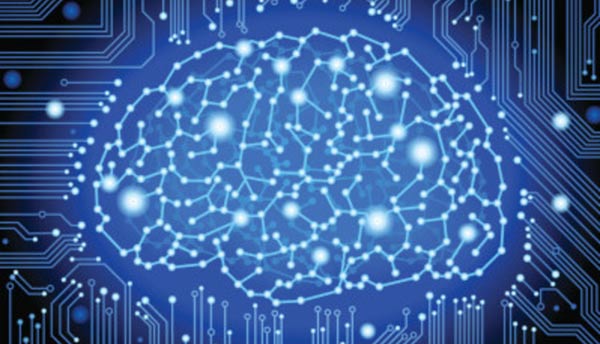 ARTIFICIAL INTELLIGENCE: APPLE INC. ALPHABET INC.
PREFACE
Artificial intelligence and machine learning are the most powerful thematic trends that will shape the future of the world. Whether it is self-driving cars, robotics replacing jobs, virtual reality, connected cities or massive scale computing through the cloud, there is no more powerful under current than artificial intelligence.
In that vein, both Apple Inc. (NASDAQ:AAPL) and Alphabet Inc. (NASDAQ:GOOGL) are diving deep into the depths of the various products that can be sold to consumers with the use of artificial intelligence. In a fascinating juxtaposition of Apple Inc. and Alphabet Inc., both companies released news in the last few days, both narratives surrounded artificial intelligence, and both are completely different. Let's take a look at reach company's vision, and then see the one company that will win the artificial intelligence market, regardless of which mega cap tech company has the greatest consumer hit product.
ALPHABET INC. (NASDAQ:GOOGL)
Let's start with Alphabet, or really, Google. On the company's official blog they announced "Tango," with the tag line: "Tango: See more with a new kind of phone." It's actually quite impressive. We'll share some snippets and then an awesome video.
"
Your phone can help you navigate from one side of the country to the other, but it can't answer basic (and important) questions like, "Where's the nearest building exit?" or "Will this couch actually fit in my apartment?"
That's because while your phone may know where you are in the world, it doesn't know where you are in the room.
But, for the past three years, the Project Tango team has been working to help devices understand physical space and motion more like people do.
Today we're taking the next step with the first Tango-enabled phone (Lenovo's PHAB2 Pro).
"
So, that sounds a little ethereal, but the demo video is awesome. Here is a 23 second video:
And here is another 23 second video:
So that's Alphabet's view of the world. Now, let's turn to Apple Inc.
APPLE INC. (NASDAQ:AAPL)
Apple is going the way of its voice recognition assistant Siri. In an article from
Forbes
entitled "Apple Is Regaining The Magic Of Simplicity" we learned this:
"
People have neither the time nor the inclination to find those features, then learn how to use them and then incorporate them into their daily lives.
But, after yesterday's announcements, there's a clear solution on the horizon: Siri.
After years of obscurity, Siri looks like it's going to take a central role in future iterations of iOS as it moves from being a passive to an 'active' personal assistant. That means Siri actively suggesting actions and responses depending on your activity.
"
While Siri will at some point compete with Amazon.com's Echo speaker driven by virtual assistant Alexa and Google's "Home", for now Apple seems to be using artificial intelligence to get back to its roots -- simplicity. "This is a huge step towards a less confusing mobile experience."
Eventually Siri will be the hub for all "Apple Homes." It will integrate with the iPhone, Apple TV, Apple Watch, Apple Car Play and eventually, the actual Apple Car. As for Alphabet, for now that company has the lead. In fact we posted a dossier surrounding Google's commitment to artificial intelligence going all the way to a patent rendering for its cloud business.
As
recode
puts it, "Apple is probably the best of the three at shipping complete, desirable products [but] Google has the benefit of the world's largest information database: Google. Amazon, meanwhile, has created an unlikely hit product that works. In everyday use, Alexa is noticeably more reliable at taking voice queries than Siri."
A BIGGER WINNER
The AI revolution is getting pursued by all of the mega cap tech companies. Facebook's CEO Mark Zuckerberg has dedicated 2016 to creating an AI house -- his house. The company is working on projects to have Facebook Messenger use bots to answer questions for brands and increase advertising sales. Tesla is already doing "an Apple" with its cars and Microsoft is knee deep in virtual reality with HoloLens.
When it comes down to it, each of these mega caps will battle for a piece of the artificial intelligence revolution. But the real winner will be the technology company that powers all of them. Artificial intelligence is a "thing" now not because the math and algorithms for unsupervised learning are newly introduced, not at all. AI is "a thing" now because one technology company has created the ultra-fast supercomputing capability to make all the futuristic dreams actually turn into reality. It's this tech company we are focused on.
WHY THIS MATTERS
The kind of growth that creates companies like Apple, and Google comes from fundamental changes in technology and the economy. At Capital Market Labs, we identify these transformations, and the companies that will benefit most from them to find the "next Apple" or the "next Google." Our research sits side-by-side with Goldman Sachs, Morgan Stanley and the rest on professional terminals, but we are the anti-institution. Our purpose is to break the information monopoly held by the top .1%.
Each company in our 'Top Picks' is the single winner in an exploding thematic shift like artificial intelligence, Internet of Things, drones, biotech and more. In fact, here are just two of the trends that will radically affect the future that we are ahead of: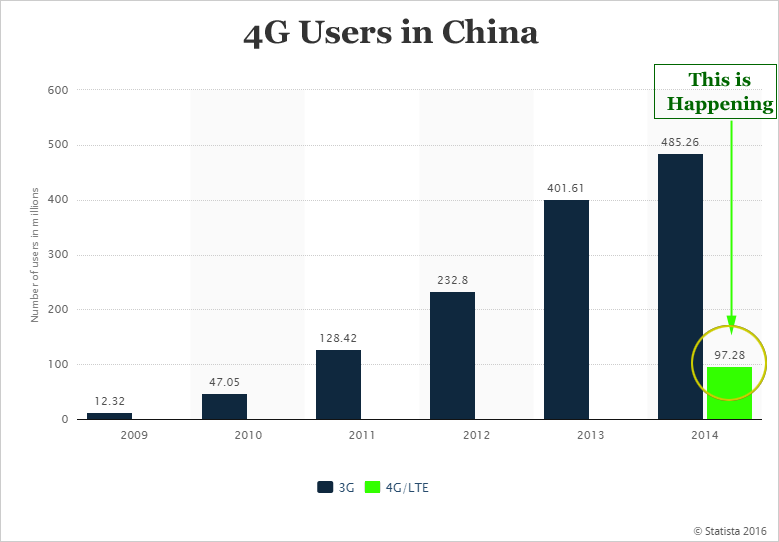 That light green colored bar (4G) is soon going to be larger than the dark colored bar (3G). 4G usage will grow from 330 million people today to nearly 2 billion in five years. CML Pro has named
the single winner
that will power this transformation. Then there's cyber security: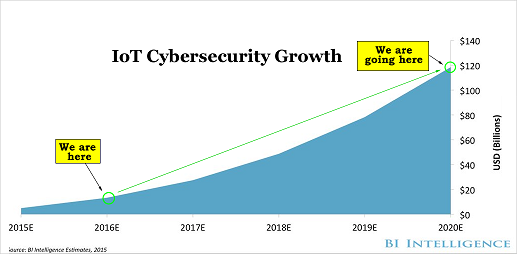 Market correction or not, recession or not, the growth in this area is a near certainty, even if projections come down, this is happening. CML Pro has named
the single best
cyber security stock to benefit from this theme.
These are just two of the themes we have identified and this is just one of the fantastic reports CML Pro members get along with all the visual tools, the precious few
thematic top picks for 2016
, research dossiers and alerts. For a limited time we are offering CML Pro at a 90% discount for $10/mo. with a lifetime guaranteed rate.
Join Us: Get the most advanced premium research delivered to your inbox along with access to visual tools and data that until now has only been made available to the top 1%.