Alphabet, Apple, and Tesla Motors Lead the Self Driving Revolution
Preface

Alphabet Inc. (NASDAQ:GOOGL), Apple Inc. (NASDAQ:AAPL) and Tesla Motors Inc. (NASDAQ:TSLA) are three technology companies leading the self driving car revolution. While news broke a couple of days ago of a tragic death from a passenger using the self driving mode of a Tesla Motors Model S, the revolution is coming and it will not be derailed.


TESLA MOTORS
Of the three leaders, Tesla Motors is the easiest to dissect. Unlike Apple and Alphabet, Tesla Motors is already making and selling cars with self driving features. The fully automated self driving mode is in beta, and that is a part of the tragic death. It's a fair question to ask whether an application that bears the responsibility of life and death should ever be released before it's ready for full blown production, we must look beyond the incident to see the remarkable revolution that's coming in our future.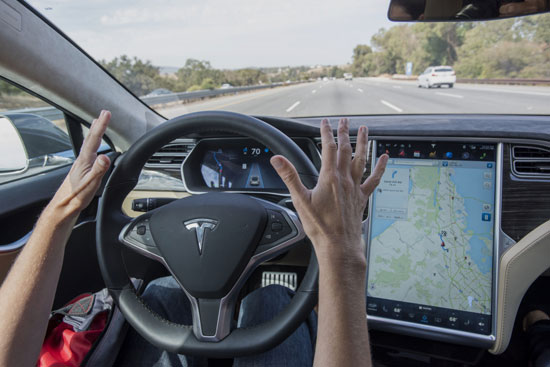 There are two parts to the thematic trend. First, we can look at vehicles that will have self driving features. These are vehicles with capabilities for self parking, automatic braking and collision alert systems, to name a few. Here is the projected growth from BI Intelligence: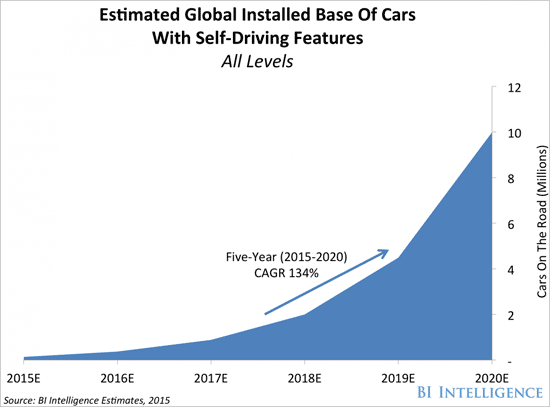 That's a 134% compounded-annual-growth rate for the next five years ending at 10 million cars by 2020. The estimates beyond 2020 are enormous. This is just the e beginning of the revolution and for all the hype that the other technology firms get, Tesla Motors Inc. (TSLA) is the leader.

But, as most shrewd analysts will point out, the fiercest competition that Tesla Motors will face will likely be coming from Silicon Valley.

ALPHABET
If Tesla Motors is furthest down the path of the three in terms a deliverable product than Alphabet Inc. (NASDAQ:GOOGL) is publicly believed to be the one firm furthest down the path of a full blown self driving car brain. Alphabet's Google self driving car is famously known for driving the streets of the Bay Area, and has recorded over 1,000,000 miles.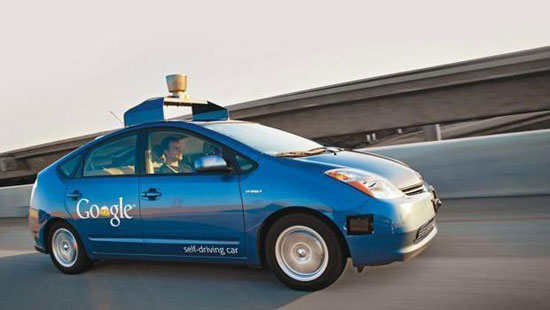 Using unsupervised machine learning algorithms, Alphabet Inc. (NASDAQ:GOOGL) has built a brain that can then be put in any vehicle to turn it into a totally autonomous self driving vehicle. In fact the Alphabet Google self driving car just learned how to honk. Here is the growth expected in the fully autonomous self driving realm: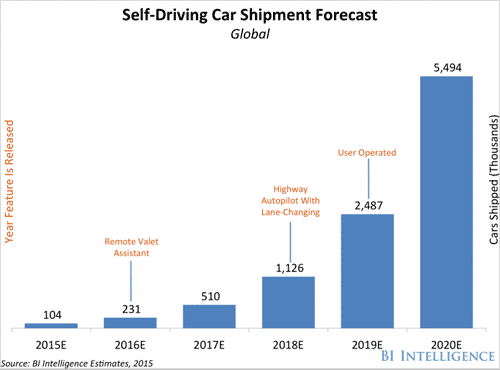 The global shipments are expected to grow 2,400% by 2020. And, like the vehicles with self driving features, the forecasts beyond 2020 are simply staggering. It's a revolution in the making and we can see it happening in plain sight.

But if Tesla Motors Inc. and Alphabet Inc. have all your attention, then you may be missing not only the elephant in the room, but the entire jungle.

APPLE
Apple Inc. (NASDAQ:AAPL) is secretive. The company always has been. But Apple's creation of a vehicle has been called "an open secret" by Tesla Motors' CEO Elon Musk. CMLviz broke news that Apple bought the domains apple.car and apple.auto. Further, the less than hidden secret project called "Project Titan" now apparently involves more than 1,000 engineers and is openly known to be Apple's self driving car project.

In fact, Apple has poached so much talent from across the automotive and battery industries that it was sued by A123, an electric car battery maker, claiming that Apple has hired away five high-tech PhD and engineering employees, causing "irreparable harm."

With Apple's brand loyalty and one billion install base of current users, whether or not the firm makes it early into the self driving car revolution is not the story. Just as Apple was late to the smartphone world, the innovation Apple brought not only dominated the industry, it grew it by 2,000% over just eight years simply by virtue of its existence.

Whether Apple Inc. (NASDAQ:AAPL) will find a similar success in the self driving revolution is yet to be seen, but don't count Apple out.

A BIGGER WINNER
One company is the leader in artificial intelligence in all fields, but especially self driving cars. In fact, it already calls 50 auto manufacturers as customers including Tesla Motors Inc. (NASDAQ:TSLA).

While Tesla Motors Inc., Apple Inc. and Alphabet Inc. will push the envelope toward self driving cars, it's this company that will develop the technology to power the artificial intelligence and computing speed to make self driving cars possible. There is one king, and Tesla, Apple, Alphabet and every other car manufacturer will need the crown to unlock the true revolution of self driving cars.

WHY THIS MATTERS
Finding the company that will lead the self driving and artificial intelligence revolution is just a part of what we do. At Capital Market Labs we identify thematic trends that will revolutionize our futures and the companies that will benefit most from them to find the "next Apple" or the "next Google." Our research sits side-by-side with Goldman Sachs, Morgan Stanley and the rest on professional terminals, but we are the anti-institution. Our purpose is to break the information monopoly held by the top .1%.

Each company in our 'Top Picks' is the single winner in an exploding thematic shift like artificial intelligence, Internet of Things, drones, biotech and more. In fact, here is just one of the trends that will radically affect the future that we are ahead of: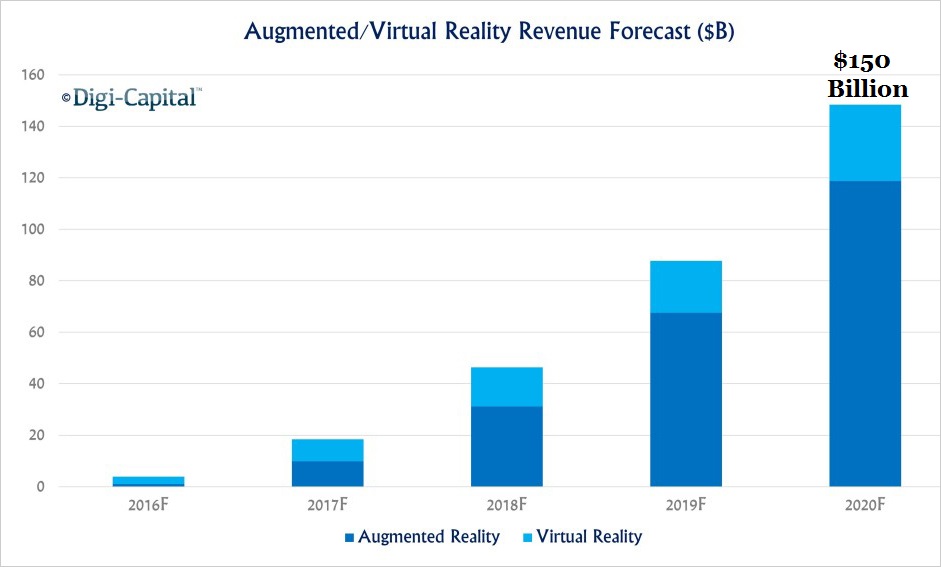 Virtual reality is one of the fundamental shifts coming in the very near future that will change how we live, work, and play. This is a technology whose consumer base looks increasingly like all of humanity. This is the opportunity so many investors say they welcome - that say they search for. The opportunity to find the "Next Apple," or the "next Google." Friends, it's coming right now, and it lies in the depths of technology's core. It's not artificial intelligence, it's artificial super intelligence and there is one company that will rule all of it.

This just one of the themes we have identified and this is just one of the fantastic reports CML Pro members get along with all the visual tools, the precious few thematic top picks for 2016, research dossiers and alerts. For a limited time we are offering CML Pro at a 90% discount for $10/mo. with a lifetime guaranteed rate. Join Us: Get the most advanced premium research delivered to your inbox along with access to visual tools and data that until now has only been made available to the top 1%.