Apple Pay Continues Global Expansion


PREFACE
Apple Inc. (NASDAQ) has extended its Apple Pay product to its seventh country, Switzerland. While the recent Wall Street fad has tumbled into a doubt all things Apple campaign, the facts may reveal a different truth.
APPLE PAY
Apple Pay is no live in the US, UK, Canada, Australia, China, Singapore and Switzerland. While adding its seventh country may hardly feel like news, it's the backbone behind Apple Pay that is very much the news.
We reported in late May that that while Apple Pay, at the time, was available in six countries, Apple Inc. (NASDAQ:AAPL) had its sights set on the rest of the world. Jennifer Bailey, VP of Apple Pay, told Tech Crunch:
We're working rapidly in Asia and also in Europe, our goal is to have Apple Pay in every significant market Apple is in.

Source: Tech Crunch
Bailey went on to say that Apple Pay is "seeing incredible user and developer reception." Apple Pay now covers 2,500 bank locations in the U.S., up from an initial six. But that isn't the story -- this is:
WHY APPLE PAY EVEN MATTERS
The mainstream media and social media vernacular surrounds a narrative that meets the Apple Pay product with one of either confusion or simply dismissal. In just a few charts and facts we can eliminate the confusion and turn dismissal into belief.
At its core, Apple Pay is a mobile payment application -- swipe your phone and Pay. That little piece is in and of itself rather genius in that it ends the need for credit cards and passwords while adding convenience and security. In fact, taking it slowly, here is just the mobile payments part of the world as forecast by Statista:
Looking out yet further, Bank of America forecasts a market of $3
trillion
by 2022. That alone is a rather large market to go after, even though the fees a just a small fraction of the transaction volumes. But the next move is enormous.
APPLE PAY EXTENDS
Apple announced that it would bring Apple Pay first to mobile e-commerce sites, and then to the broader web. If that doesn't immediately appear like a disruption, let's walk through it, together.
Apple's payment service [will allow] shoppers to complete a purchase on mobile apps with their fingerprint rather than by entering credit card details.
Source:
Re/code
For any Apple product owner, whether it be an iPhone, iPad, iMac, MacBook or other computing device, a purchase online, mobile or otherwise, has become as simple as touching the screen. Apple has turned our fingerprints into our credit cards, PayPal accounts, debit cards and cash.
The innovation has been called the "password killer," but it's even more than that. When every purchase is done by a swipe of an iPhone or iPad in the air, or the touching of an iPhone or iPad screen, or even an Apple iMac or MacBook screen, suddenly the ecosystem has been made all the stronger.
With an active install base of over one billion people, already, the Apple Pay service will turn into both a large revenue driver and an ecosystem friendly competitive advantage. Transaction volumes for the "mobile pay" part will sit at $3 trillion within six years, but total e-commerce, that is on mobile devices, laptops and desktops are also huge businesses.
Like all things technology, it will take time for the innovation to filter through the populace, but when it does, Apple very likely has a huge win on its hands, one which we can already measure in hundreds of billions of dollars of market cap value by looking at PayPal Holdings Inc (NASDAQ:PYPL), Visa Inc (NYSE:V), and MasterCard Inc (NYSE:MA).
OTHER MEGA CAPS
Facebook (FB), Alphabet's Google (GOOGL) and Amazon.com (AMZN) are all chasing the mobile pay trend. But Facebook saw mobile payments actually decline in the quarter ending December 2015, and remember, Facebook has no hardware -- that's no watches, no phones, no desktops and no laptops.
Google recently created Android Pay:
Forget your wallet[.] With Android Pay you can simply unlock your phone, place it near a contactless terminal, and you're good to go. Tap and pay is that fast, that easy.
While Google certainly has Android out there for phones and tablets, we can hardly call its Chromecast a hardware to be reckoned with. This move by Apple is combative and attacks Google and its mobile pay hopes at its infancy.
Amazon's Wallet was a failure and nobody thought much of it. But Amazon is back -- behind or not, with over $70 billion in retail sales, the company will likely stop at nothing to win. But even the mighty Amazon has recognized the power of Apple's one billion device install base.
HOW BIG OF A DEAL IS THIS?
We saw the mobile pay markets -- measured in trillions of dollars soon. But let's look at Visa, MasterCard and PayPal. The three companies have combined market caps of about $330 billion, or more than half of Apple.
And then there's China. Check this out:
Apple Pay hit
three million provisions inside its first three days in China
, while, more generally, it is adding
one million new users per week worldwide
.
Source:
Tech Crunch
Together the enormity of Apple Pay through mobile with the functionality of "touch your monitor and now you've paid" promise of Apple Pay on desktops and laptops, we could be looking at a business line that, as of Apple's price today, could be worth an additional 30% of Apple's value.
SEEING THE FUTURE
It turns out that there is one company that powers Mobile Pay, for every company and device across the world. In literally invented and patented the technology that allows any functionality where a device simply needs to be "near" another device to affect communication. It's set to be one of the most powerful companies in the Internet of Things realm and it is one of precious few "Top Picks."
In order to find these gems, the 'next Apple' or 'next Google,' we have to get ahead of the curve. This is what CML Pro does. Our research sits side-by-side with Goldman Sachs, Morgan Stanley and the rest on professional terminals, but we are the anti-institution and break the information advantage the top .1% have.
Each company in our 'Top Picks' is
the single winner
in an exploding thematic shift like artificial intelligence, Internet of Things, drones, biotech and more. In fact, here are just two of the trends that will radically affect the future that we are ahead of: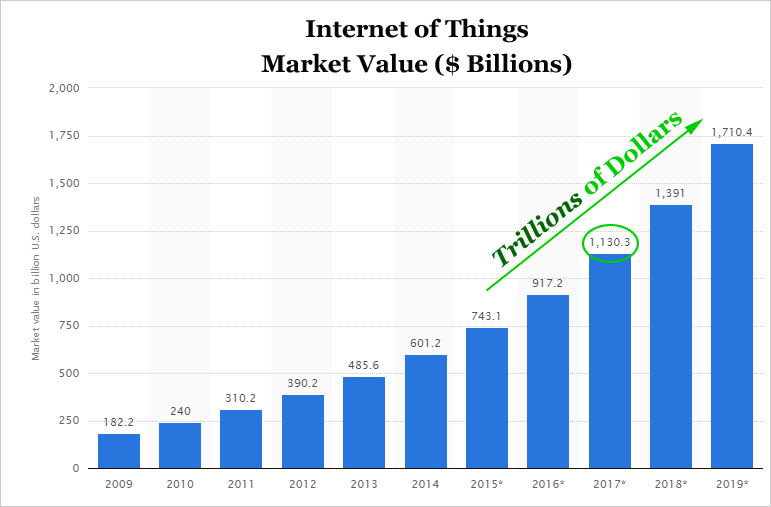 The Internet of Things (IoT) market will be measured in
trillions
of dollars as of next year. CML Pro has named the
top two companies
that will benefit. Then there's cyber security: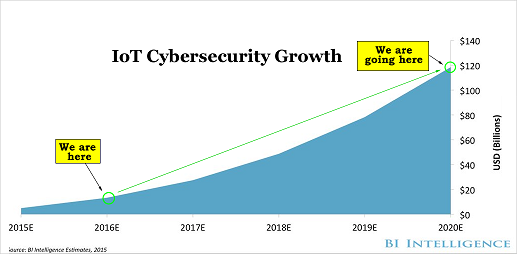 Market correction or not, recession or not, the growth in this area is a near certainty, even if projections come down, this is happening. CML Pro has named
the single best
cyber security stock to benefit from this theme.
These are just two of the themes we have identified and this is just one of the fantastic reports CML Pro members get along with all the visual tools, the precious few
thematic top picks for 2016
, research dossiers and alerts. For a limited time we are offering CML Pro at a 90% discount for $10/mo. with a lifetime guaranteed rate.
Join Us: Get the most advanced premium research delivered to your inbox along with access to visual tools and data that until now has only been made available to the top 1%.
The author is long Apple shares. Thanks for reading, friends.