Apple Watch Gets Rave Reviews
Preface

J.D. Power just released results showing that the Apple (NASDAQ:AAPL) Watch got rave reviews, and decimated the competition.

STORY
The Apple Watch has long been considered a failure. The wearables industry in general has not yet come to bear the fruit of its promise but the hyper focus has been on Apple and its inability to come up with another hit product. Of course, comparing any product to the Apple iPhone is a practice in futility, but the narrative surrounding the Apple Watch has taken a turn for the positive, if by no one else, the people that own one.

DETAILS
J.D. Power published its findings on July 12th, and here's what we now know.



"

Apple Inc ranks highest among manufacturers of smartwatches, and Samsung ranks highest among manufacturers of fitness band devices.

"


The products are scored on a 1,000 point scale and the Apple Watch received a score of 852, with Samsung right behind at 842. But, in turns out the score really wasn't that close at all.

In the report, J.D. Power breaks down the actual scores with a sub score called circle ratings. There are five circles, and it's here that we see Apple Inc. (NASDAQ:AAPL) has decimated the competition and received rave reviews. Here's an image, first, and then some more analysis.




There's a little legend at the bottom indicating the meaning of the circle scores. Apple Watch got rave reviews, ranked "among the best," while no other watch ranked higher than "the rest." Said differently, Apple Watch got five out of five circles, whereas every other smartwatch received just two out of five circles.

APPLE WATCH CONTEXT
It turns out that the overwhelmingly negative narrative surrounding the Apple Watch was wrong even before this report and the rave reviews came out. It's a seldom reported fact but Apple Inc. (NASDAQ:AAPL) products don't actually tend to do very well until the second or even third generation comes out. Here is some data surrounding the Apple Watch straight from prior earnings releases.

Apple Watch sold 5 million unit sales in its first holiday season – that's 217% as many iPhones sold in its first holiday season. Here's a chart of the early days for the Apple iPhone.




The numbers are hard to see, but Apple watch sold an estimated 11.6 million units in 2015 – which was not a full year. iPhone sold 5.3 million units. Conveniently, Apple Watch's comparison is again 217% as many units. The Apple iPhone sold 15 million units in its second year, and Apple Watch is estimated to hit the 12-14 million unit range.

WHY APPLE WATCH COULD GROW
The optimism for the Apple Watch surrounds a simple idea -- it can be a stand-alone product rather than an addition to the iPhone. Version 3 of the Apple Watch may come with Wi-Fi capabilities and will have a FaceTime camera. That's just a fancy way of saying that the Apple Watch will eventually have the capability to function as its own ecosystem -- Skype, video meeting, video calls and everything else will live inside the Apple Watch ecosystem, without an Apple iPhone.

The wearables segment has a lot of room to grow, and although no one yet knows which wearable device will be the winner, it's getting fairly clear that there will be an evolution beyond the smartphone and for right now, a watch seems like the perfect replacement. Whether or not the Apple Watch will be a large enough product hit to move Apple Inc. (NASDAQ:AAPL) stock we won't know for a while, but the jury is still out, and don't believe any narrative that claims otherwise.

WHY THIS MATTERS
Understanding the real information and skipping the click-bait headlines can help create knowledge. But there is a next step, yet further. CML Pro identifies the most powerful thematic transformations that are coming and then identifies the companies best positioned to win. You see, to find the 'next Apple' or 'next Google,' we have to get ahead of the curve. This is what CML Pro does. Our research sits side-by-side with Goldman Sachs, Morgan Stanley and the rest on professional terminals, but we are the anti-institution and break the information advantage the top .1% have.

Each company in our 'Top Picks' is the single winner in an exploding thematic shift like artificial intelligence, Internet of Things, drones, biotech and more. In fact, here are just two of the trends that will radically affect the future that we are ahead of: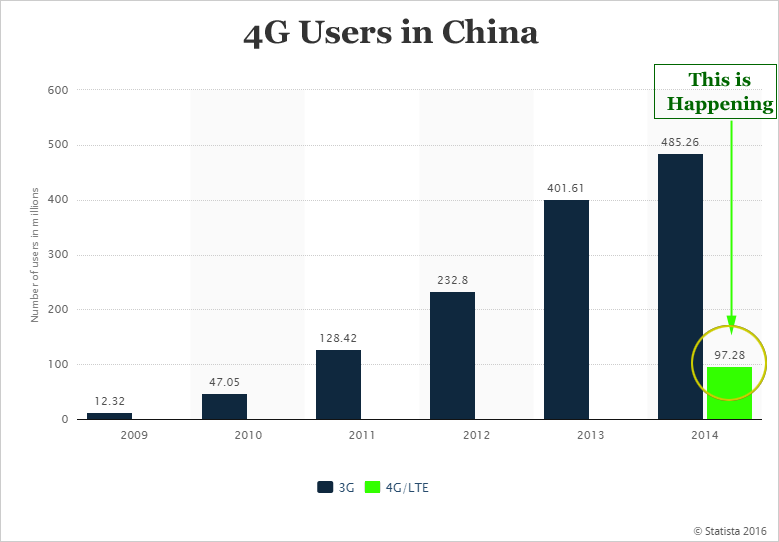 That light green colored bar (4G) is soon going to be larger than the dark colored bar (3G). 4G usage will grow from 330 million people today to nearly 2 billion in five years. CML Pro has named the single winner that will power this transformation. Then there's cyber security: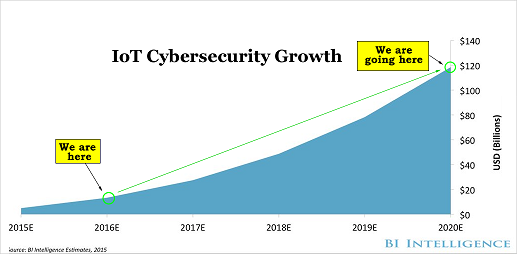 Market correction or not, recession or not, the growth in this area is a near certainty, even if projections come down, this is happening. CML Pro has named the single best cyber security stock to benefit from this theme.

These are just two of the themes we have identified and this is just one of the fantastic reports CML Pro members get along with all the visual tools, the precious few thematic top picks for 2016, research dossiers and alerts. For a limited time we are offering CML Pro at a 90% discount for $10/mo. with a lifetime guaranteed rate. Join Us: Get the most advanced premium research delivered to your inbox along with access to visual tools and data that until now has only been made available to the top 1%.

Thanks for reading, friends. The author is long Apple shares.