Apple (NASDAQ:AAPL) TV Could Be Enormous
Date Published:
7-18-2016

Preface
The Apple (NASDAQ:AAPL) TV is a rarity in that it is an attempt by Apple to go beyond hardware sales and toward a recurring revenue stream which could be an enormous new business.

BREAKING
Apple is now openly marketing Apple TV promotions. Here's a snippet from 24/7 Wall Street: "Apple TV's summer promotions include every episode of "The Simpsons" since that franchise began in the late 1980s, a free 7-day trial of the History Channel and the Lifetime Movie Club (each $3.99 month following the trial period), a free one-week trial to Hulu and free one- month trials Netflix and HBO NOW" (source: 24/7 WALL ST).

But the details are clever and reveal the promise of an enormous recurring revenue model that could actually move the needle for the technology behemoth. Apple Inc senior vice president of internet software and services sat down with The Hollywood Reporter, and what he revealed for Apple was enormous.

CML Pro reported in December that Apple was going to take the Apple TV and turn it into a bundler of channels and apps which would make the hardware look more like a customized cable subscription than a little piece of technology. Eddie Cue reiterated that goal and the timeliness of it. Here's what he said when asked directly about creating the Apple TV skinny cable bundle:



"

What we're trying to do is build the platform that allows anybody to get content to consumers.

If a Time Warner [Cable] or a DirecTV wants to offer a bundle themselves, they should do it through Apple TV and iPad and iPhone. As a matter of fact, I'm not a big fan of the skinny bundle.

"


For perhaps the first time in total open clarity, Apple basically announced, via this interview, that it is in fact looking to turn to the enormous cable world as a bundler. But a step back reveals that the move was well planned before this interview.

APPLE TV: THE GRAND PLAN
We have to start when Apple released tvOS 9.2 back in March of this year. Among other things, the operating system introduced support for folders for apps. Here's an image.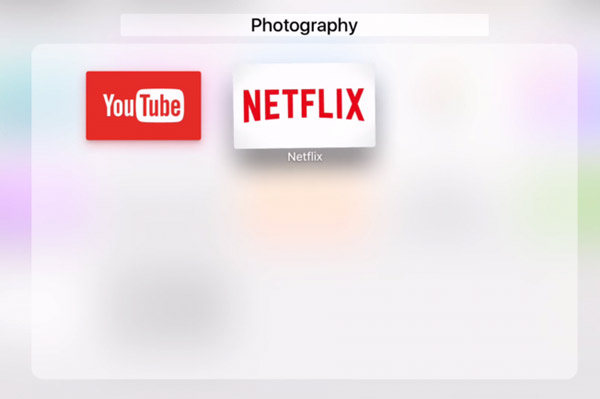 While that image looks innocuous, it was in fact the start of an enormous move Apple is going to take to own cable TV and streaming video on demand as we know it.

First, there are there are 133 million households in the United States alone with a cable TV subscription (Source: AYTM). Add on top of that that streaming video on demand (SVOD). Facebook and Snapchat each claim over 10 billion video views a day on their platforms. Alphabet Inc. (NASDAQ:GOOGL) and its YouTube has reported more viewers aged 18-49 on mobile alone than any U.S. cable network. Now here comes Apple TV.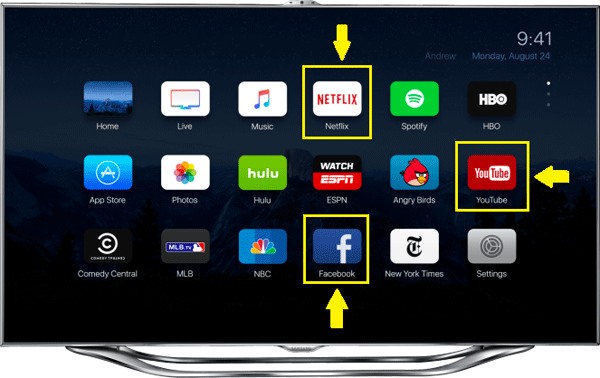 That desktop for Apple TV with the new support for folders means that Apple is going to bundle ESPN, HBO Go, Showtime, NBC, MLB, and even Facebook and the NY Times along with whatever other cable networks we love – and it will also combine Netflix and allow access to YouTube.

Not only does this thrust Apple into the enormous world of a recurring revenue model with hundreds of millions of people looking to cut the cord, but in one fell swoop it also relegates Netflix, YouTube, Facebook and every other broadcaster to an app.

Once the content providers are dissected into interchangeable parts to be hand selected by consumers, it's the Apple TV that will be the bundler, the ecosystem, the home for all of it. Here's a beautiful chart that shows the trend in cord cutting, which paves the way for a powerful player like Apple to swoop in and own the enormous new market of bundles.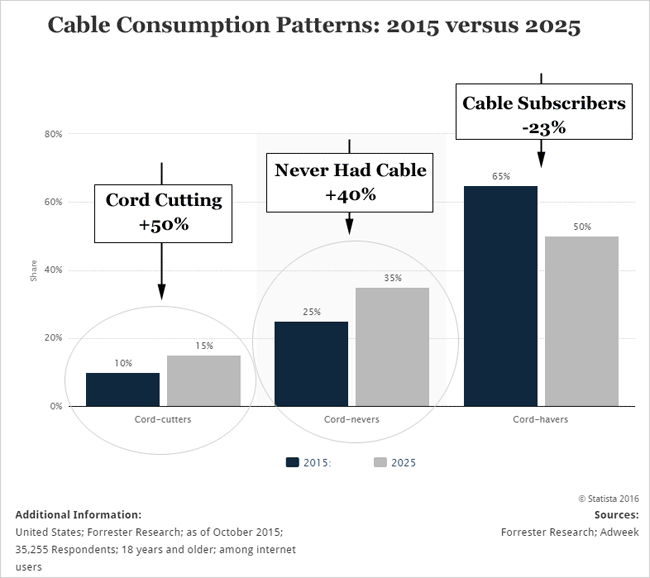 The great promise of the Apple TV sits in two places: First, Apple has a one billing user install base that are already tied to the Apple ecosystem. Second is the trend to drop the cable subscription and move to a hand selected, personal subscription.

The cable providers don't like it, but the content providers want to keep their businesses afloat, and breaking their channels into apps is now a necessity. What these broadcasters need is to meet the consumers in one place where everything sits together. No one wants 30 apps on their phone or Internet TV lying in separate places with separate bills. And now we see the brilliance and the promise behind the Apple TV.

WHY THIS MATTERS
The seismic disruption that will come with cord cutting also brings with it a total revolution for advertising. One not seen since the advent the television itself. It's identifying trends like this that allows us to find the 'next Apple' or the 'next Google.' This is what CML Pro does. Our research sits side-by-side with Goldman Sachs, Morgan Stanley and the rest on professional terminals, but we are the anti-institution and break the information advantage the top .1% have.

Each company in our 'Top Picks' is the single winner in an exploding thematic shift like artificial intelligence, Internet of Things, drones, biotech and more. In fact, here are just two of the trends that will radically affect the future that we are ahead of: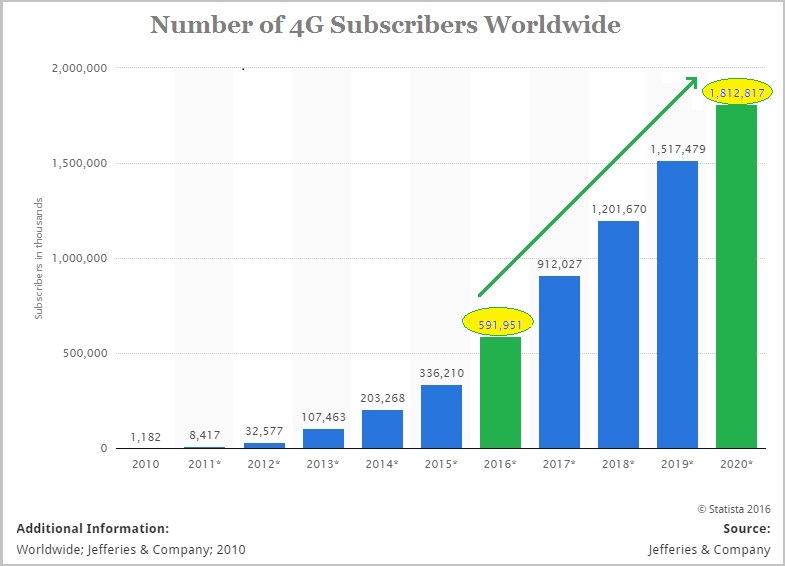 That chart plots the growth in 4G usages worldwide and how it will grow from 330 million people today to nearly 2 billion in five years. This is the lifeblood fueling every IoT and mobile device on the planet and CML Pro has named the single winner that will power this transformation. Then there's cyber security: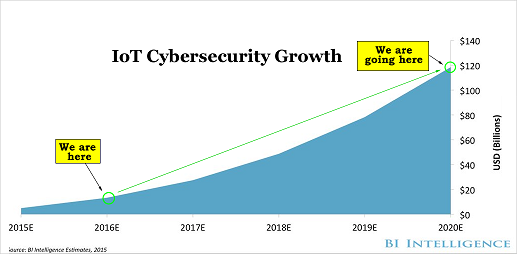 Market correction or not, recession or not, the growth in this area is a near certainty, even if projections come down, this is happening. CML Pro has named the single best cyber security stock to benefit from this theme.

These are just two of the themes we have identified and this is just one of the fantastic reports CML Pro members get along with all the visual tools, the precious few thematic top picks for 2016, research dossiers and alerts. For a limited time we are offering CML Pro at a 90% discount for $10/mo. with a lifetime guaranteed rate. Join Us: Get the most advanced premium research delivered to your inbox along with access to visual tools and data that until now has only been made available to the top 1%.

Thanks for reading, friends. The author is long Apple shares in his personal account.