Apple Inc. (NASDAQ:AAPL) iPhone 7 Sales Could Beat Estimates
Apple Inc. (NASDAQ:AAPL)
Date Published:
7-22-2016

Preface
Very quietly, news has come out from China that the Apple Inc. (NASDAQ:AAPL) iPhone 7 ramp up is substantially larger than forecast and the iPhone 7 could beat estimates.

STORY
While almost all of the news surrounding Apple Inc. and the iPhone have been negative, there is a much quieter narrative building that perhaps the misstep that was the iPhone 6s could be just an anomaly.

For the first time ever, the Apple Inc. iPhone 6s will under sell its predecessor. Apple's revenue, earnings, and stock have suffered because of that reality and Apple's heavy dependence on the iPhone for its profitability. But, while the stock has been hammered, we now have a second report from Asia in two-months that the iPhone 7, to be released this September, might not only stem the losing tide, but could in fact be the best selling iPhone ever and beat estimates.

NEWS TODAY
We start with Apple Inc. news yesterday out of China. Patently Apple posted a story that surrounded a report from "The Economic Daily News" which read that Apple Inc. has pushed suppliers toward a huge production ramp in anticipation of higher demand for the iPhone 7.

The report yesterday reads that Apple Inc. is preparing suppliers to build between 72 million and 78 million units of the iPhone 7 which would beat Wall Street estimates, handily. For context, the most iPhones Apple Inc. has ever sold in a quarter was 74.5 million, coming off of the massive pent up demand for the iPhone 6, which was the first ever large screen iPhone.

That 75 million iPhone 7 ramp up (using the mid-point), would crush estimates that sit at 65 million on a consensus view, but have been brought ever lower by several analysts. But there's more to the story.

NEWS BEFORE TODAY
While a news story out of China is hardly evidence written in stone, it becomes substantially more important when we put it context of other stories coming from Asia surrounding Apple Inc. (NASDAQ:AAPL). CML Pro reported back in May that "Apple is Going to Smash Sales Forecasts." That provocative headline we posted was based on, you guessed it, a report coming out of Asia that Apple would beat estimates based on supplier build up.

Taiwan's Economic Daily published a report, and here is a snippet.



"

iPhone 7 suppliers to produce 72 million to 78 million units this year, many more than the 65 million units Wall Street has projected. That production target is also the highest in about two years.

"


Now, what is unclear is if the report that came out yesterday is simply a rehashing of this older report or if it was in fact a re-iteration of the earlier report that Apple would beat sales estimates.

The world of reporting in China is a difficult one to navigate, especially when it is in fact coming second hand via U.S. reports. But, what is not unclear is a research report published by Goldman Sachs surrounding the Apple iPhone 7 where the firm stated: "Most importantly, our survey points to extremely strong pent-up demand for the iPhone 7 with 44% of respondents indicating that that they plan to buy the iPhone 7 in the fall."

That snippet also came from our story back in May.

BOTTOM LINE
The bottom line for Apple Inc. (NASDAQ:AAPL) is that estimates have come down so far that there appears to have developed a cognitive dissonance to any news that the iPhone 7 could in fact beat estimates. Time will tell, as the earnings report for Apple Inc. due out in January of 2017 will be perhaps the most heavily anticipated earnings report in financial market history.

The author is long shares of AAPL.

WHY THIS MATTERS
The smartphone revolution has not ended, in fact, it's just beginning. But the handset makers are not the winners, it's the companies that make the chips inside them that will win. Whether it's the revolutionary chip that allows for mobile payments, or the chip that allows for enhanced radio frequency (referred to as 3G and 4G), these are the stocks we must know.

It's identifying trends and companies like this that allows us to find the 'next Apple' or the 'next Google.' This is what CML Pro does. Our research sits side-by-side with Goldman Sachs, Morgan Stanley and the rest on professional terminals, but we are the anti-institution and break the information advantage the top .1% have.

Each company in our 'Top Picks' is the single winner in an exploding thematic shift like artificial intelligence, Internet of Things, drones, biotech and more. In fact, here are just two of the trends that will radically affect the future that we are ahead of: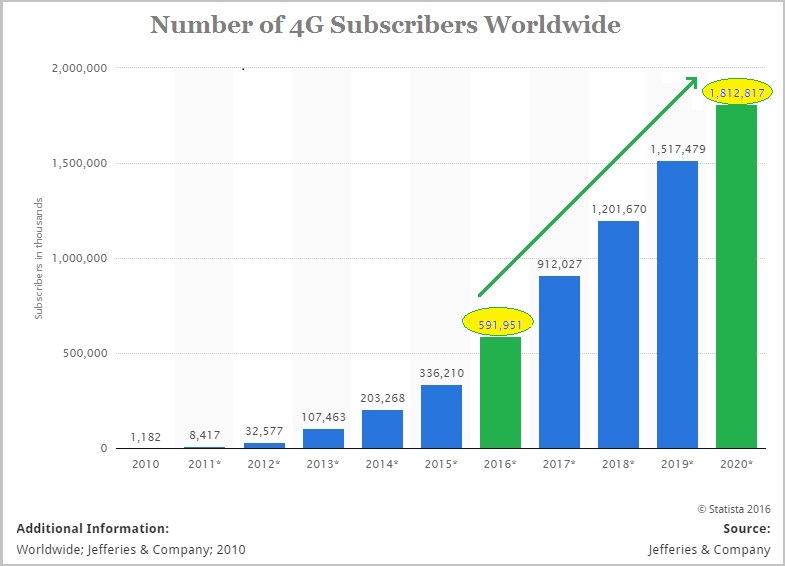 That chart plots the growth in 4G usages worldwide and how it will grow from 330 million people today to nearly 2 billion in five years. This is the lifeblood fueling every IoT and mobile device on the planet and CML Pro has named the single winner that will power this transformation. Then there's cyber security: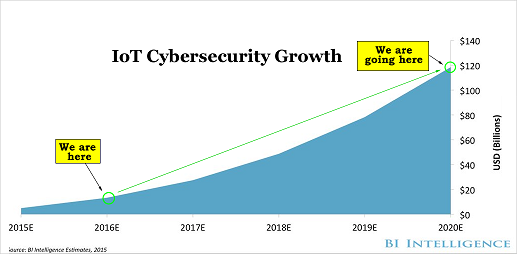 Market correction or not, recession or not, the growth in this area is a near certainty, even if projections come down, this is happening. CML Pro has named the single best cyber security stock to benefit from this theme.

These are just two of the themes we have identified and this is just one of the fantastic reports CML Pro members get along with all the visual tools, the precious few thematic top picks for 2016, research dossiers and alerts. For a limited time we are offering CML Pro at a 90% discount for $10/mo. with a lifetime guaranteed rate. Join Us: Get the most advanced premium research delivered to your inbox along with access to visual tools and data that until now has only been made available to the top 1%.