The Secret's Out: Apple Beat Earnings and a Lot More
Preface

Apple (NASDAQ:AAPL) reported earnings after the bell in and in almost every significant metric the company beat earnings estimates.

STORY
From the cacophony of the bears came a sudden silence as Apple reported earnings better than expected and the comments from CEO Tim Cook were even more bullish. Here's a quick run-down of the numbers from the Apple earnings beat and some selected snippets from the earnings call.

Earnings per Share: $1.42 beat expectations of $1.36.
Revenue: $42.4 billion beat expectations of $42.1 billion.
iPhone unit sales: 40.4 million iPhones delivered beat 39.9 million expected.
iPhone Average Selling Price (ASP): $595 beat expectation of $606
iPad unit sales: 9.95 million iPads beat expectations of 9.1 million.
Next Quarter earnings guidance: Revenue was forecast at $45.5 to $47.5 billion which is higher than analyst estimates of $45.6 billion.

Apple EARNINGS THE REAL STORY: iPhone
The real story comes from the earnings transcript where Tim Cook elucidated some of the numbers. As CML Pro had reported well in advance of earnings in the dossier "Apple (NASDAQ:AAPL) iPhone SE is a Huge Winner" , the iPhone SE was a smash success. There are a number of ways to see this, but Tim Cook said it in perhaps the simplest way possible:



"

Demand outstripped supply [and the iPhone SE added] additional capacity.

We added millions of first-time iPhone buyers in the first quarter.

I really like what I see with the iPhone SE ... likely convincing some people to upgrade.

"

Source: BUSINESS INSIDER


Cook went further to speak more broadly about the iPhone and had this to say, with our emphasis added:



"

iPhone demand is made up of upgraders, switchers, and new to smartphone. So if you take it in the reverse order, the penetration around the world was 42%, so there's

quite a bit of room there

.

I see a switcher rate that is

the highest ever

. I see the iPhone becoming more important to people's lives.

"

Source: BUSINESS INSIDER


Apple EARNINGS THE REAL STORY: INDIA
The second part to the Apple (NASDAQ:AAPL) story follows India. As CML Pro published a week ago, "Breaking: Apple (NASDAQ:AAPL) Enormous Opportunity in India," India is looking like a huge winner for Apple



"

India is now one of our fastest growing markets. iPhone sales in India were up 51% year-on-year.

"


Apple EARNINGS THE REAL STORY: CHINA
The third part of the Apple story surrounds China, a touchy subject to be sure given that famed investor Carl Icahn pulled a multi-billion dollar investment out of Apple due to the risk that the Chinese government poses to Apple's future. But, Tim Cook was optimistic, in fact, that was the exact word he used: "I visited China and India, and I am very optimistic about the opportunities in greater China."

However, Cook did openly admit that the economic environment has slowed. We do remind all readers that China's middle class will grow from less than 50 million people in 2010 to nearly 500 million people by 2020.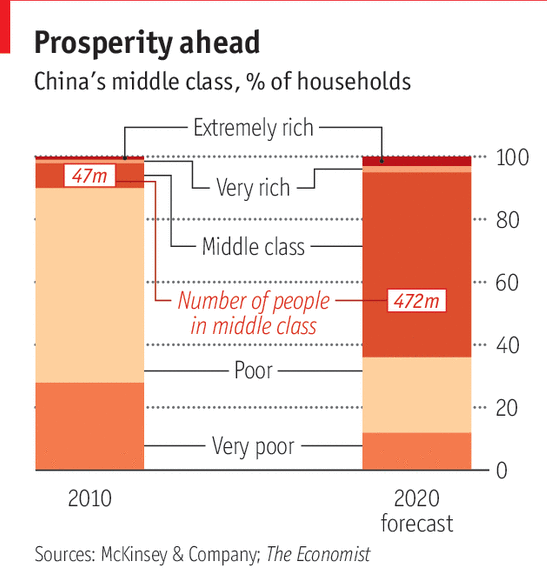 Apple EARNINGS THE REAL STORY: APPLE PAY
Tim Cook said that the number of active users of Apple Pay were up a staggering 450% year-over-year. In our dossier, "The Apple Pay Global Expansion Is Bullish," we outline in great detail the growth of the mobile pay market, as well as the disruptive force that Apple Pay has become for e-commerce, effectively becoming the password killer. Tim Cook boasted:



"

[Apple Pay] adoption outside the US has been explosive.

"


Apple EARNINGS THE REAL STORY: APPLE SERVICES
Apple has been pushing hard to move its business away from one that is seen as hardware only, where sales multiples are much lower, to one that is seen as recurring revenue, or in this case, "services based." The growth in Apple Services has been staggering and Tim Cook actually said that Apple Services would be the "size of a Fortune 100 company by next year."

THE REST
Tim Cook spent quite a bit of time speaking about the Apple move into augmented reality, even noting the runaway success that is Pokemon Go. He also discussed the Apple increase in research and development, which CML Pro has been highlighting now for more than a year.

In the end, Apple (NASDAQ:AAPL) not only beat earnings estimates, it raised guidance, gave a meaningful update for the company's move to a recurring revenue model, discussed Apple Pay, Apple Services, augmented reality and Apple TV.

While all of the year-over-year comparisons are down, this was a great quarter for the company given what the death march most analysts believed was inevitable. Apple (NASDAQ:AAPL) continues to have a bright future, even with a softening smartphone market and the company has perhaps the single most impressive line-up of products in its pipeline of any of the mega cap technology companies.

The author is long Apple (NASDAQ:AAPL) shares.

WHY THIS MATTERS
There's a revolution happening right in front of our eyes so powerful that it will change the entire technological landscape. It is the single most important avenue for Google, Facebook, Apple, Disney, Twitter and even Snapchat and there's one small tech company leading the way.

But here's the thing, over 85% of the stock is already owned by institutional and mutual fund owners in the know. Now it's time for everyone else to know, too. You can read more here: The small cap technology marvel leading the next wave of innovation.