Apple Inc. (NASDAQ:AAPL) New Patent for iRing
Apple Inc. Has Filed a New Patent
Date Published:
2016-08-09

BREAKING
Apple Insider has revealed a new patent filing for Apple Inc. (NASDAQ:AAPL) that surrounds a highly complex iRing.

STORY
The story goes like this for Apple:



"

a new patent application reveals work on a finger-mounted device stuffed with microphones, motion sensors, a haptic feedback system, biometric sensors, cameras and even a small display.

"

Source: Apple Insider


We start by looking at the patent filing directly from the USPTO. Here is a rendering that points to a microphone and buttons as well as sensors.




In what can only be described as an alarming amount of features, Apple Inc. (NASDAQ:AAPL) includes a description for (emphasis added):
Operating System
Communication Module
Graphics Module
Motion Module
GPS Module
Telephone Module
Camera Module
Instant Messaging Module
Text Input Module
Video Conference Module
Stocks Widget

And that isn't even a comprehensive list. Then there's a map of functionality.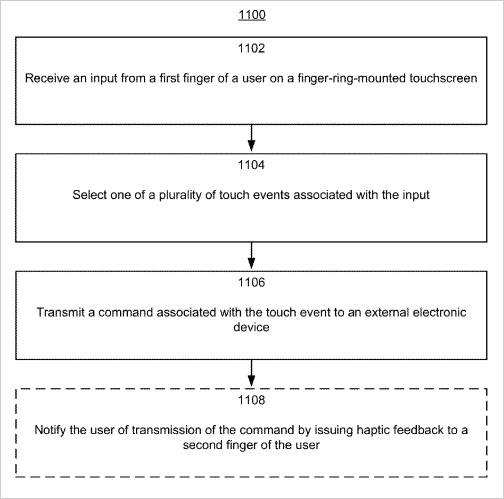 The Apple Inc. patent filing specifically discusses smartphones, tablets and the like and draws out their weaknesses, including the light emission. Then the patent filing goes on to read:



"

[T]here is a need for electronic devices with faster, more efficient methods and interfaces for interacting and/or controlling external electronic devices.

Such methods and interfaces optionally complement or replace conventional methods for interaction. Such methods and interfaces reduce the cognitive burden on a user and produce a more efficient human-machine interface.

"

Source: United States Patent and Trademark Office


And Apple Inc. goes further: "Thus, a ring computing device with a display, touch-sensitive surface and/or one or more sensors to detect the intensity of a contact with the touch-sensitive surface are provided with faster, more efficient methods and interfaces for controlling external electronic devices, thereby increasing the effectiveness, efficiency, and user satisfaction with such devices."

Now, Apple Inc. files a lot of patents. CML Pro famously broke three of them surrounding a new social network to compete with Facebook, a new Augmented Reality platform for the iPhone and of course, the famed 320 degree casing for the iPhone. This makes number four -- and this one, of them all, sounds very real.

Apple Inc. (NASDAQ:AAPL) tends to be secretive about its innovation, but it is innovating. Here's a chart of the company's research and development expense over the last sixteen years: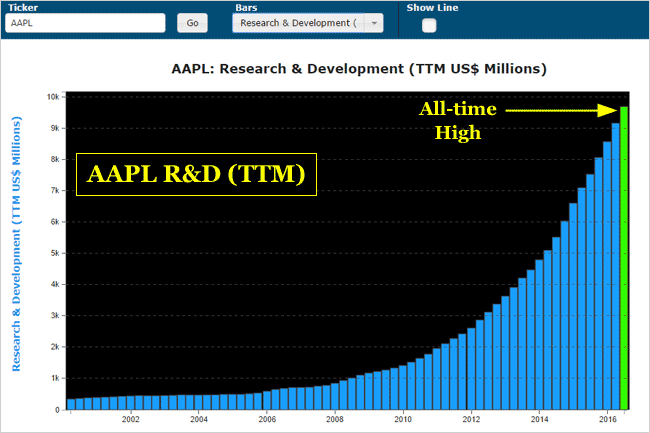 The author is long shares of Apple Inc.
WHY THIS MATTERS
The seismic disruption that will come with improved medical technology and artificial intelligence will be fantastical. It's identifying trends like this that allows us to find the 'next Apple' or the 'next Google.' This is what CML Pro does. Our research sits side-by-side with Goldman Sachs, Morgan Stanley and the rest on professional terminals, but we are the anti-institution and break the information advantage the top .1% have.
Each company in our 'Top Picks' is the single winner in an exploding thematic shift like artificial intelligence, Internet of Things, drones, biotech and more. In fact, here are just two of the trends that will radically affect the future that we are ahead of: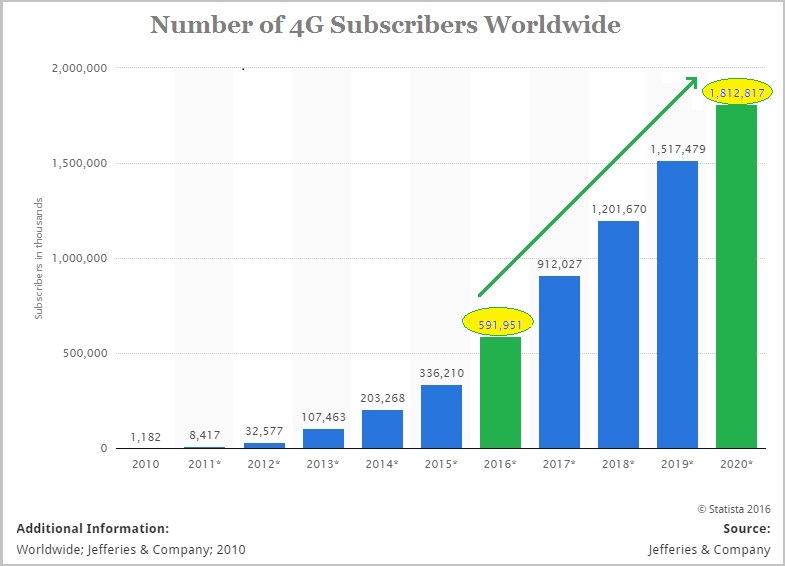 That chart plots the growth in 4G usages worldwide and how it will grow from 330 million people today to nearly 2 billion in five years. This is the lifeblood fueling every IoT and mobile device on the planet and CML Pro has named the single winner that will power this transformation. Then there's cyber security: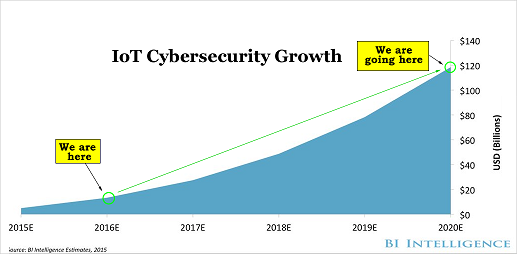 Market correction or not, recession or not, the growth in this area is a near certainty, even if projections come down, this is happening. CML Pro has named
the single best
cyber security stock to benefit from this theme.
These are just two of the themes we have identified and this is just one of the fantastic reports CML Pro members get along with all the visual tools, the precious few
thematic top picks for 2016
, research dossiers and alerts. For a limited time we are offering CML Pro at a 90% discount for $10/mo. with a lifetime guaranteed rate.
Join Us: Get the most advanced premium research delivered to your inbox along with access to visual tools and data that until now has only been made available to the top 1%.