Apple Invests in China
Apple (NASDAQ:AAPL) Invests in China
BREAKING
Apple (NASDAQ:AAPL) will be building a research and development (R&D) facility in China to strengthen its ties to the country, and try to curb the slipping sentiment for the brand with a very specific type of investment.
STORY
Paul Carsten of Reuters
wrote
that Apple will be investing in China, but a very special type of investment: research and development. While China makes up a tremendous amount of Apple's operating income and growth has slowed, the real story is much more nefarious than sales and earnings.
The one time darling of China's eye, Apple has found itself on the other end of a rather combative relationship with the communist regime, having lost a series of intellectual property claims. One seemed rather innocuous -- Apple lost a trademark case to a China based company that decided "iPhone" was a reasonable name for its leather bags.

That was back in 2010. But the relationship has become more strained in much more serious way.
In April of 2016, China shut down the Apple (NASDAQ:AAPL) online book and movie services. The suggestion brought to us by the
Wall Street Journal
was of an intensifying campaign to bring Web content in line with Beijing's stringent guidelines for traditional media.
That move alone startle billionaire investor Carl Icahn enough for him to sell his stake in Apple ., specifically citing the risk in China's demeanor toward Apple.
Then scary turned to outright combative when Apple actually lost an intellectual property battle over the exterior of the iPhone 6 and 6s. Here's a read from
CNBC
:
"
Intellectual property regulators in Beijing barred Apple from selling models of the iPhone 6 and 6 Plus in the city, citing strong similarity to an existing Chinese phone.
The regulator said iPhone models infringed on the patents of 100C mobile phones.
"
APPLE IS TRYING HARDER
All of this falls underneath a narrative where China no longer wants to be seen as the nation where "things are built for cheap." Rather, China wants to be seen as innovators -- were technology companies go to innovate. Apple's CEO Tim Cook has made several overtures to China, including a billion investment in "China's Uber," named Didi Chuxing. Today, the company has gone yet further.
"
Apple will boost its investment in China, one of its most important but increasingly difficult markets, and build its first Asia-Pacific research and development center in the country, Chief Executive Tim Cook said on Tuesday.
"
Of course, Apple (NASDAQ:AAPL) has been pouring money into research and development for quite some time. Here's the remarkable trend: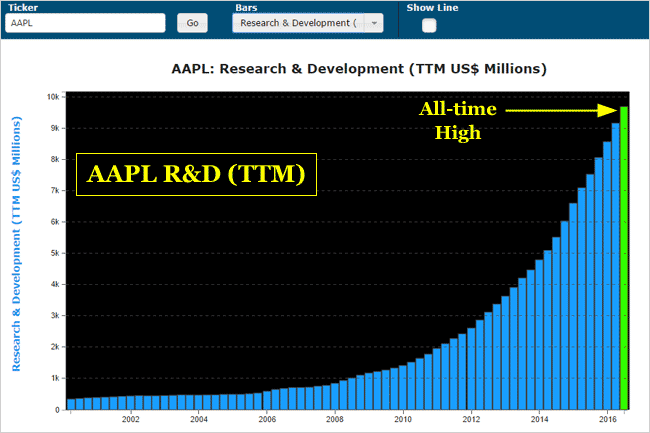 WILL IT WORK IN CHINA?
The reality is, nobody knows if this next overture will work for Apple (NASDAQ:AAPL). As the Reuters article points out Microsoft (MSFT) and Qualcomm (QCOM) have tried similar approaches and had mixed to poor results.
But we can also look at Alphabet's Google (GOOGL) and Facebook (NASDAQ:FB). They are locked out of China, and although there have been explicit overtures to the regime, China still says "no."
Facebook's CEO and founder, Mark Zuckerberg, has even dedicated himself to learning Mandarin, but so far, no love from China. Microsoft has partnered with a Chinses company, and in a dossier we covered prior,that may be th best move yet for that tech giant to get access to China.
While Wall Street is fixated on Apple iPhone sales and innovation, those are much less at risk than the relationship with China. Apple is innovating just fine thank you very much, and iPhone sales will grow worldwide in what is a broader smartphone growth story. But China, that could be anywhere from "good enough," to "total disaster."
The author is long shares of Apple
WHY THIS MATTERS
The seismic disruption that will come with improved medical technology and artificial intelligence will be fantastical. It's identifying trends like this that allows us to find the 'next Apple' or the 'next Google.' This is what CML Pro does. Our research sits side-by-side with Goldman Sachs, Morgan Stanley and the rest on professional terminals, but we are the anti-institution and break the information advantage the top .1% have.
Each company in our 'Top Picks' is the single winner in an exploding thematic shift like artificial intelligence, Internet of Things, drones, biotech and more. In fact, here are just two of the trends that will radically affect the future that we are ahead of: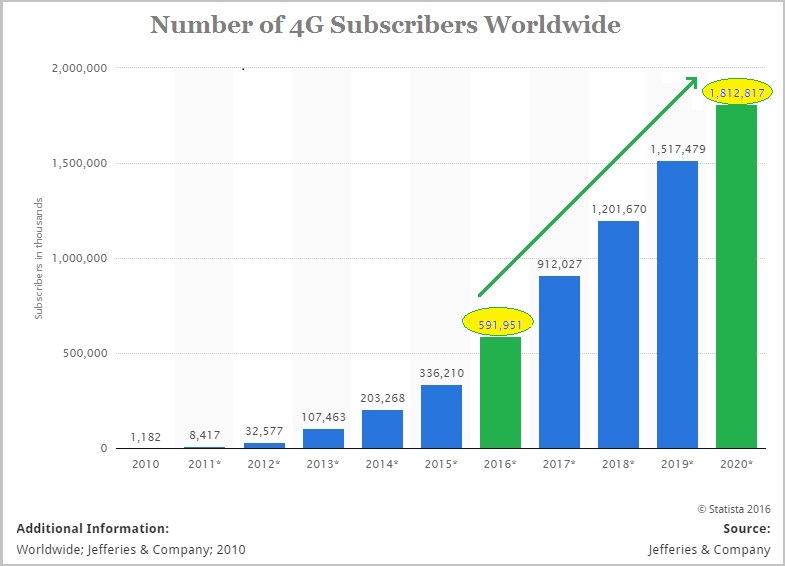 That chart plots the growth in 4G usages worldwide and how it will grow from 330 million people today to nearly 2 billion in five years. This is the lifeblood fueling every IoT and mobile device on the planet and CML Pro has named the single winner that will power this transformation. Then there's cyber security: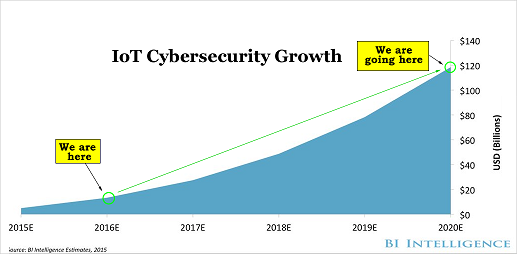 Market correction or not, recession or not, the growth in this area is a near certainty, even if projections come down, this is happening. CML Pro has named
the single best
cyber security stock to benefit from this theme.
These are just two of the themes we have identified and this is just one of the fantastic reports CML Pro members get along with all the visual tools, the precious few
thematic top picks for 2016
, research dossiers and alerts. For a limited time we are offering CML Pro at a 90% discount for $10/mo. with a lifetime guaranteed rate.
Join Us: Get the most advanced premium research delivered to your inbox along with access to visual tools and data that until now has only been made available to the top 1%.