Apple Inc. (NASDAQ:AAPL) Is Going After Social Media
Apple Inc.
Date Published:
2016-08-25

Preface
Apple Inc. (NASDAQ:AAPL) is likely going to introduce a video sharing app that could look a lot like Snapchat and Facebook Inc. (NASDAQ:FB) in its latest signal that the company will be going after social media.

STORY
In a Bloomberg report, we learned that Apple Inc. is considering a new app that allows for real-time video editing for the iPhone and the iPad. Here's a snippet from the article



"

Now as Snapchat and Facebook's Instagram and Messenger apps grow atop Apple's iOS mobile operating system, Apple is seeking to create its own features to remain relevant, particularly for younger users.

"


HERE IT COMES
September is Apple's big update time -- new announcements, new iPhone, new a lot of stuff. But it's also an update for iOS. In that iOS release will come an update to Apple's iMessage app -- the message service that at peak times reportedly gets 200,000 messages a second.



"

Now Apple is starting to develop a video sharing app that allows users to record video, apply filters and drawings to the media -- much like Snapchat does -- and send it to contacts or via existing social networks such as Twitter Inc.

The software is currently being designed to be used mostly with one hand and with the intention that video could be shot, edited, and uploaded in less than 1 minute, the people said. At least one of the prototype designs for the app would shoot video in an Instagram-like square shape, one of the people said.

"


This is really the continuation of a much bigger story. CML Pro broke news of a patent filing Apple Inc. (NASDAQ:AAPL) made that indirectly addressed Facebook Inc. (NASDAQ:FB) and other social media.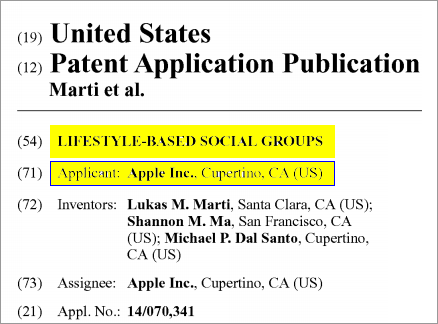 An abstract from a filing with a publication date of May 7th, 2015, reads (emphasis added):



"

Techniques for lifestyle-based social groups are described. The system can create a

social group

based on lifestyle and the meaning of location.

The social group can be an

ad hoc social network

.

"


We direct you to CML Pro for the full dossier, but the point here is that Apple Inc. has been toying with the idea of social media for a while. Apple Inc. is not really famously known for being first, but more like for being the best. Smartphones existed before the iPhone, but Apple Inc. shook the world with what it did. The same could be said with the iPod.

With social media now finding a pretty clear definition as an area where people share video in real-time with various filters, now Apple Inc. is going to step in. The question is whether it's too late.

Don't worry, the answer will be a resounding yes from every headline you will read. In general those headlines are dead wrong, like this one:

The iPhone is nothing more than a luxury bauble that will appeal to a few gadget freaks.
- Matthew Lynn Bloomberg, 2007

Oops...

The author is long Apple Inc. (NASDAQ:AAPL) shares.

WHY THIS MATTERS
There's so much going on with Apple, Google and Facebook that it's nearly impossible to keep up with. But the real gems are the smaller companies that will power the technological revolutions that these three giants will get behind. These are the companies that win, no matter which of the big three own a market.

It's identifying trends and companies like this this that allows us to find the 'next Apple' or the 'next Google.' This is what CML Pro does. Our research sits side-by-side with Goldman Sachs, Morgan Stanley and the rest on professional terminals, but we are the anti-institution and break the information advantage the top .1% have.

Each company in our 'Top Picks' is the single winner in an exploding thematic shift like artificial intelligence, Internet of Things, drones, biotech and more. For a limited time we are offering CML Pro at a 90% discount for $10/mo. with a lifetime guaranteed rate. Join Us: Get the most advanced premium research delivered to your inbox along with access to visual tools and data that until now has only been made available to the top 1%.