Apple Music and Apple Services are Turning into Giants
Apple Inc. (NASDAQ:AAPL) Music
Date Published:
2016-08-26

Preface
It turns out that the Apple Inc. (NASDAQ:AAPL) music streaming service is turning into a pretty big win for the company and Apple services is turning into a giant.

STORY: START WITH MUSIC
Apple Inc. introduced its music streaming service a year ago and it was simple. Pay $10, get your music on. It entered an industry with some larger players, like Pandora and most famously Spotify, which at the time had 24 million subscribers. As of today, an estimate from MIDiA Research estimates puts Apple Music at a staggering 16 million paying subscribers, already.

While there's a story to be told around Apple's strategy to get in nice and close with some music's greatest stars, the real story surrounds the success that the company has driven in just a year, the success it may now bring with new deals, and further, the success it is driving in its broader Apple Services segment.

SUCCESS: SERVICES
Apple Inc. (NASDAQ:AAPL) found success by using its greatest asset of them all -- its existing iPhone install base. Whether new iPhone sales slow, or even shrink, the install base of the iPhone is growing. That collection of people gives Apple an incredible advantage in selling services like Apple Pay, Apple Music, and others.

Here's a chart from a Bloomberg article which plots the impressive growth in Apple Music -- but also gives us time for pause.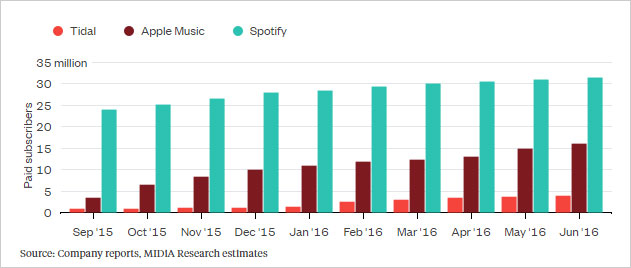 Source:

Bloomberg



This isn't an Apple Music story, it's an Apple Services story. Tim Cook so eloquently put it on the last earnings call when he said that Apple Services in and of itself will be large enough to be a Fortune 100 company by next year. That's impressive considering Apple Services only makes up about 14% of total Apple Inc. revenue.

For some context, here is a chart of services revenue and a little tidbit about Facebook.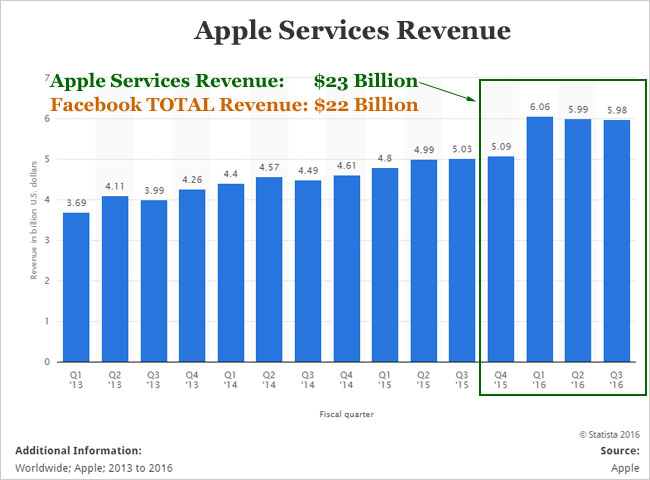 We can see that Apple Inc. services is larger than all of Facebook's revenue. Now, that will change by next year, as Facebook is still seeing 50% growth rates while Apple Services will grow at a slower pace, but the point is, 14% of Apple's business is the size of Facebook. It's happening – Apple is diversifying. Here's a better image of the trend: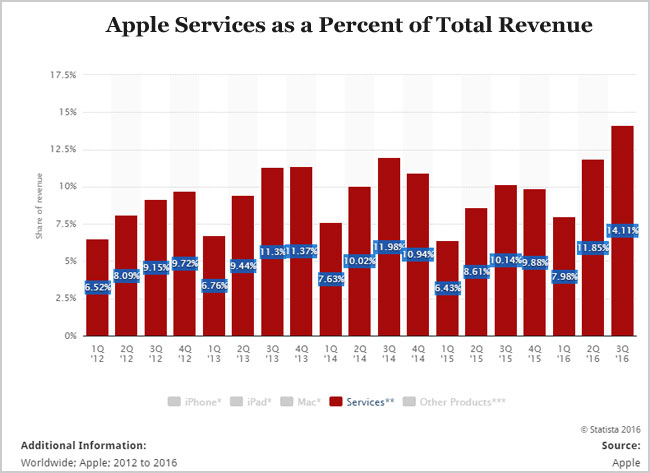 Services never made up more than 12% of Apple's revenue, now it stands at 14%. Certainly the shrinking iPhone sales have made the comparison a little easier for services, but in general, the trend is higher, and it's only the beginning.

Apple Pay is a booming business. At its core, Apple Pay is a mobile payment application – swipe your phone and Pay. That little piece is in and of itself rather genius in that it ends the need for credit cards and passwords while adding convenience and security. The trend is astonishing, in general for mobile Pay:




Even better, Apple announced that it would bring Apple Pay first to mobile e-commerce sites, and then to the broader web. For any Apple product owner, whether it be an iPhone, iPad, iMac, MacBook or other computing device, a purchase online, mobile or otherwise, has become as simple as touching the screen. Apple has turned our fingerprints into our credit cards, PayPal accounts, debit cards and cash. It is, effectively, the "password killer."

We could go on and on with Apple pays explosive adoption in China and on to other Apple Inc. (NASDAQ:AAPL) services, but the point is more easily drawn out in one sentence:

Apple is turning its install base into a gigantic services company that will grow independently of iPhone sales.

That is the bullish thesis for Apple. The rapid success of Apple Music is yet another empirical data point. Next up for Apple is augmented reality (patent filed), Social media (patent filed) and medical technology services (patent filed).

To really understand Apple, beyond the headlines, we encourage you to try CML Pro where we divulge not only the patent filing and the context, but also the smaller known gems that will power these revolutionary themes that Apple, Google, Amazon and Facebook are chasing down.

The author is long Apple Inc. (NASDAQ:AAPL) shares.

WHY THIS MATTERS
There's so much going on with Apple, Google and Facebook that it's nearly impossible to keep up with. But the real gems are the smaller companies that will power the technological revolutions that these three giants will get behind. These are the companies that win, no matter which of the big three own a market.

It's identifying trends and companies like this this that allows us to find the 'next Apple' or the 'next Google.' This is what CML Pro does. Our research sits side-by-side with Goldman Sachs, Morgan Stanley and the rest on professional terminals, but we are the anti-institution and break the information advantage the top .1% have.

Each company in our 'Top Picks' is the single winner in an exploding thematic shift like artificial intelligence, Internet of Things, drones, biotech and more. For a limited time we are offering CML Pro at a 90% discount for $10/mo. with a lifetime guaranteed rate. Join Us: Get the most advanced premium research delivered to your inbox along with access to visual tools and data that until now has only been made available to the top 1%.