Apple Inc. (NASDAQ:AAPL) iPhone 7 Sold Out Already
Apple Inc. (NASDAQ:AAPL) iPhone 7
Date Published:
2016-09-15
Written by Ophir Gottlieb

Preface
Apple Inc. (NASDAQ:AAPL) has reportedly already sold out of its inventory for the iPhone 7, before the device even hits stores.

STORY
Gina Hall, a contributor to The Silicon Business Journal, reported that Apple has informed consumers that "[t]he company will have no inventory to release to retail stores when the phone officially goes on sale Friday, so walk-in customers are out of luck."

While Apple Inc. alerted Wall Street that it would not be sharing week one sales of the iPhone 7 because of the likelihood of a supply crunch, it turns out that the crunch may have been larger than expected.

We reported on September 13th that both T-Mobile (NASDAQ:TMUS) and Sprint (NYSE:S) announced massive sales increases for the iPhone 7 relative to the iPhone 6. The figures tossed about hit the 300%-400% realm in terms of a sales surge for day one and it appears week one is staying the course.

APPLE INC. STOCK
The newly discovered demand for the iPhone in general, and the iPhone 7 in specific was really more like an open secret in broad daylight. Time and again CMLviz reported that pent up demand for the iPhone 7 was remarkably high based on various surveys, most famously by Goldman Sachs. While next year's iPhone will mark the ten year anniversary device and will likely have so many new bells and whistles that tech reports will be overwhelmed with features to cover, it turns out people aren't waiting for that device.

While Apple Inc. (NASDAQ:AAPL) saw iPhone sales drop for the last two quarters, which was a first time ever event, the shrewd investor could see that rather than some sort of calamitous destruction of Apple Inc., in fact the low(er) demand for the iPhone 6s simply meant more demand for the next iteration. Here is Apple's stock chart since its last earnings release on July 26th, 2016: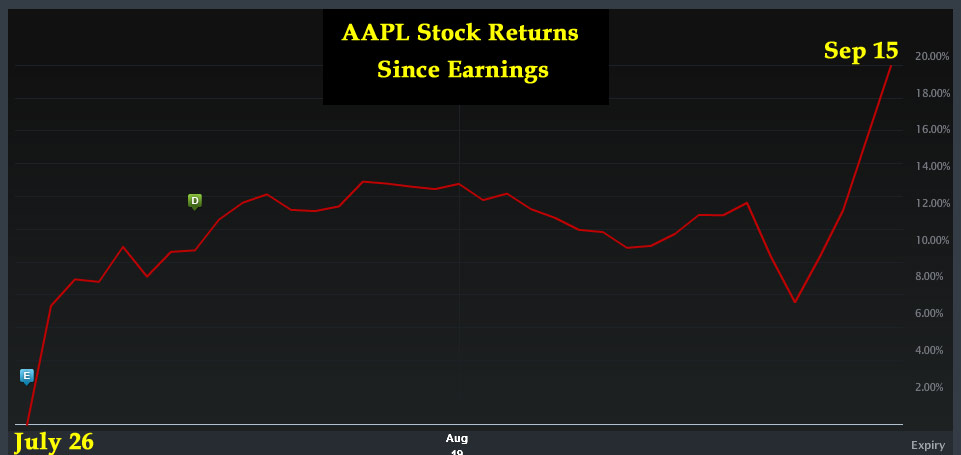 Further, it what is one of the most under reported pieces of news surrounding Apple (NASDAQ:AAPL), it turns out that the iPhone 6s is the most widely held phone in the world for any maker and the iPhone SE is the third most owned phone.

Cries of foul and the end of days for Apple Inc. (NASDAQ:AAPL) have been yet again wrong and foolish.

The author is long shares of Apple Inc. (NASDAQ:AAPL).

WHY THIS MATTERS
If you're looking for real research rather than headlines written by journalists that have little knowledge of finance or technology, then CML may be the place for you. Our research sits side-by-side with Goldman Sachs, Morgan Stanley and the rest on professional terminals, but we are the anti-institution and break the information advantage the top .1% have.

Each company in our 'Top Picks' is the single winner in an exploding thematic shift like artificial intelligence, virtual reality, genomics, mobile pay, the Internet of Things, drones, biotech and more. We are offering CML Pro at a discount for just $10/mo. with a lifetime guaranteed rate and you can cancel at any time. We are bringing the light to the 99.9% and we think you'll have a blast when you see what professional research reads like and what a community feels like. Join Us: Get the most advanced premium research delivered to your inbox along with access to visual tools and data that until now has only been made available to the top 1%.