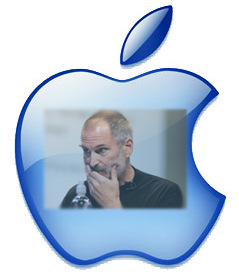 It's Time For A Serious Talk About Apple (NASDAQ:AAPL)
Date Published:
2016-11-26
Written by Ophir Gottlieb

Preface
Apple Inc. (NASDAQ:AAPL) has been a Top Pick for CML Pro for all of 2016. With that said, it's time to take stock of Apple Inc, there are some successes and failures that we must address as they impact this company moving forward for the long-term and they are far from trivial.

Let's start with the good news.

AAPL: GOOD NEWS
By now we know that Apple Inc. beat earnings estimates last quarter and, most importantly, CEO Tim Cook said the company should return to growth as of the current quarter and to continue that year-over-year growth for the foreseeable future.

As usual, the iPhone was the driver for earnings in large part, and the iPhone 7 and, in particular, the iPhone 7 Plus, have been much more successful than many analysts had predicted.

Further, Apple Services is turning into a legitimate revenue and earnings driver for the company. In fact, while services accounted for just 14% of revenue, the segment accounted for nearly 25% of operating income. Here's a revenue chart for Apple (NASDAQ:AAPL) Services.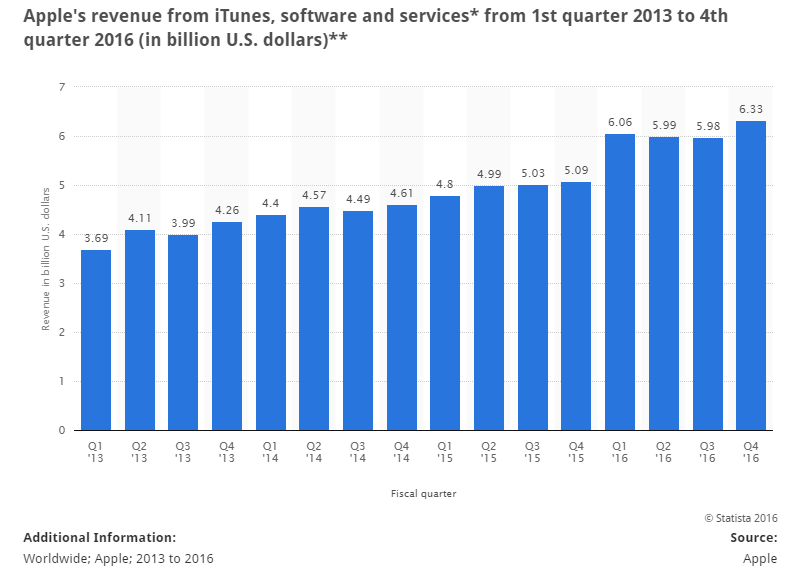 For context, Apple's revenue in the last year from Services alone is about the same size of all of Facebook's revenue in totality.

Embedded in Apple Services is the potential giant that is Apple Pay. In fact, its so large and so complex, we have dedicated several CML Pro dossiers to the subject with great specificity. Here is one of the better ones: Update: Apple Pay is Turning into a Big Win.

I rarely recommended leaving a dossier to look at another, but in this case, I really do encourage a read of that piece. It's too long to include in this dossier, but it is the very guts of Apple's future. Even further, given what we are going to discuss below about Apple Inc recent failures, this is a huge part of the long thesis for the company.

I just can't say it anymore plainly, if you own Apple stock, you should read that dossier on Apple Pay.

MORE GOOD NEWS
While the technology reviews on the iPhone were less than stellar with respect to new features, none of that matters. What does matter is consumer demand for the iPhone, and that does appear to be off the charts.

Piper Jaffray analyst Gene Munster (a known Apple bull with a $155 price target) had this to say about Apple (NASDAQ:AAPL):



"

Across all consumer products, not just tech products, the iPhone was the number one requested gift this holiday at 7%, up from 5% last year.

The Mac was the number two requested gift and the third most requested was the Xbox at only 1%.

"



This was based on a survey of 1,000 consumers in the United States, and again, this survey was open to all consumer items, not just technology. So, while the media will have us believe that the new iPhones are boring and lack innovation, it is the single most requested gift and up 40% relative to last year's survey (from 5% to 7%).

So, that, combined with Apple Services and the potential for Apple Pay are the good news. But, friends, there is bad news as well.

AAPL: BAD NEWS
First, before we hammer on Apple's lack of innovation outside of the iPhone, we can actually poke serious holes in its execution on existing products and this criticism is a new one for Apple (NASDAQ:AAPL).

The supply chain for the iPhone has been a failure, there's just no other way to say it. Apple Inc is likely going to be unable to deliver all of the iPhones it sells by the end of the year to most consumers. If this is the case, we can openly say that Apple has failed to deliver even on its simplest task: make the iPhone.

But, the bad news does go much further.

MORE BAD NEWS
Apple's potential innovation had many avenues which we describe in great detail in the Top Pick dossier. But, two critical areas we really focused on (aside from Apple Pay) were Apple TV and the Apple Car.

The Apple TV had a real chance to be a knock down drag out huge hit. The idea was, simply stated, that Apple would become to the cable TV business what it had become to the music business -- a savior of sorts. We have several entire dossiers surrounding Apple TV, and it's just the truth that if the company did it right, that alone could have propelled the stock price up 50%. You can read the full potential in the CML Pro dossier Why Apple TV Could Be Absolutely Enormous.

Again, that dossier is so detailed we can't include all of it in this one but here's the basic idea:

It's not TV that Apple is after - it's the central being of our entertainment and digital lives and here's how Apple TV is actually winning.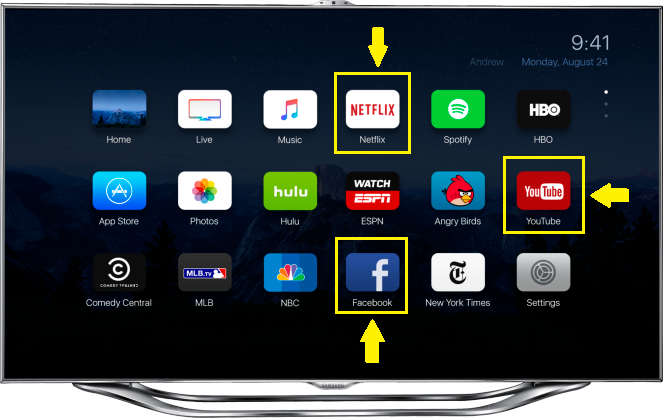 There are 133 million households in the United States alone with a cable TV subscription and 75% of those people watch TV everyday (Source: AYTM). Our take was simple:



"

Take those 133 million cable subscribers and the 75 million SVOD viewers in the United States alone, along with the billions of online video views and what we start to see is a broader view - video - from any source, on any medium, at any time, for any price from free to a subscription. The Apple TV will take all of it.

"



Apple will be the connector, the bundler, the ecosystem and everybody watching video of any type on any medium is going to be writing checks to "Apple Inc" Everyone else becomes a "app."

But... none of that turns out to be right.

Apple (NASDAQ:AAPL) REALLY FAILED
It's hard to get any hard sources, but reputable publications corroborate a narrative that Apple's head of services, Eddie Cue, negotiated too hard with the cable providers and they simply walked away. The criticism from cable executives, that remain anonymous for obvious reasons, stated that Apple treated the cable companies like the music companies -- but that was a mistake.

The music industry was dead -- perhaps it is dead, but whatever your view, Apple was the only answer with iTunes. But, while cord cutting is happening, cable providers are still making huge amounts of money and do have substantial power -- enough power to rebuff Apple (NASDAQ:AAPL) and Eddie Cue.

It looks like the dream of the skinny bundle for the Apple TV is over and that knocks out a serious piece of the bullish thesis for the company.

MORE, MORE BAD NEWS
Not to fear, Apple had many roads to innovation. Perhaps the most famous of them all was the idea of an Apple Car (an actual automobile). I have a source that worked for Apple during the days of Steve Jobs and after, and this person confirmed with me that Apple was in fact building an actual car -- not just an infotainment system.

Apple Inc was going a different path than Google (GOOGL) -- actually building a car. We wrote about it as soon as we learned some details. Here is a dossier for the curious minds: Apple's Car Will Change Automotive History.

But, news broke a few months ago which appears to reveal that Apple, after thousands of hires and very high profile talent acquisitions, has failed. It appears that the company has turned back to a software package for self-driving cars, like Google, and not into the actual car manufacturing business. This is another failure and an embarrassment.

Apple was going to build a car, and it looks like it isn't anymore. With the Apple TV and the Apple Car, we have lost two corner stones to our bullish thesis for Apple and the failures appear to be borderline incompetence. Not good.

NOW WHAT
It turns out that Apple Inc has so much going on that even with the fall of these two products, there is still a lot of promise. Tim Cook seems quite keen on Augmented reality. We detail Apple's moves in that world in the CML Pro dossier Apple Files a Patent for Augmented Reality. Here's a cool snapshot from that piece: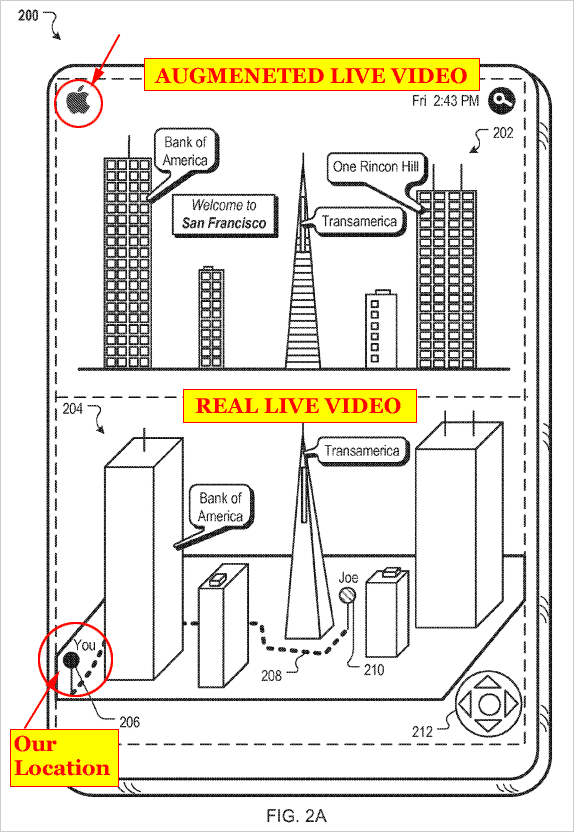 Apple also has potential moves into social media that we detailed in our dossier Apple is Creating a Social Network.

We also know that Apple is dead serious about healthcare and making significant inroads. We cover the details in the CML Pro dossier Apple is Getting Dead Serious About Health Care




Taking (i) the ten-year anniversary iPhone coming out next year and the crazy patents we have discussed surrounding it, (ii) together with Apple Services in totality, (iii) Apple Pay, (iv) Augmented reality, (v) Healthcare, (vi) a potential social network and the (vii) Mac and Apple Watch, we still see room for Apple to move up as well as a path to diversification from the iPhone.

That is to say, we are still bullish, but, there's no doubt that Apple Inc has failed several times recently -- whether that failure is straight down the middle operational bumbles with the current iPhone, or negotiation bumbles for the Apple TV skinny bundle, or even visionary bumbles with the Apple Car.

We do have to keep an eye now on Apple, which at one point had easily the most robust product pipeline of innovation of any company, and now has seen that pipeline cut significantly.

The author is long shares of Apple (NASDAQ:AAPL).

WHY THIS MATTERS
Did you enjoy learning about Apple without the noise of journalists that lack technical or financial expertise? If so, this may be up your alley: Our research sits side-by-side with Goldman Sachs, Morgan Stanley and the rest on professional terminals. Of our Top Picks, Nvidia is up 180% since we added it. Ambarella is up 80% since we added it. Relypsa was taken over for a 60% gain and we are already up on Twitter when we added it to Top Picks for $15.60.

To become a CML Pro member it's just $19 a month with no contract. It's that easy -- you cancel at any time, instantly.

Each company in our 'Top Picks' portfolio is the single winner in an exploding thematic shift like self-driving cars, health care tech, artificial intelligence, Internet of Things, drones, biotech and more. For a limited time we are offering CML Pro for $19/mo. with a lifetime guaranteed rate. Get the most advanced premium research along with access to visual tools and data that until now has only been made available to the top 1%.