Apple (NASDAQ:AAPL) is Breaking Sales Records
Date Published:
2016-12-12
Written by Ophir Gottlieb

Preface
In the last several weeks Apple (NASDAQ:AAPL) has announced that it is breaking several new sales records.

STORY
In the latest earnings call, Apple Inc. projected sales growth for the iPhone returning and that would mean a record high in sales given that last calendar Q4 was the prior high. But the news goes well beyond the iPhone.

On December 6th, 2016 CEO Tim Cook announced via an e-mail that Apple Watch sales had just set a new sales record as well when measured by how many units were actually sold to consumers (rather than inventory sales). This was the second piece of hard evidence presented by the company that this holiday season is turning out to be a blockbuster.

Then, on December 9th, 2016, Apple Inc. announced that its Apple App store November sales broke a sales record. Philip Schiller, Apple (NASDAQ:AAPL) Vice president of Worldwide marketing tweeted this out:


November 2016 was a record breaker for the #AppStore - the highest monthly sales ever in App Store history!

— Philip Schiller (@pschiller) December 7, 2016


But of all the records set, this is the most important, and here's why.

APPLE INC SERVICES
The Apple (NASDAQ:AAPL) strategy to diversify sales away from the iPhone leans heavily on its segment called 'Apple Services.' Apple Services comprises of iTunes, iCloud, the app store, Apple Music, Apple Pay and other Apple software and services. Here is the revenue growth for the segment: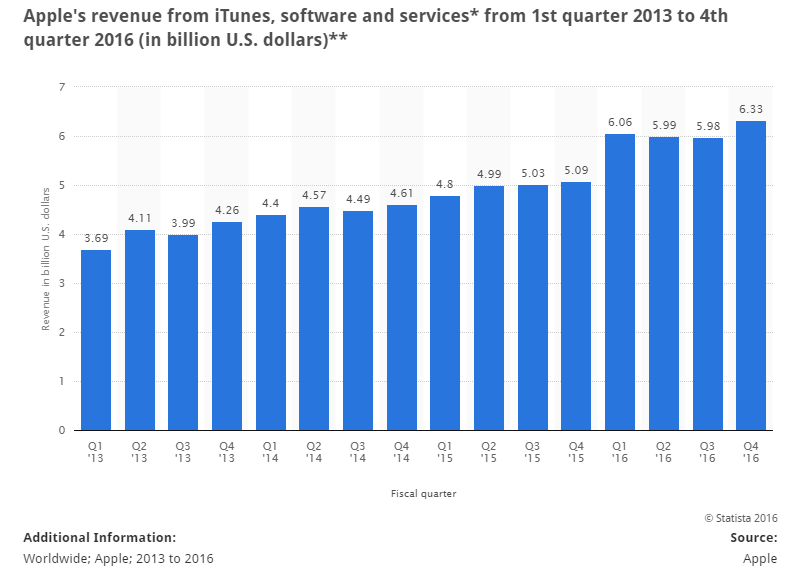 What we see here is that Apple (NASDAQ:AAPL) Services is nearing a $25 billion business in and of itself, essentially the size of the all of Facebook. In fact, Tim Cook noted that Apple Services would be large enough to be a stand-alone Fortune 100 company by itself by next year. In fact, a fourth sales record was recently announced, when Apple Inc reported that it had crossed 20 million Apple Music subscribers -- one of the drivers for Apple Services.

In all, while there is report after report coming out that the Apple Watch failed, that smartphones are dying and in particular the iPhone is getting displaced, and further that Apple has no diversification play, that all simply appears to be wrong.

The author is long shares of Apple Inc. (NASDAQ:AAPL).

WHY THIS MATTERS
If you enjoyed learning about Apple, even briefly, to see information that is generally under reported, this may be up your alley: Our research sits side-by-side with Goldman Sachs, Morgan Stanley and the rest on professional terminals. Of our Top Picks, Nvidia is up 180% since we added it. Ambarella is up 60% since we added it. Relypsa was taken over for a 60% gain and we are already up on Twitter when we added it to Top Picks for $15.60.

To become a CML Pro member it's just $19 a month with no contract. It's that easy -- you cancel at any time, instantly.

Each company in our 'Top Picks' portfolio is the single winner in an exploding thematic shift like self-driving cars, health care tech, artificial intelligence, Internet of Things, drones, biotech and more. For a limited time we are offering CML Pro for $19/mo. with a lifetime guaranteed rate. Get the most advanced premium research along with access to visual tools and data that until now has only been made available to the top 1%.