The One Reason Back-testing Works
The One Reason Back-testing Works
Date Published:
2017-01-06
Written by Ophir Gottlieb

Preface
While the headlines will highlight speculative option trades that returned some absurd amount, other than reading a story of riches, there isn't really anything we can do with the information. But the truth is that the most successful option trading is not about guessing.

Here is the power of a calm option strategy that crushed the market over the last 6-months, 1-year, 2-years and 3-years. And it wasn't even close. Even better, here's how it can be replicated.

STORY: BEATING THE MARKET
There's a lot less luck in successful option trading than many people realize and this is the evidence.

Selling puts during a bull market is likely the most profitable strategy to employ, but it has a drawback, namely, it's naked short an option. A risk managed version of this trade is to sell a put spread, rather than a naked put.

But don't mistake calm for poor results -- this is huge.

First we look at a back-test using the SPY ETF as our proxy for the S&P 500. We keep it simple:

* Sell out of the money put spreads
* Do it monthly
* Test it for 3-years

Here is the set-up -- it's basically requires clicking three buttons: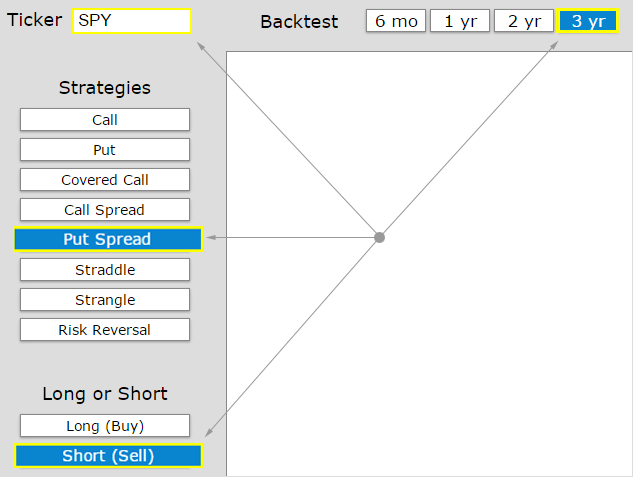 And now the results:





Selling a put spread every month for 3-years generated anywhere from 54% to 103%, depending on the amount of risk taken. Here is how the middle strategy did versus the S&P 500 over three-years:




That's 78% for the short put spreads versus 31% for the S&P 500.

That seems easy enough, but the next question is whether or not this is 'cherry picking' a particularly good time frame and set of options. The answer is no. This is a methodological result. Here are the results for those exact same put spreads for the last 2-years, 1-year and even the last 6-months, respectively.



Last 2-years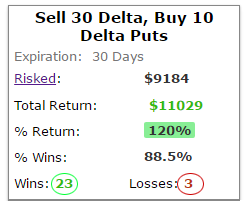 Last 1-year

Last 6-months



The time period didn't matter. Selling risk protected put spreads in SPY would have so outperformed the index that it generated decades worth of capital appreciation in a matter of a couple of years. Finding the results was as easy as clicking these buttons:




CONCLUSION
The use and testing of historical data is the life blood of the most sophisticated hedge funds. If you're wondering if this strategy worked for stocks and not just SPY, the answer is a resounding, yes.

Here are the results of this same test, but we go even further with individual stocks by avoiding earnings. Yep, these are the short put spread results for IBM and SBUX but always avoiding earnings.



IBM
Starbucks Inc (NASDAQ:SBUX)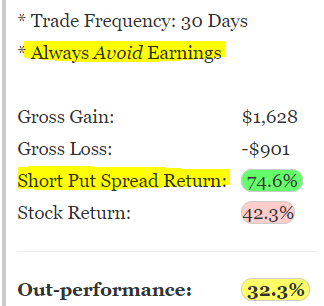 We can see similar results for Apple (NASDAQ:AAPL) and several other companies. The problem in finding these gems has been access to the data and the back-testing apparatus. But now both of those problems are solved. Here's how:

WHY THIS MATTERS
We are Capital Market Laboratories. Our research sits side-by-side with Goldman Sachs, Morgan Stanley and the rest on professional terminals.

When we wrote that there's actually a lot less 'luck' and a lot more planning in successful option trading than many people know, this is what we meant. Below we demonstrate what we share with institutional investors on the live terminals.

Here is a quick 6-minute demonstration video that will change your option trading life forever:
Tap here to see the demo movie on YouTube

Thanks for reading, friends.

Risk Disclosure
Trading futures and options involves the risk of loss. Please consider carefully whether futures or options are appropriate to your financial situation. Only risk capital should be used when trading futures or options. Investors could lose more than their initial investment.

Past results are not necessarily indicative of future results. The risk of loss in trading can be substantial, carefully consider the inherent risks of such an investment in light of your financial condition.