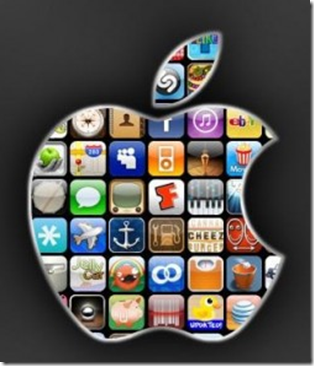 Apple (NASDAQ:AAPL) Services
Date Published:
2017-01-10
Written by Ophir Gottlieb

Preface
Apple (NASDAQ:AAPL)
All eyes are on Apple's up coming earnings report with a focus on iPhone sales and Apple Services. We discuss both of these in our prior dossier: Apple is Breaking Several Sales Records.

We discussed Apple Services in that piece. Here is the revenue growth for the segment: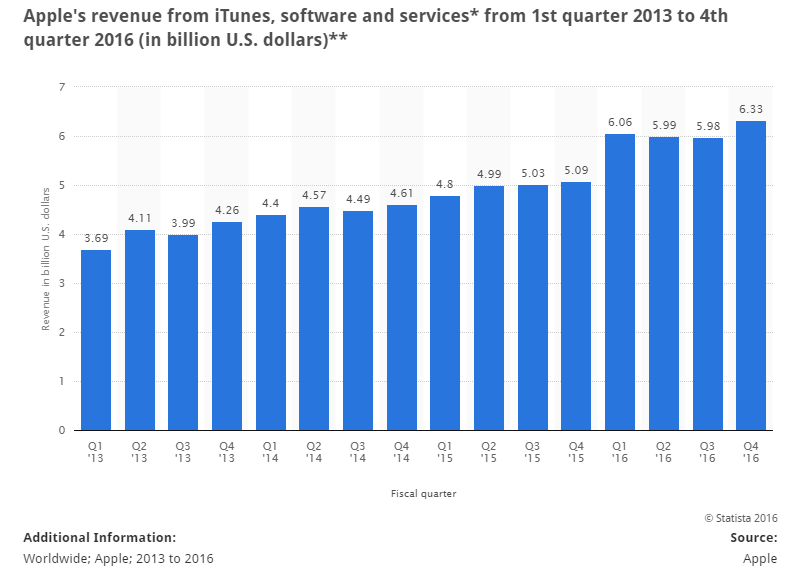 What we see here is that Apple Services is nearing a $25 billion business in and of itself, essentially the size of the all of Facebook. Tim Cook noted that Apple Services would be large enough to be a stand-alone Fortune 100 company by itself by next year.

WHY APPLE SERVICES MATTER
If you've ever taken a look, you will notice that Apple Inc trades at a severe discount to the rest of the market. The company carries a price to earnings ratio (p/e) of 14.4 whereas the broader S&P 500 carries a P/E of over 17.

Even further, if we take out Apple's massive net cash position, its P/E is actually closer to 12. Now the market hasn't gone mad, it's simply that the market far prefers revenue that is recurring (like subscriptions, services and advertising). Apple sells hardware, primarily the iPhone, and that gets a much lower earnings multiple.

As a point of reference, if Apple carried the same P/E as the second largest company in the world, Alphabet Inc (NASDAQ:GOOGL), its stock price would be about $250 (currently $119). In fact, recurring revenue is so important that lower total revenue but more that is considered recurring is actually more valuable. Here is the Microsoft Corporation (NASDAQ:MSFT) revenue chart for the last 17-years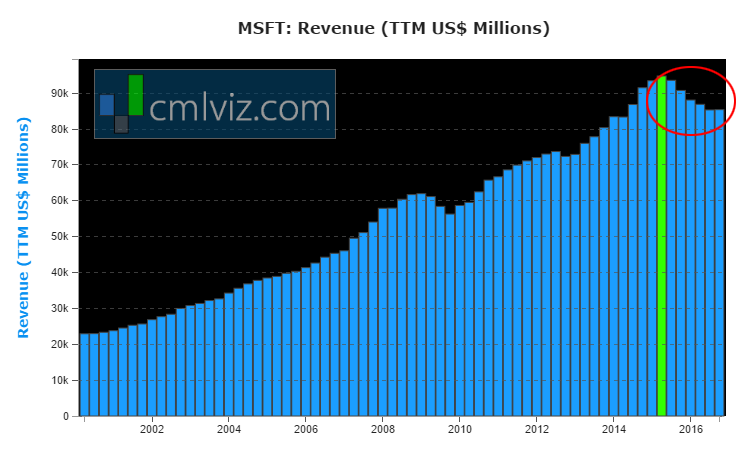 While Microsoft Corporation (NASDAQ:MSFT) has switched from one-time software sales to its subscription Office service, its total revenue has plunged but the stock is now at all-time highs. I know, it's totally bizarre, but it's just how the market works.

This is where Apple Services kicks in.

As Apple (NASDAQ:AAPL) gets more and more iPhones out into the world (the company recently announced an install base of over 1 billion), those people start to use the iPhone to generate service revenue.

Apple Services comprises of iTunes, iCloud, the app store, Apple Music, Apple Pay and other Apple software and services. The growth in this business is absolutely critical for Apple's future -- as it must diversify away from just hardware sales, particularly the iPhone.

The great news is that Apple is doing it, and doing it rather quickly. Here is the breaking news of the week: Customers broke all-time records during the holiday season, with sales from the App Store topping $3 billion in December alone.



"

Apple said Thursday that the App Store's total revenue hit $28.5 billion in 2016. That means the store generated more than $20 billion in record revenue for developers during the year, while Apple collected $8.5 billion based on its 30 percent share of sales.

"

Source:

Silicon Valley Business Journal



That is a great business, and points to not only much higher engagement levels with iPhones, but also simply much more iPhones in general.

We expect strong numbers from Apple. We do expect the company to break an all-time high in earnings for any public company ever for the third straight calendar fourth quarter in a row. Then, we expect the company to break the record for a fourth year in a row in CY Q4 2017.

OPTION TRADERS
Again, back to options. We stay with selling put spreads in AAPL over a three-year period every month. During this time frame the stock has risen 60.7%. The put spreads here also did better:





And, again, here is the option strategy highlighted in yellow versus the stock in gray:





Again, this is for our CML Trade Machine option back-tester. CML Option back-tester

The author is long shares of Apple (NASDAQ:AAPL).

WHY THIS MATTERS
If you enjoyed learning about Apple but actually being ahead of the curve, this may be up your alley: Our research sits side-by-side with Goldman Sachs, Morgan Stanley and the rest on professional terminals. Of our Top Picks, Nvidia is up 250% since we added it. Ambarella is up 60% since we added it. Relypsa was taken over for a 60% gain and we are already up on Twitter when we added it to Top Picks for $15.60.

To become a CML Pro member it's just $19 a month with no contract. It's that easy -- you cancel at any time, instantly.

Each company in our 'Top Picks' portfolio is the single winner in an exploding thematic shift like self-driving cars, health care tech, artificial intelligence, Internet of Things, drones, biotech and more. For a limited time we are offering CML Pro for $19/mo. with a lifetime guaranteed rate. Get the most advanced premium research along with access to visual tools and data that until now has only been made available to the top 1%.