Apple Inc is Getting Dead Serious About Growth
Apple Inc is Moving Faster than Everyone
Date Published:
2017-03-23
Written by Ophir Gottlieb

LEDE
Apple (NASDAQ:AAPL) is at all-time highs, but recent news points to the company getting dead serious about growth.

Preface
While Facebook Inc (NASDAQ:FB) is making all-time highs, Alphabet Inc (NASDAQ:GOOGL) is showing great strength in the four critical areas that we defined for technology's future, it's Apple Inc that is making waves. In what has been a busy few weeks for Apple Inc in the realm of news, if we amalgamate the various stories, what we see is more momentum in the company than we have seen in a very long time.

Even further, Snap Inc (NYSE:SNAP) may have found itself in the unenviable position of being directly in Apple's sights. Here's what we see.

* First, new data released by IHS Markit revealed the top ten selling smartphones in the world and the 'failing Apple Inc iPhone' took not just the top spot -- not just the top two spots -- not even the top three spots -- fiends, Apple Inc Phone took all of the top four spots.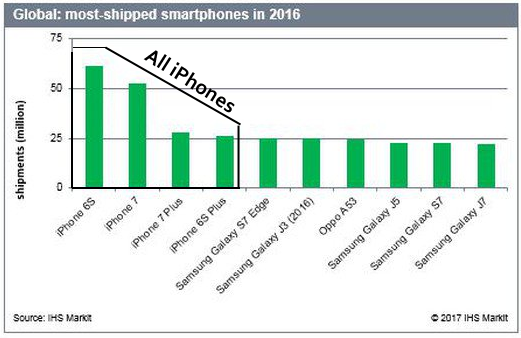 Even further, we get this:



If looking at the fourth quarter alone, the new iPhone 7 was the 2016 best-seller, followed by iPhone 7 Plus.

Apple again has demonstrated that its new iPhones integrate enough innovations and new features to drive sales and remain successful in the market. The company is also capable of selling older devices for an extended period of time.



But that's just the beginning of the news flow.

* Second, the Wall Street Journal reported that Apple Inc will soon start assembling iPhones in India for the first time, say government officials familiar with its plans, boosting the company's chances of gaining a foothold in the fast-growing market (WSJ).

At CML Pro we have been bullish on India for a long time for Apple -- noting the time it will take to make a dent, but also noting that it is the second largest smartphone market in the world.




That's 204 million smartphone users in India in 2016. By this year (2017), India will be larger than the United States. Apple, however, has a tiny footprint in the market due to a bevy of reasons from high prices to very low local brand awareness.

In our detailed dossier Apple Gets Very Good News from India, we discuss the good and bad of the Indian market. But, the report that manufacturing will begin in the country is, in our opinion, the beginning stages of Apple opening up an enormous market.

* Third, as we wrote just two weeks ago, we believe Apple (NASDAQ:AAPL) does have a "next big thing," and its bigger than even the most bearish belly-aching analysts could have imagined.

It is our opinion that Apple is simultaneously going into Augmented Reality (AR) and social media. In our dossier Apple's Next Big Thing May be Here Soon we discuss Tim Cook's fascination with Augmented Reality and then reprise our analysis on the patent filing we broke news of -- the patent filing for a new social media based on augmented reality and iPhone users.

With the emergence of AR from Pokémon Go and, of course, Snap Inc (NYSE:SNAP), the hinges have been blown off the door with respect to public acceptance and consumption of the technology. Snapchat has 150 million people on it monthly, Twitter Inc (NYSE:TWTR) has 320 million, and Facebook Inc (NASDAQ:FB) Messenger has one billion. Apple has 800 million iPhones in usage, and per that patent filing we discuss, every iPhone owner is automatically engaged in the new social network.

As an aside, we do believe this poses a threat to Snap Inc (NYSE:SNAP), and, in a very odd way, sort of (kind of) makes an acquisition.. semi-possible... Not a forecast, just an idea.

* Fourth, Apple announced a new native app called 'Clips.' Here's how Reuters described it with our emphasis added:



Clips, which will hit Apple's App Store in April, lets customers take videos and add animated captions and titles, complete with colorful emoji symbols. The app also makes it possible to stitch together multiple video clips and add speech bubbles and filters.

The functions closely resemble those that drive Snap's wildly popular Stories feature

. With Stories, Snap Inc (NYSE:SNAP) users string together photos and videos, embellish them and then post them to their feeds.

Apple's new Clips lets users post their video to Instagram, Facebook Inc (NASDAQ:FB), Alphabet Inc (NASDAQ:GOOGL) YouTube, Vimeo and more.

But if users post them to Apple's own Messages app, Apple will recommend whom to share it with based on which friends are in the videos and whom the user frequently contacts - the kind of predictive social features Facebook excels at.

Source:

Reuters

.



Even further, back on July 18th, 2016 CML Pro broke a dossier that revealed Apple had filed a patent for Augmented Reality. For ease of reference, here is one of the snapshots we took from the Apple patent filing regarding its AR focused social media: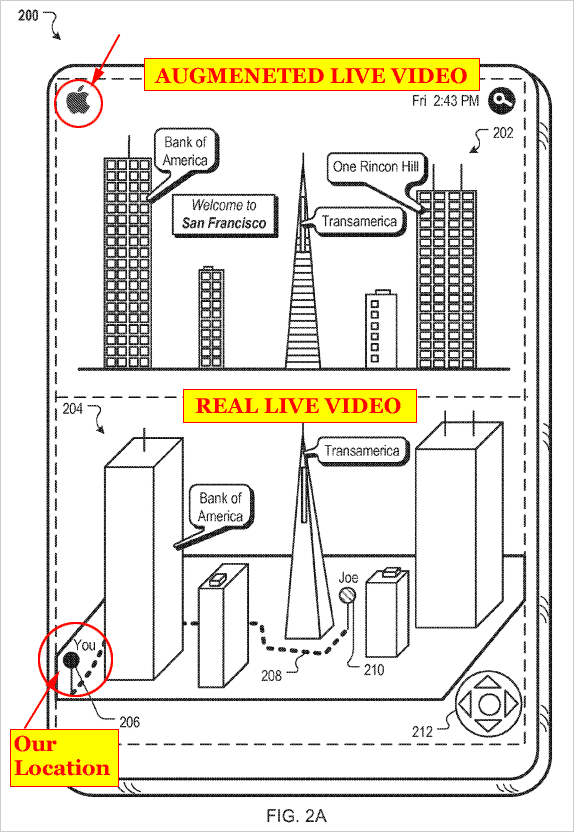 The technology Apple Inc is inventing will allow an user to create a 3-dimensional map of an area, in real time, which is then overlaid with information that augments their reality. There's a lot more to this, but we leave the reference dossier for the details.

MORE
As if this wasn't enough, a patent created by Apple (NASDAQ:AAPL), and uncovered by Apple Insider, shows us that Apple Inc may be creating a way to use the iPhone as the controller to something that looks like, basically, a MacBook.




* Fifth, Apple Inc is going to be releasing its 10th anniversary iPhone this year -- called the iPhone 8 or iPhone X, or whatever other names are floating out there, and data suggests there is larger pent up demand for iPhone refreshes (upgrades) than ever before.

OPTION TRADERS
You can learn about optimizing long calls in Apple here: Exceptional Option Trading in Apple (NASDAQ:AAPL).

You can learn about optimizing short put spreads here: Apple (NASDAQ:AAPL) You Can Be a Better Trader.

CONCLUSION
Apple (NASDAQ:AAPL) has a lot going on -- some will say it has been a busy few weeks -- but we know it has been a busy few years. Much of what we have read about and discussed here doesn't even touch on the Apple Services phenomenon with Tim Cook telling Wall Street that Apple Services will, in and of itself, be as large as a Fortune 100 company.

WHY THIS MATTERS
Our research sits side-by-side with Goldman Sachs, Morgan Stanley and the rest on professional terminals as members of Thomson First Call. We, at CML Pro, identify the companies that have the potential to become the 'next Apple,' or 'next Google.'

Like the one company that will power the half a trillion-dollar cloud platform market irrespective of which of the mega-vendors Amazon, Microsoft or Google end up being the leaders.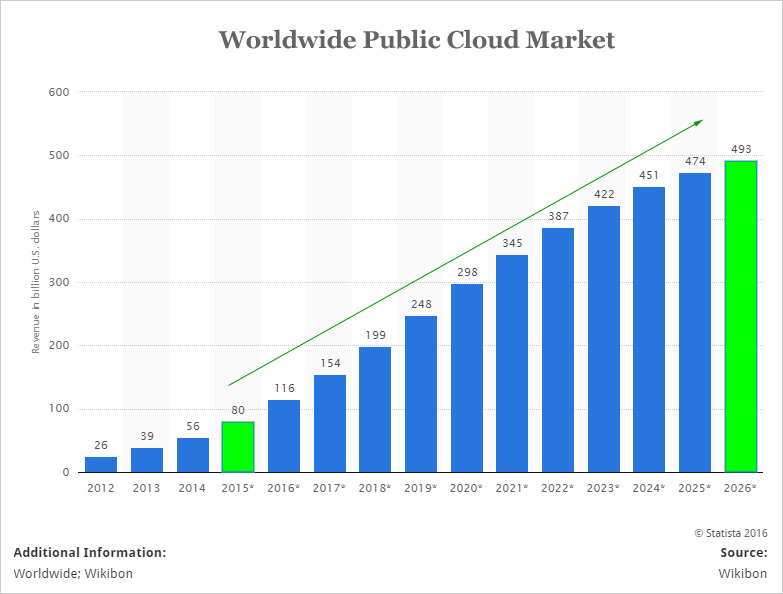 Or, the $500 million genomics company that has openly stated its goal of becoming the "Amazon of genomics." Or the two companies that will power every drone, or every self-driving car.

Market correction or not, recession or not, the growth in these areas is a near certainty.

For a limited time the precious few thematic top picks for 2017, research dossiers, and alerts are available at a 80% discount of $19/mo. Join Us: Discover the undiscovered companies that will power technology's future.

Thanks for reading, friends.

The author is long shares of Apple (NASDAQ:AAPL) in his personal account.