Apple, iPhone, super, quarter, data,earnings
Surprise: Apple is Crushing It After All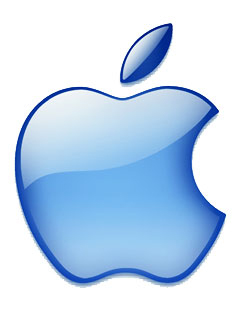 Surprise: Apple is Crushing It After All
Date Published:
2018-02-27

Written by Ophir Gottlieb

This is a snippet from a CML Pro dossier published on 2-26-2018.

LEDE
Apple just reported the single largest quarterly after tax profits ever (aka net income), and generally beat estimates for earnings, but the guidance for the current quarter was less than stellar and its booming Services business boomed, but did not KABOOM, and that was reason for some worry.

New data surrounding the iPhone's dominance has been releases, and while the "super cycle" didn't come in volume, my goodness, it has come in terms of dollars.

STORY
We added Apple to Top Picks on 2-Jan-16 for $104.15. As of this writing it is trading at $175.50, or 68% higher. We did a thorough write up of the earnings release as it came out, and you can refer to that dossier here: Must Know: Apple Earnings Review.

But it is the latest number crunching from two analytics firms that pushed Apple higher last week, and may see it test that all-time high yet again. Let's get to the data.

SURPRISE: IT IS A SUPER CYCLE
Apple did something very odd with its iPhone X super phone -- it held it back. The company first released the iPhone 8, and delayed its release of the $1,000 phone.

That was hotly contested and it was a huge risk. Analysts still disagree about the outcome, even though the outcome is now an observable fact (we saw sales and earnings). The idea that consumers would pay up more than $1,000 for a phone was risky, and it was yet riskier to let people "opt out" by just going with iPhone 8.

But, the real movement for Apple last quarter was the astonishing rise in its average selling price (ASP) per iPhone. Here is a chart: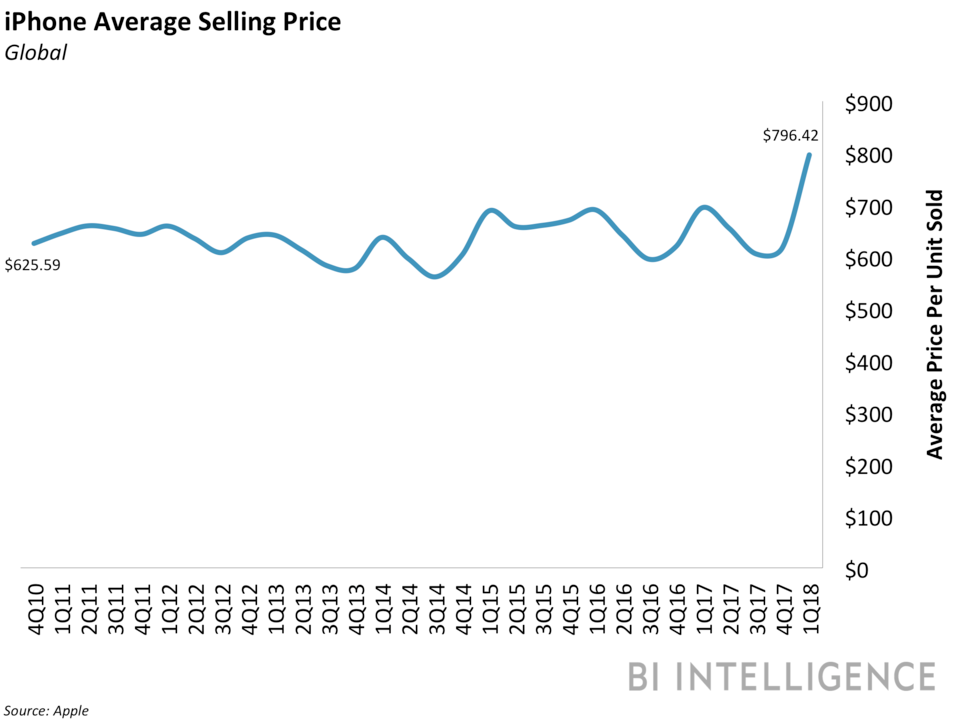 I don't know why BI decided to use a line chart rather than a bar chart, but let's let the non math people do as they will -- the data is what we want and the broken trend is still easy to see.

This cycle (quarter) saw a huge pop out of a pretty tight range. The big jump is because of the $999 super-premium iPhone X, which costs nearly $240 more than the iPhone 7 Plus, which was previously Apple's most expensive phone.

CEO Tim Cook said:



Honestly speaking, there's no comparison in the revenue, it's hugely different. In a positive way, obviously.



SO WHAT?
Counterpoint Research Director Neil Shah shared some new data and it reads pretty crazy.



The $1,000 smartphone-along with iPhone 8 and iPhone 8 Plus-helped propel Apple (AAPL) to a commanding 76% of smartphone revenue in North America and 57% in Europe.



Then Strategy Analytics came out with more data. According to the firm, Apple has taken more than half of the global smartphone revenues for Q4 of 2017.

"Apple iPhone captured a record 51 percent share of all smartphone wholesale revenues."

And then we got the real data (our emphasis added):

* Apple's smartphone revenue was seven times higher than its second competitor, Samsung, and seven times more than Huawei.

* The iPhone's $800 ASP is three times the industry average.

* Samsung's ASP grew 21%, sitting at $254.

And while reports have come out that Apple might ditch the iPhone X, the famed Ming-Chi Kuo of KGI Securities actually went the other way claiming that Apple was going to launch an iPhone X Plus. Yes, a larger, yet more expensive phone.

For the record, KGI also carefully noted that Apple has not made a final decision and certainly has not made an official announcement.

CONCLUSION
Wall Street wanted an iPhone super cycle, and that meant volume. Well, volume beat expectations, but then was lowered for this quarter's guidance, but revenue, that is in a super cycle. And that super cycle has given Apple all kinds of absurd statistics relative to its competitors, from size to market share.

For now, the arguments can stop -- Apple had a super cycle -- it was in revenue, and that led to the largest single quarter of earnings ever by a public company. Apple beat another mega cap's record... Apple. And it also dethroned the number three spot, which was... Apple.

As for the weaker than expected guidance, we could also just listen to Tim Cook, you know, the CEO, when he said on the earnings call:

"iPhone revenue will grow double-digits as compared to last year during the March quarter. And that iPhone sell-through growth on a year-over-year basis will be actually accelerating during the March quarter as compared to the December."

We also note that the all-time high in ASP was also a poke in the eye of analysts that said people would not spring for the super expensive iPhone X - wrong. iPhone X was the bestselling iPhone every week it was out.

SEEING THE FUTURE
It's understanding technology that gets us an edge on finding the gems that can turn into the 'next Apple,' or 'next Microsoft,' where we must get ahead of the curve. This is what CML Pro does.

The precious few thematic top picks for 2018, research dossiers, and alerts are available for a limited time at a 80% discount for $29/mo. Join Us: Discover the undiscovered companies that will power technology's future.

As always, control risk, size appropriately and use your own judgement, aside from anyone else's subjective views, including my own.

Thanks for reading, friends.

The author is long shares of Apple Inc at the time of this writing.

Legal
The information contained on this site is provided for general informational purposes, as a convenience to the readers. The materials are not a substitute for obtaining professional advice from a qualified person, firm or corporation. Consult the appropriate professional advisor for more complete and current information. Capital Market Laboratories ("The Company") does not engage in rendering any legal or professional services by placing these general informational materials on this website.

The Company specifically disclaims any liability, whether based in contract, tort, strict liability or otherwise, for any direct, indirect, incidental, consequential, or special damages arising out of or in any way connected with access to or use of the site, even if we have been advised of the possibility of such damages, including liability in connection with mistakes or omissions in, or delays in transmission of, information to or from the user, interruptions in telecommunications connections to the site or viruses.

The Company make no representations or warranties about the accuracy or completeness of the information contained on this website. Any links provided to other server sites are offered as a matter of convenience and in no way are meant to imply that The Company endorses, sponsors, promotes or is affiliated with the owners of or participants in those sites, or endorse any information contained on those sites, unless expressly stated.