Salesforce is Crushing It and Has a Massive Secret Weapon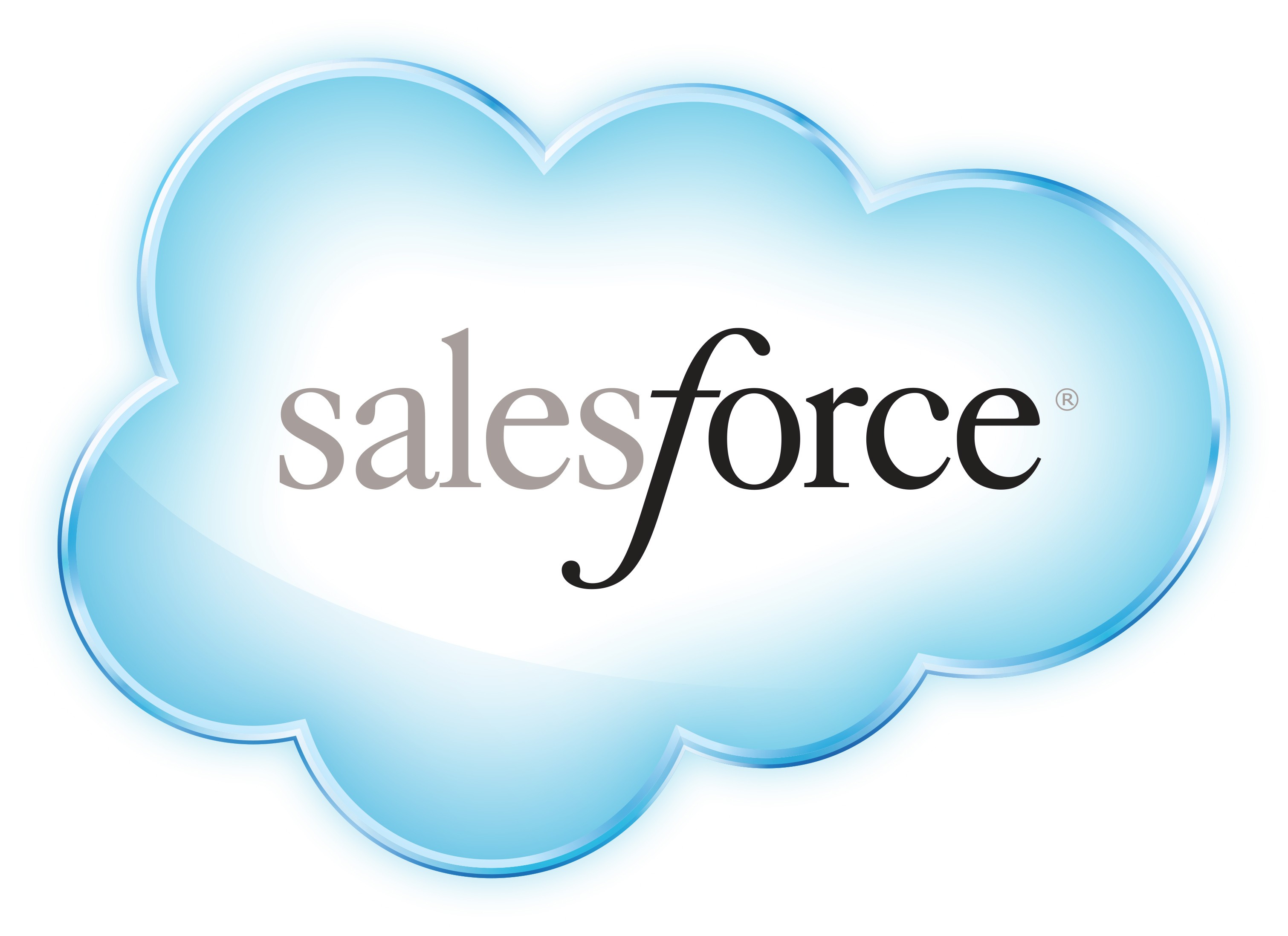 Fundamentals

Written by Ophir Gottlieb, 11-23-2015
Follow @OphirGottlieb
It's now time recognize that Salesforce (CRM) has turned into a massive power in the cloud computing and software as a service (SaaS) realm. The company had a blow out quarter in its latest earnings release and it raised its full-year revenue forecast for the
fourth time
after reporting a quarterly adjusted profit above market expectations.
There's also a little secret about this company and when you read it, you simply won't believe it. For now, we'll start with the cartoonish all-time revenue (TTM) chart, below.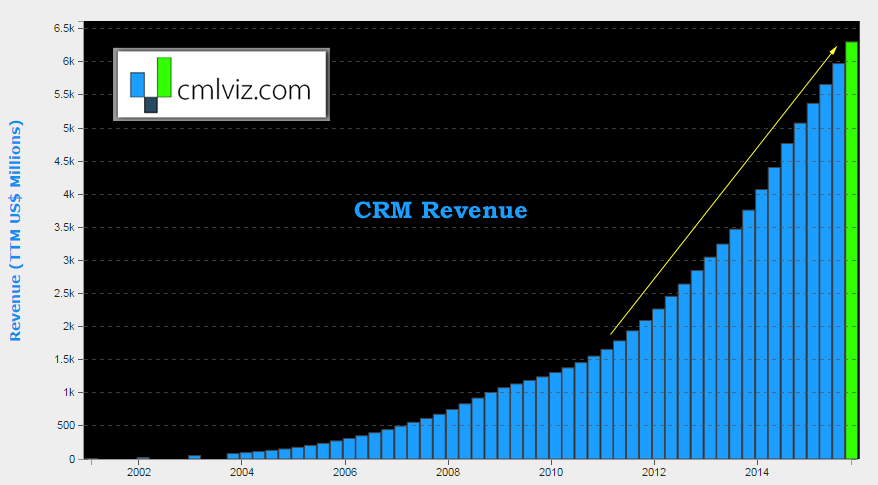 The stock is up 36% in the last year, 53% in the last two-years and 126% in the last five-years. But when it comes down to it, CRM is so fascinating because of "the story."
Do you enjoy discovering new companies and opportunities and really understanding them?
Get Our (Free) News Alerts Once a Day.
THE STORY
Cloud computing and software as a service (SaaS) are lightning rod phrases in the technology vernacular. It's the cloud that's pushing Amazon to new highs and driving fully 50% of operating profit while making up just 8% of revenue. Microsoft's hardcore pivot into SaaS, as opposed to selling software as a one off, has made that company suddenly innovative, exciting and dangerous.
And let us not forget about Google. This news just came out today.
Google just hired the founder of VMware to run cloud. Just when you thought the cloud wars were done. Nope. Just getting started.

— Aaron Levie (@levie) November 19, 2015
Well, CRM does both. "SaaS revenues (as an industry) make up less than 20 percent of the enterprise software market" (
SF Business Times)
so the growth potential and expectations are sky high. CRM is only delivered as SaaS, and further, there is no option available for using the software within a private cloud or on-premises environment. Both Microsoft and Oracle do offer on premises hosting, so CRM is both unusual and a pure play Cloud computing and SaaS investment.
If we take data from 2014 (since 2015 isn't over yet), we do see that this pure play SaaS and Cloud company is winning, and by rather staggering amounts. Check out this market share image.
Do you enjoy understanding what's really going on in a company beyond the headline noise?
Then Join Us: Get Our (Free) News Alerts Once a Day.
Salesforce is crushing it, more than doubling Oracle's share and tripling Microsoft. Further, the company doesn't target any specific customer segment which is allowing it to grow rapidly and to increase its market share.
We write one story a day to uncover new opportunities and break news.
Come on in: Get Our (Free) News Alerts Once a Day.
THE GOOD
CRM reported that unbilled deferred revenue rose 24% to $6.7 billion for the quarter, also crushing analyst estimates. After the quarterly earnings release the company's vice chairman and president, Keith Block called the quarter "one of the most memorable and exciting quarters we've had" and he cited growth "across every geography and every industry" and the fact the "size of our large deals has significantly increased, with an 8-figure deal with a high-tech manufacturing company that has high brand recall" (Source:
Barron's
).
Block went on to proudly claim:
"Yes! We are absolutely taking share from our competitors. [] We are seeing new logos expanding across geographies, and we are expanding our roster and expanding across our customers."
This is just one of the fantastic reports CML Pro members get every week.
Join Us: Get the Edge. Be Powerful.
CFO Mark Hawkins was equally excited, and while this is a bit of long quote, I think all of it is relevant before we dive into the guts of the company.
"I'm really big into facts — I like to point to third party activity, and when you are taking 210 basis points of market share, and moving up in every space like Service Cloud — we picked up in Marketing Cloud 440 basis points of market share gain of the top five marketing automation companies — and when you have 172,000 customers at Dream Force [the company's user conference], it's clear where the momentum is."
Source:
Barron's
.
Fortune
reported that the company's adjusted operating margin expanded to 13.3 percent in the third quarter ended Oct. 31 from 11.3 percent a year earlier.
We write one story a day to uncover new opportunities and break news.
Come on in: Get Our (Free) News Alerts Once a Day.
THE BAD
The company does carry some debt, but it's been cut in half in the last eighteen months. Having said that, the company does have a sensitive spot, namely, earnings. In the chart below we have debt plotted in the blue bars (note that the green bar represents an all-time high) and net income (aka after tax profit) in the orange line.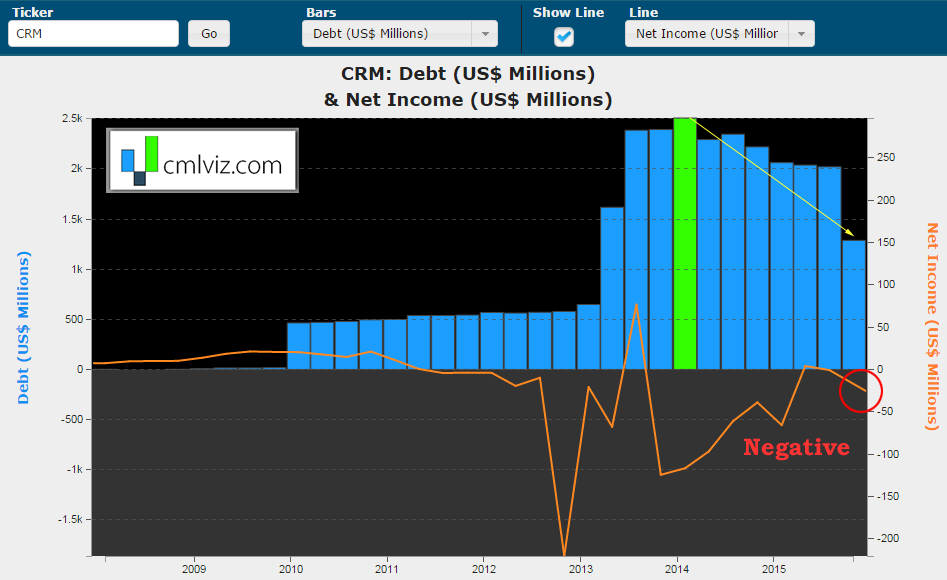 We publish research using visualizations that break news. There's a limited promotion right now:
Get CML Pro for $10/mo and Get the Most Advanced Visual Tools and Sought After Stock Research.
Another slightly troubling sign is the decreasing gross margin%. We have included that chart below.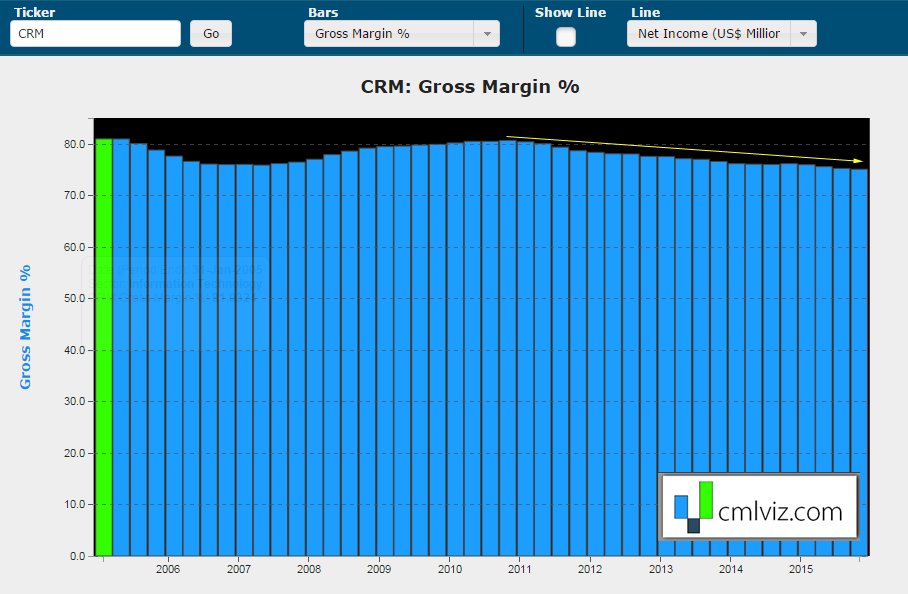 CONCLUSION
Salesforce raised its guidance of the full year for the fourth time it its latest earnings release, which is absurd. It's the world's largest online sales software, is totally SaaS and cloud based and is eating its competition for lunch. As the company matures, it will turn to profitability, and with a revenue base of over $6 billion in the last year and breakneck growth ahead, there's no reason to believe it will not run profitable very soon.
The main stream media doesn't have the vocabulary to understand breaking technology. Get
free
news alerts (once a day) from us and you will be the expert in the room.
Get Our (Free) News Alerts.
The company is benefiting from a major shift in business spending that is looking for cheaper and easier cloud software services. Its operating margins are rising, its adjusted EPS is rising even faster than revenue and it sits squarely in the center of a technology boom as the leader. While the stock price may be a bit pricey now, that tends to be the case for companies growing this fast, in segments with this much demand.
THE SECRET
BusinessInsider
tells us: This might just be one of the best-kept secrets in Silicon Valley's venture-capital scene: Salesforce, the $50 billion cloud software maker, is beating all VC firms in funding some of the largest private cloud software companies in the world.
Yep, this company has its eye on all the new technologies and it has an ownership stake in more of them than every other firm, including the firm that backed Facebook as a start-up. Check out this chart:
"What's more unusual is Salesforce leading rounds and its willingness to invest $10 [million] to $50 million," Murphy told us in a previous interview, noting most corporate VCs tend to invest less than $5 million in a single round. "They are definitely one of the most active and collaborative corporate VCs in the valley."
Source:
BusinessInsider
It's time to recognize that Salesforce is dominating a business segment which is well on its way to $1 trillion annually across the globe.
We write more research and trading stories just like this but only publish it to Pro Members. For a (very) limited time we are offering CML
Pro
for $10/mo. with a lifetime guaranteed rate.
Join Us: Get the Most Advanced Visual Tools, Data and Sought After Hidden Stock Research.