Relypsa Just Had a Momentous Day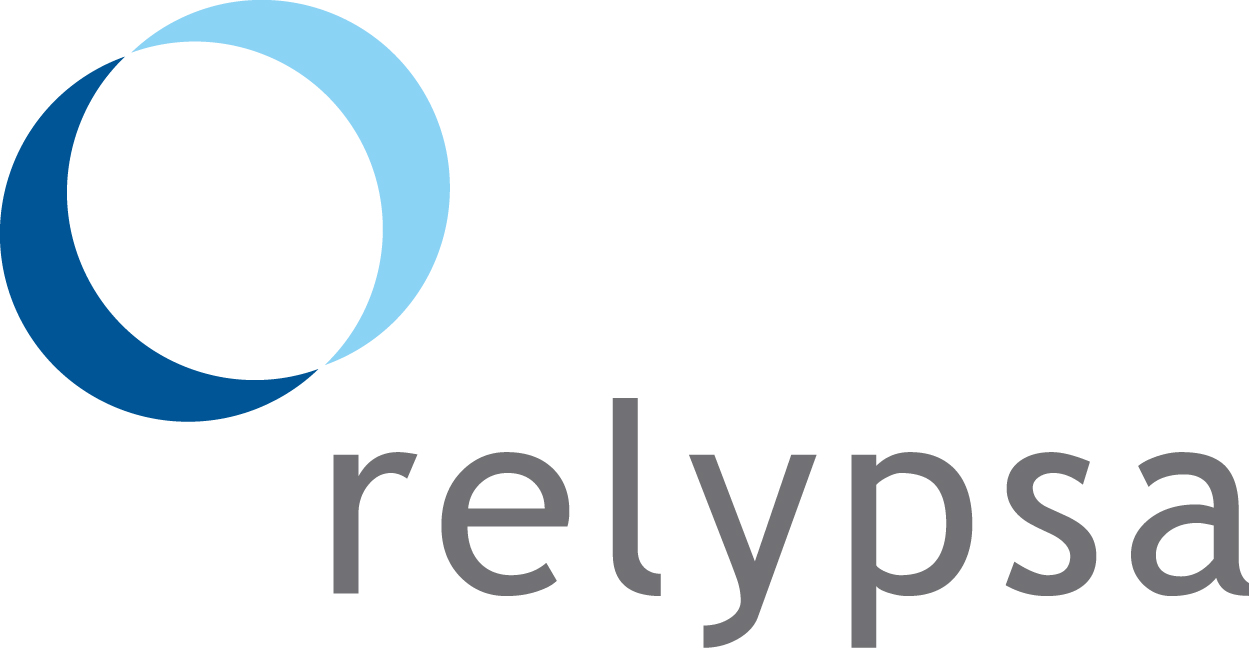 Relypsa, Inc.
Written by Ophir Gottlieb, 12-21-2015
Follow @OphirGottlieb
UPDATE
The story surrounding Relypsa is one that seems so bullish but at the same time is so steeped in fact that it will feel almost impossible. So I will leave all opinion out of this piece. Friends, here come the facts, and they are not disputed.
Before we get into the incredible story, the firm just filed an
8-K
on Monday December 21st, and here are the key takeaways:
1.
On December 21, 2015, Relypsa, Inc. ("Relypsa") announced that VeltassaTM (patiromer) for oral suspension ("Veltassa") is now available for prescription to patients with hyperkalemia in the United States.
2.
Relypsa has partnered with two national specialty pharmacies to fill and deliver Veltassa prescriptions to patients. Patients who have been prescribed Veltassa will receive the medicine via mail order directly from one of the authorized specialty pharmacies:
* ACS Specialty Pharmacy, a CVS Pharmacy; or
* Walgreens Specialty Pharmacy.
3.
Veltassa will be distributed to hospitals through a network of authorized specialty distributors, including:
* ASD Healthcare, a subsidiary of AmerisourceBergen;
* Cardinal Health Specialty Distribution, a subsidiary of Cardinal Health; or
* McKesson Plasma and Biologics, LLC.
4.
All of Relypsa's sales representatives have now been hired and are calling on nephrologists, cardiologists and relevant hospitals to introduce them to Veltassa. Approximately one-third of Relypsa's sales representatives and all of Sanofi's nephrology sales force, pursuant to the Detailing Agreement between Sanofi and Relypsa, began calling on doctors following approval. By late November 2015, a second group of Relypsa representatives was hired and calling on doctors. The final group of Relypsa representatives started calling on doctors as of December 21, 2015.
And of course, we can't forget that on December 4th this news broke:
Shares of Relypsa (NASDAQ:RLYP) exploded more than 30% higher after a rumor broke that Merck (NYSE:MRK) has plans to make an offer to buy out the company.
Source:
The Motley Fool
NOW: THE STORY
Relypsa (RLYP) is a small-cap clinical stage biopharmaceutical company with a market cap of ~$850 million. The company has a single drug named Veltassa that treats hyperkalemia, which is a condition of fatal levels of potassium in patients with chronic kidney disease or heart problems. Veltassa is the first new medicine for hyperkalemia in more than 50 years with around 3 million people affected in the U.S. alone (Source:
Seeking Alpha
).
The drug won its first FDA approval on October 21st, 2015 with actual sales expected to begin in the first week of January 2016.
But, the stock dropped nearly 40% on the news. Yes, it dropped on the news. Here is the stock chart over the last year.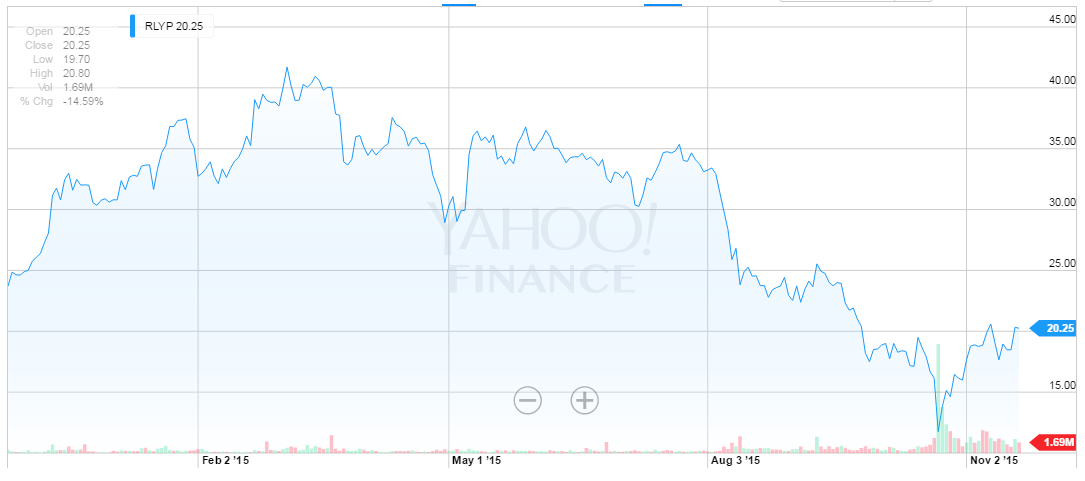 Veltassa will be able to address about 2.4 million patients in the United States who suffer from high levels of potassium, Wedbush Pacgrow Lifesciences analyst Liana Moussatos said (Source:
Reuters
).
We write one story a day to break news.
Come on in: Get Our (Free) News Alerts Once a Day.
Why the Stock Drop?
Two reasons:
First, the FDA approval came with a "black-box warning label" on the medication, which is the strongest warning that the FDA requires. For example, the FDA has required that boxed warnings be placed on all antidepressant medications because of the risk of suicide. For other medications, a boxed-warning
may
interfere with a drug's sales capacity. But, while most black-box labels warn of dangerous side effects and surround safety issues, this label
did not
.
Here is the actual black-box label:
The boxed warning says that other oral medications should be administered at least 6 hours before or 6 hours after Veltassa is taken as the drug binds other oral drugs thereby reducing their absorption and reducing their effectiveness.
Source:
Seeking Alpha
So this is an inconvenience, but it is not a safety concern. This is critical as for the vast (vast) majority of people, this is a total non-issue.
According to Oppenheimer, a market research survey of roughly 1000 patients charts indicates that ~95-98% of the patients currently take drugs daily or every twelve hours.
"Overall, we're pleased with the label," spokeswoman Charlotte Arnold said in an emailed statement. "The indication is broad and supports use in both the hospital and outpatient settings" (Source:
FiercePharma
).
That's right. Even if this warning even has an impact, 95% to 98% of the population will be totally unaffected. To further the point, Dr. Rodney Samaan said "from a cardiologist or nephrologist perspective, since most of the drugs we prescribe are BID or every twelve hours, or QD, daily, [this warning] will not be an issue."
And Wedbush said the issue is:
"easily addressable, a minor issue" and that it has no impact on its billion dollar sales projections, which account for the United States alone.
What's really interesting here is that even though there was a negative reaction to the box-label, RLYP's drug is actually considered
a vast improvement in terms of safety
relative to the current treatment. Check this out:
Concordia Healthcare Corp's Kayexalate, the standard-of-care treatment approved in the United States for hyperkalemia, is not considered to be effective for long-term management by doctors and physicians.
Ghenoiu said Kayexalate will soon be taken off the market due to its severe side effects, including constipation, death of intestinal cells and gastrointestinal bleeding. Veltassa has several advantages over Kayexalate, including better binding capacity, tolerability and compliance.
Source:
Reuters
It's not all good news for Relypsa. Morgan Stanley is quite bearish. Check out this quote after the FDA approval:
"This is likely to limit the demand for Veltassa, especially if ZS Pharma's competing drug ZS-9 is approved without a black box warning or similarly cumbersome dosing protocol. Given Veltassa's restrictive label, we believe ZS-9 is likely to emerge as the differentiated, best-in-class potassium binder, a significant commercial advantage."
Source:
Morgan Stanley
The main stream media doesn't have the vocabulary to understand breaking technology and biotech. But you can. Get
free
news alerts (once a day) from us and you will be the expert in the room.
Get Our (Free) News Alerts.
VALUATION
Veltassa has a large addressable market and multiple analysts expect
U.S.
peak sales around $1 billion or higher with just a 5% penetration rate. The company has about $295 million in cash and a market cap of $850 million, making its equity worth about $550 million. Yes, the equity is worth about half of the potential U.S. sales or said differently, the price to future sales is 0.5.
For context, the IBB Nasdaq Biotech Index has a price to sales ratio of 6.7. The stodgy S&P 500 has a price to sales of just under 2. Again, these are the facts, and they are not disputed.
We write one story a day to uncover new opportunities and break news.
Come on in: Get Our (Free) News Alerts Once a Day.
COMPETITION
Remember I wrote that there were two reasons the stock dropped. Here's number two:
There is a competitor lurking. When news of the black-box warning broke, shares of ZS Pharma (ZSPH) gapped higher. This company's lead product
candidate
, ZS-9 is currently in late stage trials as another treatment for hyperkalemia. If the drug is approved, and if the drug doesn't get a black-label warning, perhaps it will hold a clinical advantage over Veltassa (Source:
The Motley Fool
).
Of course those are a lot of "ifs" and Relypsa will have a full six-months (at least) of sales before ZSPH can even consider sales of its drug.
The best news in the world is free.
Get Our (Free) News Alerts.
THIS IS WERE IT GETS CRAZY
AstraZeneca (AZN) paid
$2.7 billion to takeover ZS Pharma
and its hyperkalemia drug. Yes, while we can play the "price-to-sales" game all we want, a major pharma company has said outloud with its pocket book, just the chance of a drug approved in a year to treat hyperkalemia is worth more than $2.7 billion. Remember, AZN didn't buy ZS Pharma to breakeven on the transaction, if its paying $2.7 billion, the firm believes it's worth
substantially more if approved.
Again, Relypsa (RLYP) has a market cap of just $850 million with an approved drug (as opposed to a drug candidate) that will go on sale in a matter of weeks and it has $300 million in cash. These are the facts, and they are not disputed.
International
Relypsa has partnered with Vifor Fresenius Medical Care for an upfront cash payment of $40 million and up to $125 million in additional milestone payments and tiered double-digit royalties on net sales of up to 22%. Relypsa expects to submit an MAA with the European Medical Agency in the first half of 2016 and Veltassa should enter the EU market in 2017 (Source:
Seeking Alpha
).
Do you thrive on really understanding companies and being a step ahead?
Get Our (Free) News Alerts Once a Day.
UPDATE 11-30-2015
Here is social sentiment from a Twitter poll I took:
END UPDATE
CONCLUSION
Fact
: AZN believes a drug
candidate
for hyperkalemia is worth north of $3 billion.
Fact
: Analysts abound believe that $1 billion in sales at just a 5% penetration rate in the United States
alone
is achievable for RLYP's Veltassa.
Fact
: RLYP has a market cap of $850 million including $300 million in cash, yielding an equity value of just $550 million.
Fact
: RLYP's drug is the first new medicine for hyperkalemia in more than 50 years with around 3 million people affected in the U.S. alone.
Fact
: RLYP will start selling its drug and realizing revenue in a matter of several weeks.
Fact
: RLYP's drug did get a "black-box" label warning but that warning
does not surround safety indications
, and several analysts and even doctors see no issue at all with the warning.
Fact
: A research study showed that 95%-98% of people will be totally unaffected by the 12-hour black-box safety indication.
Fact
: With the stock trading at $20 as of this writing, Wedbush raised its price target from $75 to $86 and Oppenheimer has a price target of $55.
Fact
: Data coming out in early 2016 will demonstrate if Veltassa is binding with other medications. There is a possibility that the black-box is dropped or shortened to 3-hours.
Fact
: Without an approved drug, RLYP stock has traded over $40. As of this writing it's $20.
Probably True
: Within 18-months, RLYP will begin to generate revenue from European sales of its drug.
That's it friends.
Data like this, until now, has been kept away from retail investors, especially in a format that's so easy and so fast to digest. The information asymmetry that exists between pros and non-pros has transferred massive wealth to the top 1% from the rest of us. That information asymmetry is no longer acceptable to us.
This is just one of the fantastic reports CML Pro members get. For a (very) limited time we are offering CML
Pro
at a 90% discount for $10/mo. with a lifetime guaranteed rate.
Join Us: Get the most advanced premium research delivered to your inbox along with access to visual tools and data that until now has only been made available to the top 1%.
Disclosure: I am long RLYP stock and call options and short put options.