Why Relypsa Spiked Today and a Letter to the CEO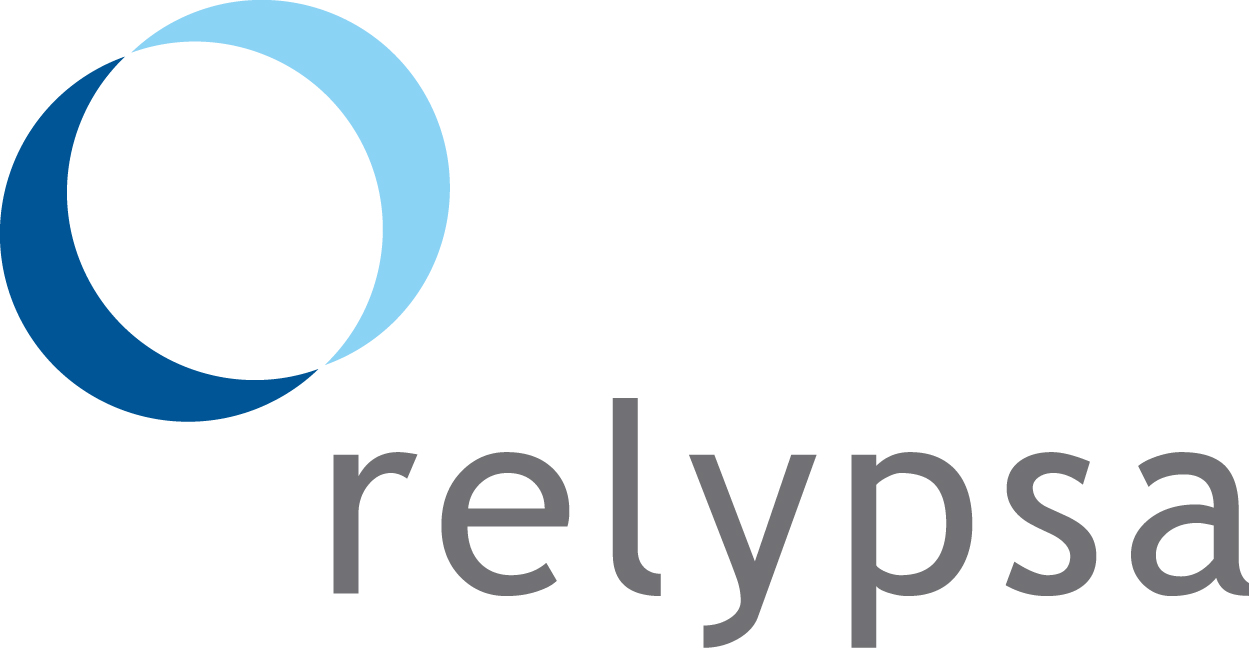 Relypsa, Inc.
Our purpose is to provide institutional research to all investors and break the information monopoly held by the top .1%.
PREFACE
Relypsa (RLYP) is a small-cap clinical stage biopharmaceutical company whose stock continues to be driven almost exclusively by the rumor mill. In just the last three weeks we have seen the stock whip-saw. Today was no different -- except that the rumors didn't even make it into the news -- they were social media based.
Here's what is happening, what happened and now, what must happen.
NEWS TODAY
To keep it short and sweet -- basically some people on Twitter spread rumors that Merck (NYSE:MRK) was readying a bid for the company. This is hardly a new rumor -- in fact, it's become so common, from potential bidders like AstraZeneca (NYSE:AZN) and Sanofi (NYSE:SNY) we call upon the company to help stem the tide of ridiculousness. Here's a two-day stock chart: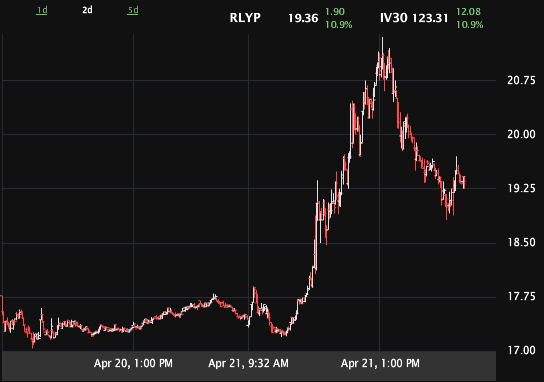 We can see the spike today which took the stock to as high as $21.35. Not to be out done, here's what happened since April 7th:
NEWS ON APRIL 7TH
The company has a single drug named Veltassa that treats hyperkalemia, which is a condition of fatal levels of potassium in patients with chronic kidney disease or heart problems. This happened on April 7th: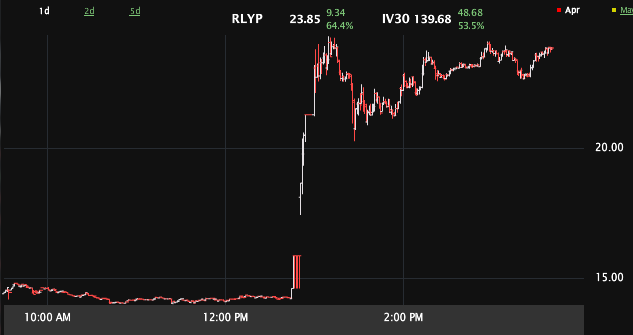 Reuters reported
that the firm was exploring a sale following a number of overtures from potential buyers, according to people familiar with the matter.
Interest in Relypsa has picked up in recent months after the $2.7 billion sale of ZS Pharma to AstraZeneca Plc, the people said.

The discussions are in their early stages and may not lead to a sale, the people added, asking not to be identified because the talks are private.
What was yet more bullish was the firm that was named: CenterView Partners. Business Insider penned an
article
in November, "This little bank is cleaning up in 2015's hottest sector for M&A." The article reads a quote from Jeffrey Nassof, vice president with Freeman & Co:
"In the US Healthcare M&A league tables, we actually have Centerview ranked #3, behind only Goldman and JPMorgan."
Then on the next Friday, the stock went into free fall.
NEWS ON APRIL 15TH
Benzinga
reported
"Relypsa Said To Have Dropped M&A Advisor Centerview Partners."
A source familiar with the matter told Benzinga on Thursday that at this time, Relypsa no longer has Centerview Partners as an advisor.
Source:
Benzinga
Relypsa's investor relations finally came back with a statement, which it had not made when the first news broke:
"We do not comment on specific banking relationships. As is common for public companies, we have multiple banking relationships."
Source:
StreetInsider
Here's what the stock did on Friday after that news: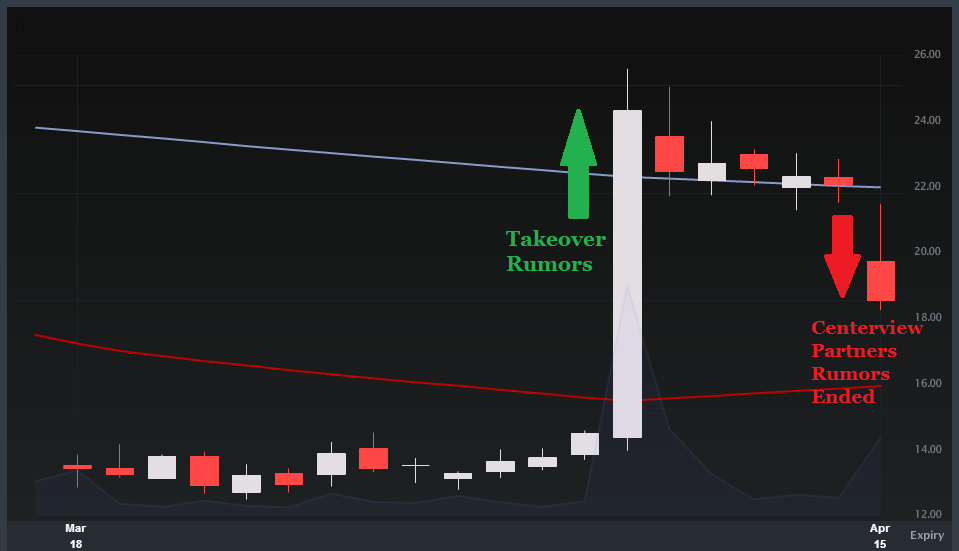 And, finally, here's some actual news, that nobody paid attention to.
WHAT MUST HAPPEN
This myopic view is really a microcosm of the stock since December. Abrupt, jolting moves up on takeover rumors and then equally abrupt but slower stock price disintegrations down. Aiding the wild swings is the breathtaking short interest in the stock, which has neared 50% of the float.
Throughout the melee, the company has maintained a standard position of "no comment," for all intents and purposes. But now friends, we need more and here is my letter to the company's phenomenal CEO, John Orwin delivered through Yahoo! Finance:
DEAR JOHN
Dear Mr. Orwin,
First, I congratulate you on the approval of Veltassa, the first new treatment for hyperkalemia in 50 years and further, your impressive sales figures thus far: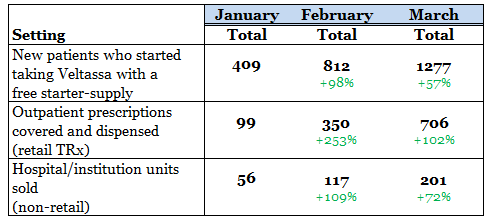 I was dumbfounded, first, by the FDA's nearly unprecedented black box label and, second, its original incorrect wording surrounding the onset of action. I congratulate you on correcting the FDA and further on the DDI study. I hope the FDA removes the black box or reduces it to a 3 and 3. In any case, you've successfully done what was needed.
I further congratulate you on a superb job of reaching out to doctors and what appears to be a successful education program that has reduced the impact of the black box on sales to essentially zero. That's spectacularly done.
Finally, I congratulate you on your stellar career spanning some of the most important bio-pharma companies in the world, including Johnson and Johnson.
But now, I ask for your help. While the firm has done a wonderful job of releasing sales data on the 15th of every month in a successful attempt to deliver transparency, we are now at the point where the "no comment" auto-response to takeover rumors is not appropriate. We have crossed the chasm of slight disruptions from rumors to the point of outright bedlam.
The underlying value of the firm is so violently distorted from day to day, something must change. It doesn't matter if the company's comment pushes the stock price higher or lower.
We entrust you to make the right decisions with respect to potential suitors even if that decision is to rebuff them. Relypsa can be a stand-alone entity if that's your goal -- go for it. But owners of Relypsa must have an understanding of the company's future and now that future is so disrupted by rumors that our CEO needs to speak.
I'm sure there are details that you can't share, competitive positions you must protect, but I'm also sure there are some details that you can share. It is
not
unprecedented for a firm to openly and transparently comment directly to takeover rumors when they become disruptive. The statements can be terse and short of detail, but nonetheless they are direct and clear.
We need your help. The rumor mill has taken the bullhorn and filled it with a cacophony of confusion. Please take the bullhorn back. Bring order back. It's your time, and we do wait with bated breath.
TO EVERYONE ELSE
We are Capital Market Laboratories (CML). CML Pro research sits side side-by-side with research from Goldman Sachs, Morgan Stanley, and the rest on professional terminals, but we are the anti-institution, and make this type of research available to our retail family. Our purpose is to provide institutional research to all investors and break the information monopoly held by the top .1%.
Relypsa is one of just a precious few 'Top Picks' from CML Pro. Each company identified as the single winner in an exploding thematic change like artificial intelligence, Internet of Things, drones, mobile pay and more. In fact, here are just two of the trends that will radically affect the future that we are ahead of: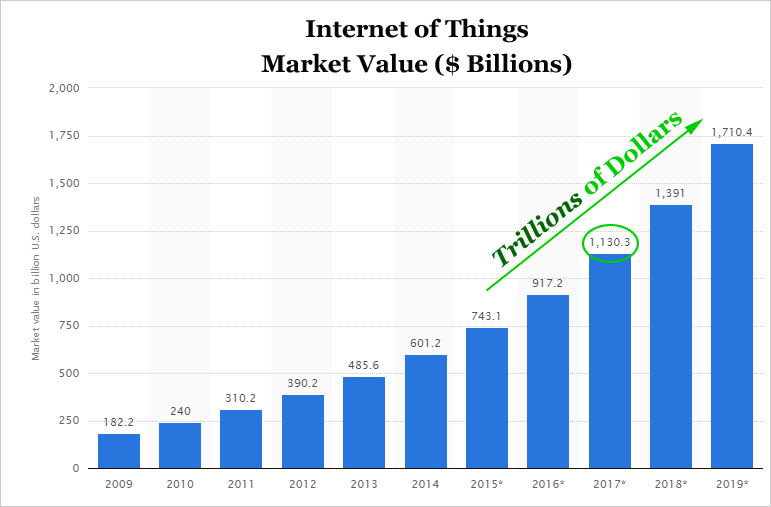 The Internet of Things (IoT) market will be measured in
trillions
of dollars as of next year. CML Pro has named the top two companies that will benefit. Here's cyber security: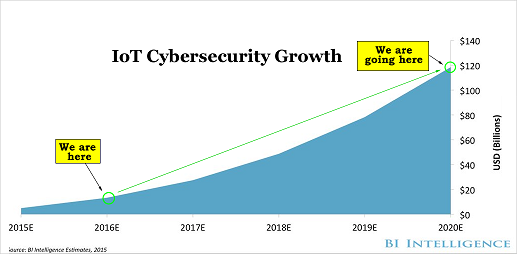 There's just no stopping the growth in the need for cyber security and we are right at the beginning. CML Pro has named the single best cyber security stock to benefit from this theme.
These are just two of the themes we have identified and this is just one of the fantastic reports CML Pro members get along with all the visual tools, the precious few
thematic top picks for 2016
, research dossiers and alerts. For a limited time we are offering CML Pro at a 90% discount for $10/mo. with a lifetime guaranteed rate.
Join Us: Get the most advanced premium research delivered to your inbox along with access to visual tools and data that until now has only been made available to the top 1%.
The author is net long Relypsa.
Thanks for reading, friends.
Please read the legal disclaimers below and as always, remember, we are not making a recommendation or soliciting a sale or purchase of any security ever. We are not licensed to do so, and we wouldn't do it even if we were. We're sharing my opinions, and provide you the power to be knowledgeable to make your own decisions.
Legal
The information contained on this site is provided for general informational purposes, as a convenience to the readers. The materials are not a substitute for obtaining professional advice from a qualified person, firm or corporation. Consult the appropriate professional advisor for more complete and current information. Capital Market Laboratories ("The Company") does not engage in rendering any legal or professional services by placing these general informational materials on this website.
The Company specifically disclaims any liability, whether based in contract, tort, strict liability or otherwise, for any direct, indirect, incidental, consequential, or special damages arising out of or in any way connected with access to or use of the site, even if we have been advised of the possibility of such damages, including liability in connection with mistakes or omissions in, or delays in transmission of, information to or from the user, interruptions in telecommunications connections to the site or viruses.
The Company makes no representations or warranties about the accuracy or completeness of the information contained on this website. Any links provided to other server sites are offered as a matter of convenience and in no way are meant to imply that The Company endorses, sponsors, promotes or is affiliated with the owners of or participants in those sites, or endorse any information contained on those sites, unless expressly stated.