Relypsa, Inc. (NASDAQ:RLYP) Largest Institutional Shareholders are Buying More Stock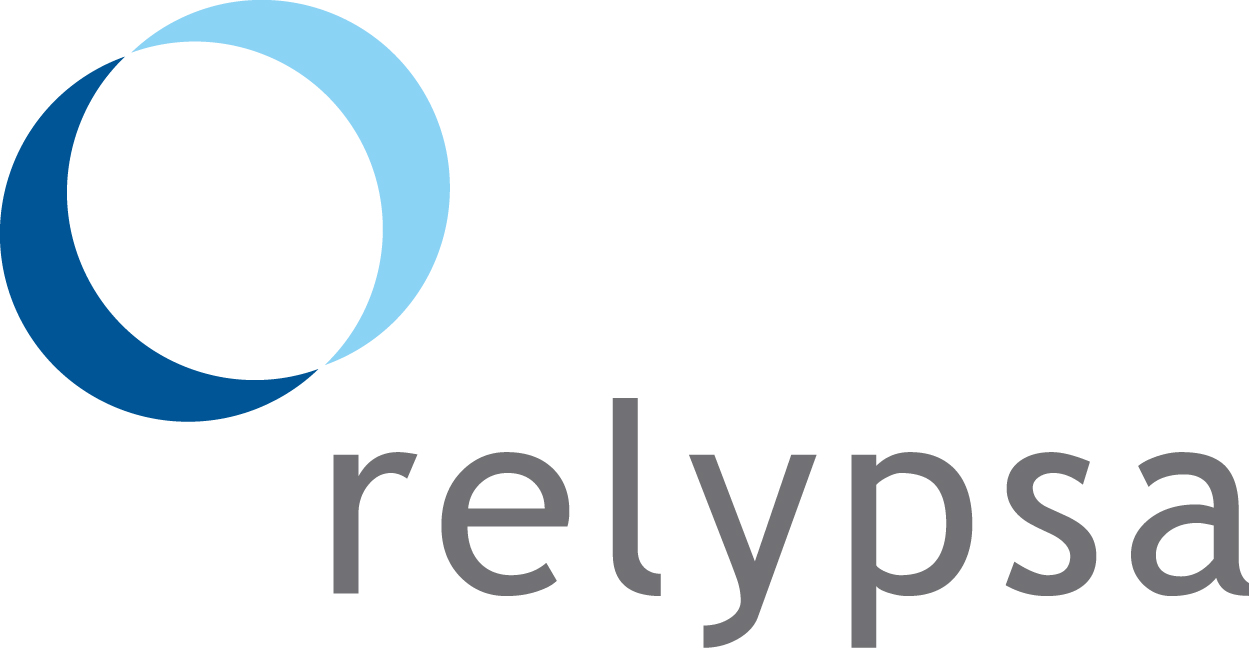 Preface

It turns out that Relypsa, Inc. (NASDAQ:RLYP) largest institutional shareholders are buying more stock as news coming out of the company is turning more bullish.

While Relypsa, Inc. is often caught up in takeover rumors surrounding firms from AstraZeneca (NYSE:AZN), to Merck (NYSE:MRK), Biogen (NASDAQ:BIIB), Pfizer, Inc. (NYSE:PFE) and its partner Sanofi (NYSE:SNY), recently the stock is up on real news.





First, on May 23rd Relypsa, Inc. rose on new data that the company presented surrounding its drug Veltassa which showed the following:



"

Patients with heart failure and chronic kidney disease often have restricted fluid and sodium intake, as these may cause congestive symptoms.

We presented new data suggesting Veltassa may bind and remove sodium as well as potassium in the gastrointestinal tract, which may be relevant for these patients.

"

Source: GlobeNewswire


The new data revealed that:
* Daily administration of Veltassa resulted in a dose-related decrease in mean urine sodium compared with placebo (p=0.009 across Veltassa doses).

* No serious adverse events were reported, and no study participants discontinued treatment because of an adverse event.

Second, and most urgently, Relypsa' s only competitor in the Hyperkalemia space, AstraZeneca's acquired ZS-9, was given a complete response letter (CRL) from the FDA, which in English means, a full rejection of the filing for approval.

The CRL surrounded manufacturing issues with ZS-9, not clinical data. However, that CRL will push the ZS-9 product launch out at least another year and the drug still has issues surrounding its tendency to create sodium in the blood, which is a critical side effect for patients that have Hyperkalemia and may mean the drug will be prevented from treating the largest portion of the market -- chronic cases.

But now we got more news.

Discover the Undiscovered:
Get Our (Free) News Alerts.

INSTITUTIONS ARE BUYING
The good news surrounding Relypsa, Inc. has pushed the stock up 40% in recent weeks and the buying appears to be coming from the company's largest institutional shareholders. Here is a list of the eleven largest holders of Relypsa, Inc. (NASDAQ:RLYP) stock and the change since the prior SEC filings: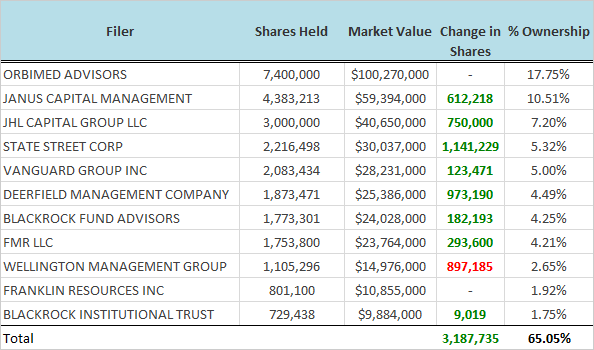 Data From:

whalewisdom.com

Compilation By: Capital Market Labs



While the largest shareholder, Orbimed, saw no change, the next seven largest holders increased their holdings. In total, of the eleven largest holders, eight bought more stock, two sold stock and one was unchanged. The result is an increase of nearly 3.2 million shares on a total stock float of just 31.8 million shares. Institutional shareholders own more than 85% of the Relypsa, Inc. stock as of this writing, and 11% is held by insiders.

The author is long Relypsa call options in his personal account.

SEEING THE FUTURE
There's so much going on with Relypsa we can't cover it all in one report but it is one of the few precious "Top Picks" named by CML Pro.

Each company in our "Top Picks" is the single winner in an exploding thematic shift like biotech, artificial intelligence, Internet of Things, drones, and more. In fact, here are just two of the trends that will radically affect the future that we are ahead of: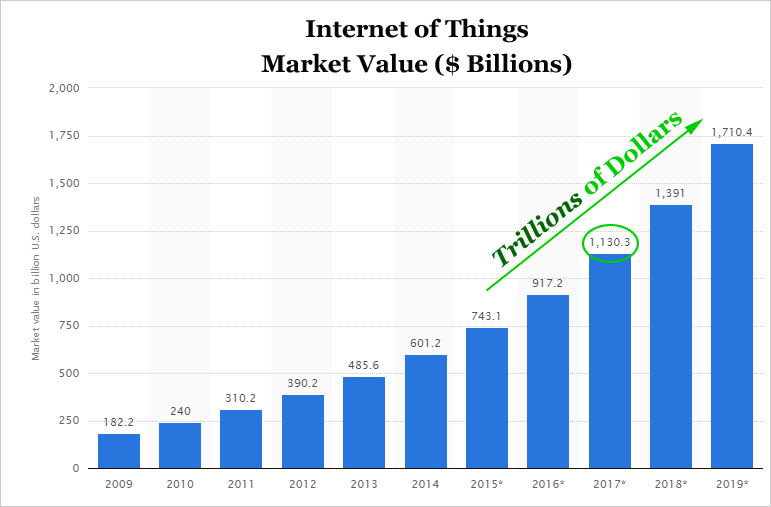 The Internet of Things (IoT) market will be measured in trillions of dollars as of next year. CML Pro has named the top two companies that will benefit. Then there's cyber security: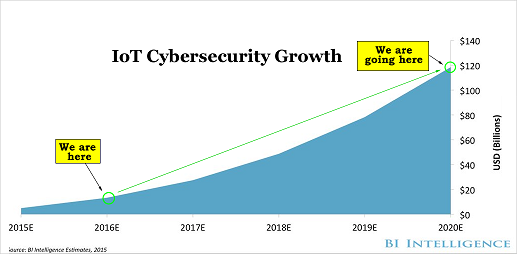 Market correction or not, recession or not, the growth in this area is a near certainty, even if projections come down, this is happening. CML Pro has named the single best cyber security stock to benefit from this theme.

These are just two of the themes we have identified and this is just one of the fantastic reports CML Pro members get along with all the visual tools, the precious few thematic top picks for 2016, research dossiers and alerts. For a limited time we are offering CML Pro at a 90% discount for $10/mo. with a lifetime guaranteed rate. Join Us: Get the most advanced premium research delivered to your inbox along with access to visual tools and data that until now has only been made available to the top 1%.

Thanks for reading, friends.


Please read the legal disclaimers below and as always, remember, we are not making a recommendation or soliciting a sale or purchase of any security ever. We are not licensed to do so, and we wouldn't do it even if we were. We're sharing my opinions, and provide you the power to be knowledgeable to make your own decisions.

Legal The information contained on this site is provided for general informational purposes, as a convenience to the readers. The materials are not a substitute for obtaining professional advice from a qualified person, firm or corporation.
Consult the appropriate professional advisor for more complete and current information. Capital Market Laboratories ("The Company") does not engage in rendering any legal or professional services by placing these general informational materials on this website.
The Company specifically disclaims any liability, whether based in contract, tort, strict liability or otherwise, for any direct, indirect, incidental, consequential, or special damages arising out of or in any way connected with access to or use of the site, even if we have been advised of the possibility of such damages, including liability in connection with mistakes or omissions in, or delays in transmission of, information to or from the user, interruptions in telecommunications connections to the site or viruses.
The Company makes no representations or warranties about the accuracy or completeness of the information contained on this website. Any links provided to other server sites are offered as a matter of convenience and in no way are meant to imply that The Company endorses, sponsors, promotes or is affiliated with the owners of or participants in those sites, or endorse any information contained on those sites, unless expressly stated.