Short Bursts of Risk Exposure: Opportunity in Urban Outfitters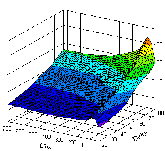 Urban Outfitters Inc (NASDAQ:URBN) : Short Bursts of Risk Exposure In Options Create Opportunity
Date Published:
2018-05-16



Preface
With the market's direction becoming tenuous, we can explore option trading opportunities in Urban Outfitters Inc (NASDAQ:URBN) that do not rely on stock direction.Over both the most recent bull market and the last bear market from 2007-2008, for stocks with certain tendencies, there has been a shrewd approach to trading pre-earnings volatility with options.

The goal is to find trades that expose risk in short-bursts of time, with out-sized historical gains relative to historical losses. We find a high win rate in URBN and perhaps more importantly,an outsized win:loss return.

According to or data provider, Wall Street Horizon, URBN has earnings due out on 5-22-2018. Four trading days before then would be 5-16-2018, near the market close.



The Trade Before Earnings in Urban Outfitters Inc
Let's examine the results of getting long a weekly out of the money strangle (40 delta) 4-trading days days before earnings, and then sell out of that position one-day before the actual release earnings.

Here is the setup:




We are testing opening the position 4 calendar days pre-earnings event and then closing the straddle one the day of before. Since URBN reports after the market closes this is not making any earnings bet. This is not making any stock direction bet.

Once we apply that simple rule to our back-test, we run it on a put of the money strangle:

Returns
If we did this long out-of-the-money strangle (also called '40-delta') strangle (using the options closest to one-week in expiration) in Urban Outfitters Inc (NASDAQ:URBN) over the last three-years but only held it before earnings we get these results:


The mechanics of the TradeMachine™ are that it uses end of day prices for every back-test entry and exit (every trigger).




Track this trade idea. Get alerted for ticker `URBN` 4 days before earnings


Setting Expectations
While this strategy has an overall return of 326%, the trade details keep us in bounds with expectations:

➡ The average percent return per trade was 41% over a four-trading day period.
➡ The average percent return per winning trade was 56.4% over a four-trading day peiod.
➡ The average percent return per losing trade was -5.2% over a four-trading day peiod.

It's that ratio, the average winning trade return (56%) versus the average losing trade (-5%) that makes these types of back-tests so compelling -- where the losing trades are well contained.

Tested Across Bull and Bear Markets
While many times we can identify strategies that work during a bull or a bear market, this strategy, when we tested it empirically, worked during both. Here are the specifics:

Using the Nasdaq 100 and the Dow 30 as our study group, here are the average total returns by stock for the bull market from 2012-2018 (January) and 2007-2009, which includes the bear market, and the wild 2009 -- where the S&P 500 bottomed in March and then ripped higher -- in other words, a highly volatile time in the market.

As a quick reminder, here is the 2007-2009 period for the S&P 500:


| | |
| --- | --- |
| Time Period | Return by Stock |
| 2012-2018 (January) | +40% |
| 2007-2009 | +21% |

Since we are looking at total returns, it turns out those time periods show nearly identical results (2012-2018 was six-years and 2007-2009 was three-years). Yet more impressive, the strategy showed a 57% win rate by stock during the wildly volatile 2007-2009 market.

These results are empirical, which is to say, they are objective. We are not inserting opinion.

WHAT HAPPENED
We don't always have to look at bullish back-tests in a bull market -- sometimes a straight down the middle volatility pattern pops up. This is it -- this is how people profit from the option market -- finding trading opportunities that avoid earnings risk and work equally well during a bull or bear market.

To see how to do this for any stock we welcome you to watch this quick demonstration video:
Tap Here to See the Tools at Work

Thanks for reading.

Risk Disclosure
You should read the Characteristics and Risks of Standardized Options.

Past performance is not an indication of future results.

Trading futures and options involves the risk of loss. Please consider carefully whether futures or options are appropriate to your financial situation. Only risk capital should be used when trading futures or options. Investors could lose more than their initial investment.

Past results are not necessarily indicative of future results. The risk of loss in trading can be substantial, carefully consider the inherent risks of such an investment in light of your financial condition.

Please note that the executions and other statistics in this article are hypothetical, and do not reflect the impact, if any, of certain market factors such as liquidity and slippage.